University Of Economics (UEH) And Queensland University Of Technology (QUT) Sign International Academic Agreement
On June 5, 2023, the University of Economics Ho Chi Minh City (UEH) and Queensland University of Technology (QUT) signed the International Academic Agreement promoting the 2+2 articulation program between both institutions. 
The signing ceremony was attended by Dr. Dinh Cong Khai – UEH Vice President, Assoc.Prof. Tran Ha Minh Quan – Dean of International School of Business (ISB), Dr. Pham Duong Phuong Thao – Deputy Head of Department of Research Management – International Cooperation (RMIC), along with representatives from Queensland University of Technology (QUT), including Mr. Paul Bolt, Executive Director, QUT International, Prof. Cameron Newton, Deputy Dean of QUT Faculty of Business and Law, Ms. Binh Palm, Coordinator at SEA QUT International, and Ms. Janice Lau, Partnership Manager at the School of Business and Law.
Queensland University of Technology (QUT) is a public research university in Australia. It is a globally recognized institution known for its cutting-edge research, innovation, and industry connections. QUT is committed to providing transformative education and preparing students to thrive in a rapidly changing world. QUT is ranked 213th according to QS World University Rankings 2022 and Top 200 by THE World University Rankings 2022.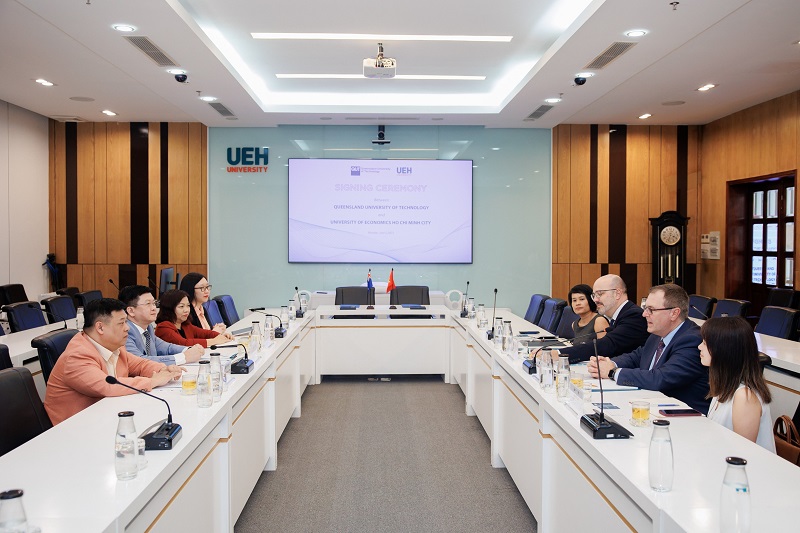 Joint initiative with a top Australian university
In his welcome remarks, Dr. Dinh Cong Khai – UEH Vice President expressed the mutual excitement in continuing the longstanding partnership with QUT, one of Australia's leading research universities. It is expected that through this agreement that both institutions shall promote further research activities, implement more student exchange programs and devise better financial support strategies for high-performing students.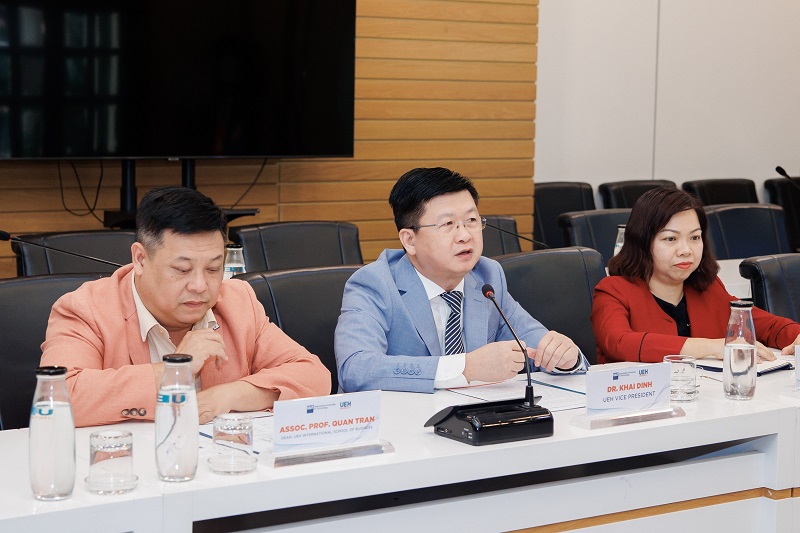 Sharing similar sentiments, Mr. Paul Bolt, Executive Director of QUT International emphasized that the signing ceremony marks another significant milestone between the two institutions. With nearly 7000 international students currently enrolled at QUT, UEH is by far the first and only partner institution, and Mr. Bolt hopes that the agreement will pave the way for more Vietnamese students to immerse themselves in a multicultural environment while learning to build skills for the global market.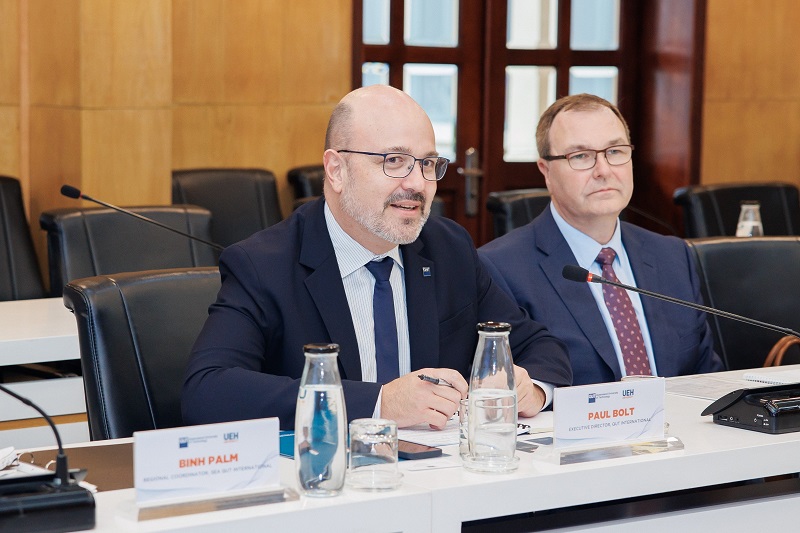 Associate Professor Tran Ha Minh Quan, Dean of UEH-ISB, reiterates the importance of establishing effective policies and guidelines for implementing cooperative relationships. By identifying the goals and plans of students and their families, it is essential for both institutions to devise strategic promotional approaches that attract suitable candidates. He also proposes establishing specific programs tailored to UEH/QUT alumni to enhance brand recognition and foster relationships with students interested in the exchange/articulation programs between the two universities, including current, past, and prospective UEH students.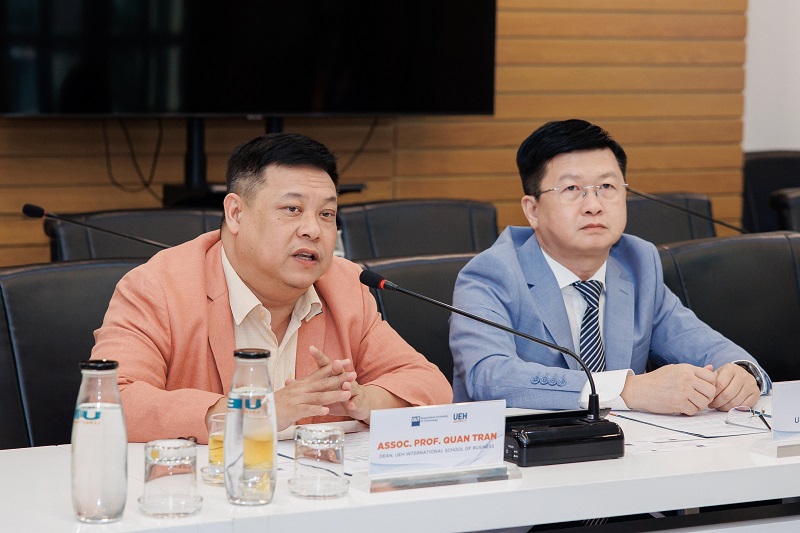 Accordingly, Prof. Cameron Newton, Deputy Dean of Faculty of Business and Law, also praised Vietnamese students. He acknowledged their excellent preparation in terms of comprehensive knowledge and skills, which enabled them to achieve remarkable outcomes and certain success during their time in Australia.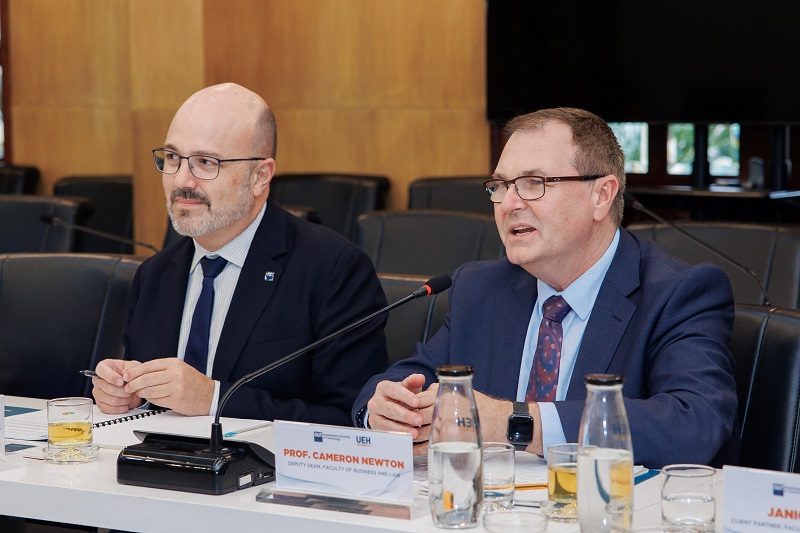 UEHxQUT 2+2 articulation program
The agreement notes that both institutions implement a collaborative program for undergraduate students, jointly designed by UEH and QUT. The program follows the 2+2 pathway, where students will study for 2 years at UEH in Vietnam and then transfer to QUT for the remaining 2 years to complete their degree. To be eligible for the program, students must achieve a minimum GPA of 8 and hold an IELTS certificate with a minimum score of 6.5 (with no band score below 6).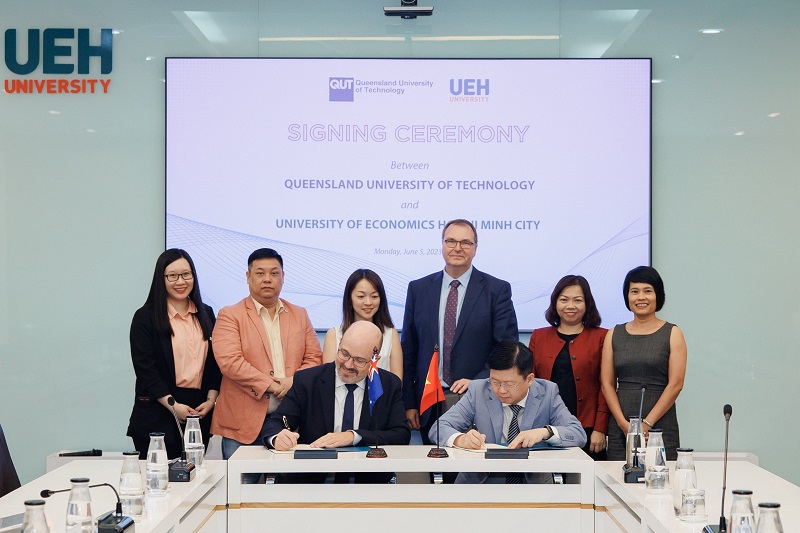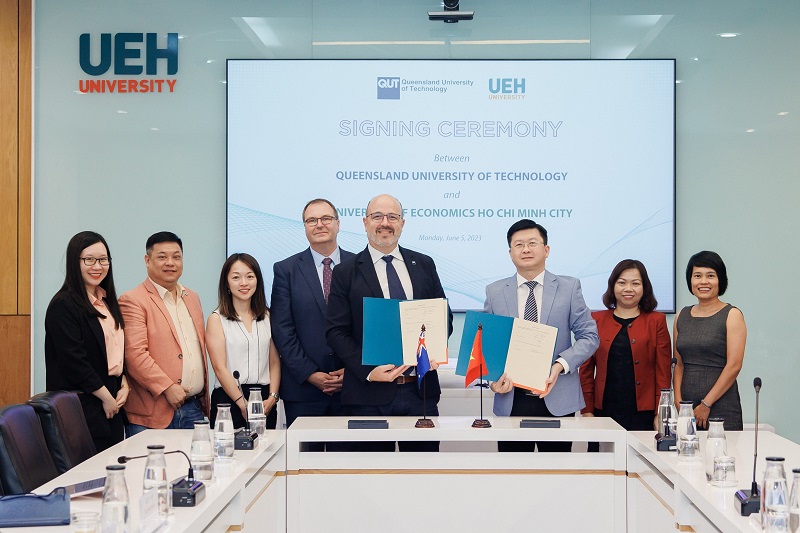 Through this program, students will have 2 years to build foundational knowledge in their field of study and enhance their skills in Vietnam. The knowledge acquired during this stage will serve as a solid foundation for further studies upon transferring to Australia. Soft skills such as teamwork, public speaking, critical thinking, and more will also be developed. Additionally, QUT offers a 25% scholarship opportunity for students with outstanding academic achievements at the time of enrollment.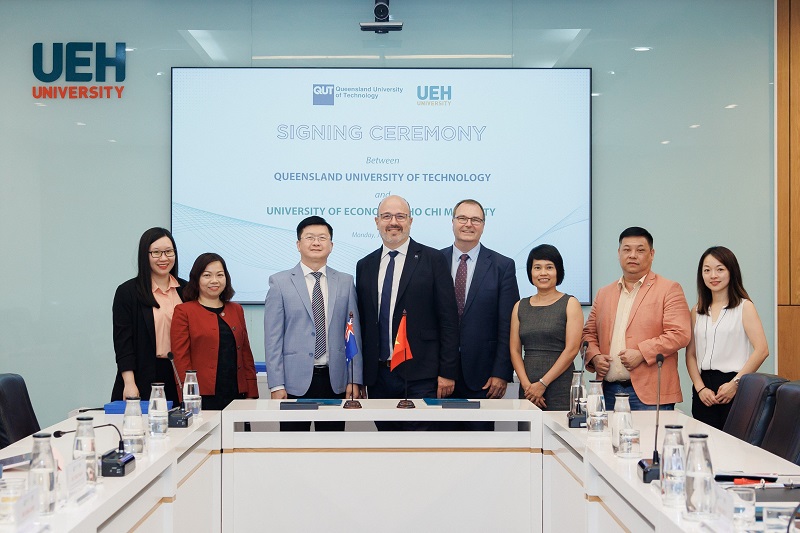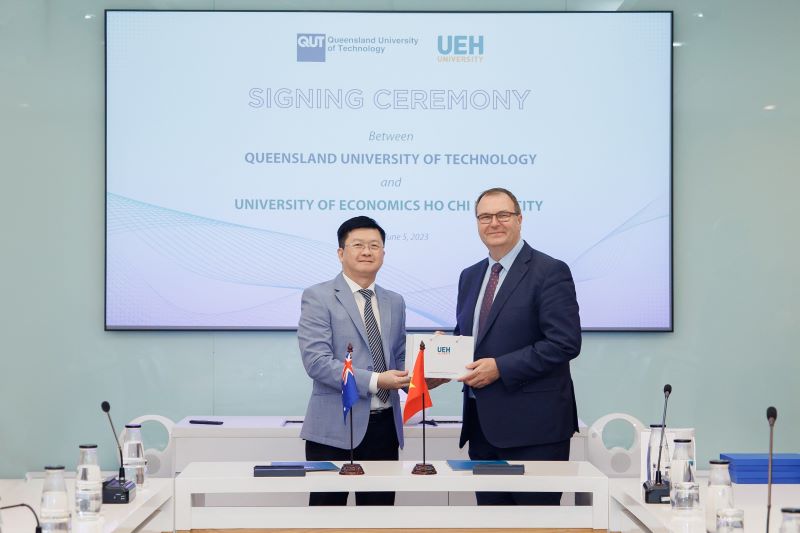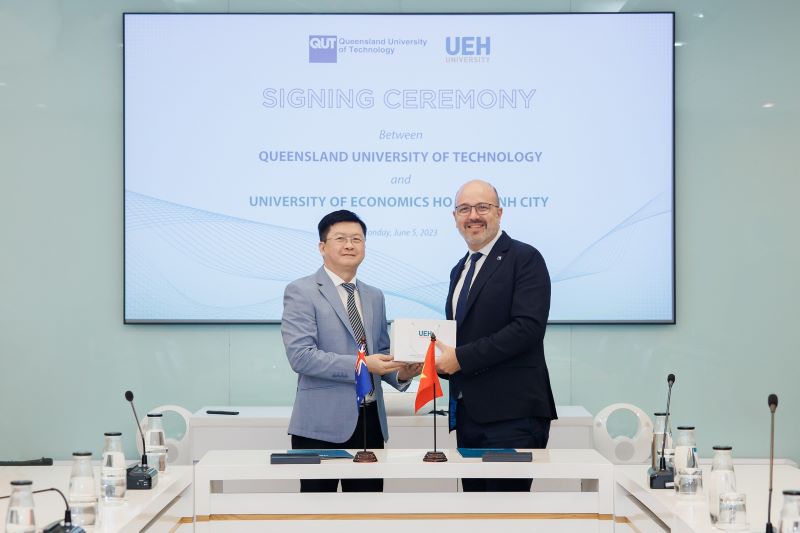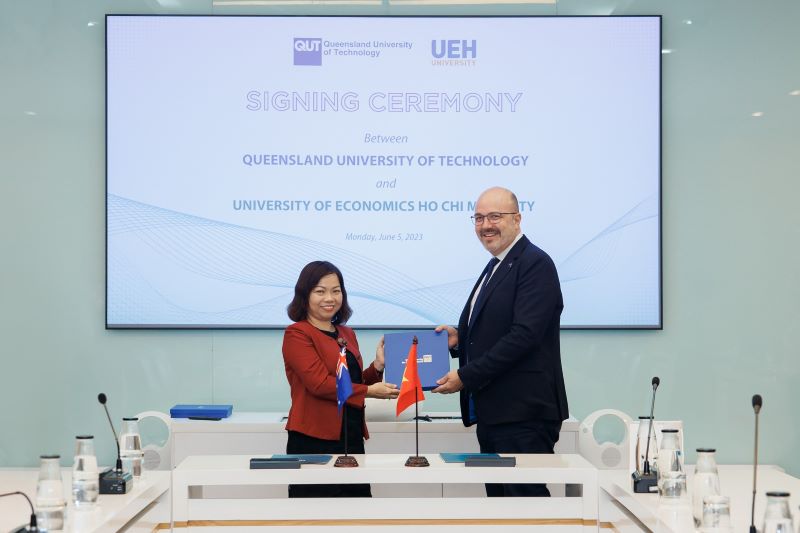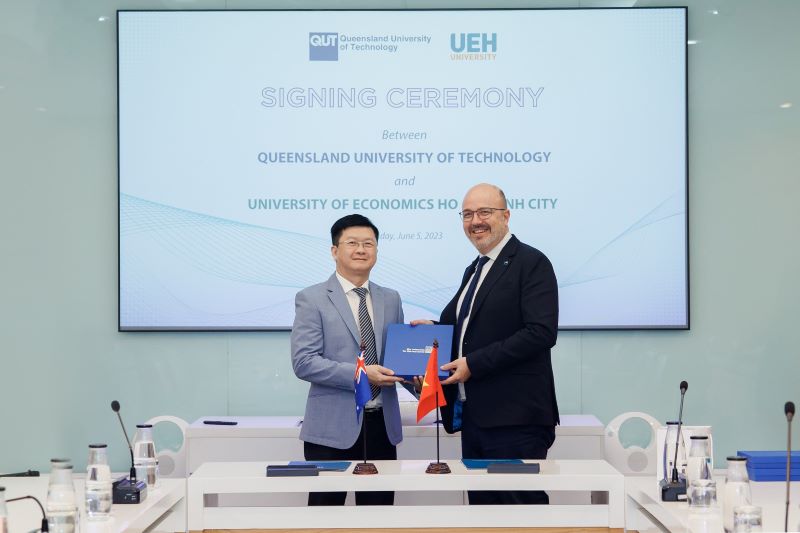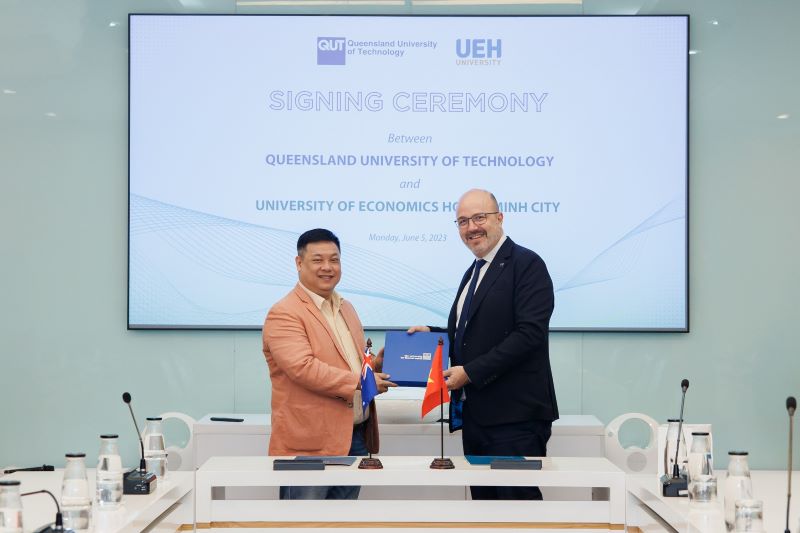 News, photos: Department of Research Management – International Cooperation, Department of Marketing Communications