UEH Rises To Top 551+ In Best Universities In Asia 2022 (QS Asia University Rankings 2022)
QS Educational Organization (Quacquarelli Symonds, UK) has just announced the ranking results of Best universities in Asia 2022 (QS Asia University Rankings 2022), in which University of Economics Ho Chi Minh City (UEH) has been promoted from Top 601+ in 2021 Rankings to enter Top 551-600 in 2022 Rankings. This achievement has asserted UEH effort in our journey to becoming a prestigious multi-disciplinary university in Asia with sustainable development.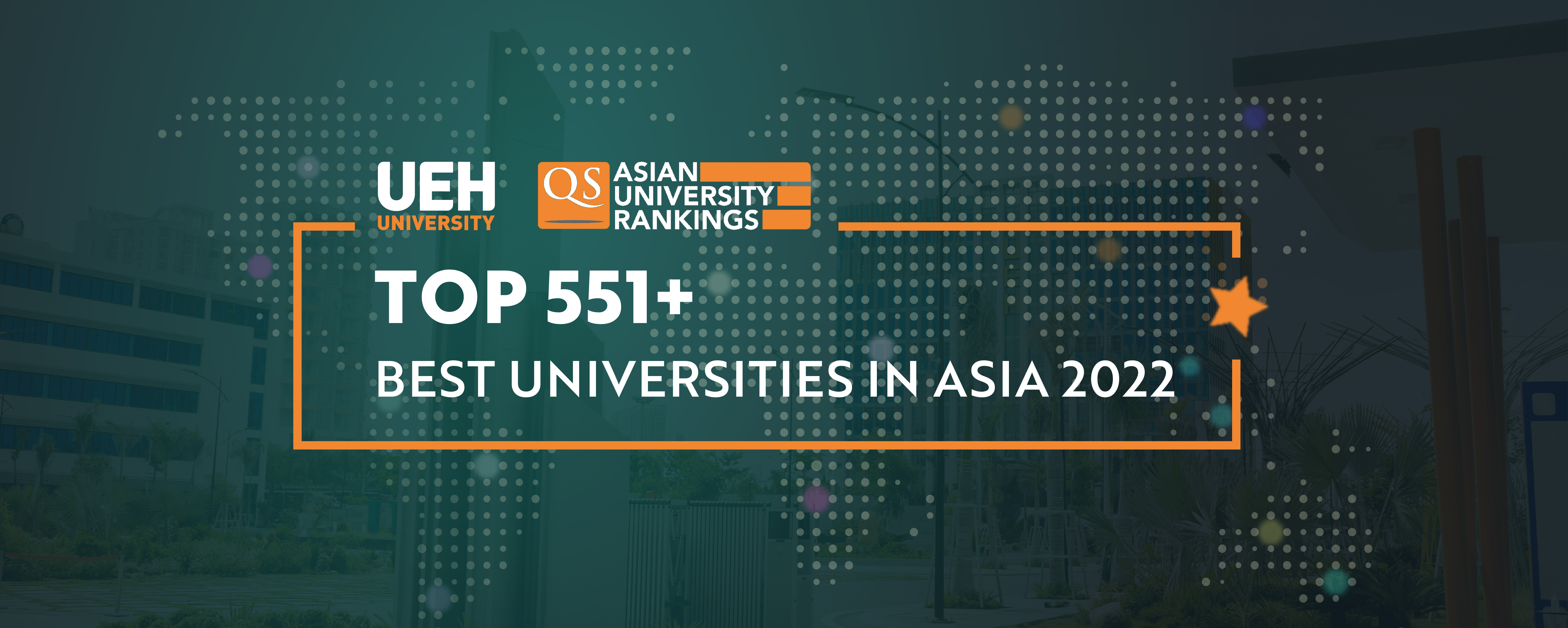 UEH rises to the top 551+ in Best Universities in Asia 2022 (QS Asia University Rankings 2022)
In accordance with the latest rankings, methods and calculation data by QS Asia, UEH, as the only University in economics and management in Vietnam enrolling in Best Universities Ranking in Asia, ranks in Top 551-600, upgrading its position compared to that in 2021 (in Top 601+) and being in Top 10 Vietnamese Universities listed in ranking. Prof. Dr. Su Dinh Thanh – Rector of UEH commented: "This result contributes to UEH vision recognition of becoming one of 500 best universities in Asia by 2025; concurrently, assists UEH in strengthening our firm belief in UEH restructuring strategy towards becoming a multidisciplinary and sustainable UEH University".
Being recognized as one prestigious University Ranking, QS Asia ranks Universities based on 11 criteria with varying density, comprising: Academic reputation (30%); Brand-name reputation (20%); Faculty-versus-student ratio (10%); Percentage of Lecturers holding Doctorate degree (5%); Published article rate per Faculty (5%); Article citation index (10%); International research network (10%); International lecturers (2.5%); International students (2.5%); Domestic exchange students (2.5%); Foreign exchange students (2.5%) and so on. These indicators are designed to reflect the top priorities towards education and research activities of Asian universities.
To achieve this achievement, UEH Board of Management, along with all officials, staffs and employees, has been producing outstanding efforts with considerable contributions in training, research and knowledge transfer activities accumulated over the years, especially 2016-2021 period, as follows:
Promoting researches and article publications in prestigious international journals;
Boosting international seminars in both quantity and quality;
Organizing activity diversity in international research network connection and development;
Attracting a larger number of excellent experts to work at UEH as well as conducting researches with advanced universities in the region and the world;
Building excellent research institutes (Centers) in research activity implementation;
Designing policies to attract talented researchers and strengthen lecturers and researchers' exchange programs;
Enhancing communication activities in connecting the community, spreading knowledge, improving UEH academic reputation with "From research to societal impact" message;
Intensifying reputation in business communities and employers;
Developing "Together with UEH: Connecting communities – Expanding knowledge – Developing with sustainability" , fund, calling for enormous resources from businesses and partners in supporting funding, providing scholarships for students, creating opportunities for lecturers and staff with supplementary and professional trainings as well as international connections and so on

UEH Program of expanding researches and applied knowledge has attracted great attention from community and society
Participating in University Rankings obviously demonstrates UEH proactive integration with higher education in the region and the world and strongly affirms UEH international recognition for UEH constant efforts in both quality and quantity in terms of education and researches for constructing activities, connecting community and expanding knowledge and more on the path towards multidisciplinary and sustainable development.
Further information regarding QS Asia official announcement can be searched at:
https://www.topuniversities.com/university-rankings/asian-university-rankings/2022
https://www.topuniversities.com/universities/university-economics-ho-chi-minh-city-viet-nam
Photos and report by:  Department of Marketing and Communication, ISCM Institute