UEH Announcing The Results Of The National Entrance Exam Into Universities In 2022: A Diversity Of Attractive New Training Majors With Increasing Targets And Stable Benchmarks
On July 11, 2022, University of Economics Ho Chi Minh City (UEH) has officially announced the results of separate admission methods for the regular university system in 2022 for both Chi Minh City Campus and Vinh Long Branch. With diverse admission methods and various criteria for comprehensive assessment, UEH will spend more than 7000 criteria to select excellent students from all over the country and international students to study at the school in the current year.
Diversifying enrollment methods and increasingly focusing on English proficiency
In 2022, UEH will continue to pursue a strategy of prioritizing admissions methods based on the diversification of criteria, with special emphasis on English language ability, excellent academic performance in a comprehensive and process-oriented manner from all students across the country for selection.
The admission criteria include: students from gifted/specialized high schools; achieve Good conduct; the average grade of 10th, 11th and 12th grade in Term 1 of grade 12 is 8.0 or higher; an IELTS score of 6.0 or higher; winning the First, Second and Third prizes in the Provincial/City high school excellent students contest. These criteria will be appropriately weighted to calculate the conversion score and use this score for admission. The criteria for the grade point average of the school year can be replaced by the average score of the combination of 3 optional subjects that learners have the most advantage in to assess the special qualities of each student in accordance with the profession and field of training. At the same time, UEH also uses the results of the competency assessment exam organized by Vietnam National University, Ho Chi Minh City, Phase 1 in 2022 to consider admission.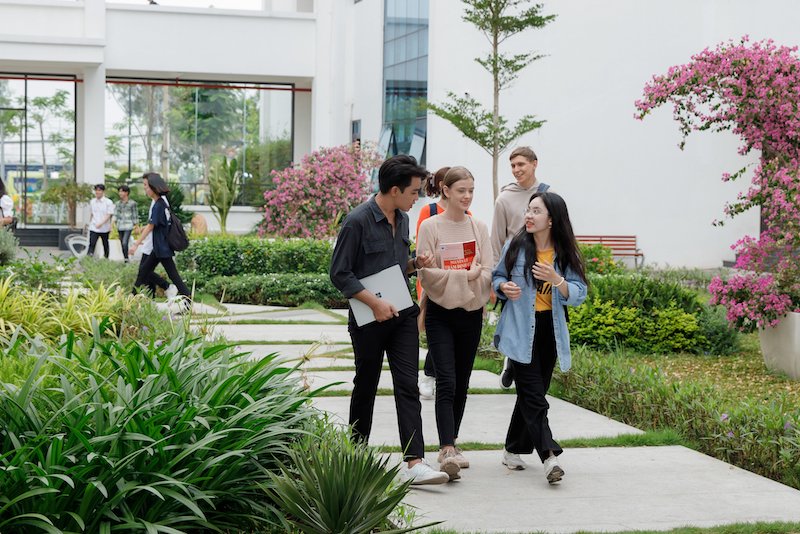 As a result, nearly 80,000 applicants have applied for 4 separate admission methods of UEH in this year's enrollment season, including: (1) Admission for candidates graduating from foreign high school programs and having international certificate; (2) Admission of excellent students; (3) Examining the learning process by subject combination; (4) Admission is based on the results of the competency assessment test.
A diversity of new training disciplines, in line with the development trend of technology having attracted a large number of candidates
Implementing the strategy of multidisciplinary and sustainable University development, UEH has enrolled more completely new majors in the enrollment season in 2022 listed as: Technology and Innovation, Digital Communication and Multimedia Design, Accounting with ICAEW CFAB plus international professional certificate or Hospital Administration has attracted a large number of candidates to apply for admission.
In particular, the number of candidates applying to majors in the fields of technology and design has increased sharply this year, reflecting the current trend of career choice as well as the demand of the labor market in the face of the booming labor market. explosion of science, technology and innovation. In addition, industries listed as E-Commerce, Software Engineering or Data Science have had a marked increase in the number of applications compared to 2021. Especially, even though it is a completely new and new training program, the Digital Communication and Multimedia Design program, attracted a large number of applicants at the beginning of enrollment, making the standard of this industry very high (70 – 71 points), equal to the 'hot' training majors. UEH's strengths and areas where the labor market is 'thirsty' for human resources listed as Marketing, International Business, Logistics and Supply Chain Management and International Finance.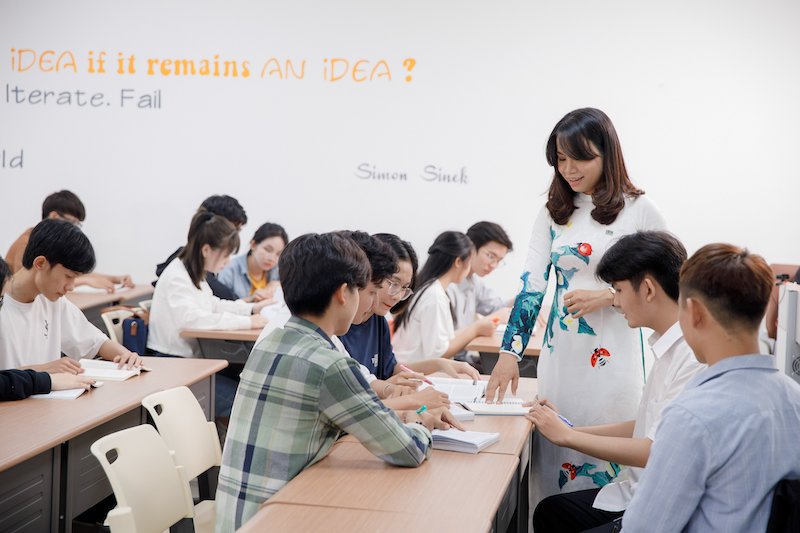 To get this level of admission score, candidates must have very distinctive academic results and more outstanding qualities listed as the grade point average of the school year must be 9.0 or higher; at the same time, meeting the following criteria: being a high school student at the gifted/specialized high school, having an International English Certificate (IELTS) from 6.0, winning the Provincial/City Excellent Student Award. Or, if the candidates are admitted by means of a competency assessment test, he/she must score between 900 and 950 points. This is a very high score.
In general, with this year's benchmarks of the admission methods, it can be recognized that almost all of the candidates who are eligible for admission to UEH are excellent students across the country with impressive academic achievements and excellent results are cumulative in the whole process, especially they all have international English certificates with high scores. This will help them quickly and conveniently access the increasingly international learning environment of UEH. For example, the majority of the curriculum content is taught in English and the learning materials are the textbooks used at prestigious universities around the world.
In addition, 100% of students who have been admitted to the ISB International Training Institute's talented Bachelor's program have IELTS scores above 6.0 and most of them are above 6.5 points.
In addition, many international students have applied for admission to UEH by the entrance examination for students who have graduated from foreign high school programs. Successful candidates in this method are all students with outstanding academic performance, have graduated from foreign high school programs and have prestigious international certificates listed as: International Baccalaureate Diploma (IB), certificate only A-Level from Cambridge International Examinations, UK (Cambridge International Examinations A-Level, UK), SAT certificate (Scholastic Assessment Test, USA) or IELTS English certificate with a very high score.
UEH – Vinh Long Branch being increasingly attracting students from the Mekong Delta and candidates from all over the country
In the enrollment period in 2022, UEH – Vinh Long Branch (enrollment code as KSV) has a significant increase in the number of applications compared to 2021. This has proved that Vinh Long Branch is increasingly affirming its position as a university. training and research center in the Mekong Delta region. The number of training programs at Vinh Long Branch is also increasing, meeting the socio-economic development needs of the region and the whole country. Especially, more and more majors are being recruited nationwide listed as: Logistics and Supply Chain Management, E-commerce, Economic Law, Agribusiness, Tourism and Travel Service Management, English Commercial UK.
In accordance with the announced enrollment scheme, this, with an increase in the number of targets in 2022 at Vinh Long Branch, will create conditions for students to continue to improve their chances of studying at UEH. Especially, final-year students (seniors) will be able to participate in the campus rotation program, studying at Ho Chi Minh City Campus as the students matriculated into the main campus (KSA as enrollment code). With the same learning environment, training quality and qualifications between the HCMC Campus and Vinh Long Branch, the tuition fee is only 80% of that of studying in Ho Chi Minh City (including campus rotation time), applying for admission to UEH – Vinh Long Branch is an effective decision to increase the chances of being admitted to UEH in this yearss university enrollment season 2022.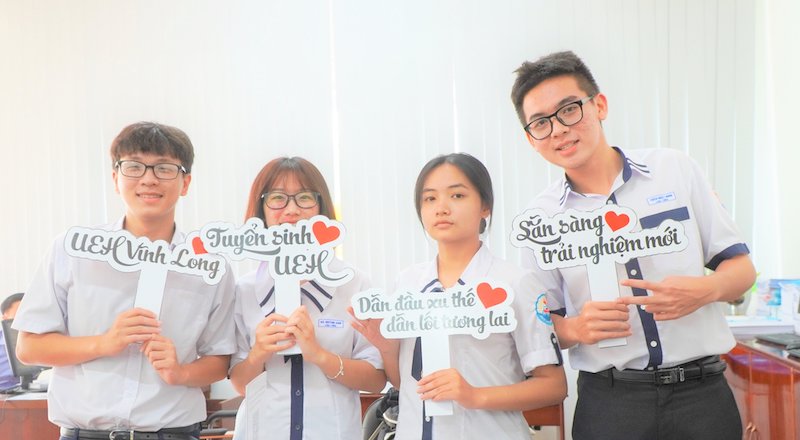 In accordance with Assoc. Prof. Dr. Nguyen Khac Quoc Bao – Head of Training Department of UEH: "This year, with the new regulations of the Ministry of Education and Training on registration of University admission aspirations, candidates need to understand the regulations and carefully perform the exercises. action to avoid errors. In particular, after applying for admission to UEH and being announced by the school that they are eligible for admission, they must register their desire to matriculate and admission to UEH is the highest desire (option 1) on the Admission Portal of the Ministry of Education and Training to ensure official admission confirmation to UEH".
Recently, the organization that ranks universities in the world U-Multirank has officially announced the results of a multi-dimensional assessment of universities and colleges around the world in 2022, in which the University of Economics Ho Chi Minh City is currently recognized as the best university in Vietnam and among the Top 66 Universities in Asia. Besides, the educational environment at UEH, with globalization, always attaches importance to the individuality of each learner, educating creative thinking and forging problem solving from a multidisciplinary perspective. UEH empowers learners to freely choose their major, freely choose how to study, freely express themselves, freely define their own future and inspire them to change their lives for the better towards sustainability for the environment, society and the economy. UEH's message to candidates in 2022 is "I am who I choose to be" – You will be free to choose to be the person you want to be at UEH!
► Further information regarding admission result can be referred at: UEH Admission Portal (here).
News, photos: UEH Department of Undergraduate Studies, UEH – Vĩnh Long Branch, UEH Department of Marketing – Communication.