[UEH Green Campus 2023] GreenDay Series With The Theme "GreenLife": Changing Perception – Mastering The Future
In two days, May 10 and 11, 2023, University of Economics Ho Chi Minh City (UEH) organized a series of Green Day activities with the theme "GreenLife" under the project "UEH Green Campus 2023". These activities aim to inspire and motivate students in particular and the community of participants in general in building a green lifestyle and sustainable learning, especially the right awareness of garbage classification.
At campus B – UEH in recent days, a series of GreenDay events themed "GreenLife: Clean World – Green Soul" with various attractive activities have engaged a large number of students and the community to participate. These activities were organized by the School of Public Finance (SPF) with orientation from the Leadership Board, UEH Green Campus Project Board, UEH Youth Union – Student Association, Department of Marketing and Communication (DMC), Department of Student Affairs and partners: TBC Ball, Refill, GreenPoints, media units: DMC, Union – UEH Unions and Associations, School of Media Design (SMD) and more, etc. as well and the special sponsor, Panasonic, creating a healthy and educational playground for the student community. The activity meant to raise awareness for the young generation about the importance of protecting a green – clean – beautiful living environment, starting with our daily garbage sorting habits and the responsibilities of members in the UEH community on protecting and building a sustainable green Uuniversity.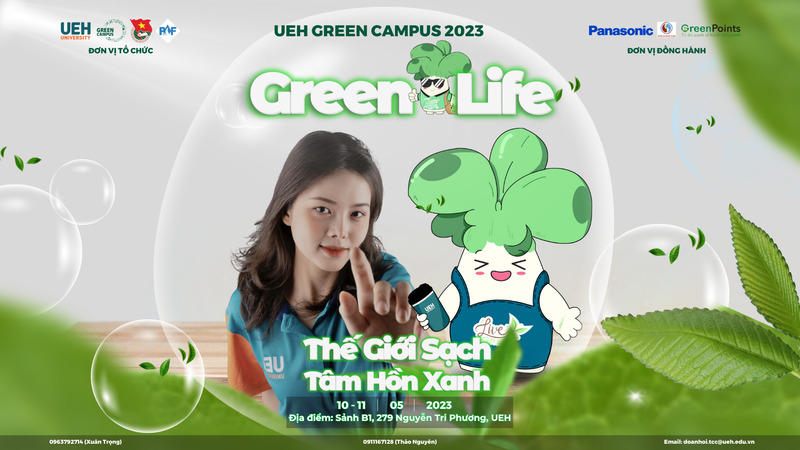 GreenDay series with the theme "GreenLife: Clean World – Green Soul"
Right at the campus B is the "Green Campus" exhibition area which was beautifully decorated with bright colorful pictures about the environment and green lifestyle. Each work contains positive messages and lessons about protecting the learning and living environment of people. This area has attracted the special attention of many young people when entering the festival "Clean World – Green Soul".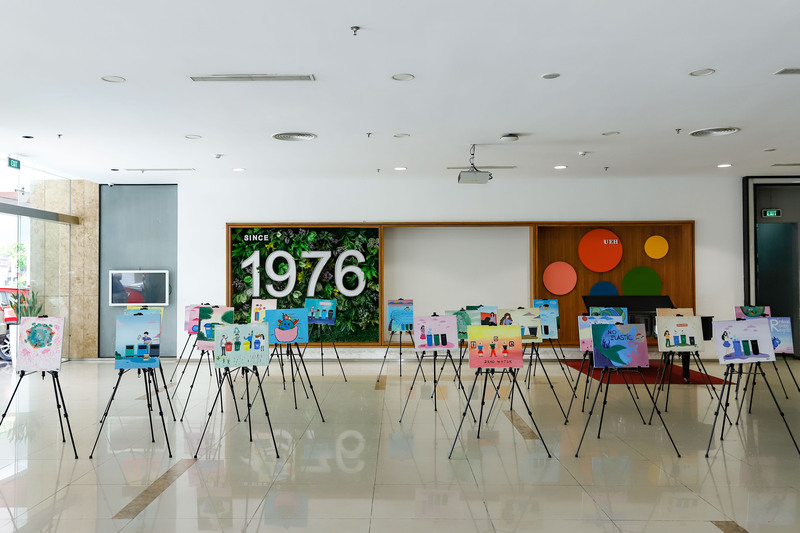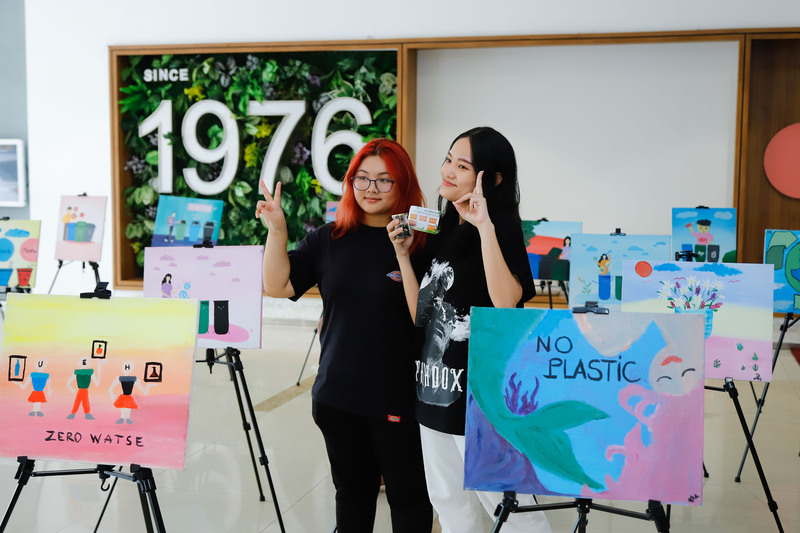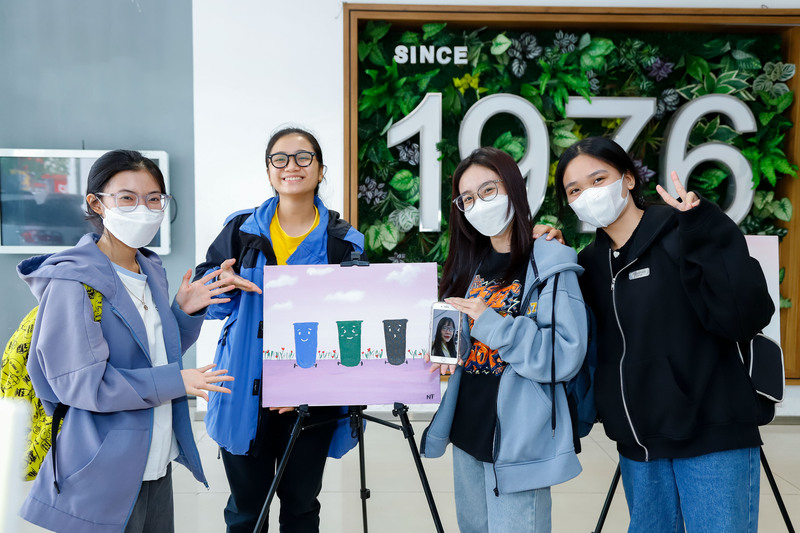 Green Campus exhibition area
To the booth "Exchange garbage for gifts" of Greenpoints, students brought all kinds of garbage: plastic bags, styrofoam boxes, unbreakable glass, old batteries and old clothes in exchange for small pots of plants or beautiful, cute and eco-friendly handmade products. GreenPoints also opened the game booth "Garbage classification test": sorting inorganic waste into 2 types of recyclable and remaining waste, helping young people improve their knowledge about types of waste and better understand the importance of garbage segregation.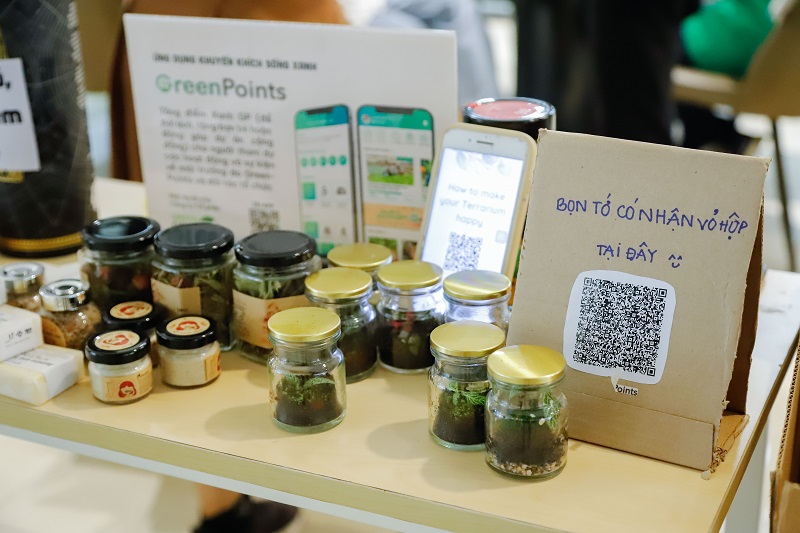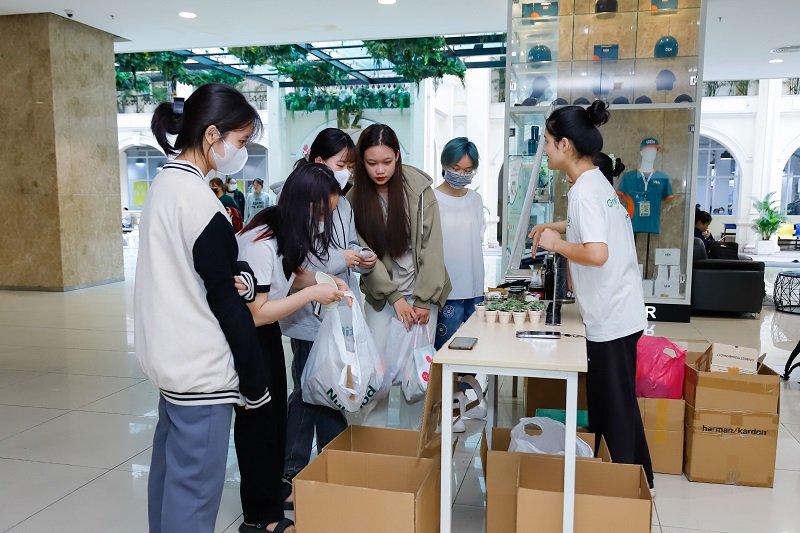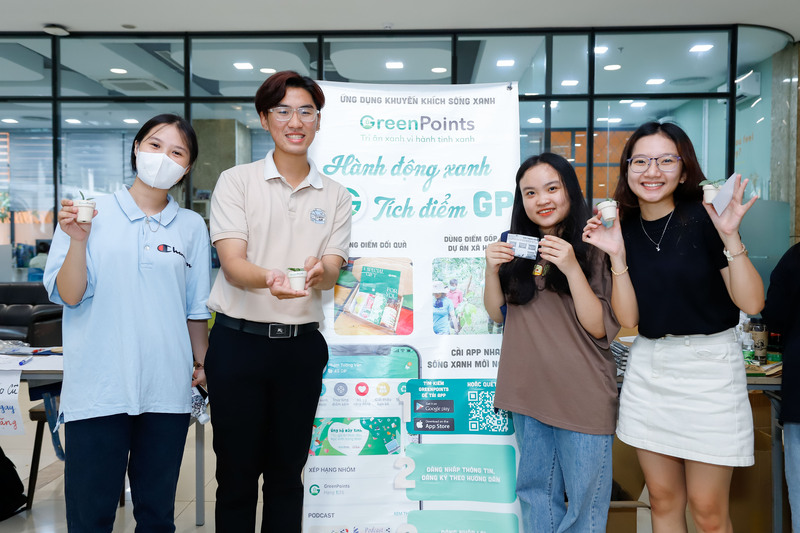 Students participated in the exchange at the Greenpoints' booth "Exchange garbage for gifts"
With simple rules of participation, the booth Exchange old cans for new cans with TBC BALL also attracted students to bring aluminum cans to exchange for gifts. With 2 aluminum cans (soft drink cans), students can exchange for a special can of water from TBC Ball's house, and when students exchange 20 aluminum cans (soft drink cans…), they will receive a tote bag. In addition, TBC Ball also brought students interesting can-pressing activities and lovely gifts, helping them learn more about the recycling process from collecting used cans.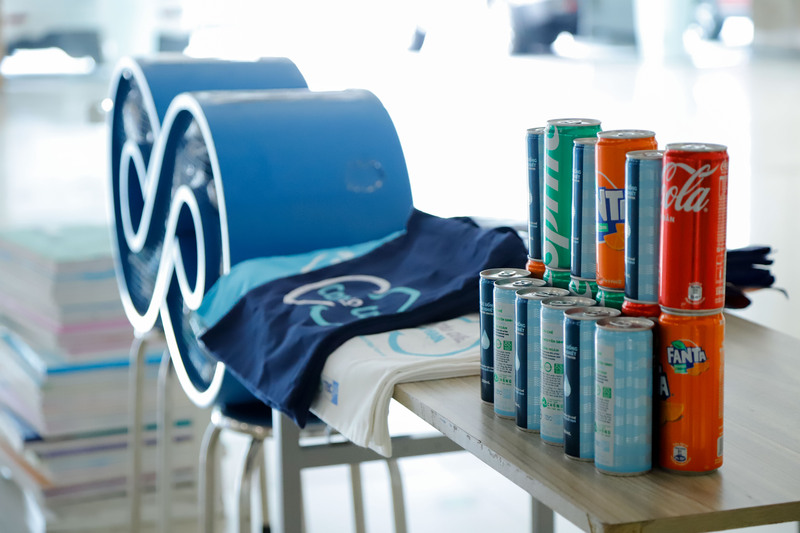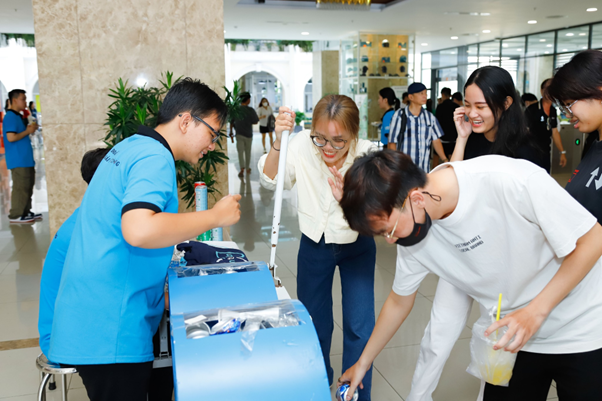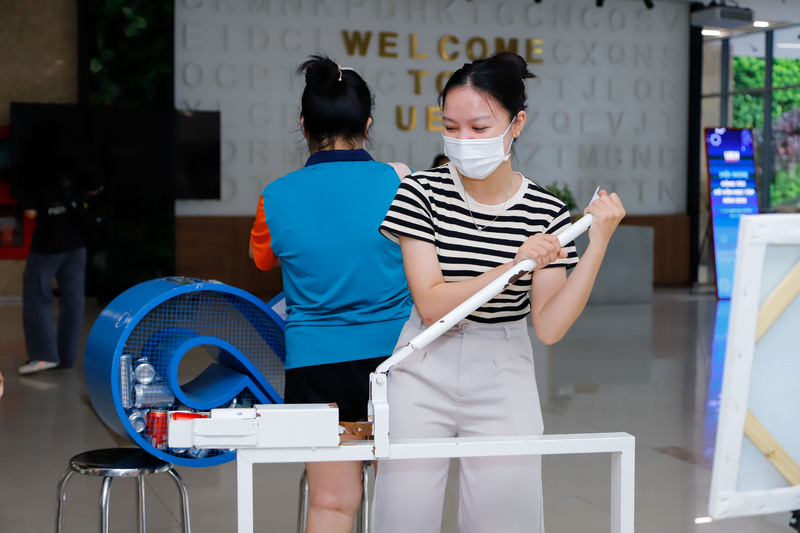 The booth Exchange old cans for new cans with TBC BALL
Besides, not only have besides the access to knowledge about waste and garbage classification as well as , but by practicing the habit of properly disposing of trash, students can also participate in creative and entertaining activities after stressful study hours. At the mini-game booth "Green Life – Clean World – Green Soul", youngsters were extremely excited and delighted to participate in games about garbage classification and green environment to bring back very lovely gifts from the organizers.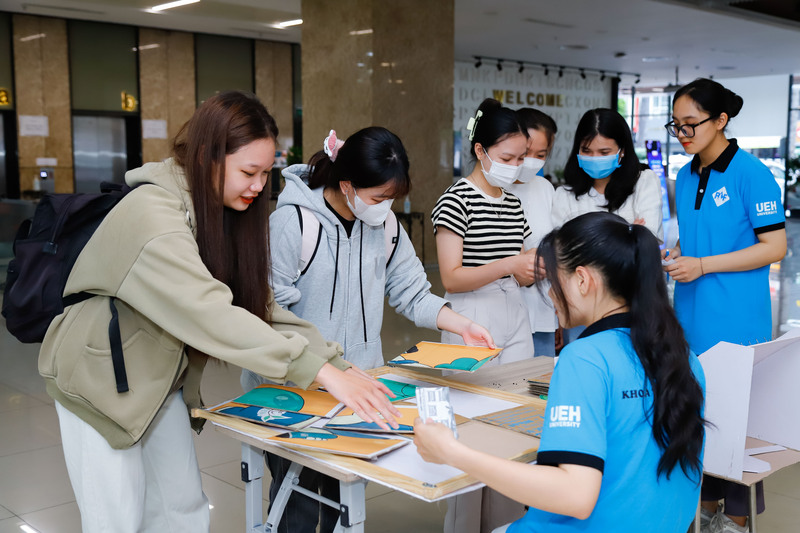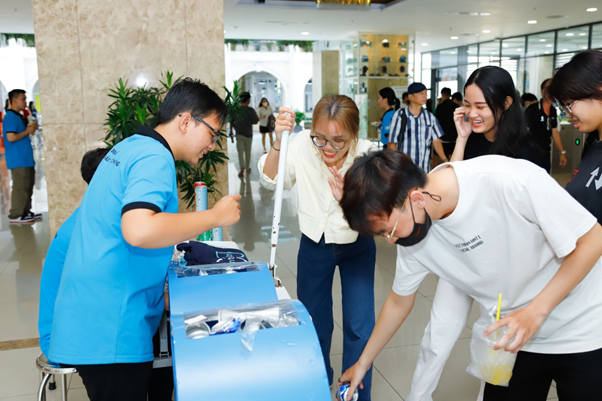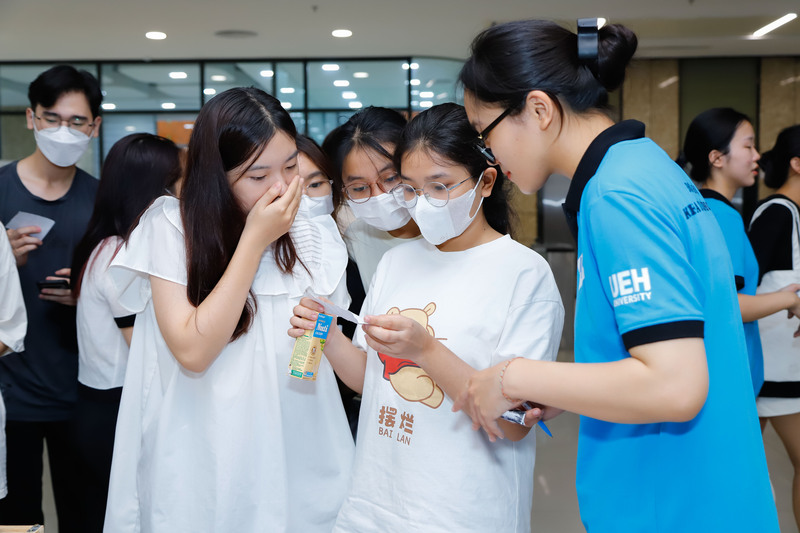 The minigame booth attracting a large number of students to participate
Most especially, with the presence of the "Green Art" booth, the Union of School of Public Finance provided the students with a tote bag to unleash their creativity and decorate the colors as they wanted. The organizers hoped that young people will take advantage of this lovely bag to replace plastic bags in their daily activities.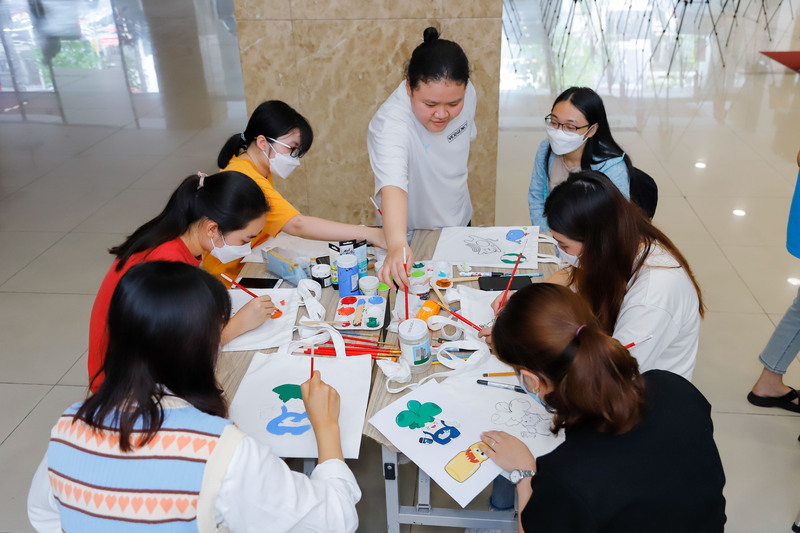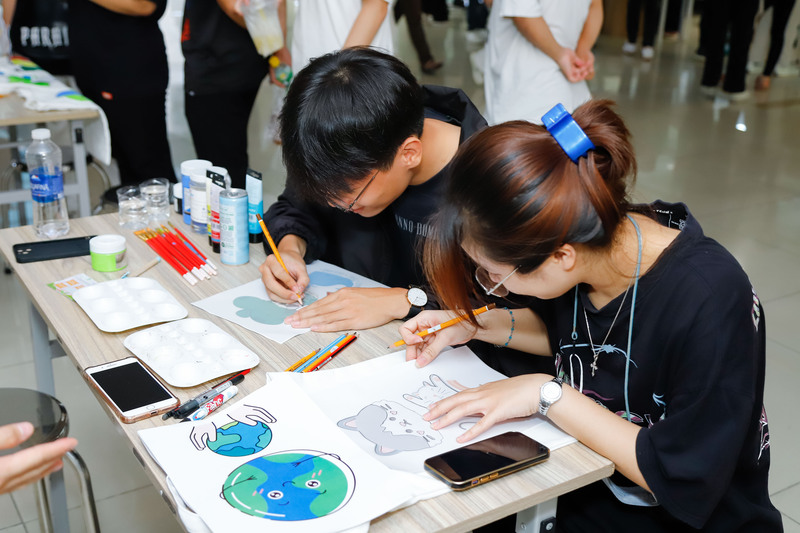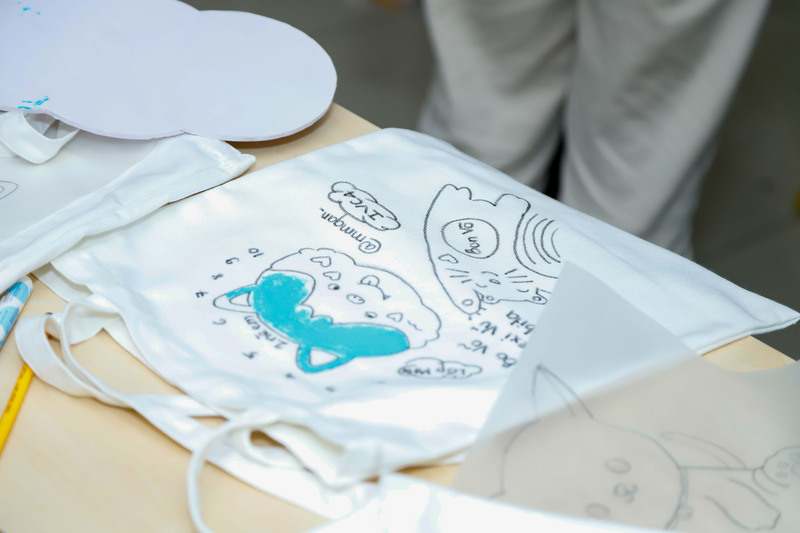 Students decorating tote bags at the booth "Green Art"
This year's Green Day series has attracted a large number of students in the UEH community, especially the booths "Exchange trash for gifts", "Exchange old cans for new cans" with very enthusiastic responses from young people. Most of them were incredibly eager to experience activities as well as minigames about the environment, thereby, gaining more knowledge about garbage classification. "The stages of planning, organizing, and preparing meticulously,despite tirednesss, seeing the positive response from the participants, we feel really worthy and happy", "The moment of being accompanied, spreading the fire in "living green" with all of you has left me with many good memories". Those are the sharing of enthusiastic students and members of the program organizers.
Through this series, UEH hopes that the playgrounds deployed by the students themselves will contribute to bringing their voices, creating positive impacts and conveying meaningful messages so that all UEHers can come together and join hands to practice green and sustainable lifestyle; thereby contributing to raising awareness and action of young people and the community.
News, photos: UEH Department of Marketing and Communication, UEH Union – Association of SMD