UEH Makes Historic Debut As Vietnam's Highest-Ranked University, Securing Top 301-400 Spot In THE Impact Rankings 2023
University of Economics Ho Chi Minh City (UEH) emerged as the leading institution, among 9 other Vietnamese universities, to be ranked in the Top 301-400 universities in the world, contributing to the 17 Sustainable Development Goals (17SDGs) set by the United Nations. The achievement marks UEH's impressive debut in this global ranking system. It reflects the university's commitment to the multidisciplinary and sustainable university strategy, leveraging knowledge to address significant social challenges and generate positive impacts through academic endeavors.
Top 301-400 universities in the world contributing to the UN's 17 Sustainable Development Goals (17SDGs): the highest ranking Vietnamese university in #THEImpact23
The Times Higher Education (THE) Impact Rankings are the only global performance table that assess universities against the UN's Sustainable Development Goals (SDGs). This year's overall ranking includes nearly 1591 universities from across 112 countries and regions. The ranking methodology encompasses carefully calibrated indicators to provide comprehensive and balanced comparison across four broad areas: research, stewardship, outreach and teaching.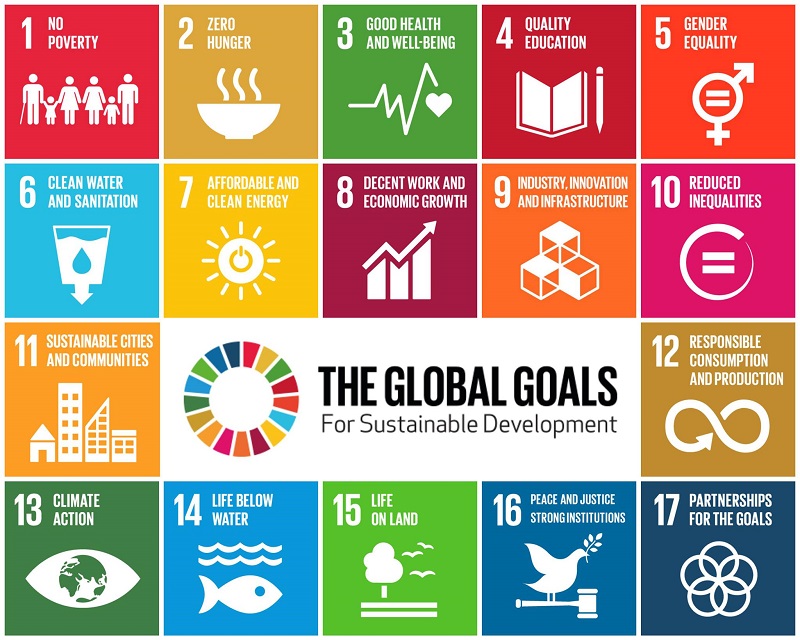 17 Sustainable Development Goals – SDGs
As a trailblazer in multidisciplinary and sustainable university strategy, the University of Economics Ho Chi Minh City (UEH) has achieved initial recognition by officially being ranked as one of the top 301 – 400 universities worldwide contributing to the UN's 17 SDGs. This is the highest achievement that a university in Vietnam has received to date.
High rankings for SDG 1, SDG 8, SDG 16, SDG 17: proof of UEH's commitment to addressing significant social challenges and generating positive impacts through academic endeavors.
During its inaugural participation, UEH strategically focused on harnessing its institutional strengths to address several critical SDGs, including SDG1 (No poverty), SDG8 (Decent work and economic growth), SDG16 (Peace, justice, and strong institutions), and SDG17 (Partnerships for the goals). This deliberate emphasis on these specific goals reflects UEH's dedication to making a meaningful impact on society through academic endeavors.
Top 101-200 SDG 1 – No poverty
As one of few public universities granted comprehensive autonomy by the government since 2014, UEH consistently endeavored to implement robust policies for students facing challenging circumstances. Scholarships, Study Credits, Bank Loan Guarantees have been made available to alleviate financial burdens and facilitate access to quality education. Incredibly, the cumulative value of these financial support policies, from 2017 to mid-2022, amounted to approximately 200 billion VND. By nurturing over 4,000 underprivileged and talented students annually, UEH has helped cultivate their potential and empower them to overcome adversity.
UEH has also established strategic partnerships with prominent financial institutions to implement the Study Credit program, offering students reliable and affordable loans, enabling them to pursue their educational aspirations at ease. Other support programs also include the Emergency Student Support Scholarship, the Flood Support Scholarship for the Central Region, the COVID-19-affected Student Support Scholarship (818 scholarships granted, totalling nearly 5,000 billion VND), and the Tuition Reduction Program during 2020-2021 COVID-19 lockdown, with total value up to 30,000 billion VND…These initiatives have collectively provided invaluable assistance to students impacted by unforeseen circumstances, demonstrating UEH's unwavering commitment to their well-being.
Beyond its commitment to students, UEH acknowledges its broader societal responsibility. The university has actively engaged in philanthropic endeavors, including contributing to the COVID-19 Vaccine Fund and providing support to those affected by the pandemic. Each year, UEH initiates meaningful programs such as the Student Volunteer Campaign, to encourage student engagement in community service. Additionally, UEH's Innovation and Entrepreneurship program also emphasizes resource integration and the development of a sustainable entrepreneurial ecosystem.
#43 in SDG 8 – Decent Work and Economic Growth
Attaining a remarkably high ranking in SDG 8 demonstrates UEH's dedication to equipping students with the necessary skills and knowledge to thrive in an ever-changing global labor market, while also promoting sustainable economic growth.
The teaching programs, research endeavors, and strategic partnerships of UEH are consistently aligned with SDG 8 objectives, ensuring that students are prepared to become key contributors to the workforce and drivers of sustainable economic development. Students are taught to establish their personal brands right from the lecture halls and engage in a plethora of stimulating activities, including research projects, international student exchange programs, while receiving recognitions and opportunities to grow individually through youth union and association initiatives to enhance their soft skills. Additionally, our ongoing efforts to expand the network of more than 500 reputable domestic and international businesses have afforded students numerous internship and career opportunities upon graduation. Particularly, the UEH Career Fair in Ho Chi Minh City has generated over 5,000 openings and connected students with hundreds of businesses. The university also endeavors to maintain a network of over 240,000 alumni, including esteemed local leaders, managers, and successful business owners, in order to assist students in establishing high-quality relationships that serve their future career development.
Top 401-600 in SDG 16 – Peace, Justice and Strong Institutions
"Democratic – Transparent – Just" is the guiding principle in which UEH operates.
All members are treated equally, with rights guaranteed and participation in decision-making, policy implementation, activities, and programs on a regular basis. Leadership at all levels of units and organizations are elected via a democratic mechanism that governs the organizational structure and governance, while Rules and Regulations are publicly disclosed to all university employees, such as the Organizational and Operational Regulations of the University, Functions and Duties of affiliated units, UEH's Research Code of Conduct, and the Annual Report on Public Disclosure Policy .
In addition, UEH is actively involved in building state institutions, advising and developing regions for localities, and enhancing the skills and capabilities of policymakers. Initiatives such as the "Innovation and Digital Transformation in the Public Sector" training program in the province of Ba Ria – Vung Tau and regional training programs on water resource management in the context of socio-economic and climate change adaptation in transboundary river basins of Southeast Asia exemplify our commitment.
Top 201-300 in SDG 17 – Partnerships for The Goals
In its pursuit of multidisciplinary and sustainable development, UEH has actively engaged in collaborative efforts for the sustainable development of the community. Notably, UEH has directly participated in a wide range of activities that aim to promote the university's participation as advisers for government and policies on academic freedom. Additionally, UEH leveraged its reach in the international academic community to collect and measure data for SDGs in domestic and international conferences and seminars as well as interdisciplinary dialogues on SDGs, the 2030 Agenda in China as well as other student volunteer programs, research initiatives and educational resource development with numerous NGOs.
An exemplary initiative that can be mentioned is the UEH Green Campus initiative, which focused on raising awareness and implementing the 3R (Reduce – Reuse – Recycle) model to minimize waste, landfill and enhance the quality of recyclable materials through proper waste sorting. Recognized for its merit in community engagement, knowledge dissemination on green universities, circular economy and sustainable development, the project was awarded first place in the "Zero Waste City" Challenge, organized by NGO Waste-Aid in collaboration with numerous international sponsors.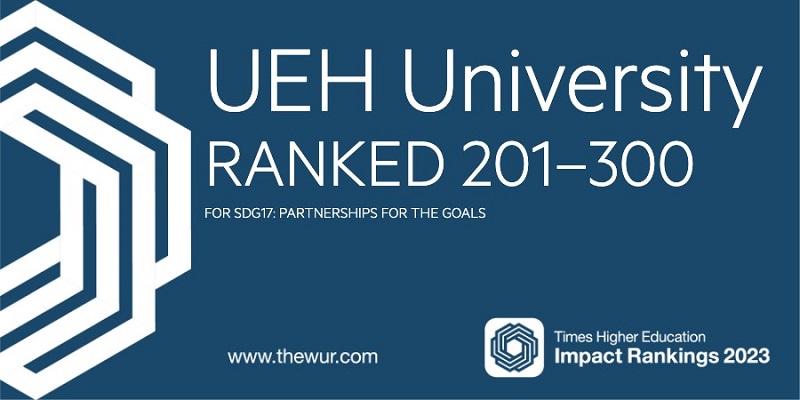 With over 47 storied years of robust international development and ever-evolving efforts in response to market signals, the University of Economics Ho Chi Minh City (UEH) has successfully affirmed its reputation and role within the national key university system. In light of this responsibility, UEH commits to becoming a change agent, leading in the transformation of a future, next-generation university, one that is multidisciplinary and sustainable.
Professor Nguyen Dong Phong, Party Secretary and Chairman of University Council, shared: "This remarkable accomplishment is not of a single year's effort, but the culmination of 48 years worth of visionary direction and strategic orientation towards sustainability and a balanced approach to Environmental, Social and Governance (ESG). UEH's decision to undergo complete transformation and become a multidisciplinary and sustainable university is significant as it fulfills the responsibilities of a university with local and global missions. Our participation and achievements in THE Impact Rankings 2023 demonstrate our steadfast commitment to the multidisciplinary development strategy and sustainable actions.  In the coming period, with our pioneering spirit and internal strength, the entire UEH population will undoubtedly join hands and proactively confront new challenges to build a sustainable university, create a brighter future for learners, communities, and the world, and contribute to the development of a prosperous society."
News & photos: Department of Research Management – International Cooperation, Department of Marketing – Communications