"Business Models And Applications Of Digital Technology To Small Businesses" Training Course In Hau Giang
On April 6 and 7, UEH Institute of Innovation (UII) in collaboration with Hau Giang Innovation Support and Technology Incubation Center (ISC Hau Giang) successfully organized the training course: "Business models and applications of digital technology to small businesses" in Hau Giang Province. Through the program, students were stimulated to think creatively and understand how to apply technology and digital transformation in operating their businesses, thereby, helping to optimize operating processes and to improve the value of products and services of enterprises, contributing to promoting regional economic development in a sustainable way.
The opening ceremony of the training course recorded the attendance of Ms. Ho Thu Anh – Vice Chairwoman of Hau Giang Provincial People's Committee, Ms. Nguyen Thuy Tuong Vy – Director of Hau Giang ISC. On behalf of UEH leaders, the event had the participation of Dr. Bui Quang Hung – Vice President of UEH cum Director of UEH Vinh Long Campus, Assoc. Prof. Dr. Phan Thi Bich Nguyet – Chairwoman of UEH Strategy and Policy Advisory Board, Master Nguyen Thi Thuy Lieu – Standing Deputy Director of UEH Vinh Long Campus with the presence of representatives of Departments, Branches and Associations along with 34 learners who are business people and entrepreneurs in Hau Giang Province.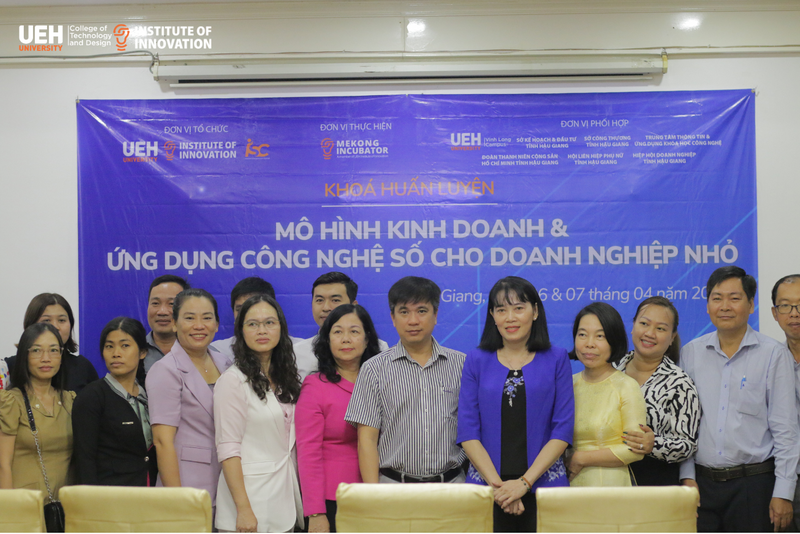 After more than 2 months of preparation, the training course was built with the goal of helping trainees understand how to operate businesses in the direction of Innovation; to better understand digital transformation so as to be able to apply and to build a business model that helps increase business performance. At the same time, students had the opportunity to approach and practice coherently some tools to bring their products closer to customers through social media channels and e-commerce platforms. Ms. Nguyen Thuy Tuong Vy, on behalf of ISC Hau Giang, thanked UEH Institute of Innovation and Mekong Startup Incubator for coordinating in developing the content and organizing the course properly, along with the enthusiastic support of provincial leaders in communication and enrollment activities to students in-need in Hau Giang Province.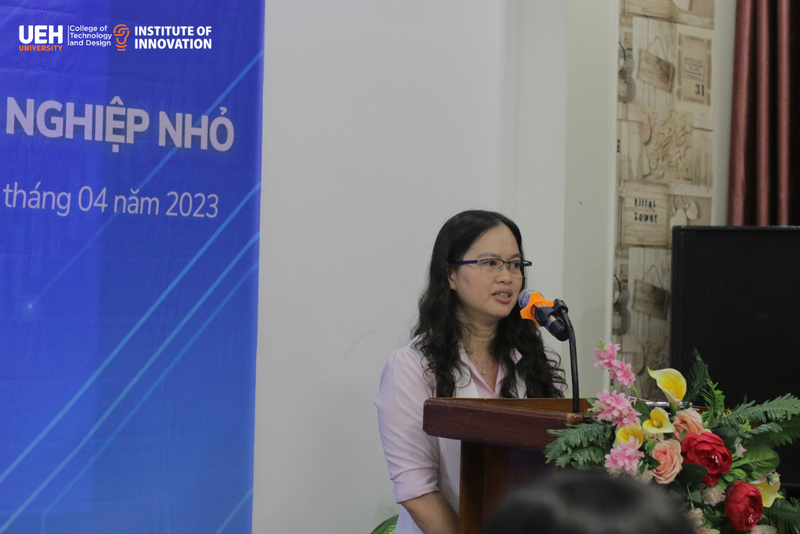 Ms. Nguyen Thuy Tuong Vy introducing the objectives of the Training Course
At the ceremony, Dr. Bui Quang Hung affirmed UEH's role in contributing to the socio-economic development of Hau Giang Province: "UEH, as a national key University in the fields of economics and administration, looks forward to the desire to be socially responsible for the community in contributing to improving the professional capacity of human resources in Hau Giang Province in particular and the Mekong Delta in general. We are always ready to coordinate and support the Province in the development of incubator products and services with science and technology applications, especially in the fields of innovation, digital transformation and e-commerce. Personally, UEH and I do appreciate the contribution and the synergy from the Provincial Leaders. This is a very good sign that the development of the local economic ecosystem and the start-up ecosystem is interesting and focused on by the Provincial Departments and leaders, UEH is always ready to support the province in developing the local economy in a sustainable way."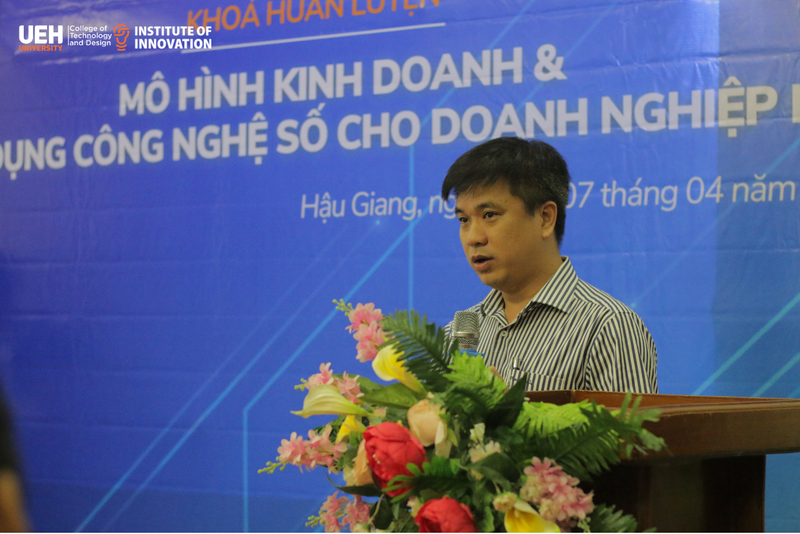 Dr. Bui Quang Hung speaking at the opening ceremony
Ms. Ho Thu Anh – Vice Chairman of Hau Giang Provincial People's Committee – sincerely shared: "Small and medium enterprises account for 97% of the total number of businesses in Hau Giang Province. In today's explosive technology era, businesses must always keep changing to adapt and to catch up with trends, especially the application of digital transformation and training in innovative thinking to develop and to grow your local business quickly. Provincial Leaders and I would like to thank UEH, UII and ISC Hau Giang for organizing the course with practical topics and do hope that more and more learners will attend so that useful knowledge can spread spread to the local business community."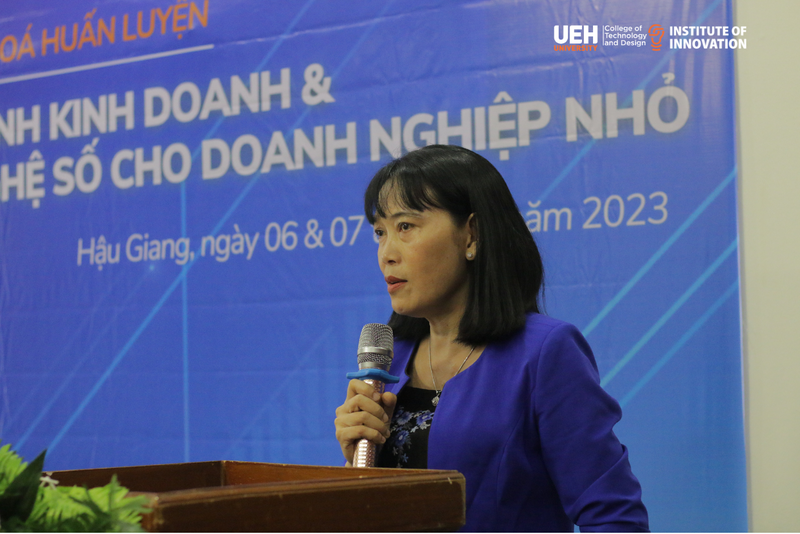 Ms. Ho Thu Anh – Vice Chairman of Hau Giang Provincial People's Committee – speaking at the Opening Ceremony
The training course includes 4 training topics with the accompaniment of 3 reporters: MSc. Nguyen Thi Phuong Thao – Head of General Department of UEH College of Technology and Design; MSc. Le Duy Khang – Lecturer at UEH School Media Design and Mr. Tran Lam – Lazada Vietnam Endorser. Over the course of 20 hours of study and work, the trainees were able to practice building business models and applying digital transformation to design the most optimal version of their business model; be guided to build a website and how to integrate SEO in articles; to share the analysis of indexes on e-commerce platforms and to understand how it works. With extremely useful and practical contents, more than 30 learners feel incredibly excited when they are able to absorb new knowledge to apply them for operating their businesses effectively.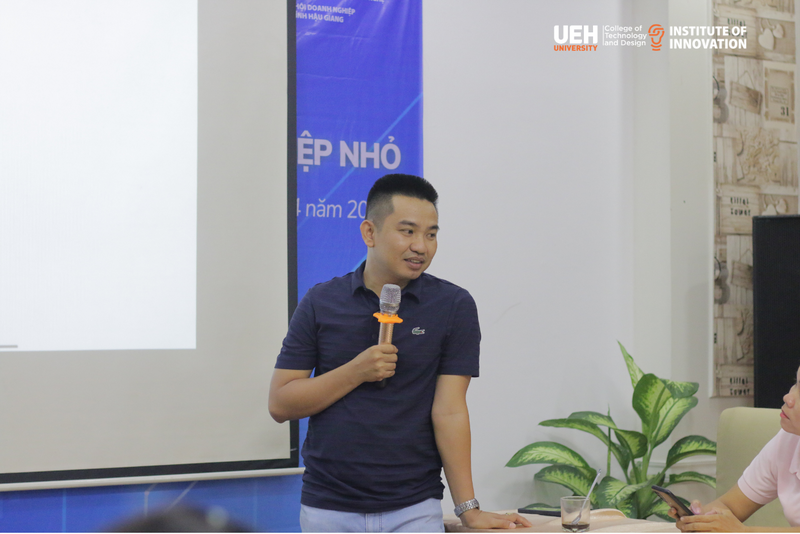 Mr. Tran Lam – Lazada Endorser – sharing his knowledge about operating an e-commerce platform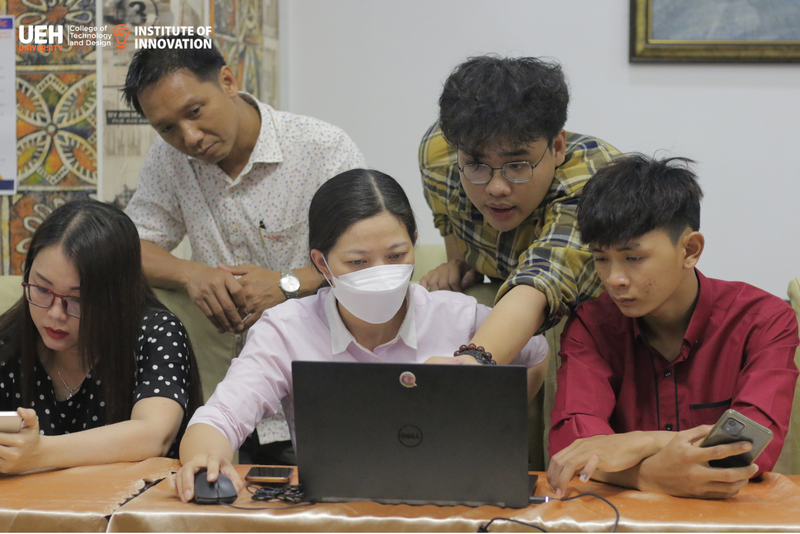 Learners practicing designing websites for businesses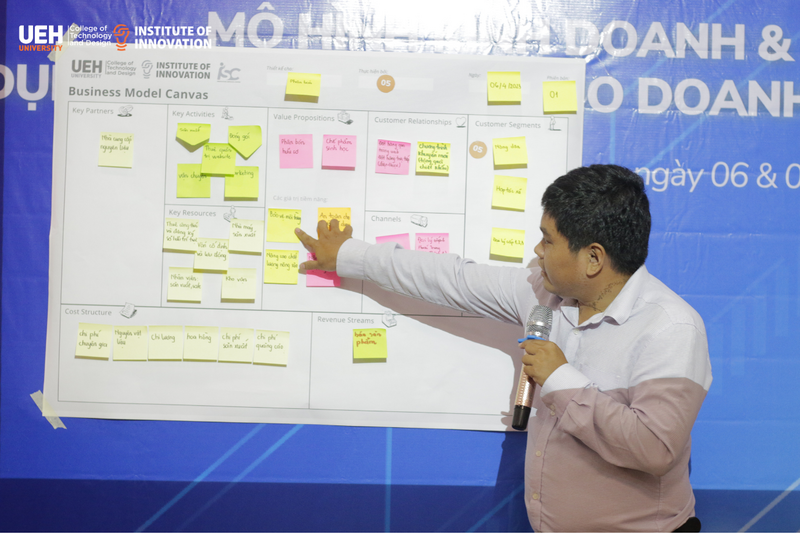 Students presenting their digital business models after practicing
The trainees involved in the training course are of small and medium-sized enterprises trading products and goods in various fields such as: Sliced fish, pineapple wine, soursop tea, dried vermicelli, etc. These are the strong and key products of Hau Giang Province. The application of digital transformation to improve production processes and product quality will make a great contribution to creating values that promote the development of the economy in Hau Giang province in particular and in the Mekong River Delta in general. Therefore, at the beginning of the last topic, learners were able to display their business products and perform "Elevator Pitch" to practice introducing their products to customers or investors.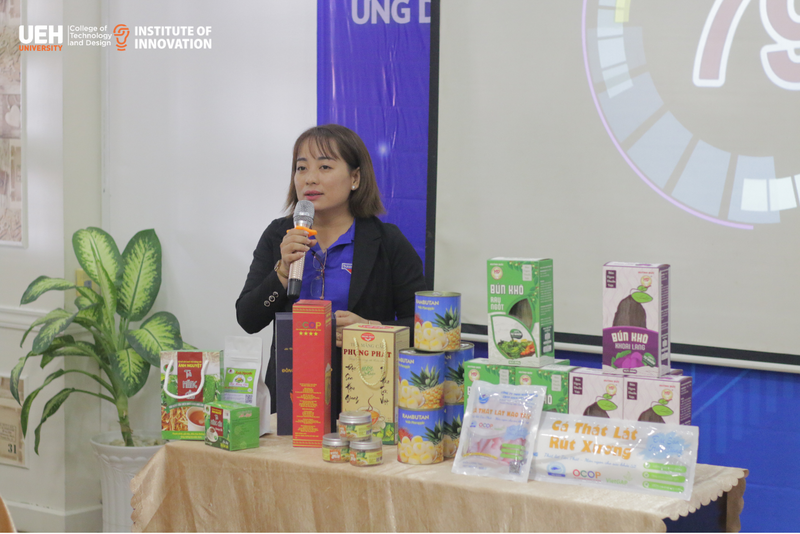 Students presenting their products in the form of Elevator Pitch
The training course on business models and digital technology applications for small businesses in Hau Giang ended with many successes. In the upcoming time, UEH Institute of  Innovation will continue to cooperate with ISC Hau Giang to organize further training courses in Hau Giang Province in 2023 as well as in other neighboring Provinces in order to contribute to fostering quality human resources for the region and boosting the economy in the development of Mekong Delta.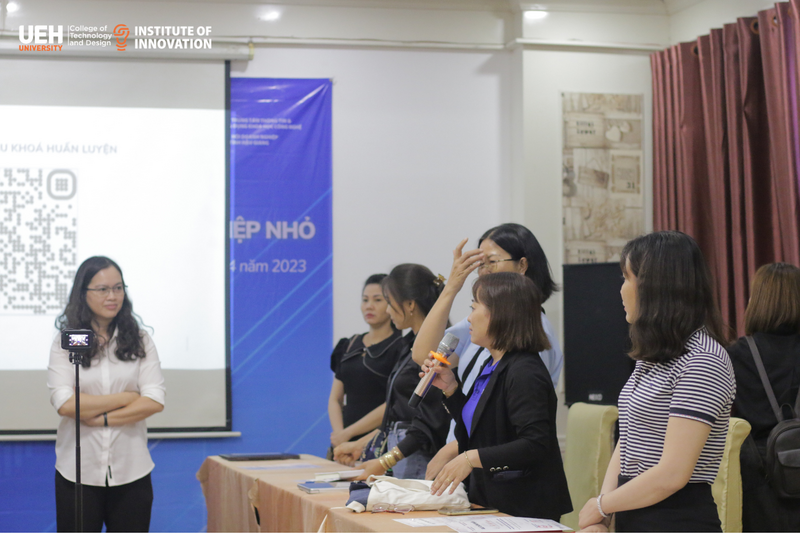 Ms. Cao Thi Cam Nhung -Mai Duong Food and Spice Sauce Production Company – Representative of learners thanking the training course's organizers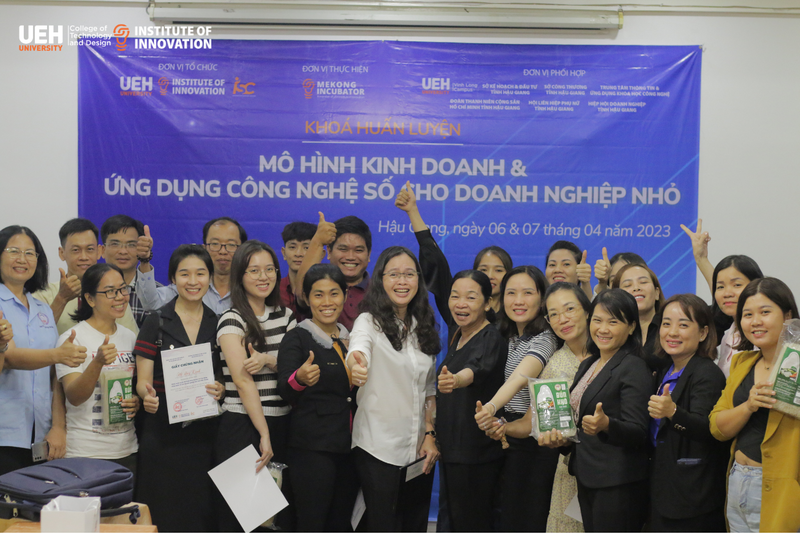 Summary of the Training Course
Additional photos regarding the training course are presented as follows: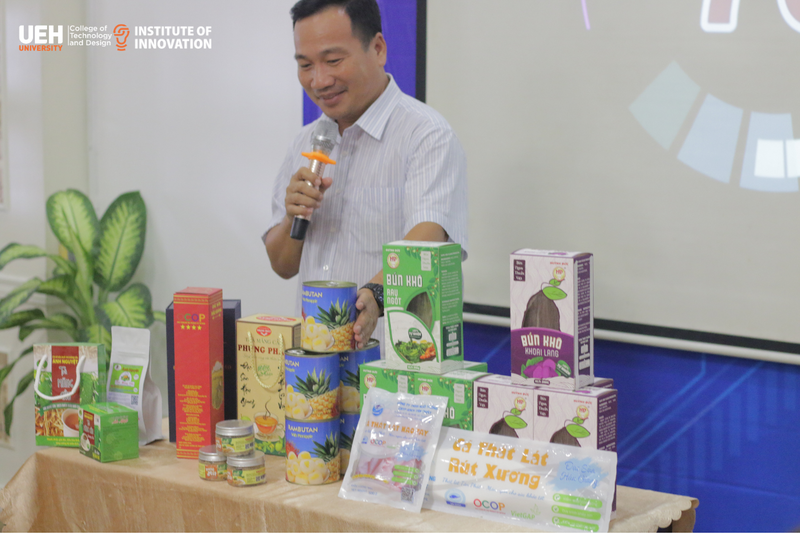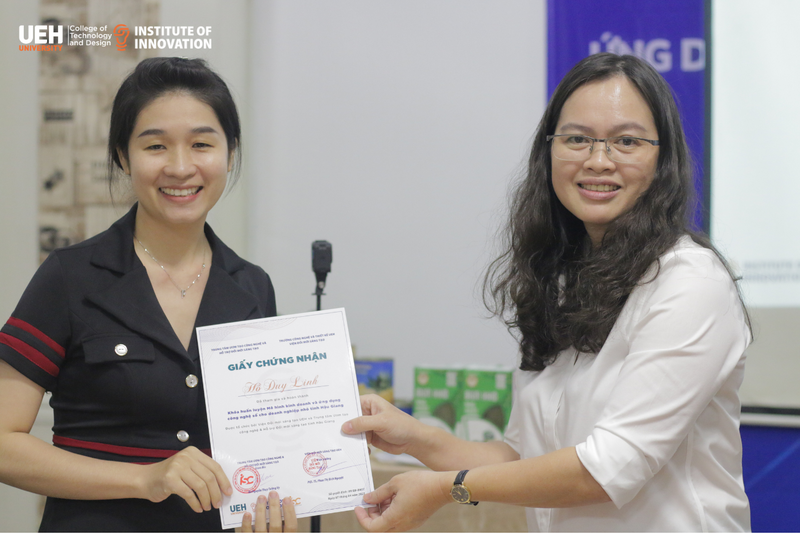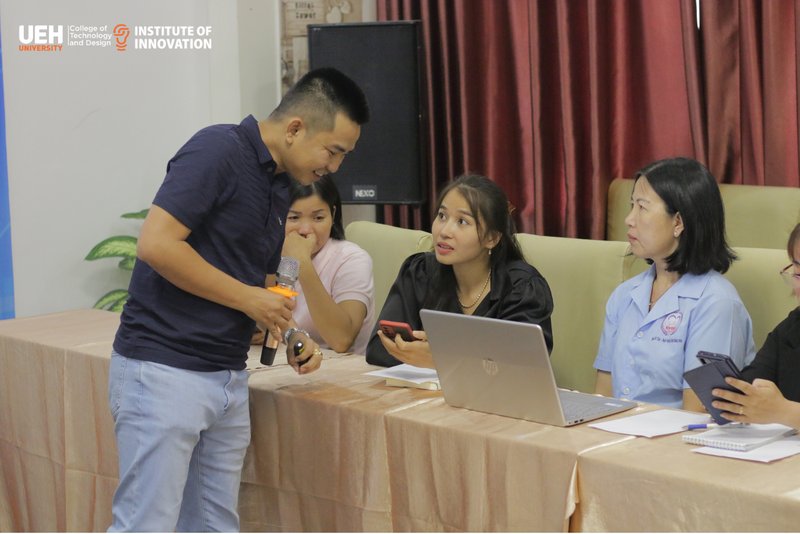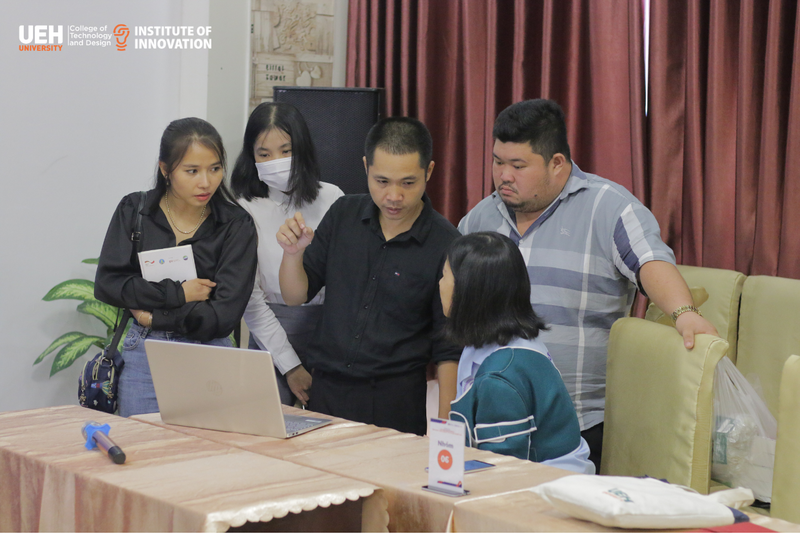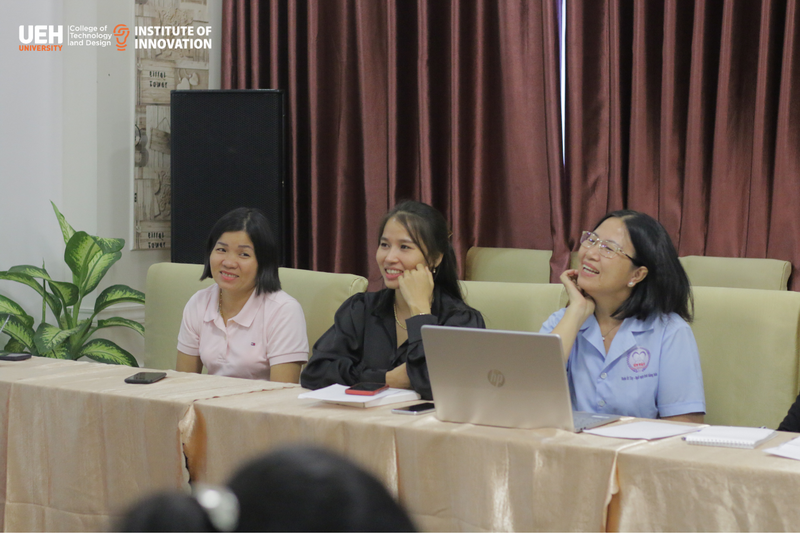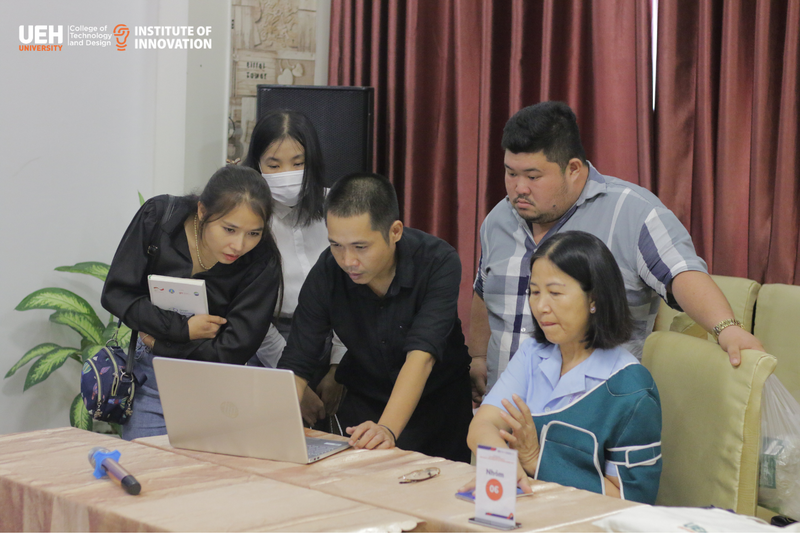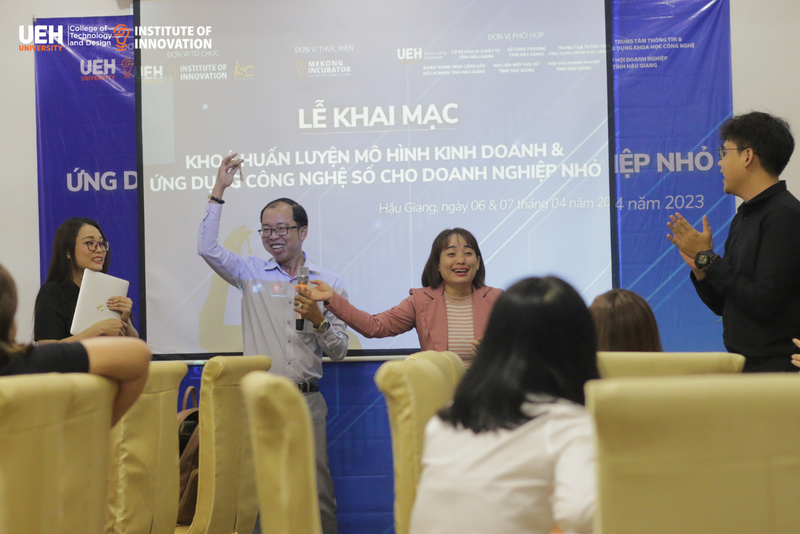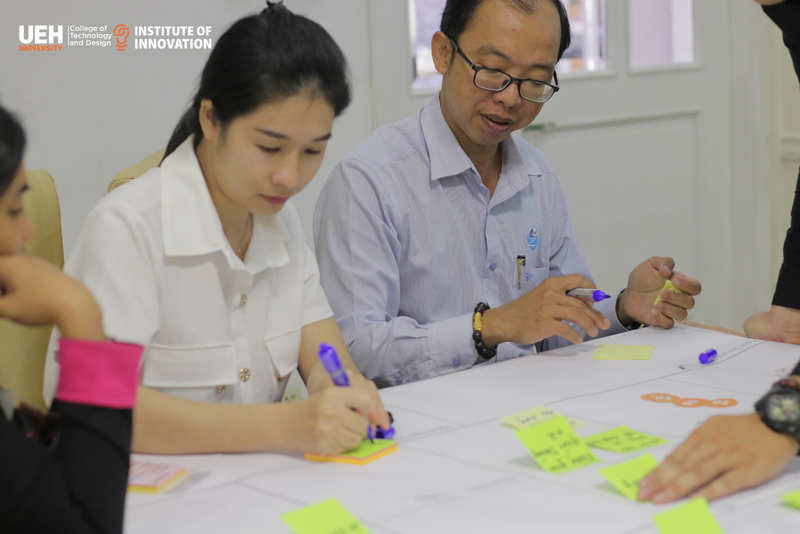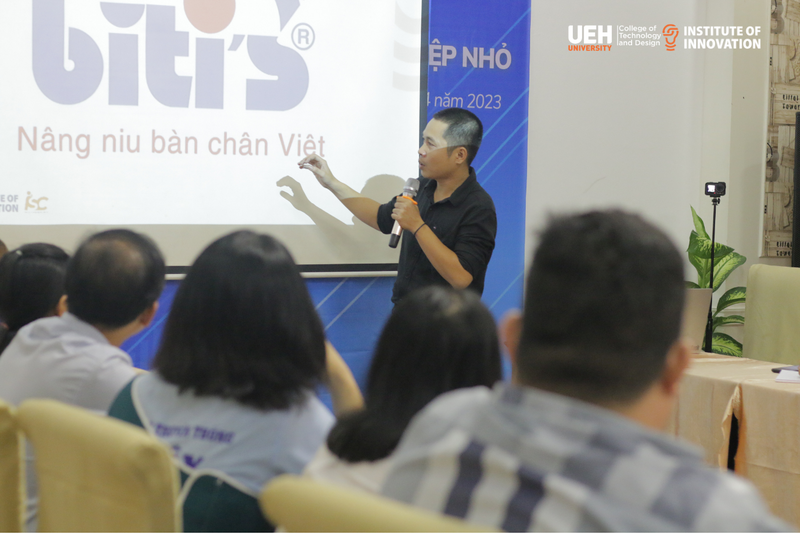 News, photos: UII Institute of Innovation