UEH Holding Graduation Ceremony 2022 For More Than 4,240 New Graduates
From July 12th to July 16th, 2022, at Hall A.116, University of Economics Ho Chi Minh City (UEH) officially held the Graduation Ceremony 2022 for more than 3,800 students of the full-time training mode, full-time 2nd diploma, full-time inter-university; and 439 part-time undergraduate students.
University graduation is a significant milestone in an individual's life ending the university study process to step into personal career path with full of dreams, ambitions, and aspirations for the future. With a desire to mark a milestone in their student life, from July 12th to July 16th, 2022, at Hall A.116, UEH held the Graduation Ceremony 2022 for more than 3,800 full-time, full-time 2nd diploma, full-time inter-university students; and 439 part-time undergraduate students to recognize their efforts in all aspects of studies, scientific research, training activities during their study at the university. This was an opportunity for all students to gather with their lecturers and their families to share the joy of graduation.
Attending the UEH Graduation Ceremony 2022 were Prof. Dr. Nguyen Dong Phong – Secretary of the Party Committee, Chairman of the University Council; Prof. Dr. Su Dinh Thanh – President of UEH; Dr. Bui Quang Hung – Vice President; Assoc. Prof. Dr. Phan Thi Bich Nguyet – Chairwoman of the Strategic and Policy Advisory Council; Professors, Associate Professors, PhDs, Heads, and Deputy Heads of units affiliated with UEH and member Colleges.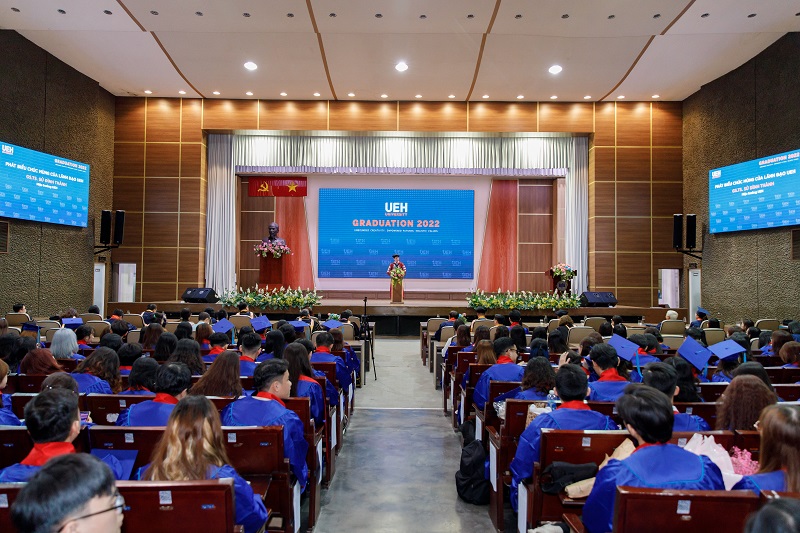 Overview of the Graduation Ceremony
Delivering a congratulatory speech to the new graduates, Prof. Dr. Nguyen Dong Phong – Chairman of the University Council – shared: "With breakthrough steps, UEH has been ranked by prestigious organizations in the world: Top 1,000 Best Business Schools in the world; Top 25 with the performing universities in income from continuous professional development; Top 551+ Best Universities in Asia by QS 2022; in particular, UEH has just been recognized by U-Multirank as the Best University in Vietnam and in the Top 66 Leading Universities in Asia. Therefore, when graduating from a university with a long tradition, being one of the high-quality training addresses in economics, management, business, and law, recognized by society and learners, and having a good reputation in the regional and global markets, UEH graduates have the right to be proud of the journey they have gone through and can be completely confident in the achievements they have attained, the knowledge they have been equipped. In the joyful atmosphere of today's ceremony, I would like to remind you to continue promoting the creative spirit, bravery, and enthusiasm of a UEH student to seize every opportunity and master your future – aligning with the spirit of the slogan that UEH has chosen: "Unbounded creativity. Empowered futures. Holistic values" – to be able to live well with yourself and contribute to your family, society, and the community. Our future will be determined by ourselves through our attitudes and actions. Wishing you all the success in your career!"
At the same time, he also expressed his gratitude to the parents of new graduates for accompanying and supporting them in life and learning to get who they are today, and for having trusted in choosing UEH as a place to cultivate knowledge for the future development of their children.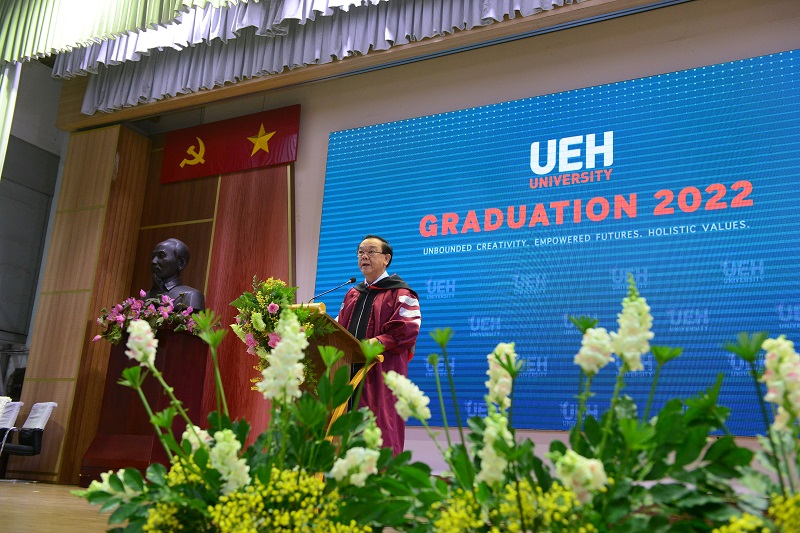 Prof. Dr. Nguyen Dong Phong – Chairman of the University Council – giving a congratulatory speech to the new graduates
Among the more than 3,800 new full-time graduates are 3,158 full-time students, 215 full-time 2nd diploma students, and 431 full-time inter-university students. To be more specific, 08 students graduated with High Distinction, 978 students with Distinction, and 442 students with Credit. For the part-time mode, there is 1 student who graduated with High Distinction, 75 students with Distinction, and 210 students with Credit out of a total of 439 new graduates this time.
All UEH graduates met the requirements of computer skills listed as IC3 computer certificates and minimum English proficiency as TOEIC 500 or higher, depending on the training major. Particularly for high-quality programs, UEH graduates must participate in scientific research or business internships. This is one of the proofs of UEH University'ss efforts and UEH students themselves for being ready for international integration and contributing to the economic development of the country.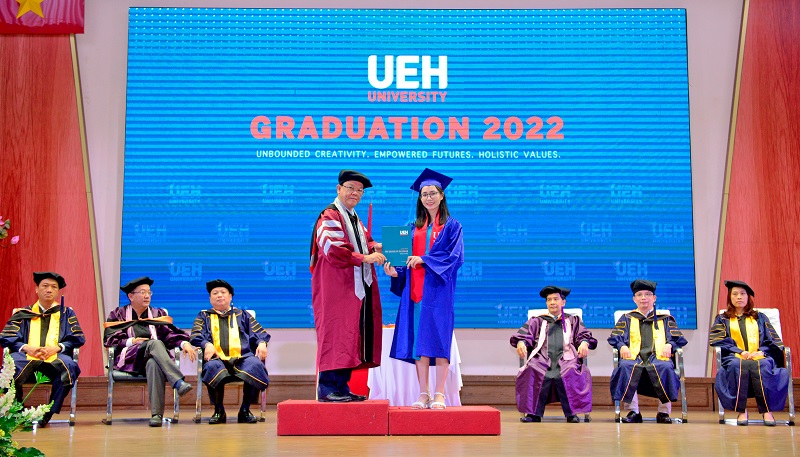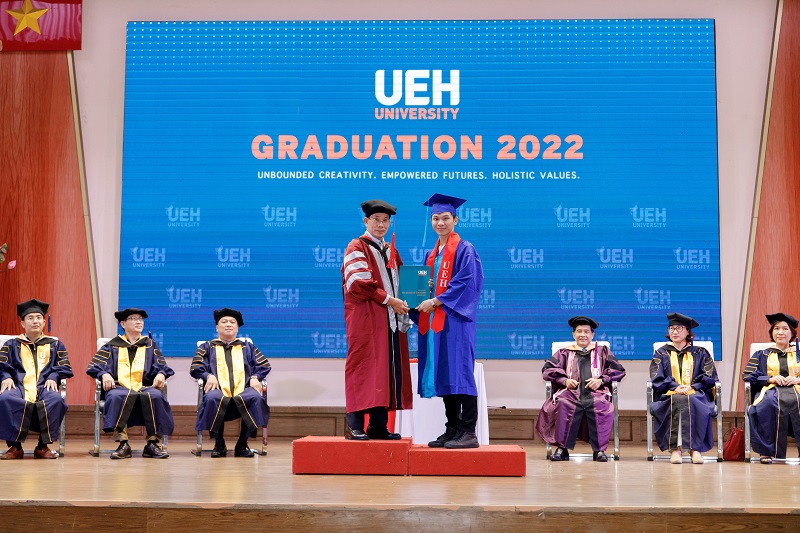 Graduation Degree awarding ritual for New Graduates
Also from this moment of graduation, new graduates could proudly join the team of over 250,000 alumni of all levels and modes of UEH. From the cradle of UEH knowledge, thousands of high-quality and reputable officials, economists, and managers have been holding a huge number of important positions at state management agencies; more people are government leaders at all levels, analysts, researchers, policymakers, leading officials, and teachers holding high positions in domestic and foreign enterprises, universities, colleges…
Nearly 46-year construction and development, UEH has been performing excellently and comprehensively the task of training high-quality human resources, serving, and dedicating to national economic development. UEH has made much progress, impressive and comprehensive transformation in many aspects of activities listed as implementing university autonomy with many positive results; innovating and developing advanced training programs according to the trend of international integration; increasing resources to support the development of faculty research, publishing scientific articles in prestigious international journals, contributing to the increase of UEH's academic reputation and modern infrastructure development.
To help students meet the requirements of the new labor market and in a new position – a global citizen in the context of globalization, UEH has been constantly improving the quality of training, combining online/offline (blended learning), strongly applying information technology to training industries, expanding the working market of students from countries to the world, meeting the requirements of the free labor shifting in ASEAN. UEH University also strengthens the exchange of lecturers and international students; increasing the invitation of enterprises to participate in the process of training, researching, and consulting of the university; cooperation in training and research with international partners; strong integration with the global education market, developing consultancy and start-up innovation. All of the above strong efforts of the university aim at best-equipping students to confidently enter the highly competitive labor market, quickly adapting to the domestic and regional markets.
Additional photos relating to the Graduation Ceremony:
1. Graduation ceremony of the regular university, full-time 2nd diploma, full-time inter-university from July 12th to July 15th: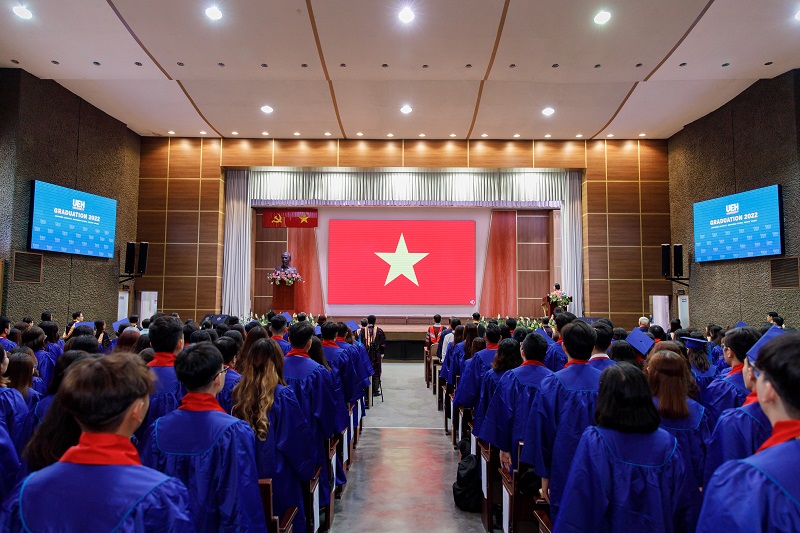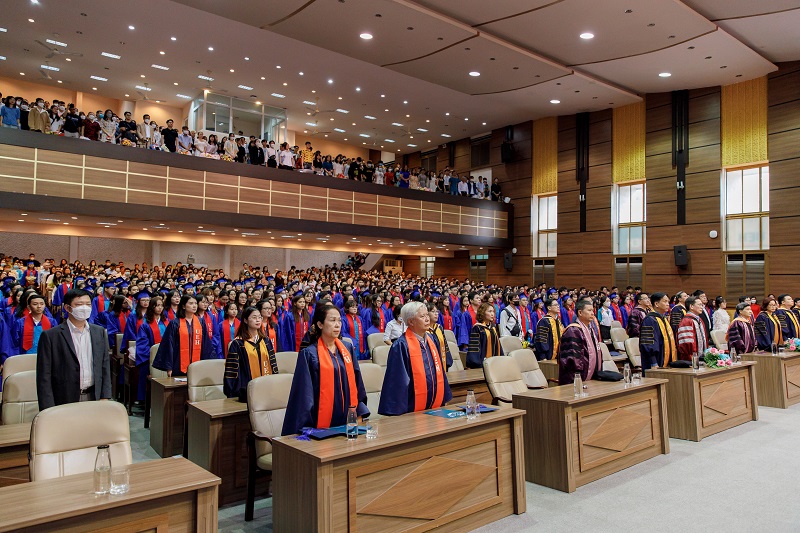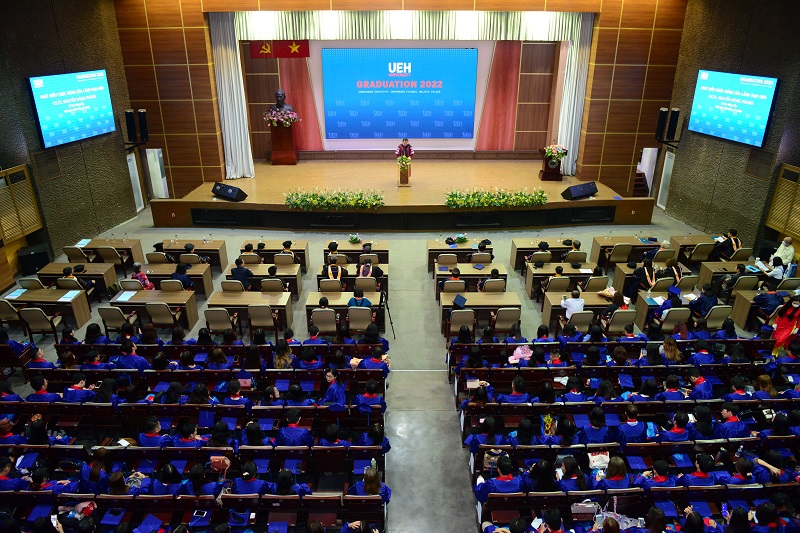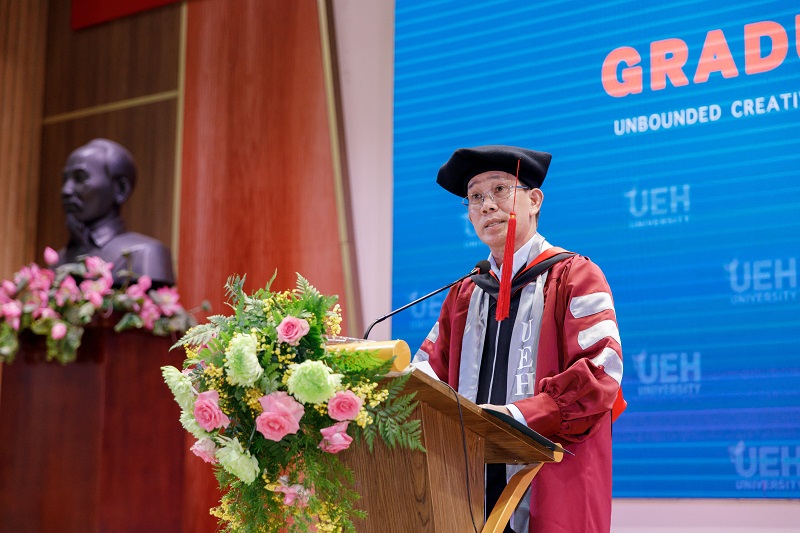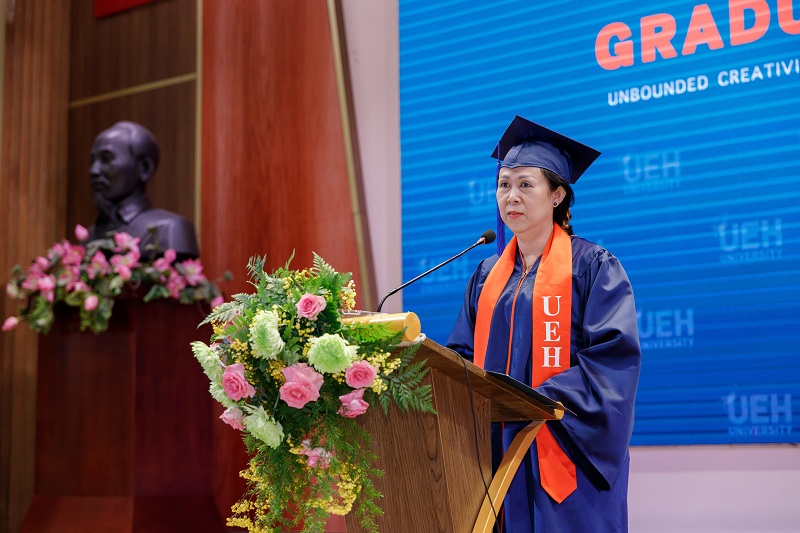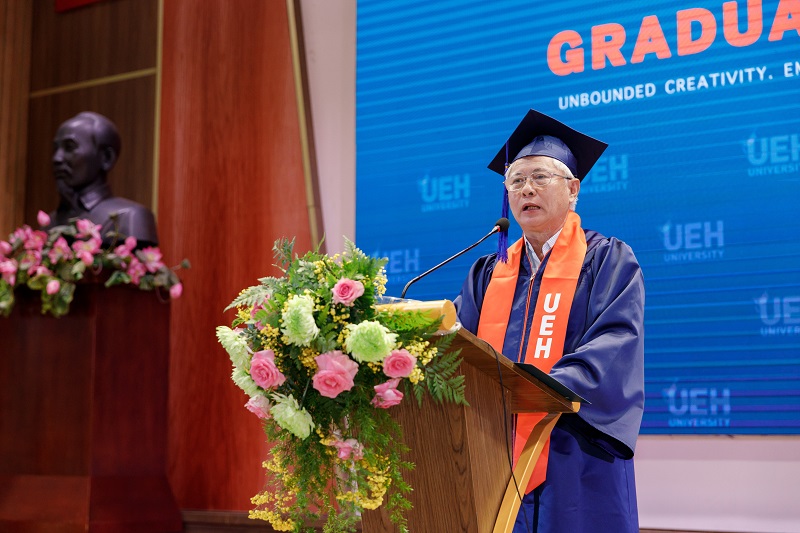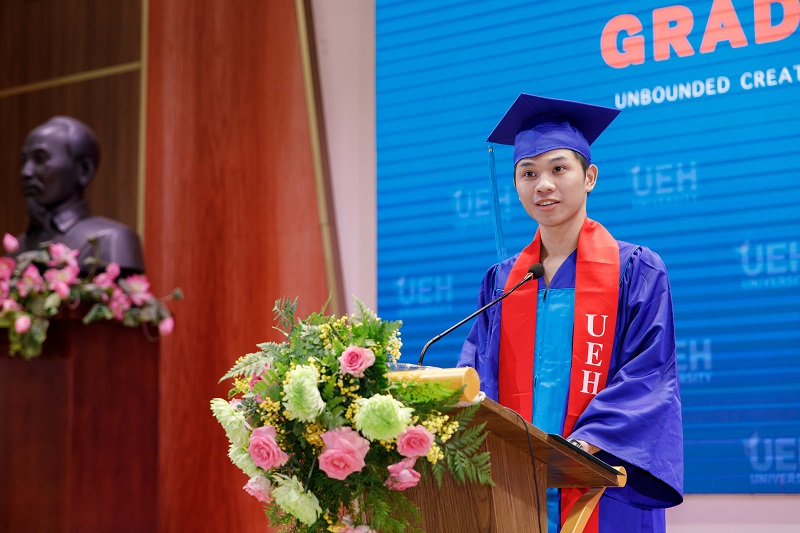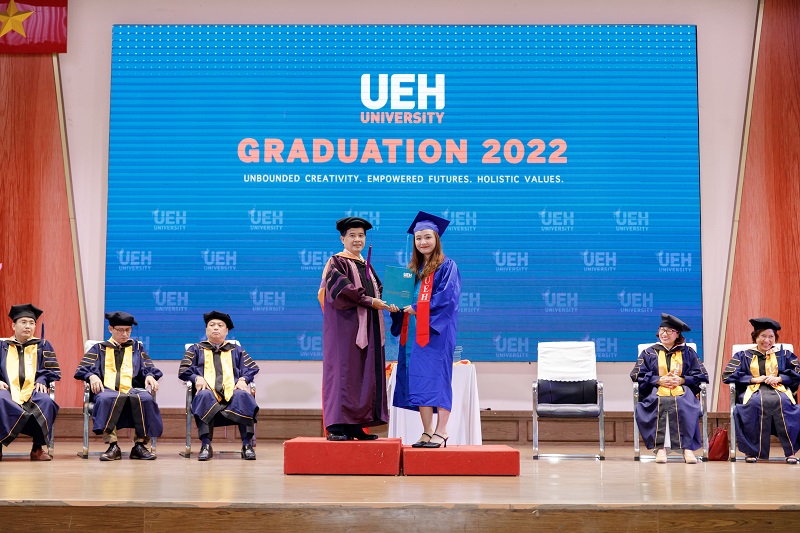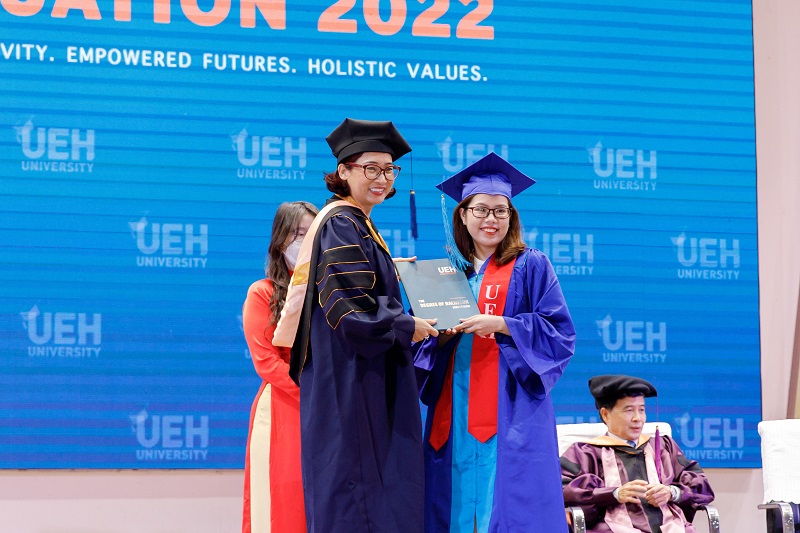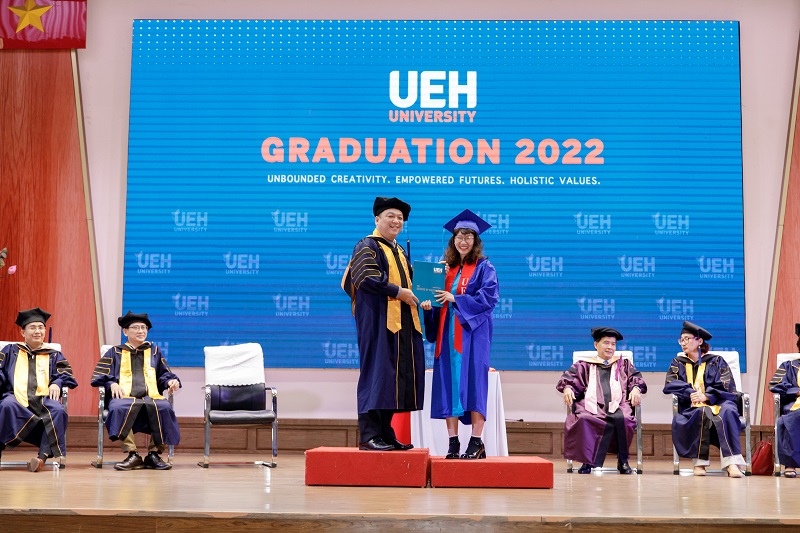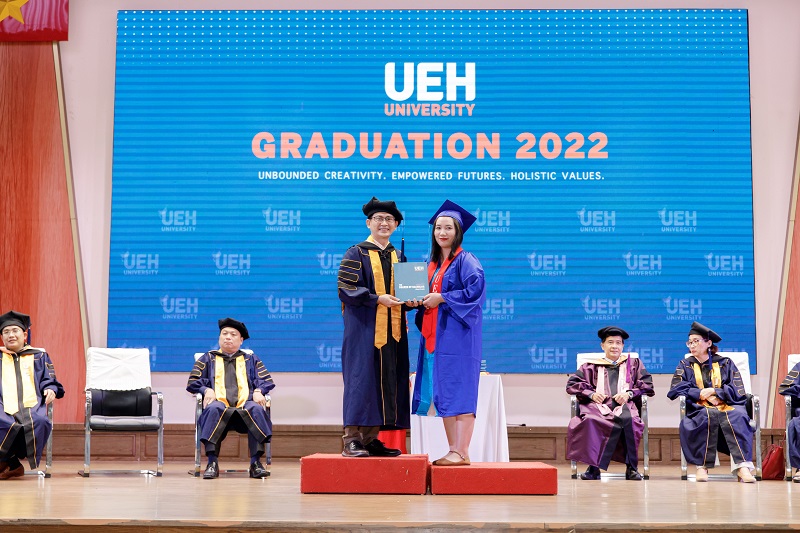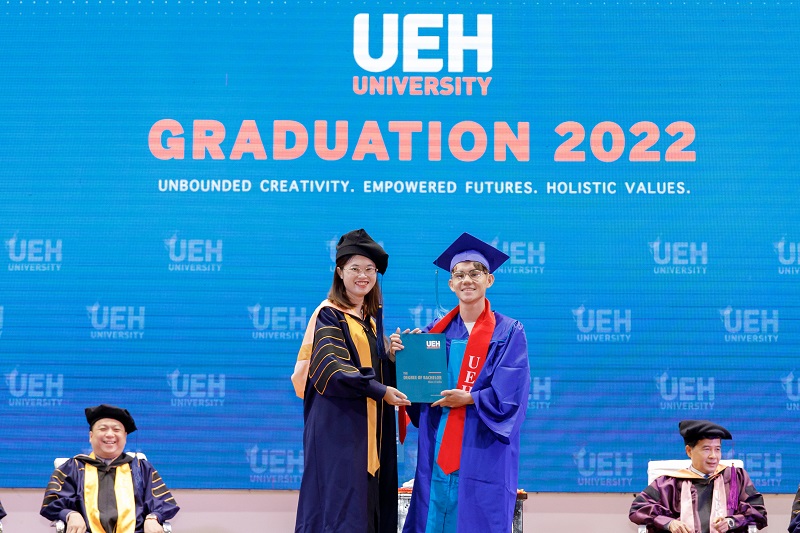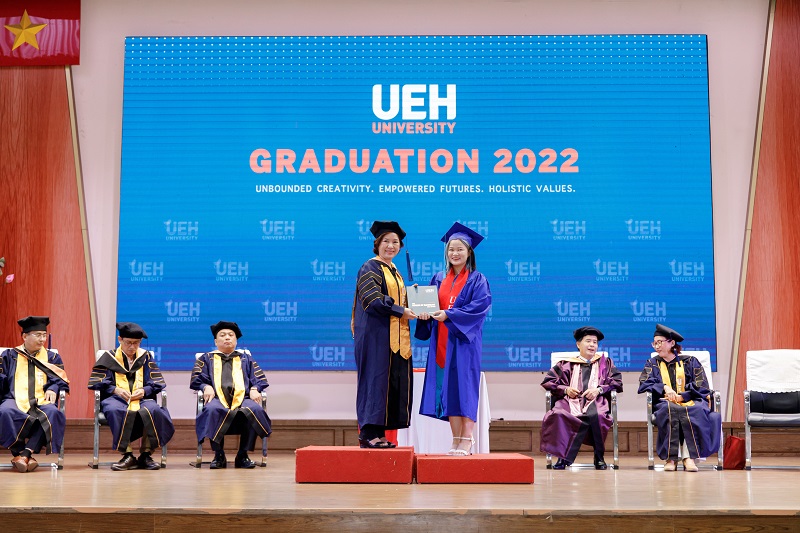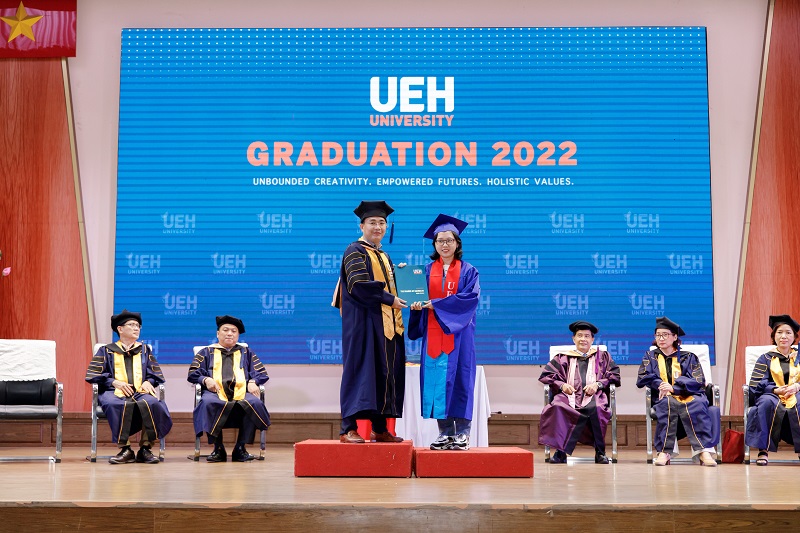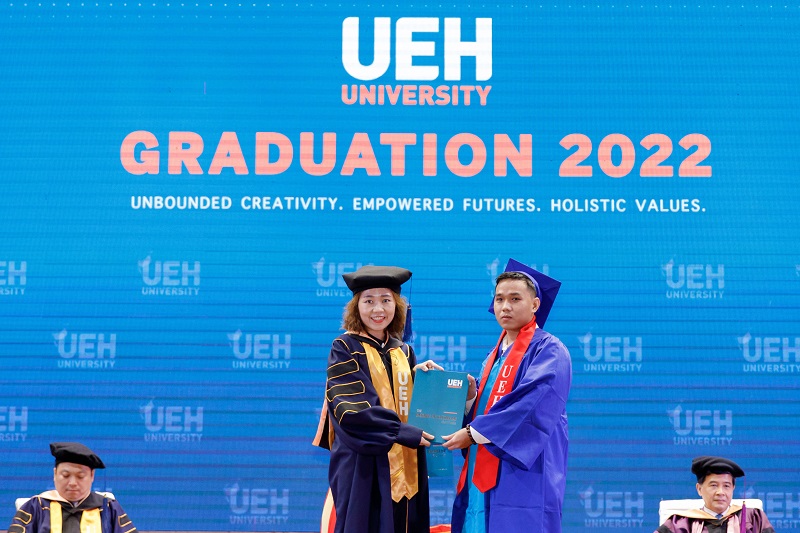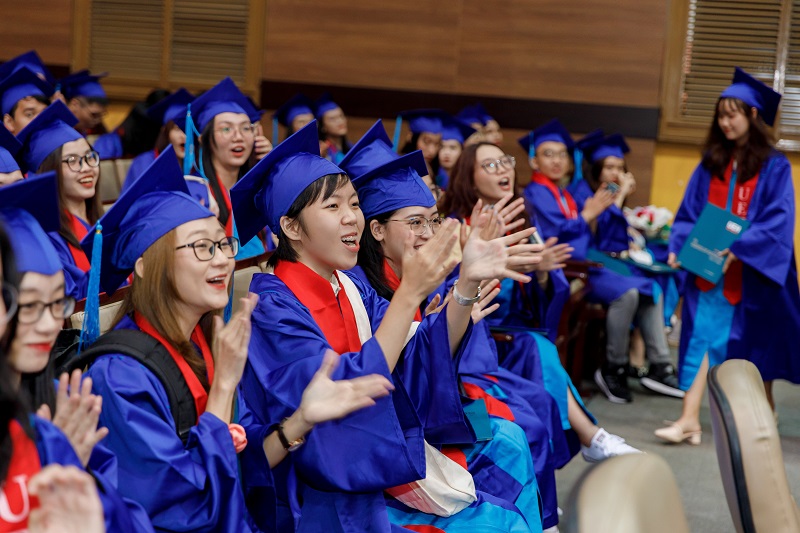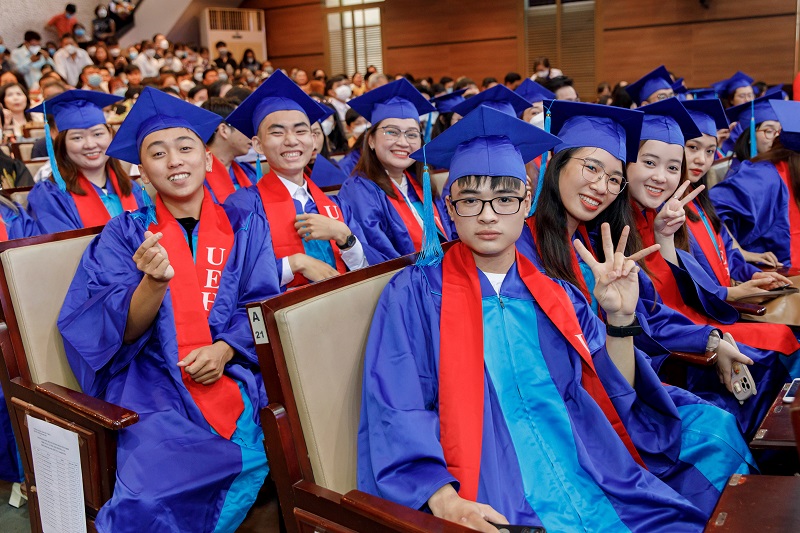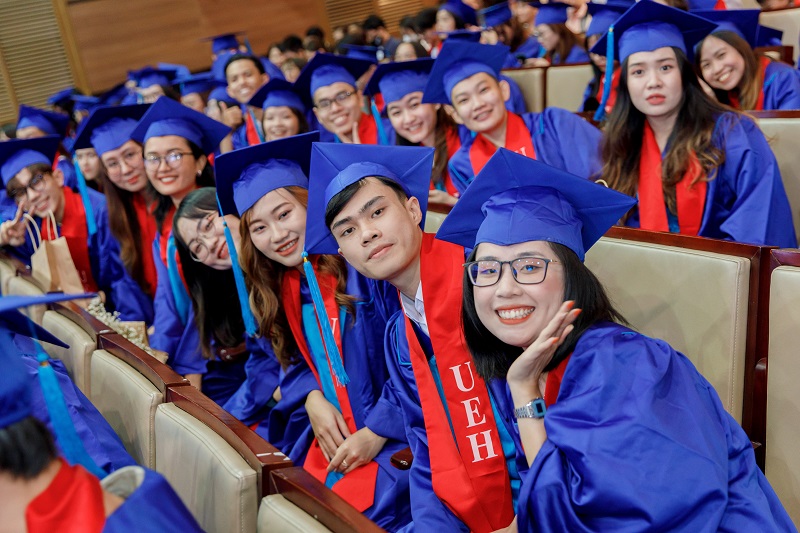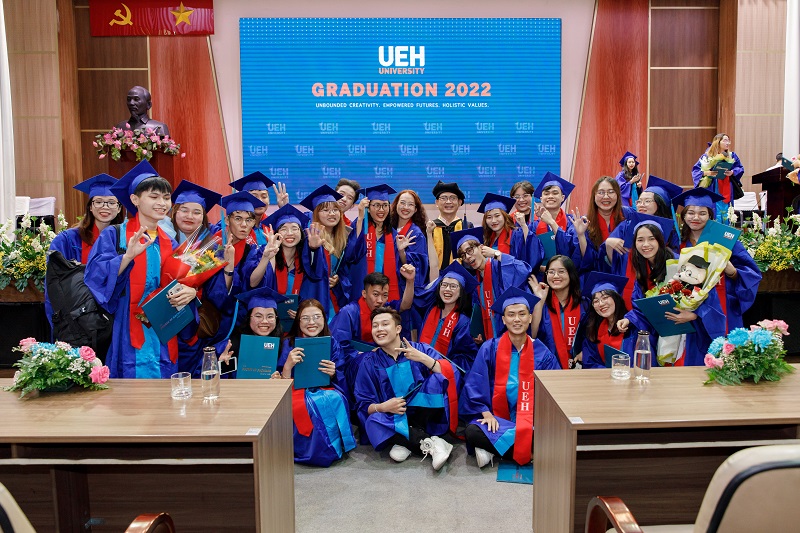 2. Graduation ceremony of part-time university on July 16th, 2022: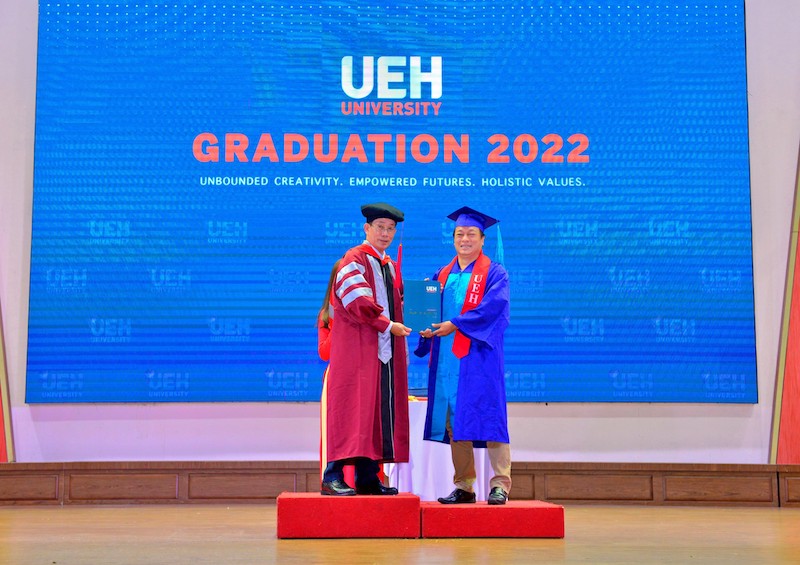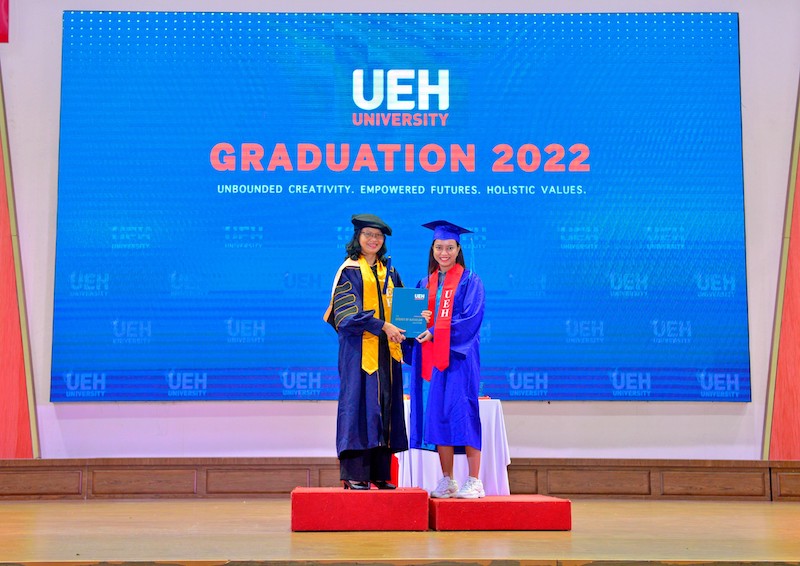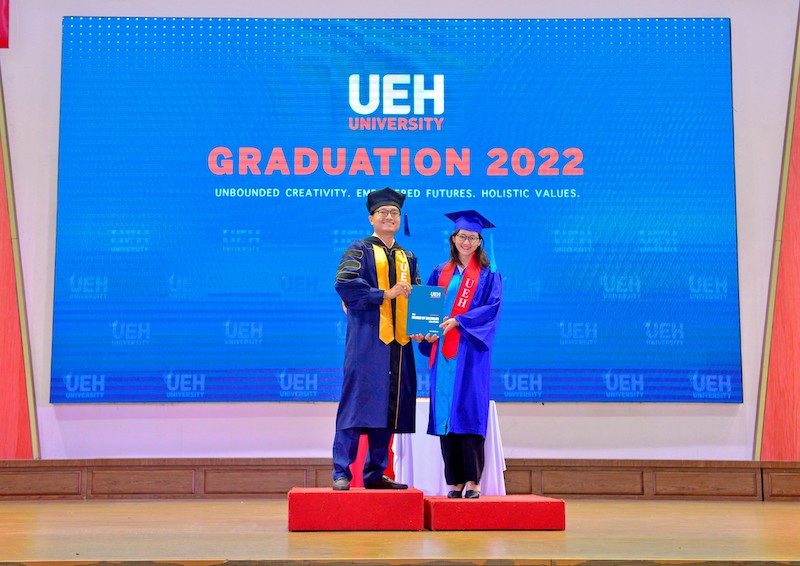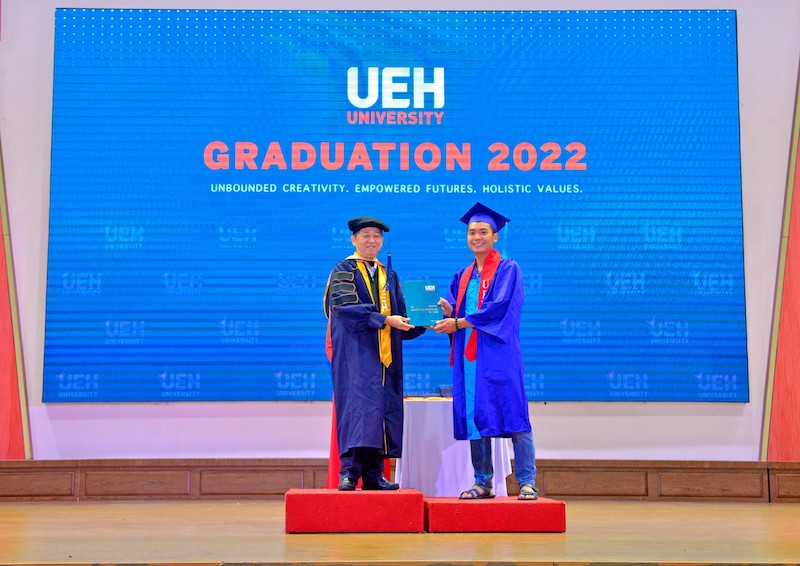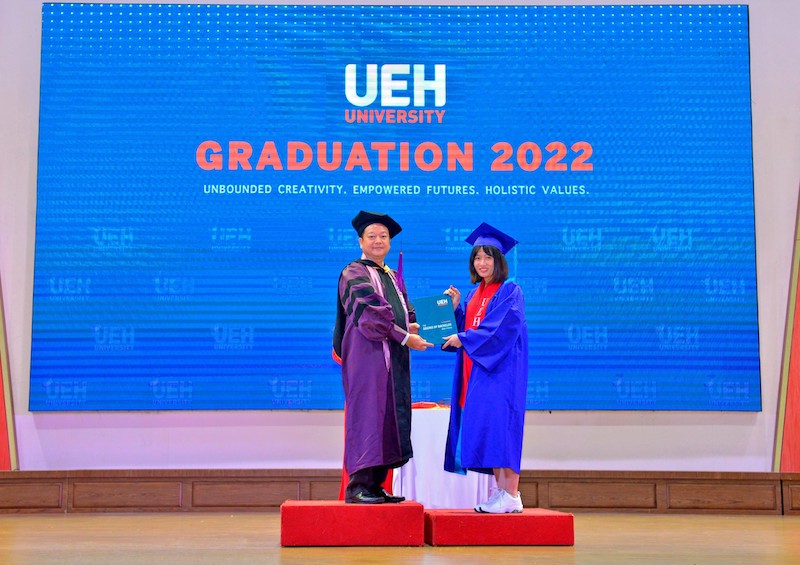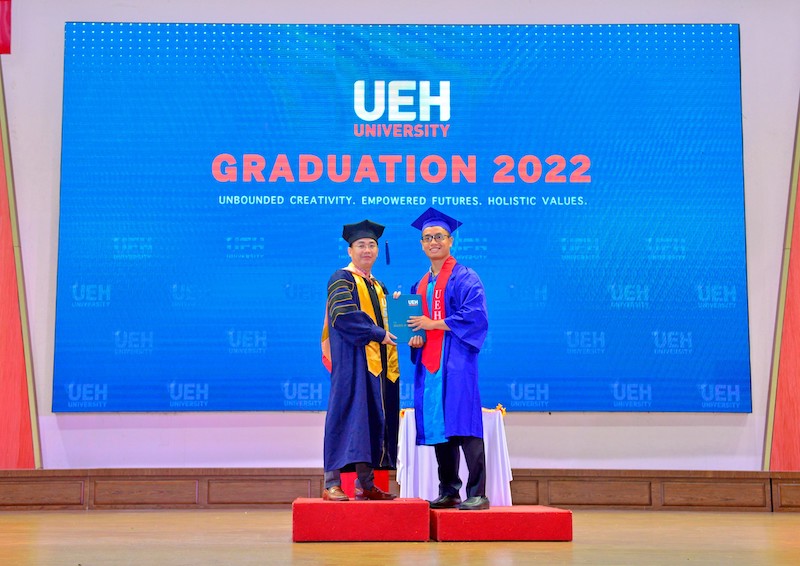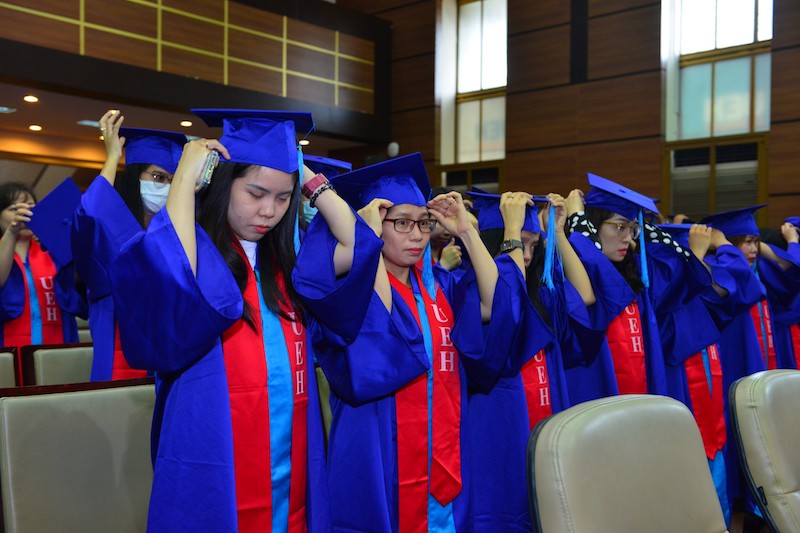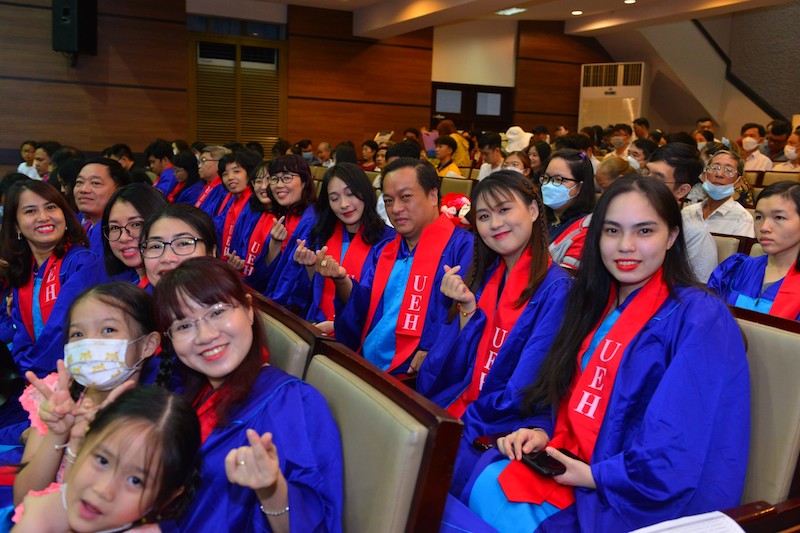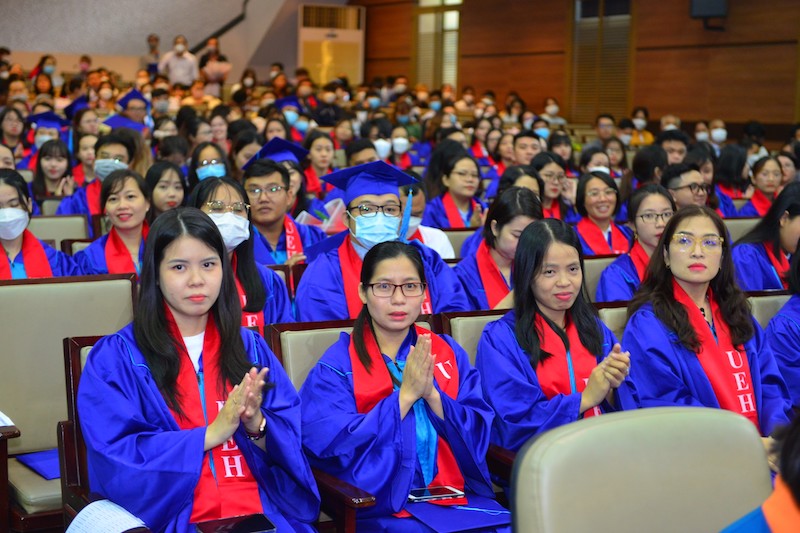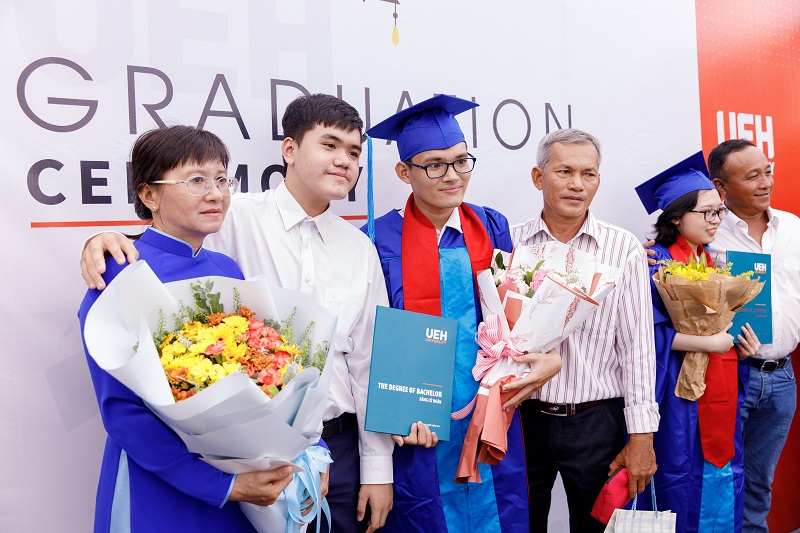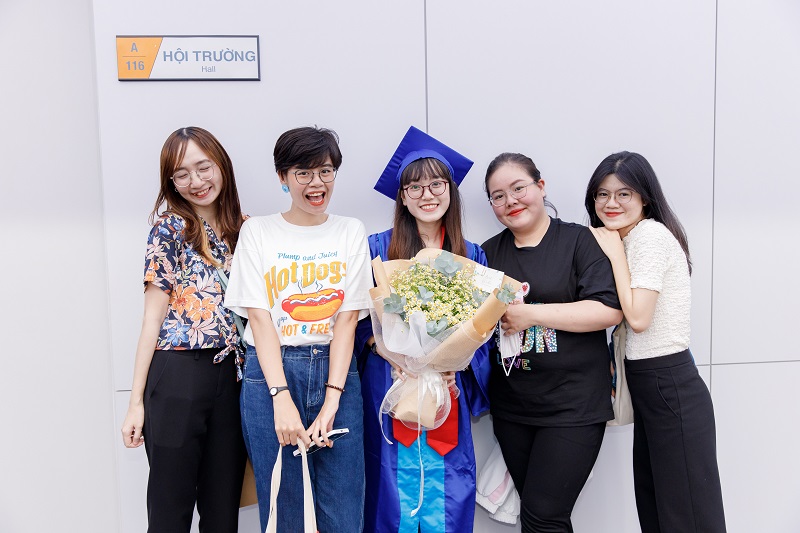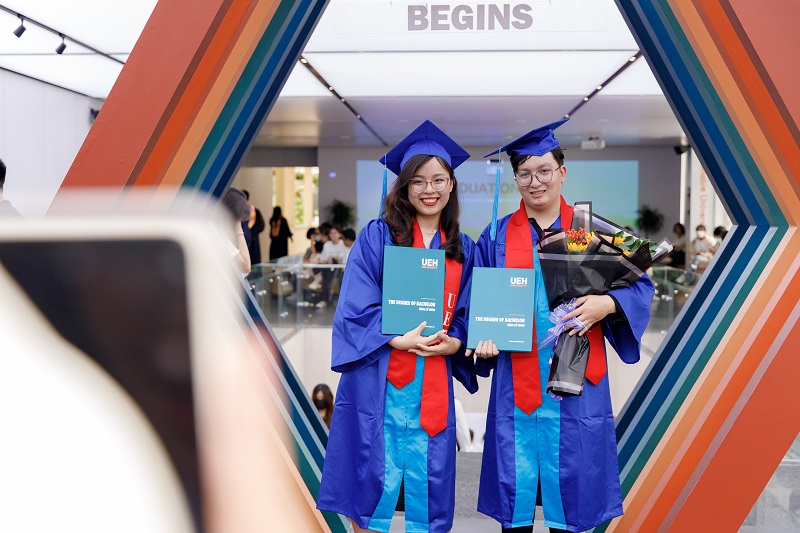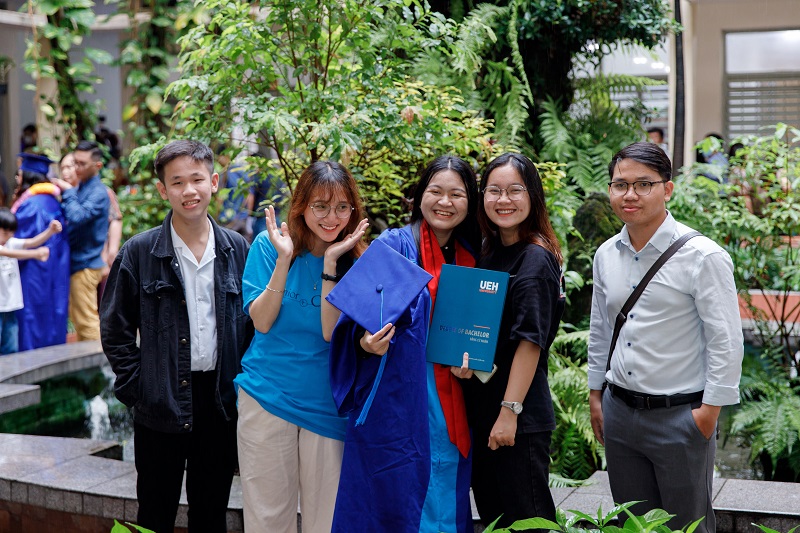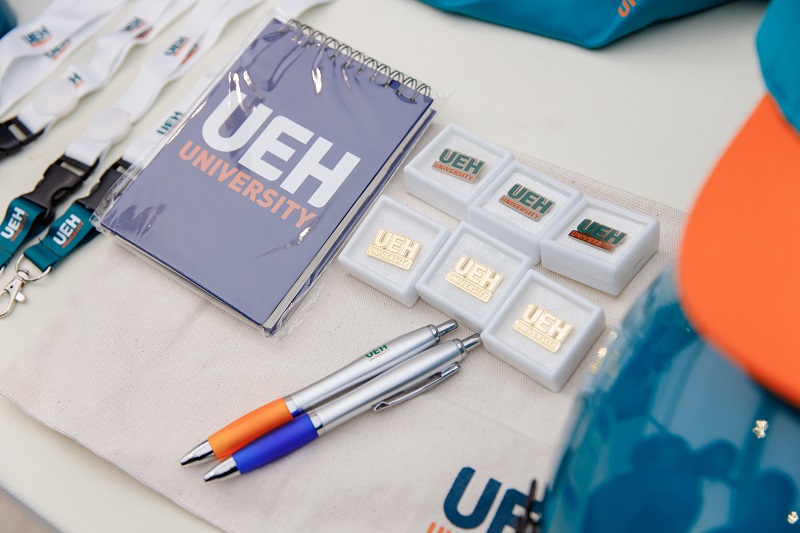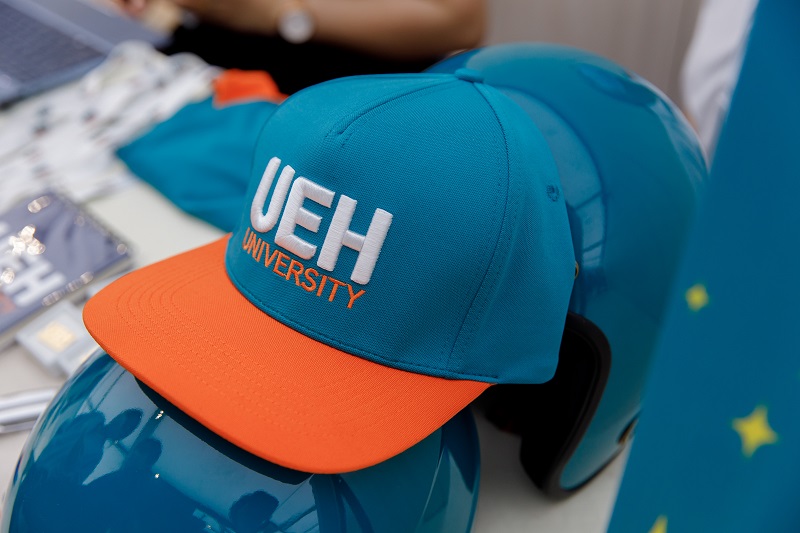 News, photos: Department of Marketing and Communication