UEH Organizing Graduation Ceremony 2022 for New Doctors and Masters
On the morning of 9th April 2022, at Auditorium A.116, University of Economics Ho Chi Minh City stately held the Graduation Ceremony 2022 for new Doctors and Masters. This was an occasion to honor 668 new post-graduates who obtained outstanding achievements in the process of studying, researching and international publication and is preparing to reap new success in the upcoming journeys.
Attending the Graduation Ceremony, there were UEH representatives as follows: Prof. Su Dinh Thanh – President of UEH;  Dr. Bui Quang Hung – Vice President of UEH; Heads of UEH Member Colleges; Schools having Doctoral and Master's programs; Professors, Associate Professors, Lecturers, Students together with new Doctors and Masters.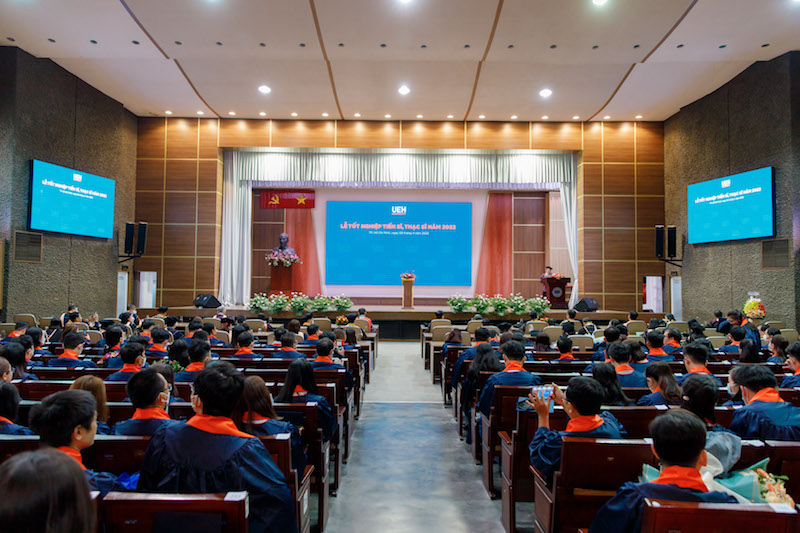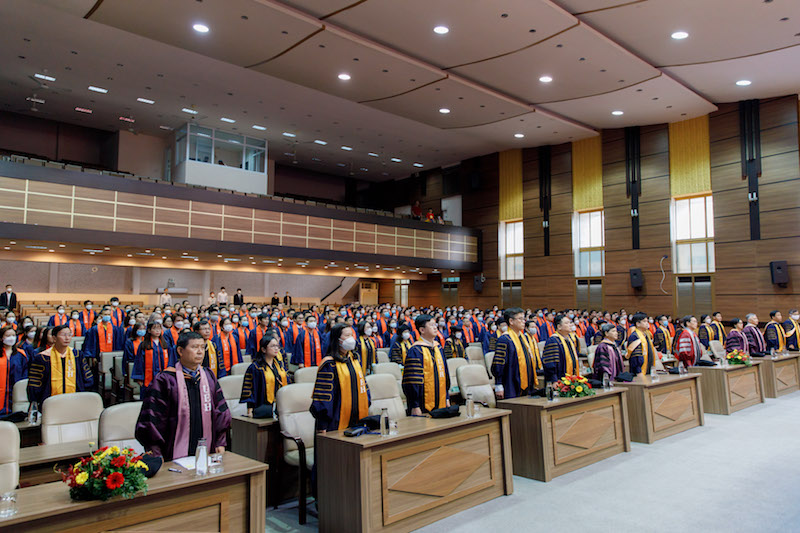 The overview of the Graduation Ceremony
Stating at the ceremony, Prof. Su Dinh Thanh – President of UEH – congratulated and appreciated the outstanding efforts in the study, research, and international publication of new Doctors and Masters over the past time: "Representing the Leaders of the University, I do honestly congratulate these new 24 new Doctors and 644 new Masters who have achieved excellent academic and research results. You can be proud of graduating from UEH – an asserted and positioned brand that is a high-quality and prestigious university in Vietnam in training and researching and is gradually and strongly integrating into modern global education. New Post-graduates can work in domestic, regional and international markets by graduating from UEH; in fact, many alumni have done so."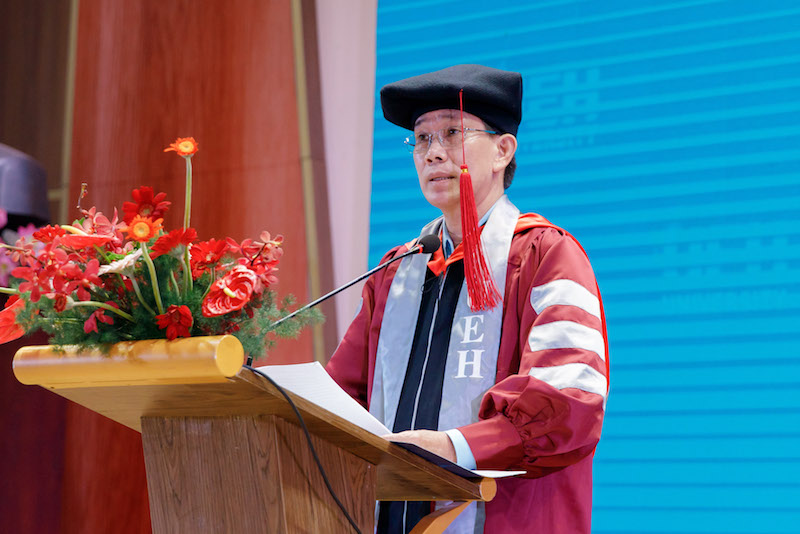 Prof. Su Dinh Thanh applauded new Doctors and Masters
Besides, the President referred to prospective development orientation for the post-graduates. He especially emphasized advancing technology application and innovation for bettering professional knowledge in the era of globalization, under the increasingly profound impact of the 4.0 Industrial Revolution on the socio-economy. New Doctors and Masters are required to enrich their knowledge, gradually expand their research scope, equip themself with interdisciplinary knowledge in economic science, innovative technology applied to professional aspects, and upgrade their English standards to enlarge studying and exchanging academics. UEH hoped that the post-graduates would continue to connect with UEH to contribute and exchange their specialization. New Masters can learn higher programs in English and Vietnamese while new Doctors are expected to be visiting lecturers with the following activities: teaching, researching and participating in professional councils of the university. Due to the lifelong learning path, increasingly high demands of society will be responded to and, therefore, the scope of activities and growth mindset can reach out to the world. With equipped knowledge from the university, self-study, and self-research capacities, post-graduates will become good experts, lecturers and brave leaders who can work domestically and internationally. He also expected that post-graduates will be members of the UEH Alumni network with approximately 250 000 alumni and former learners from all levels of UEH who graduated from 1977 to the present time to promote valuable traditions, share, corporate, and support the mutual development. Simultaneously, the Professor President sincerely thanked the agencies and families of new Doctors and Masters who supported and encouraged them to attain their current successes.
In the graduation batch of 2022, three Postgraduates defended their thesis in English with experts and foreign professors participating in the Councils. They published 6 articles in prestigious journals and international conferences. At the ceremony, UEH awarded 24 Doctor degrees (7 Doctors in Accountancy, 7 Doctors in Business Administration, 5 Doctors in Development Economics, 1 Doctor of Commerce, 1 Doctor in Political Economy, 1 Doctor of Banking, 1 Doctor of Finance, 1 Doctor of Statistics) and 644 Master degrees (173 Masters of Business Administration, 111 Masters of Banking, 97 Masters of Public Finance, 63 Masters of Finance, 60 Masters of Accounting, 41 Masters of Economic Management, 30 Masters of Public Management, 25 Masters of Economic Statistics, 18 Masters in Economic Law,  18 Masters of Development Economics, 14 Masters of International Business, 10 Masters of Political Economics, 4 Masters of other fields).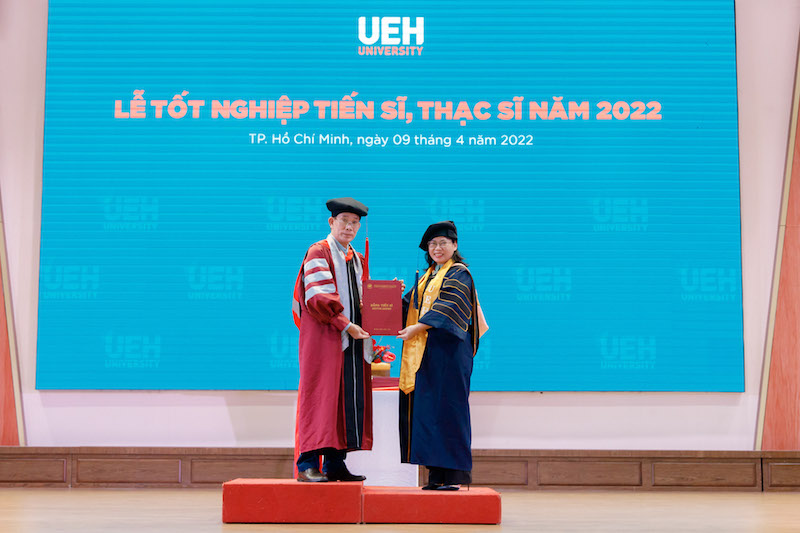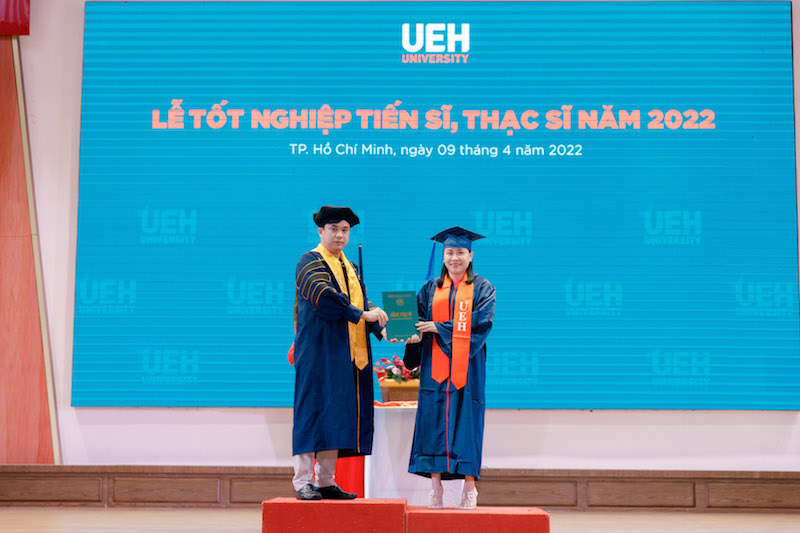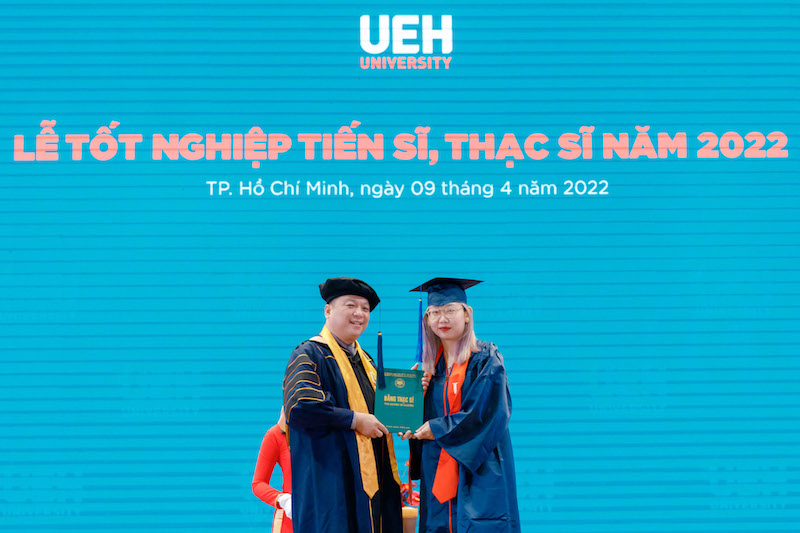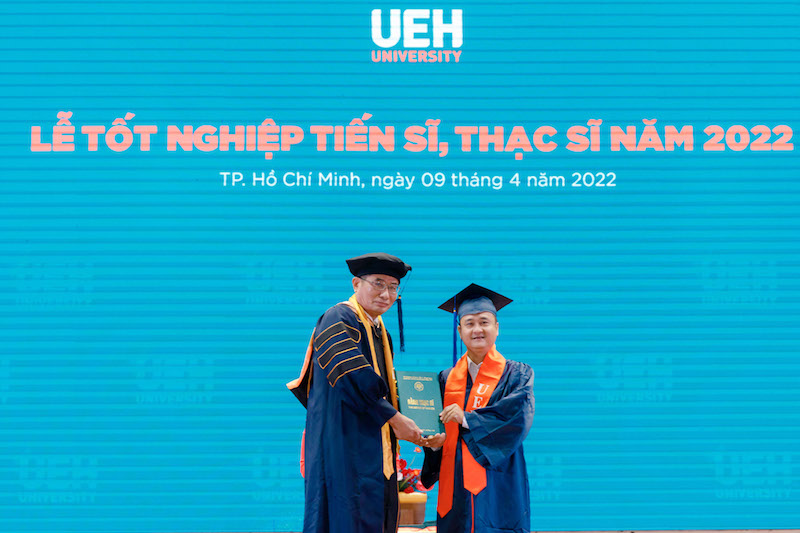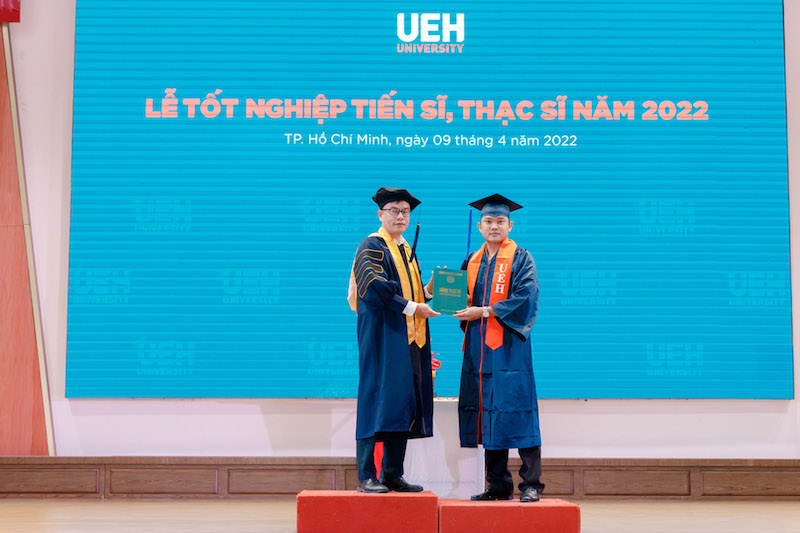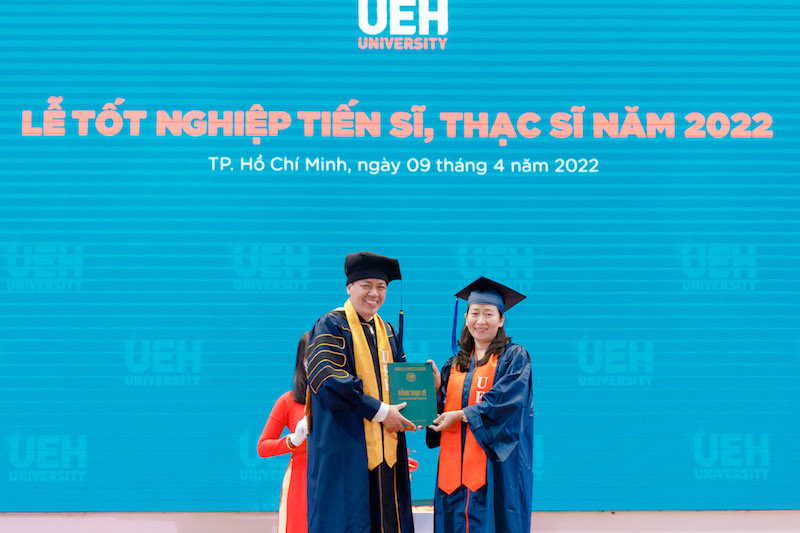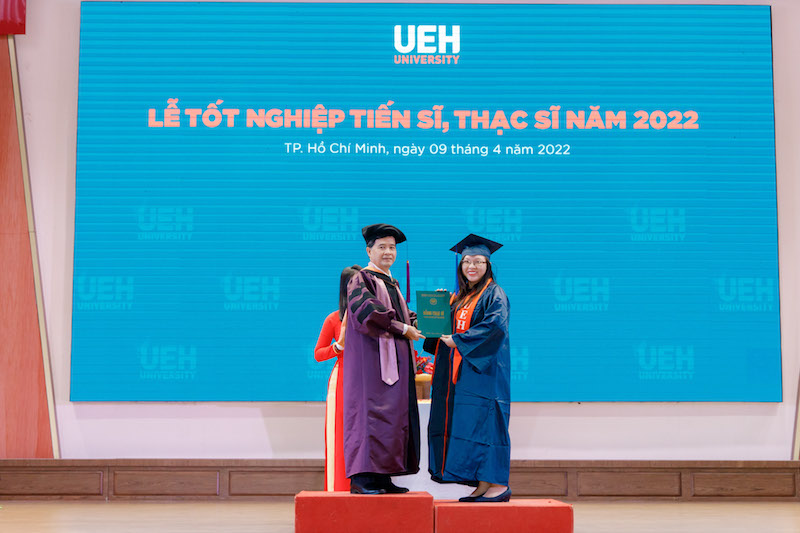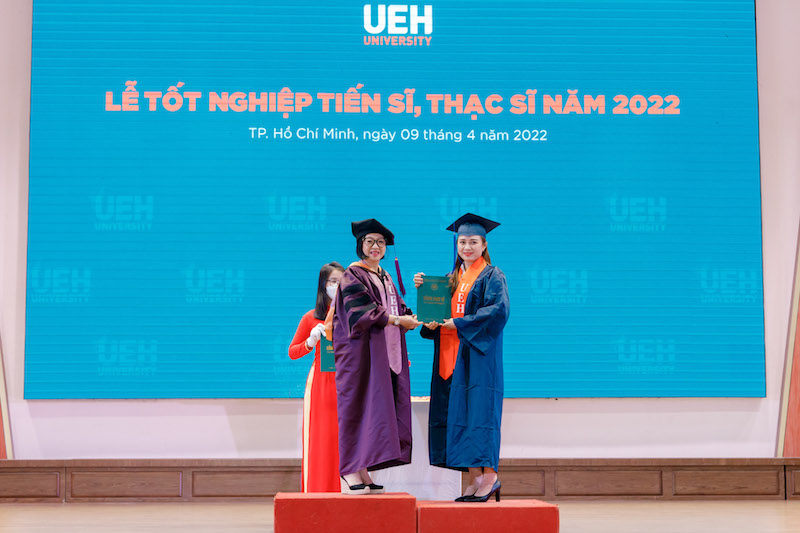 Awarding Diplomas to Doctors and Masters in 2022
Closing successfully, the ceremony was a remarkable event marking postgraduate-training achievements of UEH, which indicates the efforts and dedication of the whole university in training high-quality human resources for the country. This is the proof of lecturers' conscientiousness and the study and research efforts of the learners. Wishing fresh Doctors and Masters will reach accomplishments in their future careers and life.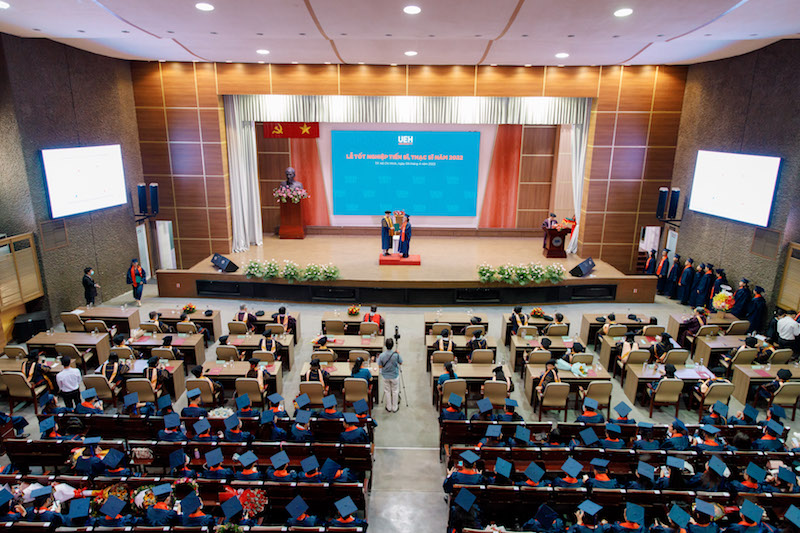 Over 45 years of establishment and development, University of Economics Ho Chi Minh City became a prestigious and key university brand on the Vietnamese higher education map, gradually making an academic mark in the global market. Along the way, the university has performed well in its responsibility in contributing to training high-quality human resources capable of working and integrating on the international path. In 32 years of training postgraduates, UEH has instructed more than 15,000 Masters and 542 Doctors majoring in economics, business, public management and law that are effectively promoting their roles in central, local, and business organizations, which contributes to the national growth.
Additional photos related to the ceremony: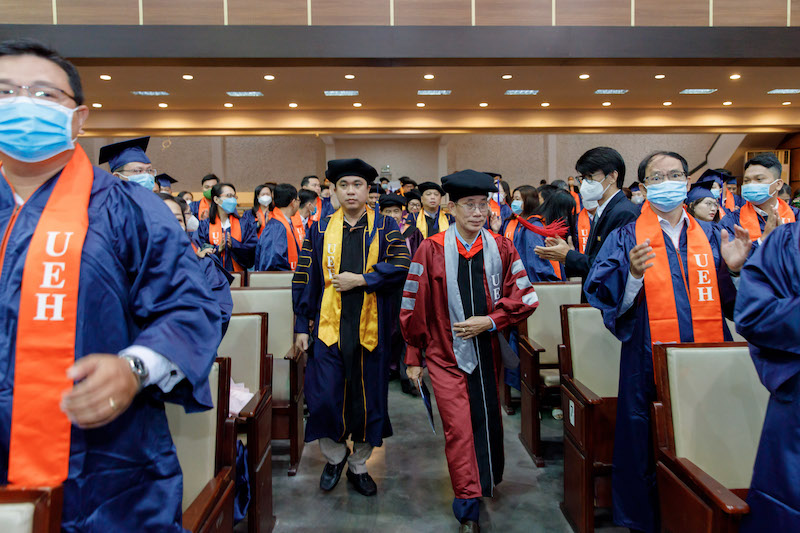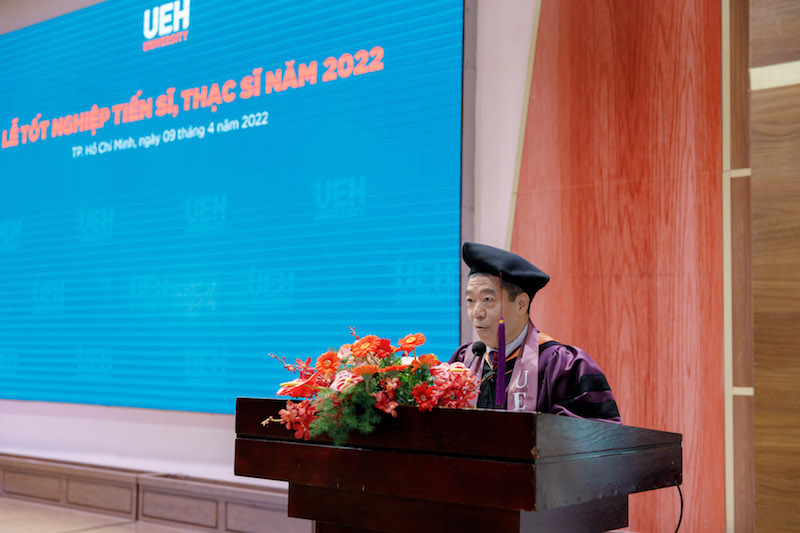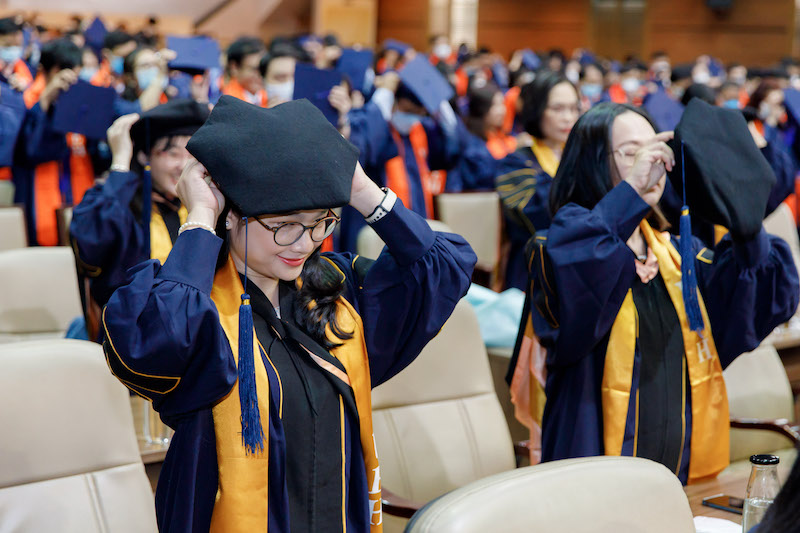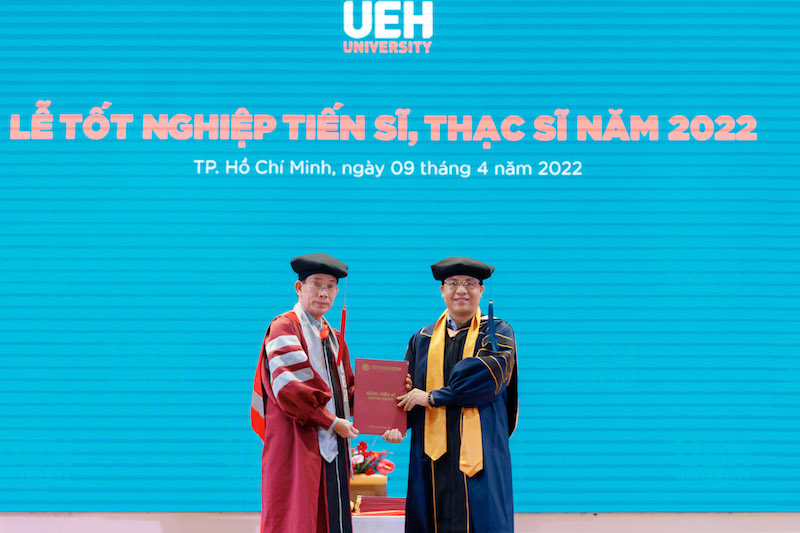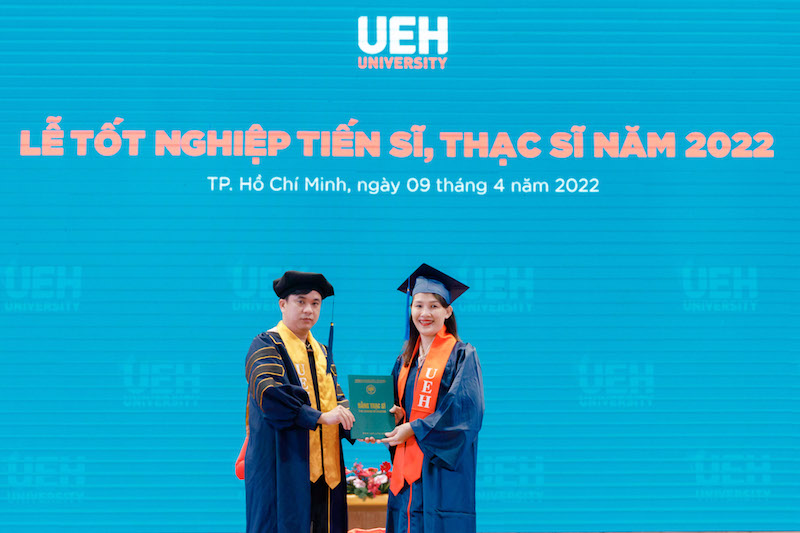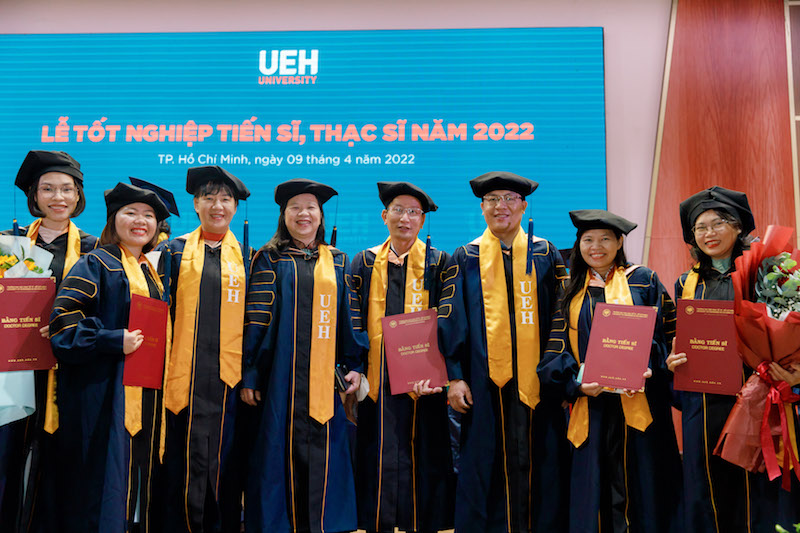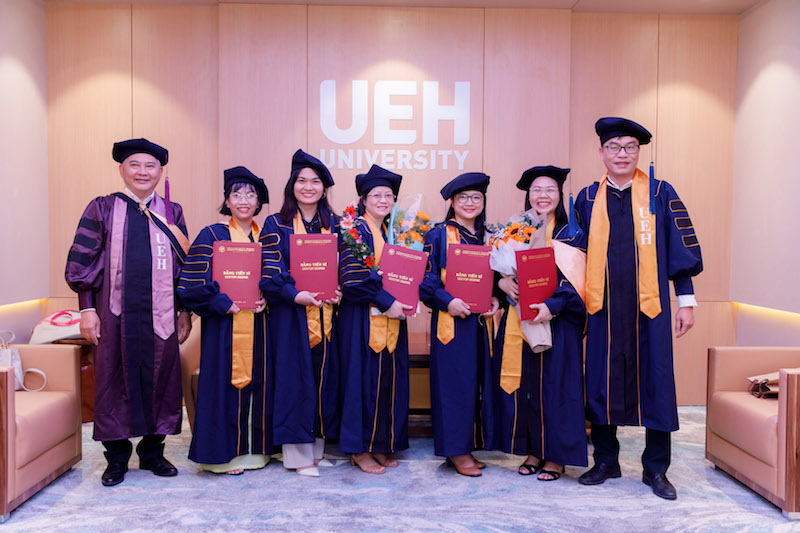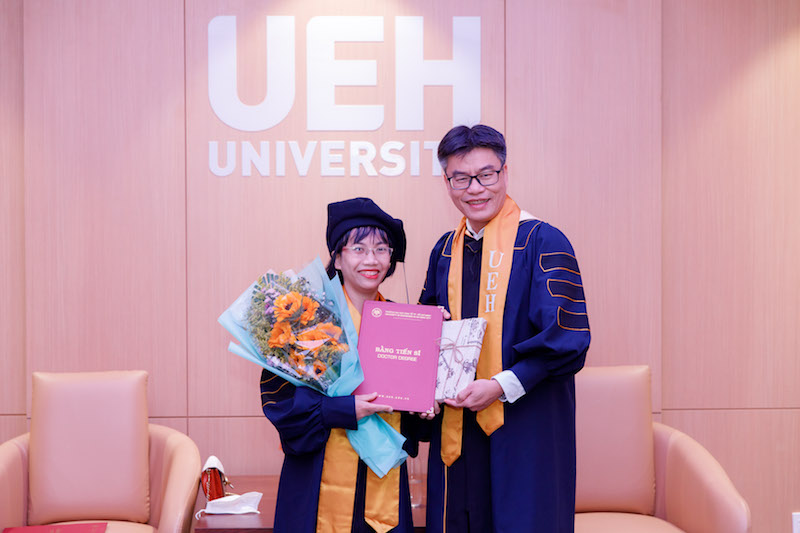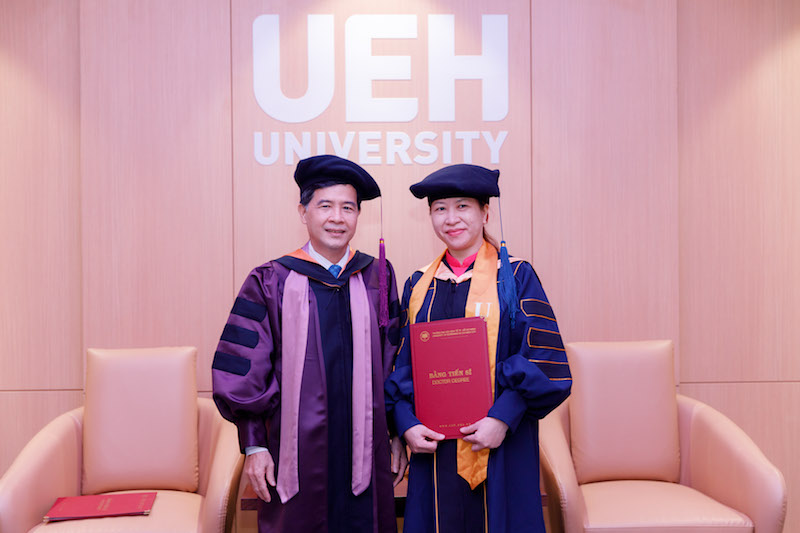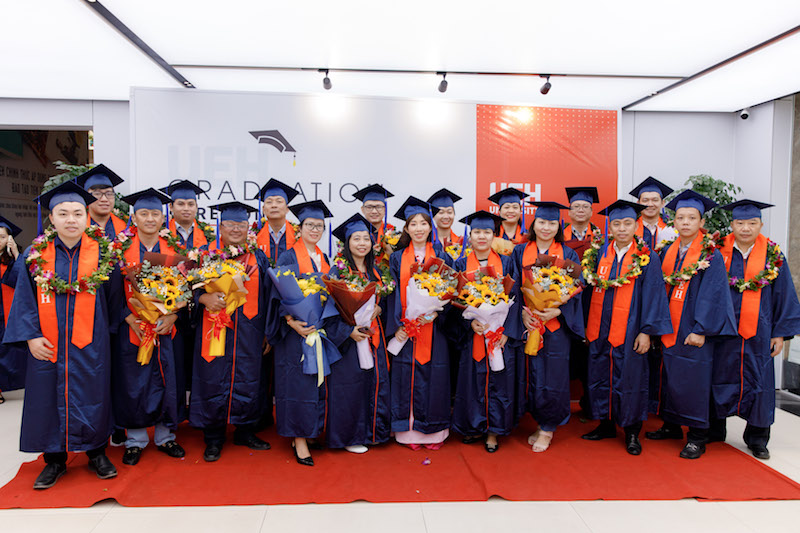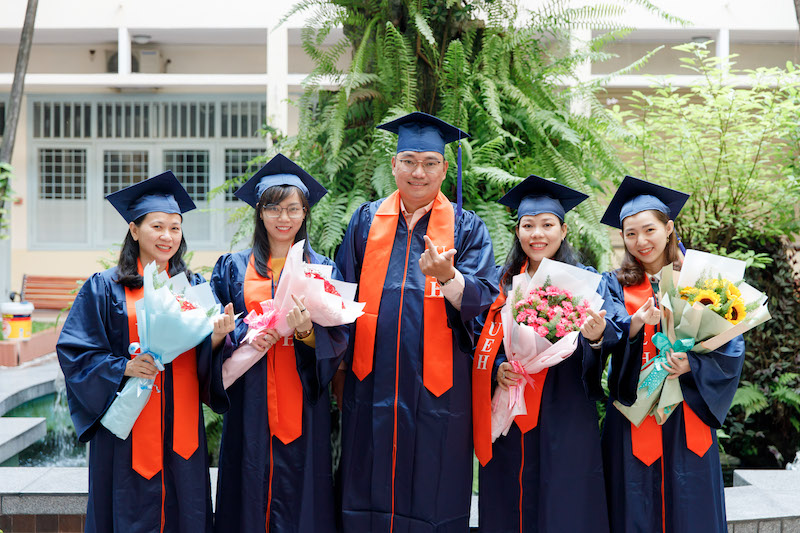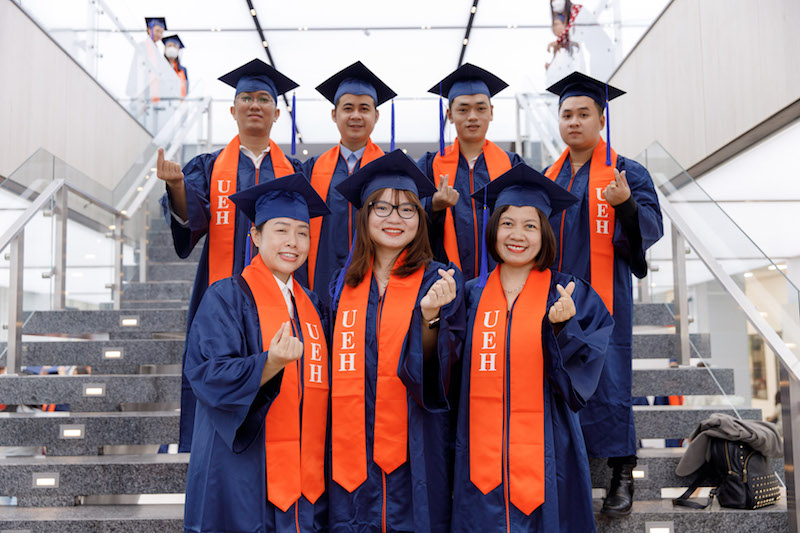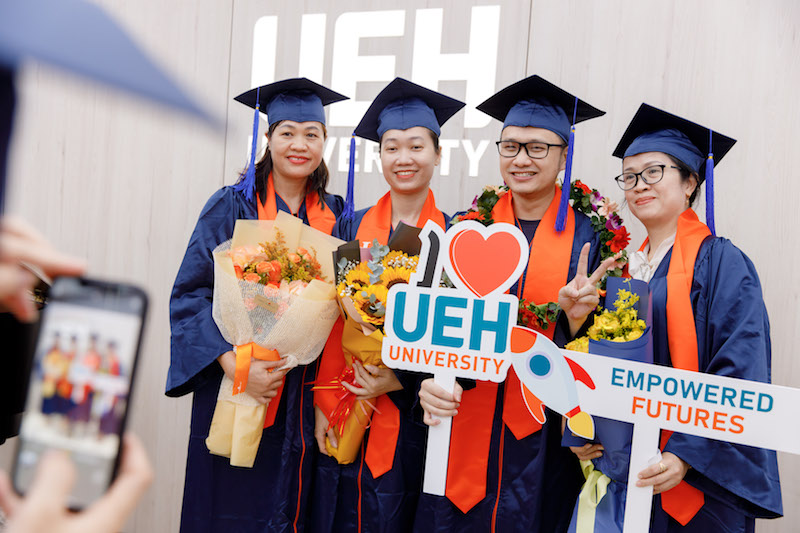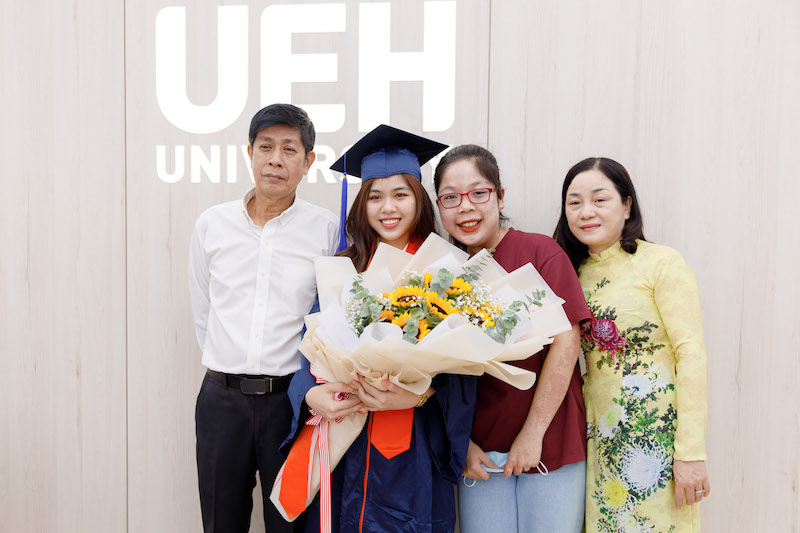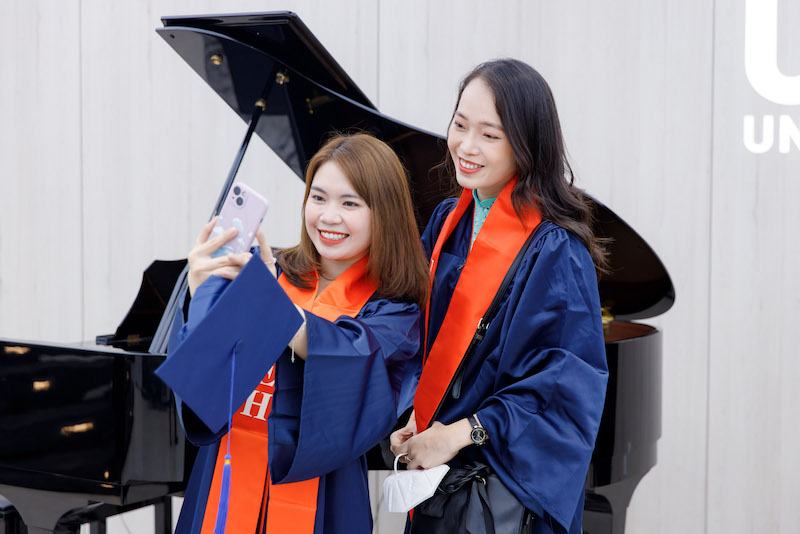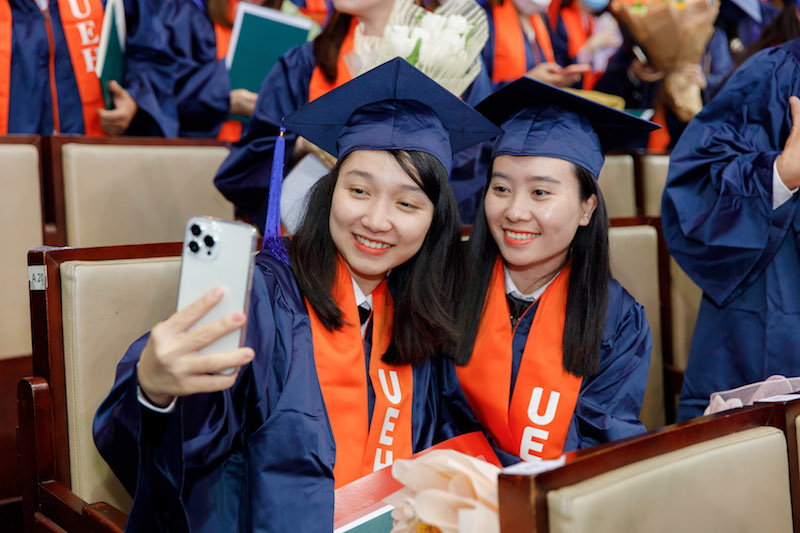 News, photos: Department of Marketing and Communication