The Synergy Of A Multidisciplinary University
As a multidisciplinary training and research center based on professional quality improvement combined with technology development and innovation, smart governance on the basis of the development of the Industrial Revolution 4.0, UEH is gradually promoting the synergy of a multidisciplinary university.
University of Economics Ho Chi Minh City (UEH) was established in 1976 starting from the need to train human resources in the economic sector to serve the construction and reconstruction of the country after the war. Over 44 years of establishment and development, UEH is currently training at University-level with 20 faculties, 40 majors; Master-level with 19 faculties, Doctoral-level with 13 faculties, and a Post-doctoral training program. The training program is extended with majors in line with the trend of science and technology development; Scientific and technical advances are also incorporated in some training subjects. Besides, UEH also promotes cooperation with multidisciplinary businesses, corporations, and industry associations to conduct practical training and link development of applied research capacity, specialized professional advisory. As an interdisciplinary training and research center based on professional quality improvement combined with technology development and innovation, smart governance based on the development of the Industrial Revolution 4.0, UEH is gradually promoting the synergy of a multidisciplinary university.
With a multidisciplinary learning environment, students have the opportunity to train their skills, talents, and capacities to promote creativity and innovation. This enables students to solve problems related to their majors with diverse approaches and perspectives. More specifically, the rise of the Internet of Things and the advancement of Artificial Intelligence all pose problems not only in terms of technical nature but also in terms of morality, law, sociology, economics and administration. In these cases, if students can embrace and combine engineering – economics interdisciplinarily, they can do what Apple did to become the company it is today.
Technological changes and job role shifts lead to the formation of a new labor market after the Industrial Revolution 4.0. Companies begin to formulate strategies to transform businesses and the workforce for the future, and they have the opportunity to leverage new technologies to enhance the economic value created through innovative activities. Human resources trained in UEH environment have been trained for the necessary qualities of the 4.0 workforce. Students have access to new knowledge sources from advanced training programs, learning methods focusing on the learners' experience, participating in the business semester to help students apply their learned knowledge to solve practical problems at the unit. Modern learning environment and facilities that are managed and integrated with technology; applying information technology in learning platform (Blended Learning); smart library system with thousands of books and magazines specialized in multi-field. Youth Union opportunities – Student Union activities support leadership skills development, fostering g talents, interacting with students in different majotunities for flexible learning and personalization.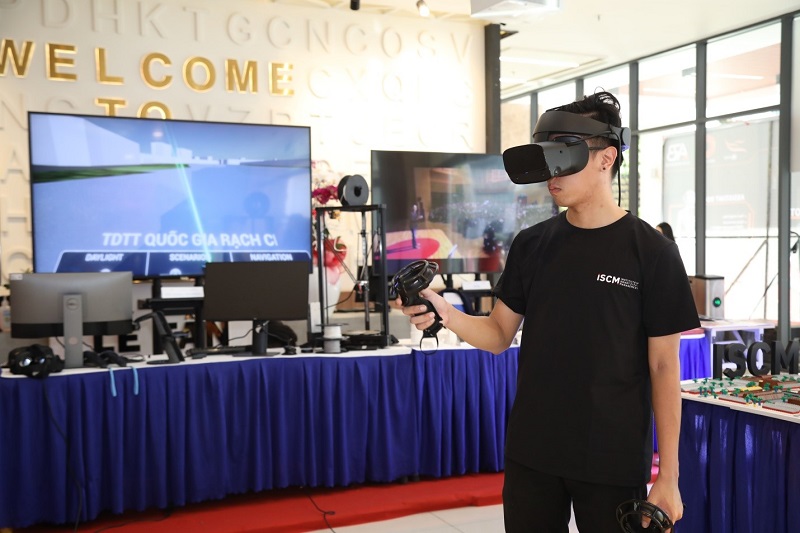 Students experience virtual reality technology at UEH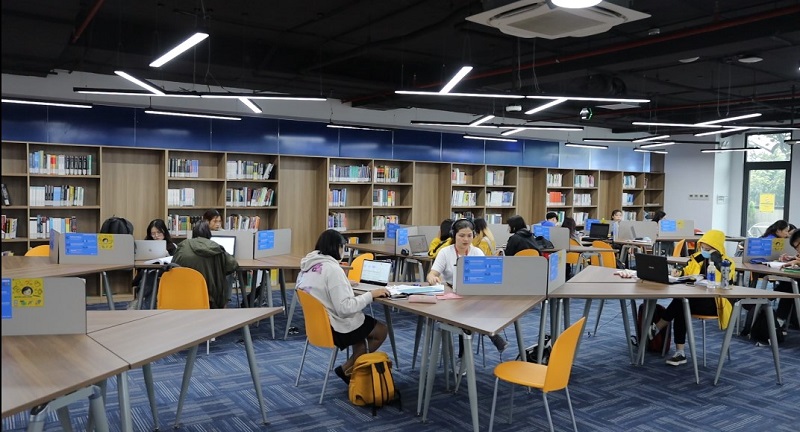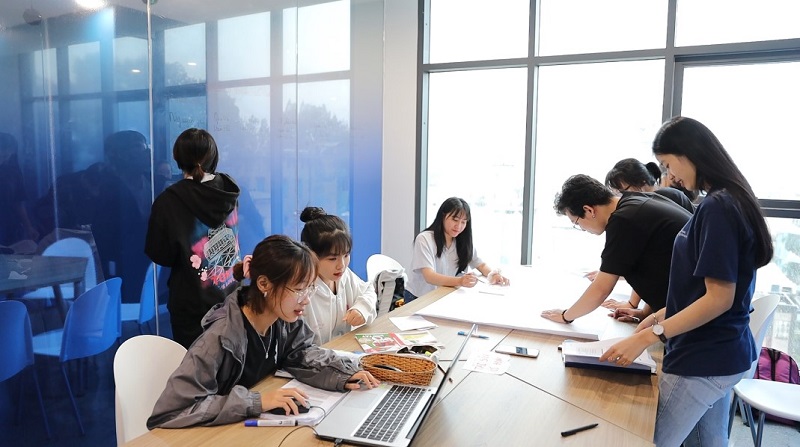 Students study and research at the smart library
Multidisciplinary university development also promotes synergy in applied scientific research activities. Given the complexity of the social, political, environmental, economic, and technological challenges the world is facing, interdisciplinary research – studies involving researchers from multiple academic majors – has become a "must-have" demand. Around the world, many universities have brought into play the advantages of multidisciplinary universities in research and business connection. Harvard University is such a multidisciplinary university, influential not only in business, social sciences but also in natural science and technology. The multidisciplinary advantage helps Harvard University students, lecturers, and researchers easily connect and develop innovative ideas. At the same time, scientific research at Harvard is sponsored by corporations, so lecturers and researchers have the opportunity to exchange basic research, study, and apply the latest science and technology with other businesses and corporations. Therefore, the cooperation in research, consultancy and knowledge transfer at Harvard is not only abundant but also of high quality, meeting the market demand.
The establishment of institutes (Institute of Innovation, Institute of Smart Cities and Management, Institute of Health Policy Research and Agriculture) and the implementation of interdisciplinary research activities applied in the new fields such as smart cities, financial technology, educational technology, medical technology, agricultural technology… have promoted UEH's position in improving professional quality combined with technology development and innovation. The series of seminars, prominent science and technology events such as 2020 Southeast TechFest, SmartCity+, UEH in4biz Conference… have attracted the participation and cooperation of government agencies and local authorities, corporations, businesses, investment funds, national and international research experts. Simultaneously, the training unit is promoting cooperation with businesses and groups to deeply participate in knowledge transfer activities and research consultancy f This further affirms that UEH's development strategy brings positive results for the country's economic development.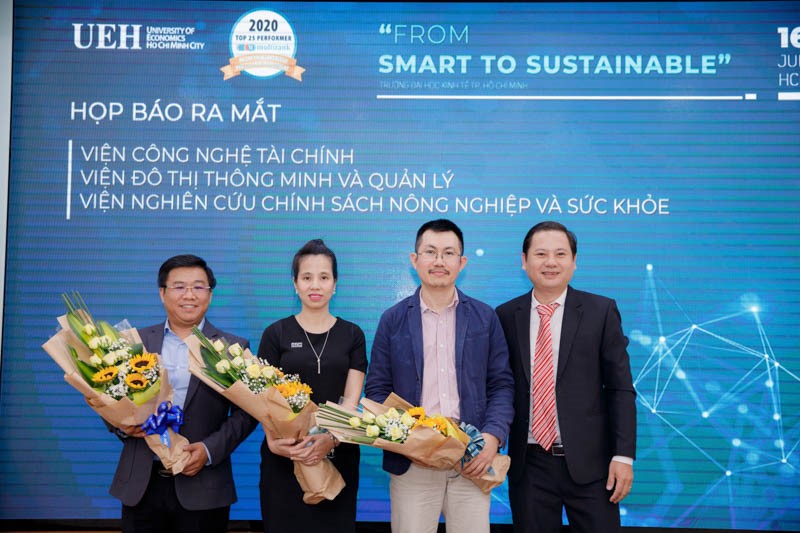 UEH establishes new Institutes promoting knowledge transfer and consulting research activities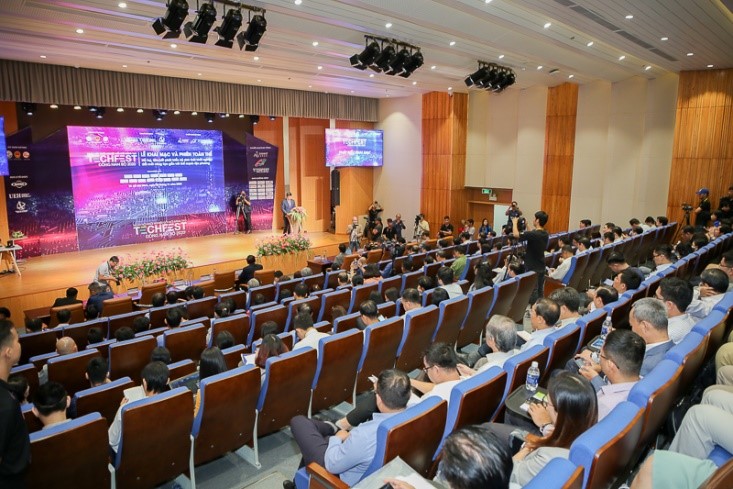 UEH hosted the Southeast Asia's largest innovation startup festival in 2020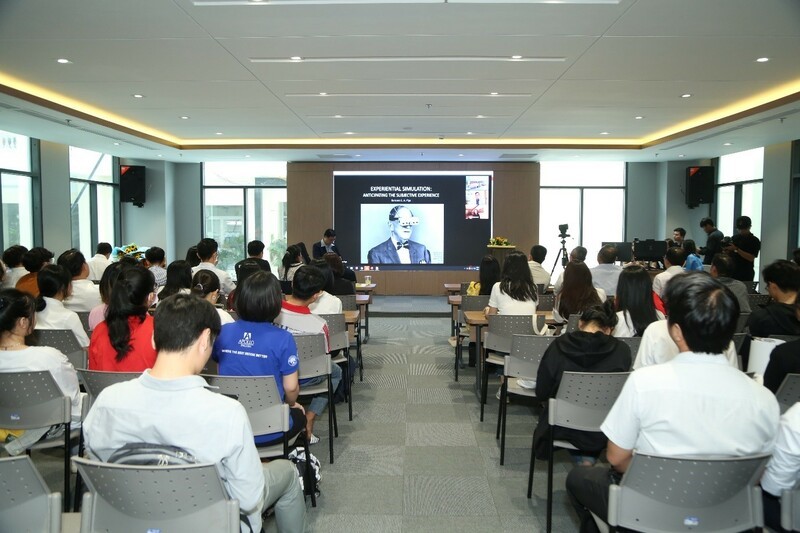 Organizing seminars series SmartCity+ connecting stakeholders to solve urban problems
The University of Economics Ho Chi Minh City is and will become a vibrant place attracting intellectual activities, research, knowledge creation, learning, and teaching to carry out the community development mission. UEH faculty, staff, and students continue to contribute to building actively and developing UEH's culture: The spirit of always striving for leading excellence and the tight union for the future development of the synergy of a multidisciplinary university.
Source: UEH News, Department of Research Administration and International Relations.