University Of Economics Ho Chi Minh City (UEH) – One-Year Effort Towards Operating The Multidisciplinary And Sustainable University Model
On October 27, 2021, University of Economics Ho Chi Minh City (UEH) was officially transformed and restructured, with the first milestone of giving birth to 3 UEH Member Colleges. In the moment of celebrating 46 years of the establishment of UEH University (October 27, 1976 – October 27, 2022), let's look back at the mark of one-year effort towards operating the new generation University Model of UEH: a Multidisciplinary and Sustainable University
One-year transformation into a Multidisciplinary and Sustainable University
After 46 years of strong development in terms of internationalization direction, continuous innovation in accordance with the market signals and well meeting the needs of the country's economic development and contributing to human knowledge, in the new period under Impact of Industrial Revolution 4.0, University of Economics Ho Chi Minh City has pioneered the strategy of becoming a Multidisciplinary and Sustainable University. This is a common trend in the world towards helping promote multidisciplinary research and training capacity with the purpose of meeting the diverse needs of the market, accessing to outstanding training, research and consulting projects to solve global problems for community cohesion thanks to the foundation of knowledge values, sustainable action. This new direction elevates UEH's brand position, opening up opportunities for ranking and promotion on prestigious international rankings.
To be more in details, the development process regarding one Multidisciplinary and Sustainable UEH University from the current time to 2030 will comprise 2 phases:
–         Phase 1 (2021 – 2025): Forming a multi-disciplinary and multi-major University in Economics, Business – Management, Social Science and Technology on the basis of restructuring University of Economics of Ho Chi Minh City into a comprehensive University with 3 Member Colleges including: UEH College of Business (COB); UEH College of Economics, Government and Law (CEGL); UEH College of Technology and Design (CTD).
–        Phase 2 (2026 – 2030): UEH forms one International College and upgrades UEH Vinh Long Branch into a University of the Mekong Delta region, promoting international training and expanding local development, being recognized within Asia with a ranking in the 500 Best Universities in Asia.
At the same time, UEH focuses on building and developing the 5 strategic pillars of a Sustainable University, taking contribution to the sustainable future of the community and society as a destination, including: (1) Citizenship training global – Sustainable action; (2) Research for the benefit of the community; (3) Operation: From clean campus to Green University; (4) One community of those who inspire and lead the change towards the sustainable development; (5) Governance: Prioritizing sustainable development.
With the new strategy, UEH wishes to create the image of a new-generation university with the following characteristics: (1) Quality – Reliability – Sustainability; (2) Integration; (3) Innovation – Technology; (4) Inspiring – Happiness – Leading.
These strategic orientations have received the full support and consensus from all UEHer Community and gradually created a different position of UEH University in terms of the fields of training, research, and knowledge transfer, connection and community development.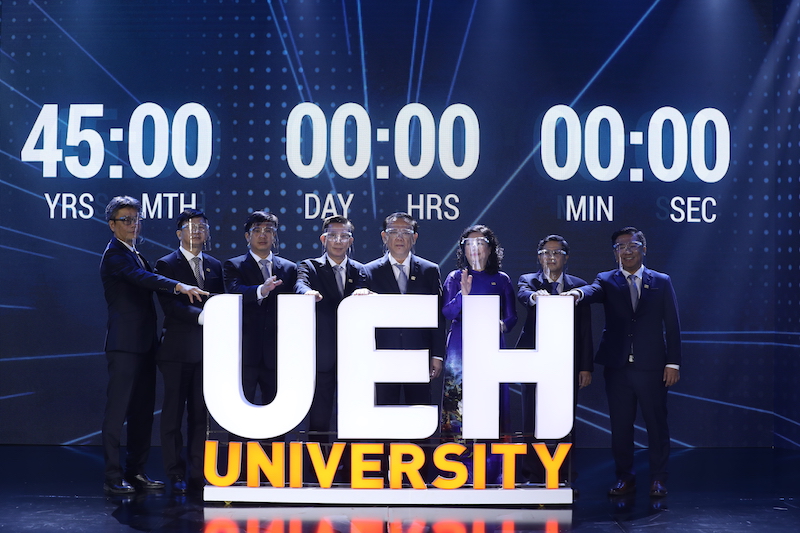 On October 27, 2021, UEH officially launched 3 UEH member universities, starting the restructuring strategy to form a Multidisciplinary and Sustainable University
In line with the new journey, UEH has flexibly been operated under the model of UEH University – Member College – Affiliated Divisions in a methodical and resolute manner, in the direction of increasing sovereignty for Member College, specifically: 03 Member College under UEH have the functions of training, scientific research, international cooperation and providing scientific services, consulting, technology transfer in the fields of responsibility and operation with the structure includes: Council of Science & Training at College; Faculties and Institutes; UEH Department of Administration and Center of Continuing Education. UEH Member Colleges operate under the Board of Management of Member Colleges together with UEH Board of Management. At the same time, there is a close association, coordination and support in training activities, scientific research, international cooperation and other activities to implement UEH's common development strategy. At the same time, the relationship among the Member Colleges and other UEH-affiliated Units is a relationship of coordination and support. Other UEH-affiliated Units facilitate, guide, train, coach and foster in relevant professional knowledge for UEH Member Colleges.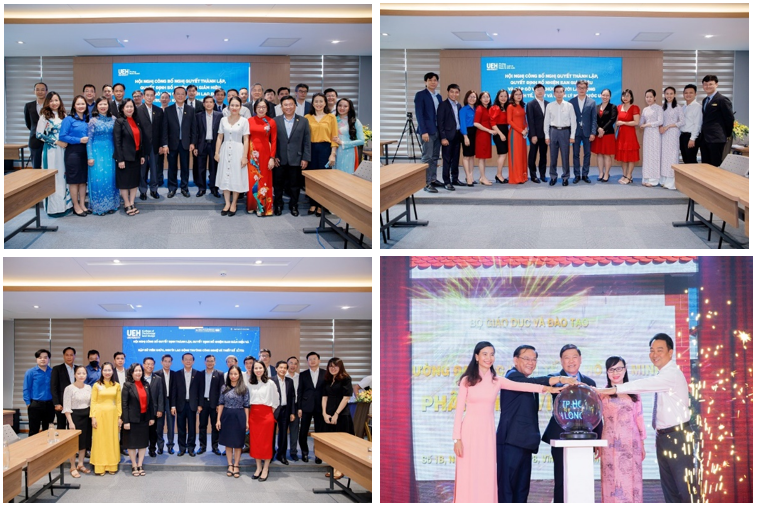 UEH has flexibly operated under the University – Member Colleges – Subsidiary model in an organized and committed manner, in the direction of increasing sovereignty for the Member Colleges
Multidisciplinary and Sustainable UEH University Operation Model: A solid foundation for the 10-year journey (2021 – 2030)
Looking back over the past year, UEH, despite transformation in accordance with extremely new and fundamental strategies management and operation methods with gradual improvement, has been maintaining stability along with the inherent development momentum and initially achieved extremely positive results. UEH Member Colleges together with UEH Vinh Long Branch have gradually stabilized, becoming the UEH University's pioneer squad, increasing UEH's influence on the map of multidisciplinary, high-quality training and research, prestige, integration and creativity both domestically and internationally. "The fact that the past year can be called a year of "completely speedy" transformation for all UEH individuals and units has been absolutely true to the spirit of UEHer so far. We – UEHers – are not afraid to change and always ready for change, for alternation, for modification towards more positive, pioneering and sustainable things" – Prof. Dr. Nguyen Dong Phong, Chairman of UEH University Council shared.
* The insight and the flexible and innovative management perspective of UEH's Management Team
UEH's innovation in the past 46 years comes from the modern, long-range, quick-to-trend management thinking, being flexible to deployment methods and readiness to change under the supervision of UEH Management Team. This important foundation has created a pioneering digitized higher education environment, applying what the world's top universities are doing, selectively learning sustainable governance tools from other universities, enterprise organizations, and seriously invest resources in time. The establishment of the Steering and Executive Committee of the "Sustainable UEH University to 2030" Project in early 2022 as a dedicated team, paving the way for specific activities on development and sustainable action of the university is one persuasive example. The fact that this premise creates confidence for UEH's strategy in restructuring the UEH University into one Multidisciplinary and Sustainable UEH University will step by step become one reality.
"Democracy – Publicity – Fairness" has always been the consistent principle in UEH University's management and administration activities. All members of the UEH family are equal, have their rights guaranteed, and regularly participate in decision-making and implementation towards policies, activities and programs. The organization of the management and administration apparatus is carried out in accordance with the democratic mechanism, through widely contributing opinions, voting to elect reputable leaders at all levels of Units and Organizations, etc. Rules and regulations are disclosed to employees. It is the correct directions, timely resolution of difficulties, and policies to encourage and create conditions for each UEH individual, unit and collective helps to promote their role and to contribute their strength in the development strategy of UEH University.
*Effectiveness of the management decentralization model, increasing sovereignty for Member Colleges
The development spaces created by the Multidisciplinary and Sustainable UEH University Model have been fully exploited by the leadership team of the Member Colleges, helping the Faculties, Departments, Institutes and Units under UEH University to realize their full potential and to expand the ecosystem of training, research and connection in the direction of multi-disciplinary and interdisciplinary. Since then, more quality activities and programs have been implemented in the past time. Along with a clearly-oriented UEH University development strategy, UEH Member Colleges make a difference in the development journey on the one hand and together create a unified strategic perfect whole on the other hand, promoting UEH University's general direction. 
*The unremitting efforts of UEH General Department – UEH Member Colleges
The General Department of UEH Member College is an important link that conveys UEH University's strategy of Multidisciplinary and Sustainable University, 05 pillars of Sustainability to UEH Member College; deploying work among UEH Member Colleges and other UEH-affiliated Units, especially connecting the Units within UEH Member Colleges. Although being newly established with less-than-one-year operation, Managers and personnel from 3 General Departments have proven their cohesive role, performing these important administrative and administrative support functions, contributing greatly to stable coordination among stakeholders throughout UEH University.
The same role of UEH Center of Short-term Training is the focal point for implementing short-term training activities of UEH University. With the right steps in the past year, 03 UEH Member Colleges have been gradually asserting their brands and missions in the following activities: College administration; Training high-quality human resources to meet the needs of the labor market; Increasing scientific research activities; Promoting international cooperation strategy; Serving the community and building and developing society.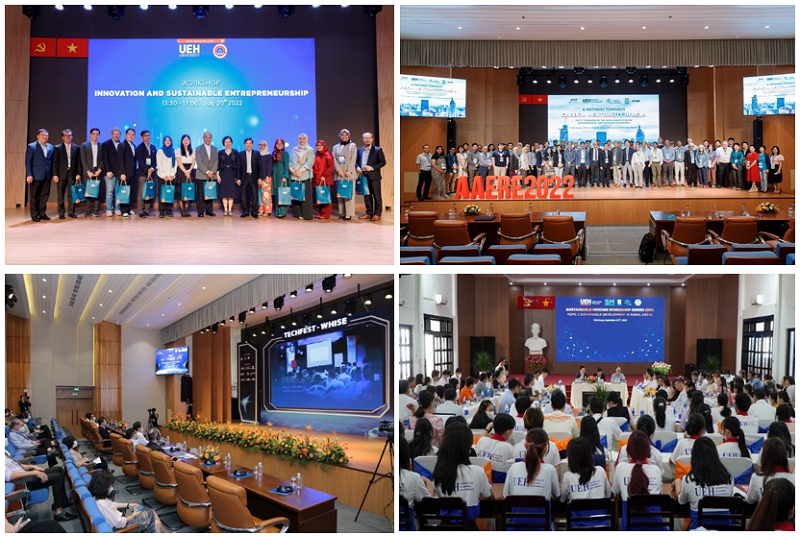 Member Colleges and Vinh Long Branch strive to do scientific research and transfer knowledge to serve the community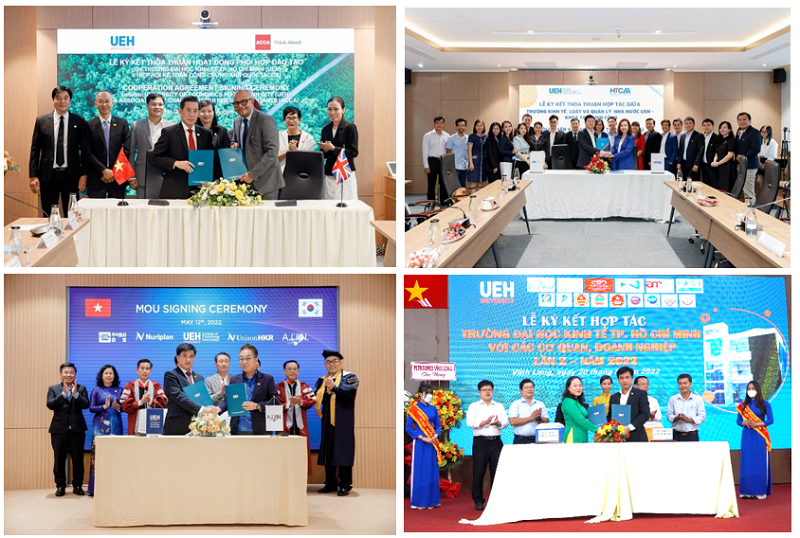 Member Colleges and Vinh Long Branch promote cooperation agreements with enterprises
*Independent operation capacity and proactive coordination spirit of Units and Departments under UEH University
Along with UEH Member Colleges, the independent operation capacity of UEH-affiliated Training Units, including: School of Foreign Languages, School of Social Sciences, has increased strongly, achieving a variety of achievements in terms of training, scientific research, community service, in parallel with the strategic goals that UEH University has set.
At the same time, the proactive coordination and support of UEH Functional Units with each other and with Member Colleges have significantly contributed to the operation of the new UEH University model in the past time.
Today's initial successes are proof that UEH's development strategy following the Multidisciplinary and Sustainable University Model is correct. This important asset is a solid foundation for UEH to continue to be consistent with the goals set out on the next 10-year journey (2021 – 2030). "Not only 3 Member Colleges, I think all units at UEH in the past year have been absolutely enthusiastic. I don't use the word "fulfillment", I think people have performed more than they have. With this way of thinking and doing, I do believe that UEH University will have a journey of 10 years with more achievements and hallmarks" – Prof. Dr. Su Dinh Thanh, President of UEH asserted.
Being prepared for the transition from UEH to UEH University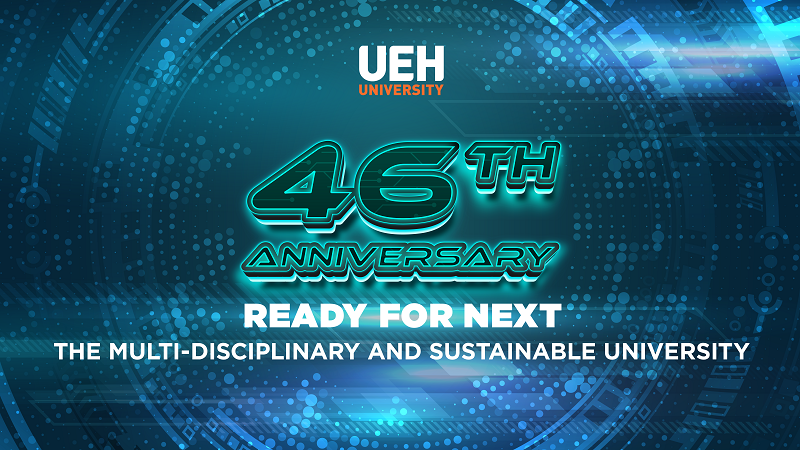 On the occasion of the 46th Anniversary of the Establishment of University of Economics Ho Chi Minh City (UEH) (October 27, 1976 – October 27, 2022), being grateful and proud of the achievements of the previous generations, UEH is ready to fight internally with the purpose of marking the transition from UEH to UEH University.
The Opening will be a key series of activities "Ready4Next" in accordance with the interdisciplinary, transdisciplinary and sustainable foundations, marking a year of transformation, restructuring and strategic repositioning of UEH, moving to one Multidisciplinary and Sustainability UEH University.
Through the series of seminars on Applying technology to smart life listed as Smart Living, Smart City, Artech art combined technology, and Opportunities & challenges in multi-field sustainable development and so on, "Ready4Next" sends a message to the community: UEH is to be ready to be a new generation University, listening to the times, understanding the young generation, proactively updating, being fully equipped with knowledge, skills and capacity, creating an empowering environment to help the next generation of employees in the digital era to discover their potential "Unbounded creativity – Empowered futures – Holistic values" and to contribute to the sustainable development of the society.
Universities and Colleges have always played an important role in the development of the society. We are facing an era with diverse global challenges, strongly affecting human beings' living conditions in all fields. Therefore, Universities and Colleges need to make adjustments in order to adapt to the new requirements from the society and towards the sustainable development. This new responsibility is what UEH collectives and individuals are and will be determined to pursue. As a University that has overcome various difficulties and challenges to achieve diverse successes, making important contributions to the national education, the development of the country with social responsibility during the past 46 years, today, UEH is completely ready with a new name, new model, new strategy – University of Economics Ho Chi Minh City – one Multidisciplinary and Sustainable UEH University.
News, photos: UEH Department of Marketing – Communication