UEH Making More Efforts Towards Bringing Worthy Values ​​To Learners
Putting our responsibility in the sustainable development of future generations, since the establishment on October 27, 1976, University of Economics Ho Chi Minh City (UEH), up to the present time, has always striving to bring worthy values ​​to learners, equal opportunities to experience intellectual values ​​and develop themselves for each individual.
Efforts to optimize services so that students can inherit the best educational values
As one of Vietnamese public Universities granted comprehensive autonomy by the Government (since 2014), University of Economics Ho Chi Minh (UEH) has always set the goal of "transmitting knowledge besides bringing worthy values ​​to learners". Therefore, with tuition fees being almost the only payment, learners at UEH not only receive valuable intellectual value from the advanced learning program selected by the Top 200 Universities in the world but also inherit the added values, utility services brought by UEH University's efforts.
This is an opportunity to have free access to new learning materials and knowledge for learning and research at the Smart Library UEH with more than 398,000 books in the field of economics (including 600 of them are from Harvard), connecting databases with more than 90 publishers of prestigious American and European universities listed as Cambridge University, Harvard University, Oxford University, etc. a spacious environment, meeting international standards with modern equipped classrooms: projectors, smart boards, sound system with wireless microphones, convenient study tables and chairs, lighting, air conditioning;… computer room system connected to high-speed Internet for students to study online or easily access and download information for learning; Studio Lab with virtual reality technologies; The simulation center serves to experience real-life models during the learning process,… In addition, UEH has made great efforts to research and coordinate with Saigon Passenger Car Joint Stock Company (SaigonBus) to put into use the "Shuttle Bus UEH" service with diverse utilities and reasonable prices in order to optimize the transportation of passengers' moving between campuses for UEH learners towards Green living habits, contributing to reducing congestion, traffic accidents and environmental pollution. Taking service as the center, from the beginning of 2021, UEH has established UEH Department of Student Affairs (DSA) (DSA) to take care of, support and ensure the best conditions for learning and research activities of learners.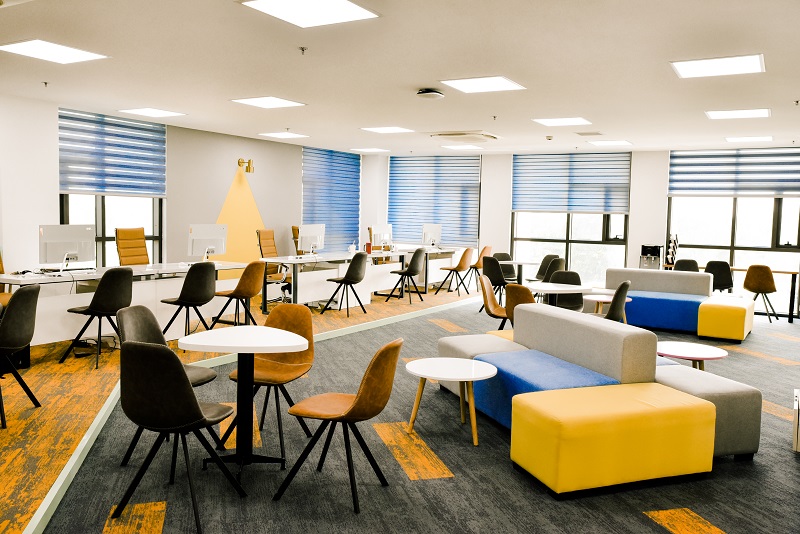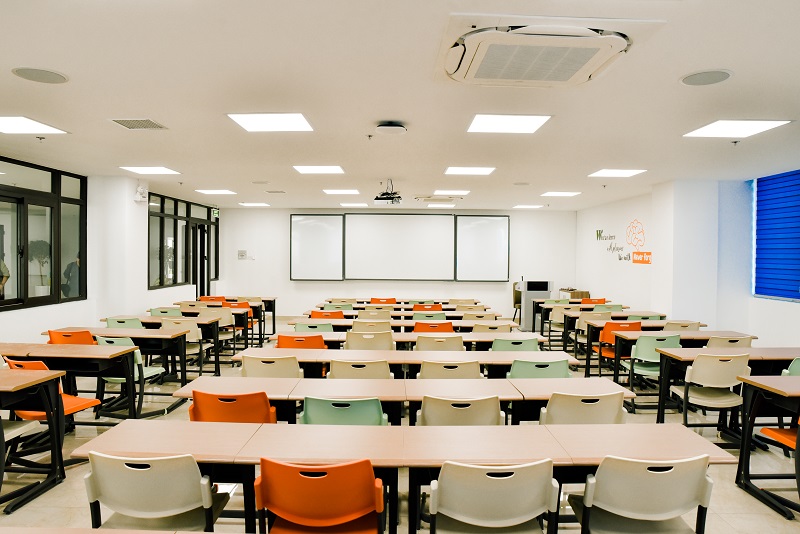 The system of modern meeting rooms being fully equipped with equipment for teaching and learning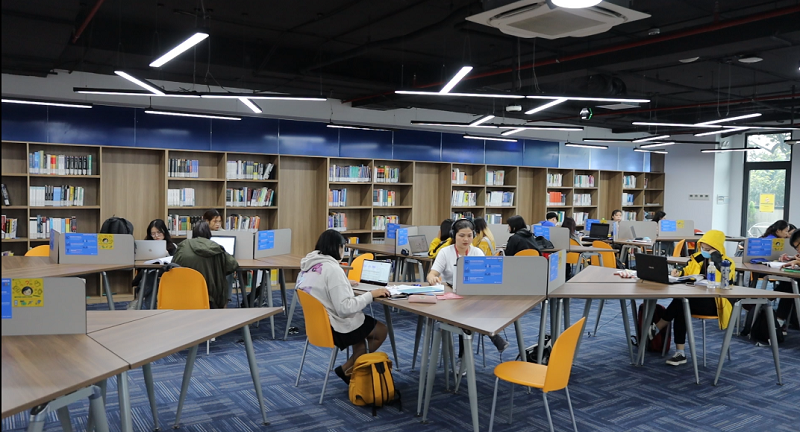 The smart library at UEH helping learners access free learning resources and new knowledge for learning and research.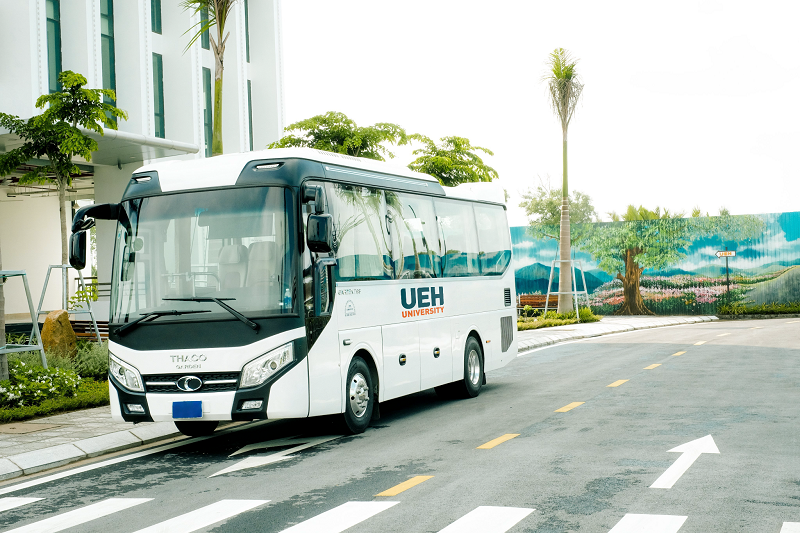 Shuttle Bus UEH service with many utilities and reasonable prices to optimize travel between campuses for UEH learners
Along with the material values, UEH University always strives to help learners build their personal brand right from the moment they sit in the lecture hall by actively organizing scientific research activities for students; organizing exchange and exchange of international students; degree recognition of academic activities; sponsoring students to implement start-up projects; creating favorable conditions for students to actively participate in Union – Association activities to increase soft skills; … Especially, UEH's efforts to expand the network of more than 500 prestigious domestic and foreign enterprises over the past years has given students a lot of internship and career opportunities right after graduation. One of the typical activities held every year is the Internship and Employment Day in Ho Chi Minh City (UEH Career Fair) has supported a huge number of potential students access the practical career opportunities at many leading enterprises. Together in an effort to maintain a network of more than 240,000 alumni with many managers, local leaders, successful entrepreneurs, etc. to help students build a foundation of quality relationships, serving future career development.
During the past years, UEH has always made great efforts to contribute a lot to bring the worthiest values ​​to learners and parents upon choosing UEH.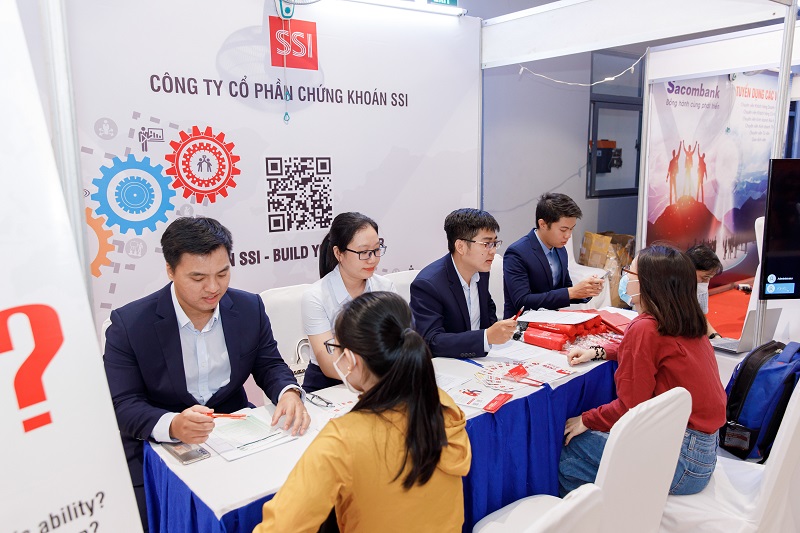 Internship and Employment Day Ho Chi Minh City (UEH Career Fair) has helped more potential students access career opportunities
Stabilizing tuition fees, accompanying learners through difficult periods
Facing the uncertainties of the Covid-19 pandemic and escalating prices in accordance with the market mechanism, UEH is one of the few universities that is has determined to maintain the tuition fee stable to accompany learners and their families to overcome difficulties. To be more specific, the tuition fee of 20.5 million VND/year is maintained stably for 2 years (school year 2020-2021, 2021-2022). From the academic year 2022-2023, the tuition fee is regulated by Decree 81/2021/ND-CP, whereby the tuition fee is adjusted at 31.25 million VND/year; however, UEH continues to maintain a stable level of study fees for the first semester of the academic year 2022-2023 with the purpose of sharing difficulties with learners.
Sharing on this issue, Prof. Dr. Su Dinh Thanh – Rector of UEH – stated: "Keeping the tuition fee stable over the years is how the University of Economics of Ho Chi Minh City accompanies and shares with learners and families to overcome difficult times to fulfill the dream of studying at their dream school. This is also one of the ways we do carry out our social responsibility, contributing to the overall development of the country."
In addition to the policy of stabilizing tuition rates, UEH implements social responsibility through tuition support for learners during 2020, 2021 with a policy of supporting 5% of tuition fees, equivalent to VND 29 billion.
Equal opportunity to experience intellectual values ​​for each individual
In addition to stabilizing tuition fees, over the past time, UEH has used revenue to provide scholarships and implement a diversity of policies to support students in difficulty. Specifically: the policy of 50% tuition reduction in the last semester of 2020 for nearly 1,600 students whose families were directly affected by floods in the Central region, equivalent to more than 8.2 billion VND; the policy of 5% tuition reduction for all learners at all levels/systems (in 2021); awarded 772 scholarships worth nearly 4 billion VND to learners affected by the Covid-19 epidemic; or support necessary necessities and finance for students facing difficulties during the epidemic with a total value of more than 1.7 billion dong and so on.
What is more, UEH always encourages learners to strive constantly, creating a competitive environment for excellent students to confidently assert themselves with scholarship policies. In the past 2.5 years, UEH has awarded as follows: 6,029 Study Encouragement Scholarships with a value of more than 66.5 billion VND with the aim of encouraging students to develop comprehensively, not only make efforts and work hard in their study but also actively participate in other extra-curricular activities; 3,280 study support scholarships worth more than 19.8 billion VND to students with difficult circumstances to help them overcome adversity, keep their spirits up, continue on the learning path; 1,118 Admission Scholarships with a value of nearly VND 8.4 billion to new students who have been admitted to a regular university with high admission results in recognition of their continuous efforts during their studies as well as in the course of their studies from your high school graduation exam; 598 enterprise-sponsored scholarships worth nearly 5.4 billion VND to students with excellent achievements or difficult circumstances.
An individual's journey to conquer knowledge is an extremely valuable journey with many challenges and ambitions. With its constant efforts, UEH has always been accompanying learners so that no one is left behind, every opportunity to experience the value of knowledge is given fairly to each individual at UEH.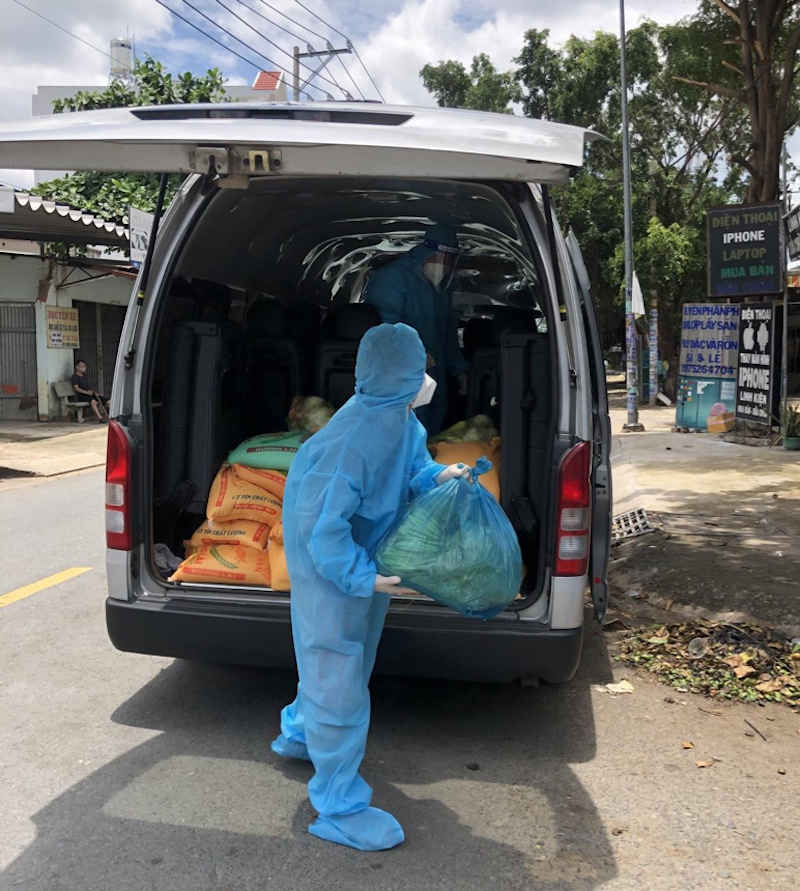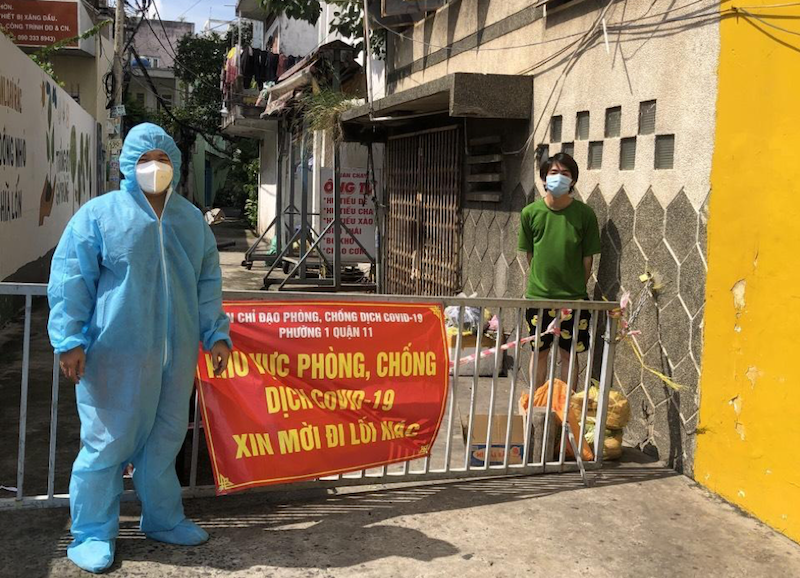 Efforts to support learners during the difficult period due to Covid-19
Giving to UEH: The journey to connect the previous generation and to give wings to the next generation
With the belief that "knowledge will be a meaningful and sustainable starting point for our own future generations", UEH, besides our own resources, has been making a journey to connect the previous generation so as to create opportunities and wings for the next generation. The Giving to UEH Program is UEH's way of extending the link between nearly 1,000 teachers, more than 30,000 learners, more than 240,000 alumni and more than 500 organizations and businesses that cooperate annually to work together for meaningful missions. To be more specfic, to award 2,000 scholarships to wing dreams and scholarships to develop talents; to upgrade facilities to international standards, invite international experts to share at seminars; to organize scientific seminars, to support the incubation of innovative start-up projects; to maintain Sustainable action through the project implementation "Building and operating the Living Lab UEH Zero Waste model" and "Supporting digital transformation for high schools".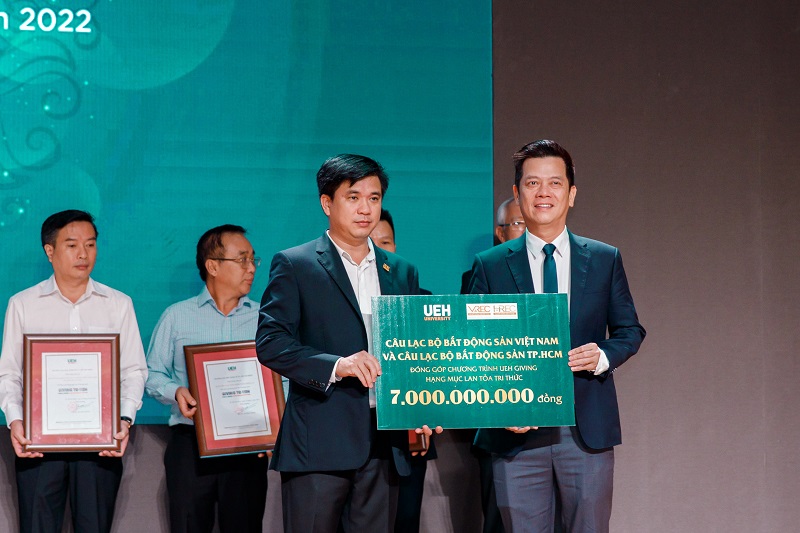 The Giving to UEH Program has been on a journey to connect the previous generation to create opportunities and give wings to the next generation.
Prof. Dr. Su Dinh Thanh – Rector of UEH – shared: "On the journey of development over the past 45 years, UEH has always focused on learners, how to bring learners the worthiest values; how to give equal access to knowledge to every learner; and how to train learners to become key human resources, contributing to the development of the country. These concerns are always the guideline in every activity and decision of our UEH University. With determination and efforts, we, , to this day, have created a worthy learning and development environment for learners. In the coming future, with the companionship of the community, UEH will continue to build meaningful values ​​for education and to invest in the sustainable development of future generations."
As the leading University brand in the Vietnamese higher education system and is gradually making its mark on the world market, University of Economics Ho Chi Minh City pioneers to bring the best educational values ​​​​for learners so that they are free to define their own future, be inspired to change their lives for the better, towards sustainability for the environment, the society and the economy.
News, photos: UEH Department of Marketing – Communication