UEH arising 78 places in the International ranking of Research institutions (SCImago), entering the Top 298 Best Universities in Asia
With efforts and determination towards implementing a multidisciplinary development strategy with an academic reputation and sustainable action in Asia, University of Economics Ho Chi Minh City (UEH) has continuously achieved many successes, increasing our position on prestigious world rankings. Most recently, in accordance with the ranking of research institutions in the world in 2022 published by SCImago, UEH has officially increased 78 places, ranking 298th out of 1,485 universities and research institutes in Asia.
On April 7th, 2022, the prestigious Spanish ranking organization for scientific research institutions – SCImago – announced the results of the ranking of research institutions (research institutes, universities) in the world, to be specific, UEH officially increased 78 places, ranked at the 298th position (compared to the 376th position in 2021) among 1,485 universities and research institutes in Asia.
Positive results – the strong foundation for the transformation to become a multidisciplinary and sustainable University
The analysis in individual field of the ranking shows that UEH is one of the Top Universities in Vietnam in the fields of Economics, Finance, Business, Administration and Accounting. In particular, in 2022, UEH made its mark on the SCImago rankings for the first time when leading Vietnamese Universities in diverse new multidisciplinary fields listed as Energy (for example, management policies aimed at renewable energy and sustainable environmental development through the use of clean energy, energy safety and economic development and so on), Environmental Science, Social Science, Mathematical Statistics that are ranked at 2, 4, 7, 14 positions, respectively.
This result indicates that the multi-disciplinary and multi-field development orientations have been gradually and carefully implemented by the University for a long time and gradually become a key development strategy of UEH. This is the launching pad for UEH to continue towards transforming strongly, becoming a multi-disciplinary and multi-disciplinary University in the 2021 – 2025 period; at the same time, realizing the vision of becoming a research-oriented university with a strong position in the region and around the world by 2030.
Equal and effective development strategy on all 3 aspects: Scientific Research, Innovation and Social Impact
SCImago ranks research institutions in the world (universities, research institutes) based on 03 criteria: Research efficiency (50%), Innovation achievement (30%) and Social impact association (20%) with 5-year-period data before the 02=year-publication timeline; Only website indexes get data from the previous year. SCImago 2022 for UEH ranking results affirm UEH' adequate and effective development strategy in all three aspects: scientific research, innovation and social impact.
* Scientific research growing strongly in quantity and is superior in publication quality compared to those of the common ground
Within the 2016-2020 period, the number of scientific researches of UEH increased sharply and spread across many fields. With a team of more than 400 researchers including UEH staff, UEH learners, alumni and collaborating researchers, in the period 2016-2020, UEH, in accordance with the Scopus database, had 771 scientific articles published, an increase of 112.4% compared with the 2015-2019 period (with 363 articles). In which, the fields UEH announced are quite diverse, the most mentioned are: Economics, Econometrics and Finance (28.3%); Business, management and Accounting; Social sciences (13.3%).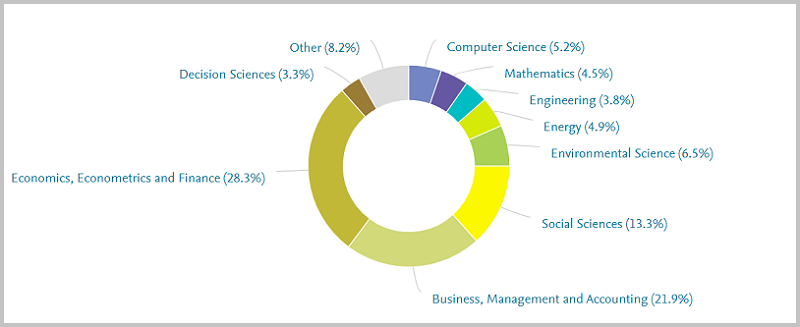 The fields UEH announcing as the most published in the 2016-2020 period
What is more special, UEH's new multidisciplinary fields reached the top of SCImago this year, all of which tended to increase in the number of publications recently: Energy increased by 114%, Environmental Science increased by 208%, Mathematical Statistics increased by 114%.34% and Social Sciences increased up 99%. At the same time, UEH promotes internationalization in scientific research, international publication cooperation with 329 universities, spreading across 58 countries with nearly 450 international co-authors.
In addition, the published quality of UEH is superior to that of the national and international averages. Statistically, UEH's research performance increased by 48 points thanks to its excellence in research and focused publication in 46 Scopus/SciVal journals. The average citation coefficient of UEH articles is 11.5 citations/article. In which, the fact that the industry-adjusted citation coefficient (Field-Weighted Citation Impact) is 1.96 means that UEH's publications have 96% more citations than the average of universities in the world if compared with the same publication field. UEH has 162 articles in the Top 10% of the most cited articles in their respective fields (accounting for 22.8% of the number of publications) whereas Vietnamese average rate is 14.4%. Furthermore, that UEH's Scopus publications mostly focus on high-ranking journals with 75.9% of Scopus publications in the Q1 and Q2 rating subgroups and 24.1% in the Q3 and Q4 rating subgroups reflects that UEH's Scopus publication quality is superior to that of the national average.
* Promoting innovation and increasing new innovations towards sustainable changes (Innovation)
With a pioneer role in improving practical application capacity and arousing creative potential, UEH Innovation Institute (UII) has promoted its role in supporting new ideas and innovations through projects of incubating, researching and applying sustainable solutions towards contributions to the development of the innovation economy in Vietnam and the world. In addition to coordinating Techfest programs, UEH connects with Innovation Centers of a number of economic-technical universities of Singapore (SUTD, NYP, RP), Indonesia (PMBS), Germany (SUTD, NYP, RP), Leipzig University) and so on with the purpose of assisting students and startups with the opportunity to work and to learn about the Southeast Asian market with the support of partners. With these positive activities, UEH's Innovation index on the SCImago 2022 ranking has increased by 116 points.
*UEH has been a reputable provider of information, knowledge and research from academics to applications, trusted by the community (Societal Impact)
UEH has been actively promoting communication programs, spreading knowledge, scientific research articles, articles of applied knowledge, useful information through a system of multi-object communication channels. Specifically, the website system ueh.edu.vn is being constantly updated, the social network system has a massive number of followers as well as various new channels serve young people and the Newsletter is shared regularly every month.
These practical activities have contributed to push the UEH website system in the top of websites with high traffic volume and easily displayed on search engines, with more than 2 million visits per year in average, the number of New users accessing the UEH site from the Google search bar is more than 63,000 per month. The fact that UEH website system is the source of information for more than 43,000 Google keywords means that UEH has been gradually becoming a reputable site providing information, knowledge and research from academics to applications, trusted by the community in case of the need to search, contributing to explanation for the significant increase to the Social Influence criterion in terms of the UEH SCImago ranking.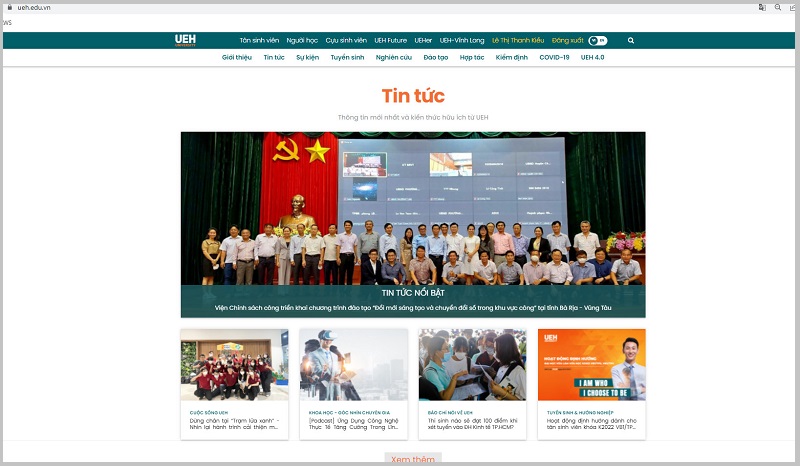 UEH website system being in the top of websites with massive access and easiness to display on search engines
Being promoted by SCImago with diverse positive results once again shows the vision of becoming a research university with academic reputation in Asia, the strategy of promoting academic research published internationally through the UEH's research funds and policies to update and to innovate in recent years have achieved practical results, resulting in enhancing UEH's academic reputation, spreading Vietnamese scientific knowledge on the world stage and making UEH' contributions towards the social sustainable development.
Achieving the above results is thanks to the unremitting efforts of the UEH collective under the correct direction of the University's leaders together with the policies to encourage and to create conditions for lecturers and officials to promote activities, to improve the quality of interdisciplinary teaching actively, to increase the quality and quantity of scientific research with international publications, concentration on innovation and social impact promotion in the most practical way. Prof. Dr. Nguyen Dong Phong – Chairman of the University Council – asserted: "With the strategy of becoming a multi-disciplinary and multi-major university with research-oriented and sustainable action, UEH collective, over the past time, has been making constant efforts so as to improve the quality of teaching, academic research, international publication, to focus on innovation and to increase social impact. Up to today, the results achieved are very positive, not only increasing UEH's academic reputation but also making practical contributions to the national socio-economic development. Continuing to maintain and promote the above spirit, I firmly believe that UEH will develop more and more on the way to becoming a multi-disciplinary and sustainable university with research orientation, continuing to rank in the international rankings and increasing our presence on prestigious charts".
By 2025, UEH aims to be in the Top 500 Best Universities in Asia according to the QS Asia Ranking. Therefore, being recognized by SCImago and with the achievements that UEH has achieved in the past period, and the continuous efforts of the whole university, UEH is expected to achieve this goal in the near future very soon.
SCImago organization includes Spanish research institutions listed as: Consejo Superior de Investigaciones Científicas (CSIC), University of Granada, Extremadura, Carlos III (Madrid) and Alcalá de Henares. The purpose of this ranking is to provide a useful measurement tool for organizations, policy makers and research managers to analyze, evaluate and improve research activities and performance in different university and research institutes. In Vietnam, SCImago is a prestigious ranking, used by organizations like the Ministry of Science and Technology of Vietnam and the Nafosted Foundation as one of the reference foundations regarding the assessment process of science and technology organizations.
News, photos: Department of Marketing – Communication, Department of Science Management – International Cooperation