University of Economics Ho Chi Minh City (UEH) officially upgrading towards becoming a "Multi-disciplinary University"
On the 4th day of October 2023, the Prime Minister signed Decision 1146/QĐ-TTg, initiating the transformation of the University of Economics Ho Chi Minh City (UEH) into a University. This decision places UEH  among 7 higher education institutions in Vietnam that operate in accordance with the model of a "multi-disciplinary and multi-major university" in alignment with the global system of advanced universities. This represents a significant developmental step, built upon nearly five decades of accumulated endogenous capacity. It aligns with the practical requirements in Vietnam and the development trend in university development. This foundation relies on the appropriate utilization of  internal resources, and the simultaneous establishment of cooperative relationships with domestic and international partners. The ultimate goal is to fulfill  the mission, vision and orientation that have been consistently and specifically shaped at each stage of UEH's journey.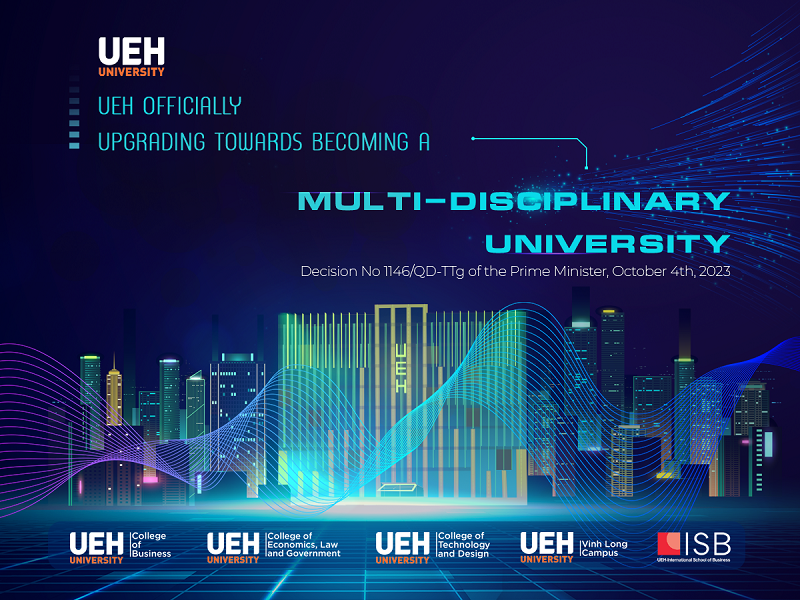 In addition to other "national universities" and "regional universities", UEH will emerge as the next university to evolve into a "multi-disciplinary and multi-major university". This model aligns with the structure of leading universities worldwide, incorporating 3 levels of governance: the University level, the College level, and Branch and Faculty/Institute level (Faculty/ Institution). Notably, graduates from various training majors at different levels will have the opportunity to receive diplomas bearing the prestigious University of Economics Ho Chi Minh City – UEH Brand. This mechanism fosters a strong  connection between UEH's University level and UEH-member Colleges/Branches; as well as between the current UEH students and alumni from all generations. It reinforces UEH's prominent position and its enduring reputation.
"In accordance with the statistics from the Top 1000 Universities in the QS World Best University rankings, up to 96% are classified as multi-disciplinary and multi-major Universities. Therefore, I believe that upgrading the model to a multi-disciplinary and multi-major University is the foundation for elevating UEH, in particular, and the Vietnamese educational system, in general, to  the international level", asserts Professor. Su Dinh Thanh, UEH President.
A 50-year development journey fueled by endogenous capacity
The transition from a 'mono-discipline and mono-major university' to a 'multi-disciplinary and multi-major university' in the UEH governance model represents an essential developmental stride, aligning with the practical context in Vietnam and global trends. What makes this transition particularly noteworthy is that it draws upon the internal capacity accumulated by UEH over nearly 50 years of formation and development..
"The "mono-discipline, mono-major University" model was born in Vietnam in the years following the country's reunification, providing timely and highly-specialized human resources to support the country's reconstruction efforts. However, in today's landscape of integration, the digital era, and the global challenges, the evolution towards the "multi-disciplinary University" model has become inevitable. This evolution prioritizes equipping individuals with multi-disciplinary and multi-major professional knowledge, aimed at addressing contemporary issues and acting for sustainable development. We would like to underscore that this transition prepresents a step forward in enhancing internal capabilities and 'quality', rather than merely a name change to "UEH University". We hold a strongly believe that UEH is poised for a prosperous future", emphasized Professor. Nguyen Dong Phong, Chairman of UEH University Council.
With the aim of officially becoming a multi-disciplinary and multi-major university, UEH has undergone a lengthy and systematic preparation process, yielding remarkable results as follows:
Since 2021, UEH has been committed to a development strategy aimed at transforming into a Multidisciplinary and Sustainable University. This transformation includes the establishment of three Member Colleges: UEH College of Business, UEH College of Economics, Law and Government, and UEH College of Technology and Design, in addition to one UEH Vinh Long Branch;
As of now, UEH's training capacity exceeds 36,000 learners, offering 38 University-level Majors, 19 Master's level Majors, and 14 Doctoral level Majors;
UEH has achieved FIBAA European standards for training quality at the first higher education level in Vietnam, with 17 training programs meeting both international standards: FIBAA and AUN-QA;
The quality of UEH' output is attested to by 98% of students having jobs right after graduationThe quality of UEH's graduates is evident as 98% of students secure employment immediately after graduation;
UEH's training, research, and community engagement capabilities have gained recognition both domestically and internationally. This recognition includes being ranked among the Top 401+ Best Universities in Asia (QS Asia rankings 2023) and being listed among the Top 301-400 Universities contributing to the 17 Sustainable Development Goals of the United Nations, according to THE Impact Rankings 2023;
Throughout our development journey, the UEH community has flourished and established strong connections. This includes over 240,000 former learners, 1,600 officials and former officials, 500 partnerships with reputable businesses and organizations, and nearly 125 domestic and international educational partnerships.
Thanks to its current jurisdiction system and the rich tradition of a key National Public University, UEH has always been dynamic, pioneering innovation, and actively pursuing international integration. With a well-structured development strategy that involves persistent steps and the collective efforts of the entire UEH community, UEH has, to date, garnered the consensus of the Ministry of Education and Training, Ho Chi Minh City People's Committee, as well as various Ministries and Sectors. Consequently, it has been officially approved by the Prime Minister to transition from a 'mono-disciplinary, mono-major university' to a 'multi-disciplinary, multi-major university'.
The Practical Value of a Multi-disciplinary University Model
With inherent achievements in the fields of Business, Management, Economics, Law, and Language, the mission of upgrading the management and operational model to a 'multi-disciplinary, multi-major university' implies that UEH will develop and expand new majors, especially in Computer Science, Technology, and Design, emphasizing practical applications. In other words, UEH's training and research activities will have an 'interdisciplinary' orientation, and international cooperation and community engagement will be pursued in a practical direction. These initiatives will be implemented by UEH Member Colleges and Branches under the direct guidance and management of the UEH University level, adhering to the principles of UEH's inherent quality.
Furthermore, the UEH brand names, which have become familiar to the UEH community, especially since the restructuring period (2021 to the present), will now be officially recognized. Notably, the name 'University of Economics Ho Chi Minh City' will be featured on graduation diplomas at all levels and systems. As a result, the value of UEH degree quality and the pride associated with the UEH brand will be upheld and further developed. This represents a pivotal aspect that unites officials, learners, and alumni of UEH Member Colleges/Branches into a cohesive entity, fostering the sustainable development of the multi-disciplinary and multi-major UEH model.
Pre-restructuring
Post-restructuring
Common name: UEH

Vietnamese name: Trường Đại học Kinh tế TP. Hồ Chí Minh

English name: University of Economics Ho Chi Minh City

Common names: UEH, Đại học UEH, UEH University

Vietnamese name: Đại học Kinh tế TP. Hồ Chí Minh

English name: University of Economics Ho Chi Minh City
In terms of UEH: This new model fosters agility and adaptability in fulfilling the mission of a National Key University, elevating its international rankings in QSA, QS, THE, and THE Impact. In addition to enhancing training quality, research capacity, and community engagement, the model also facilitates the successful execution of scientific and technological tasks. UEH's participation in addressing contemporary issues is supported through multi-disciplinary and multi-major projects.
In terms of UEH Member Colleges/Branches: Optimizing resources to expand the training and research ecosystem in an interdisciplinary direction and broadening the scope of initiative to foster domestic and international cooperation networks. This foundation aims to establish a distinctive position and reputation for UEH Member Colleges while maintaining internal harmony within the organization as a whole.
In terms of UEH officials, lecturers, scientists: New mechanisms and remuneration policies that emphasize each individual's career development path are implemented to retain and attract talent. Lecturers and scientists are provided with favorable conditions to access and innovate in teaching and research, with an emphasis on interdisciplinary and cross-field integration closely aligned with current societal needs. Additionally, UEH University's management staff have their capacities upgraded in alignment with the new modell.
In terms of learners: Equipping individuals with interdisciplinary knowledge and fostering sustainable actions not only enhances the quality of their output but also aligns them with the demands of the global job market, enabling them to become global citizens.
In terms of business community, partners and localities: Training and research products associated with practical applications yield benefits for businesses, communities, and society. Concurrently, the new model fosters synergistic value between UEH and the business community, partners, and localities through the development of academic and applied research projects from a multi-disciplinary perspective, promoting global awareness and local action.
The transformation of the conventional UEH model into a multi-disciplinary and multi-major university is a significant milestone in UEH's nearly 50-year development journey. It underscores UEH's comprehensive growth within the Vietnamese higher education system and alignment with international trends. This step brings UEH closer to our 2030 goal: becoming a multidisciplinary university with a strong academic reputation and sustainability in the Asian region.
News and photos: UEH Department of Marketing and Communications