UEH Doctoral And Master Graduation Ceremony In 2023
On the morning of May 13, 2023, at Hall A.116, University of Economics Ho Chi Minh City (UEH) solemnly held the Doctoral and Master Graduation Ceremony 2023. This was an opportunity to honor 448 new graduates who have made excellent achievements during the course of study, research and international publication.
Attending the Graduation Ceremony, on the side of UEH leaders, there were: Prof. Dr. Nguyen Dong Phong – Chairman of UEHthe University Council; Prof. Dr. Su Dinh Thanh – President; Dr. Bui Quang Hung – Vice President; Dr. Dinh Cong Khai – Vice President; Assoc. Dr. Nguyen Khac Quoc Bao – Vice President; Assoc.Prof.Dr. Phan Thi Bich Nguyet – Chairwoman of the Strategic and Policy Advisory Council; Board of Directors of member colleges of UEH; Leaders of Sschools with doctoral and master's programs; Professors, Associate Professors, Lecturers, Students, Graduate Schools and fresh Doctors and Masters.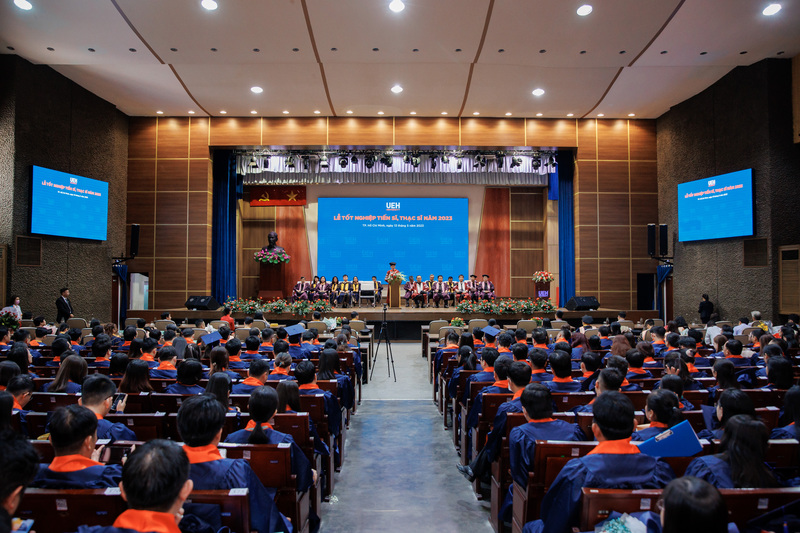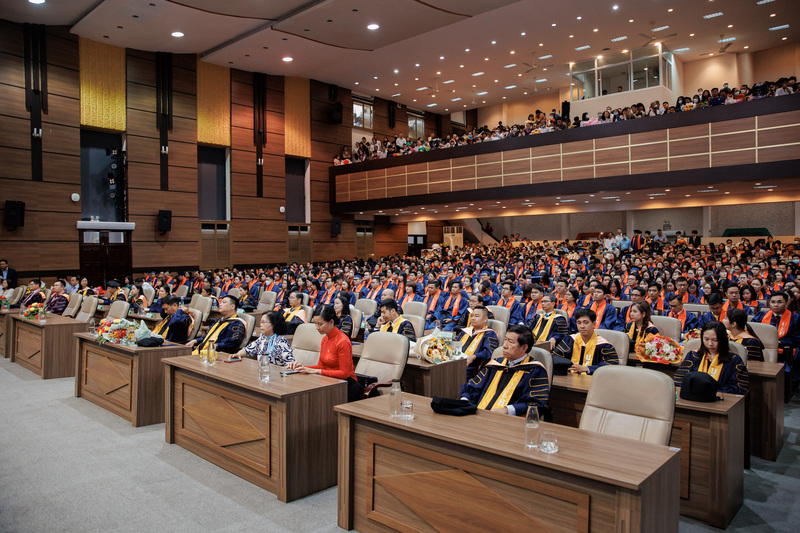 Overview of the Graduation Ceremony
Speaking at the ceremony, Prof. Dr. Su Dinh Thanh – President of UEH congratulated and appreciated the outstanding efforts in study, research and international publication of the fresh Doctors and Masters over the past time. He shared: "On behalf of the University's leadership, I would like to congratulate the 22 fresh Doctors and 426 fresh Masters who have achieved excellent academic and research results. You have the right to be proud when you graduate from UEH – a brand that has been confirmed, positioned as a prestigious high-quality university in Vietnam in terms of training and research, and is gradually integrating strongly into the world modern education. Graduating from UEH, graduates can work in domestic, regional and international markets. In fact, many alumni have accomplished done this."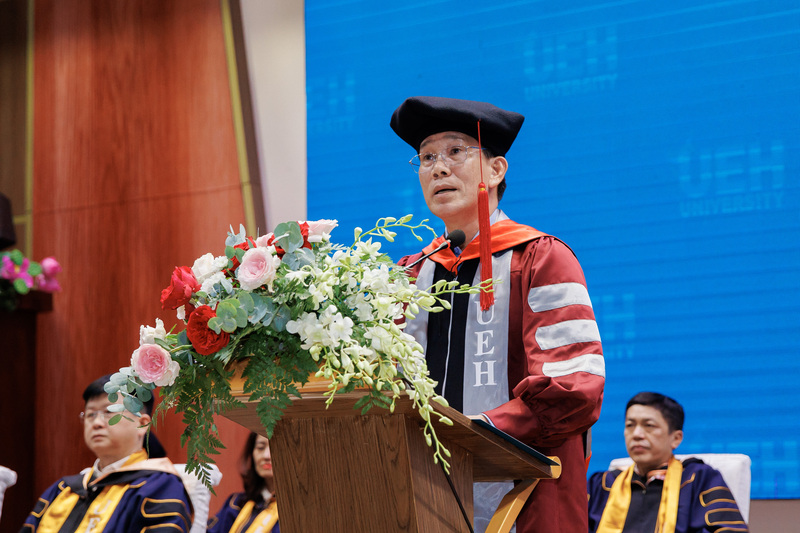 Prof. Dr. Su Dinh Thanh delivering a congratulatory speech to the new Doctors and Masters
Besides, the Professor Su Dinh Thanh also suggested future development directions for the Doctors and Masters. He especially emphasized that in the era of globalization, under the increasingly profound impact of the 4.0 revolution on the economy – society, it was necessary to improve the application of technology and innovation to do well in their profession. New Doctors and Masters need to improve their knowledge and gradually to expand their research scope, to equip them with interdisciplinary expertise in economic sciences, new technologies applied in their profession, and to improve their English skills to expand research and academic exchange. UEH hopes that the new Doctors and Masters will continue to connect with the school to contribute to professional development. New Masters can continue to study Doctoral programs in English and Vietnamese. The new Doctors can become visiting lecturers of UEH the University, participating in teaching, research and professional councils of UEH the University. Only through the lifelong learning path can we meet the increasingly high demands of society, and in this way, the scope of activities and development thinking can reach out to the world. From the knowledge provided by the school and the ability to self-study and research, the new doctors and masters will become good experts, lecturers, and leaders who can work in the country and the world. He also hopes that the new faculties will become members of the UEH Alumni network with nearly 250,000 alumni of all levels of UEH who graduated from 1977 to the present to promote the good tradition, share, cooperate and support to grow together. At the same time, the Professor also sincerely thanked the agencies and families for their support and encouragement to help the Masters and doctors achieve today's glory.
At the ceremony, UEH officially awarded 22 PhD degrees (6 PhDs in Accounting, 5 PhDs in Business Administration, 4 PhDs in Development Economics, 3 PhDs in Finance – Banking, 1 PhD in Political Economics, 1 PhD in Economic Law, and 1 in Commercial Business );, in which, there are 6 PhD candidates defending their thesis in English with foreign experts and professors participating in UEH the Council; Fellows They have published 24 research papers in prestigious world-ranked journals (collectively referred to as SCOPUS), and 16 papers have participated in prestigious international conferences with ISBNs. The ceremony also awarded 426 Master's degrees (190 MSc in Business Administration including 11 EMBAs, 122 MScs in Finance and Banking, 69 MScs in Accounting, 64 MScs in Public Management, 25 MScs in Commercial Business, 25 MSc in Economic Law, 22 MSc Development Economics, 12 Management Information Systems, 3 MSc in Political Economics).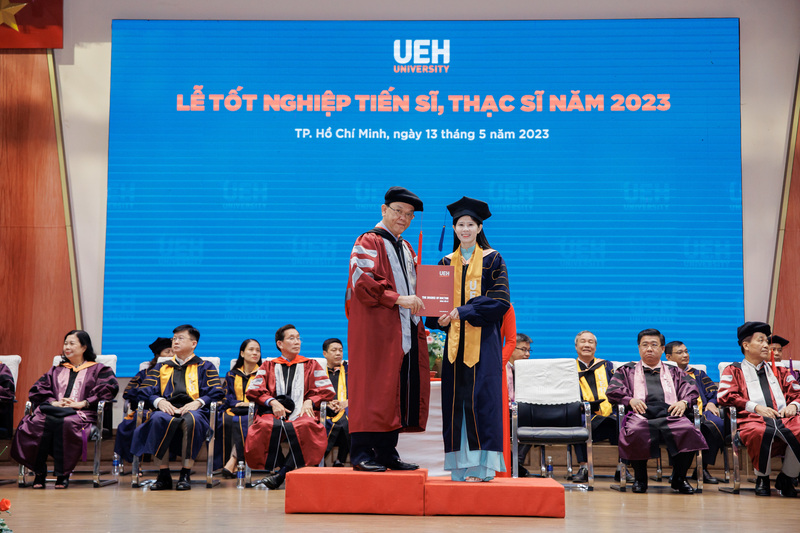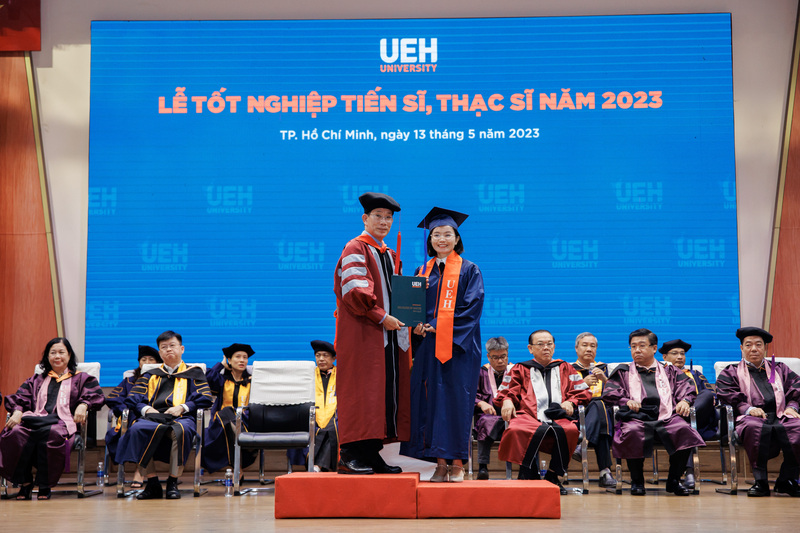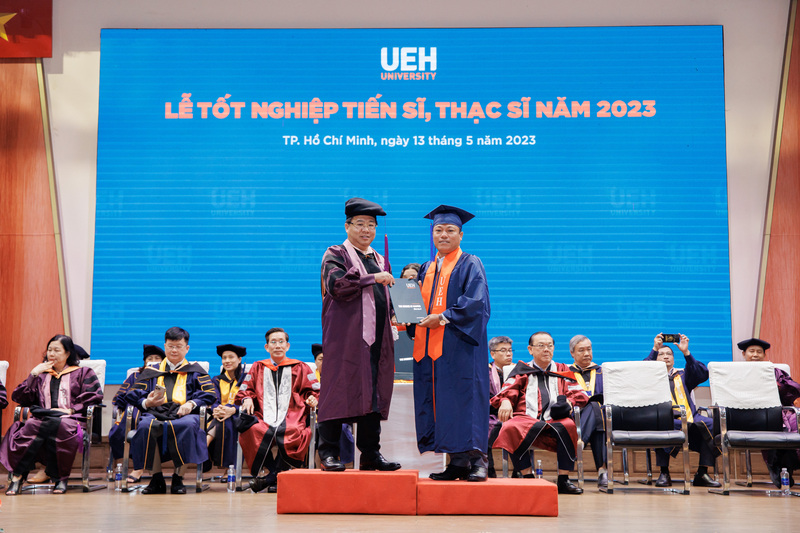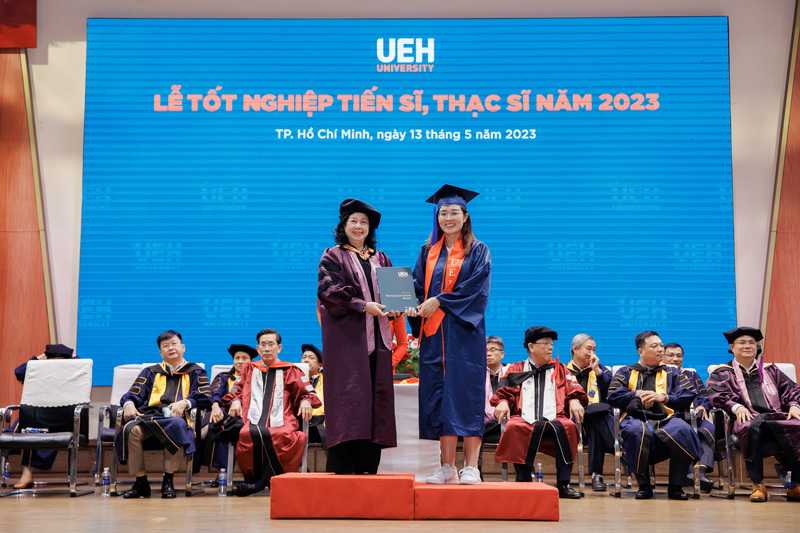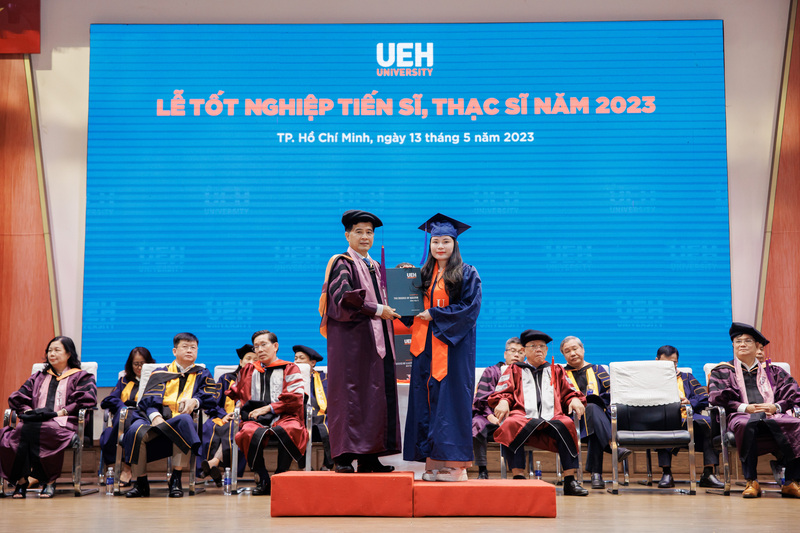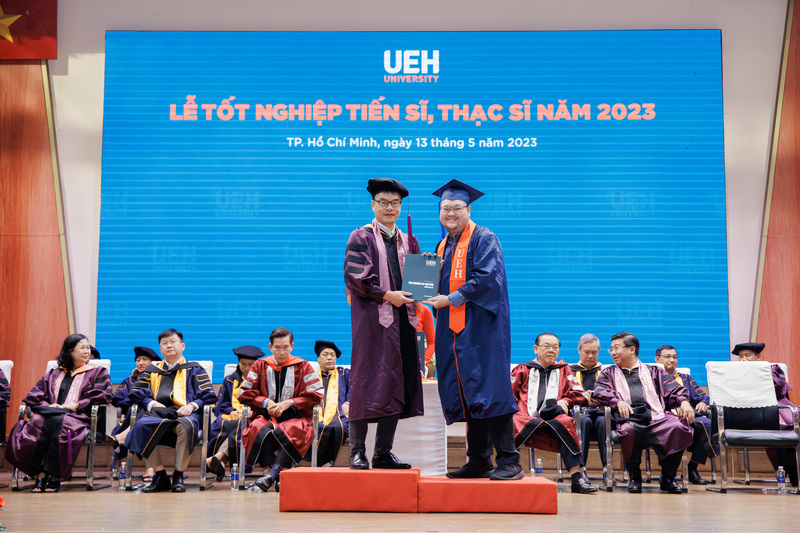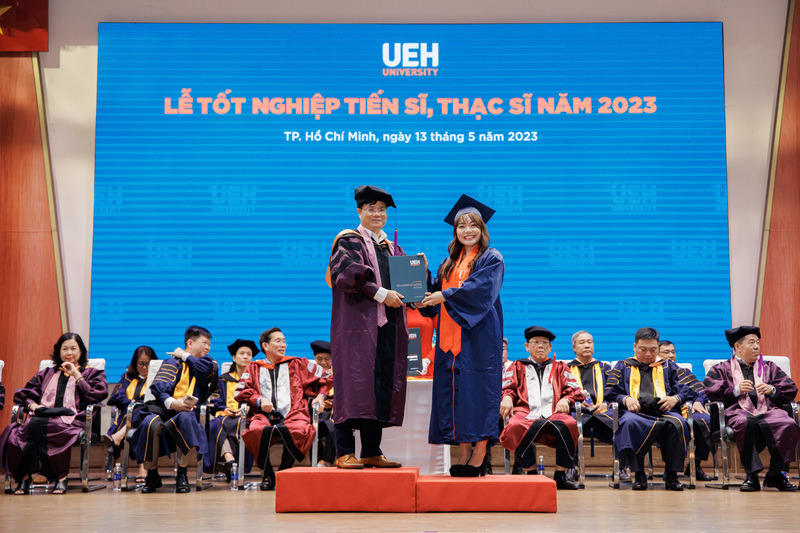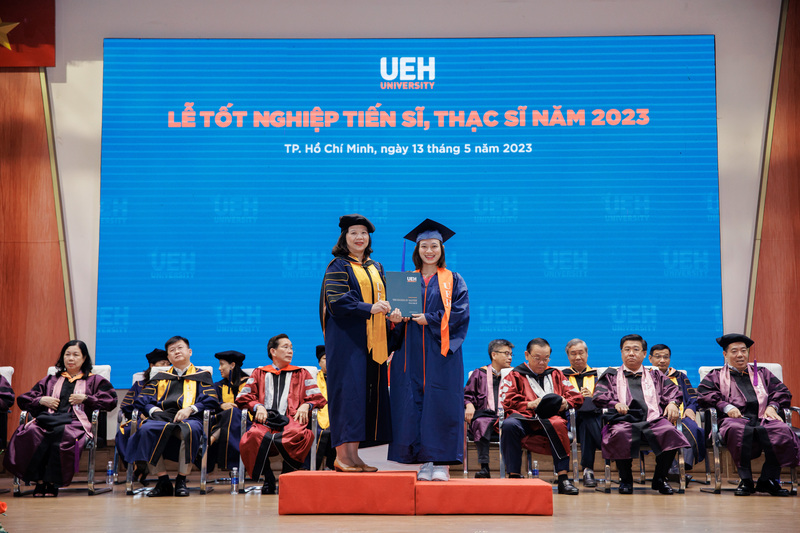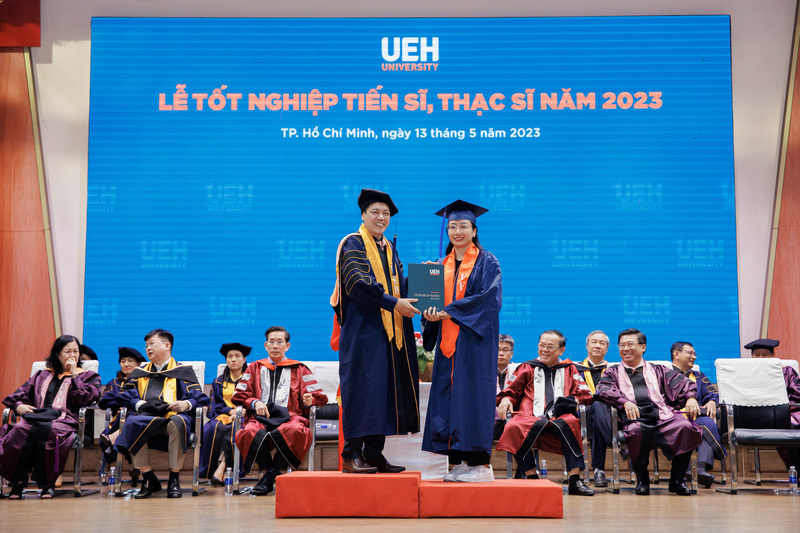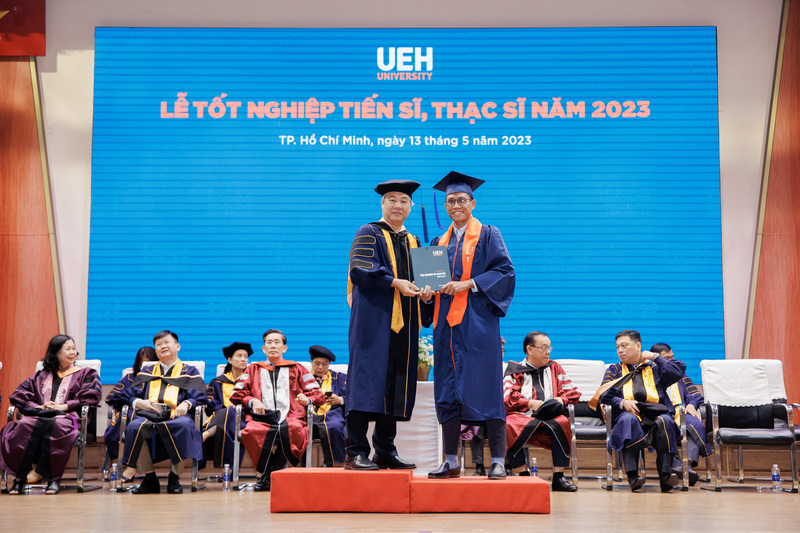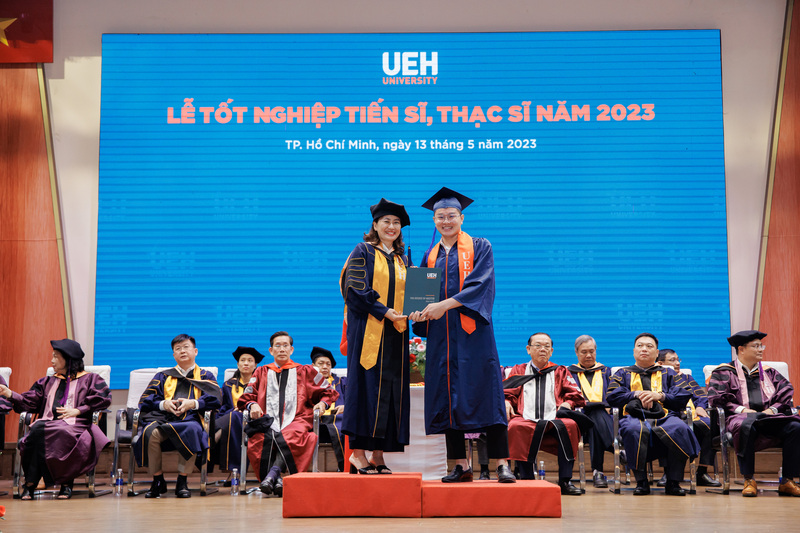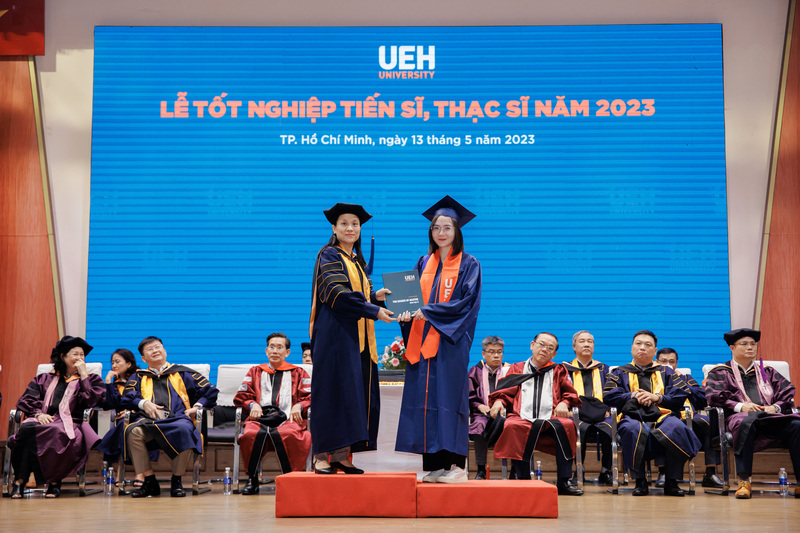 The 1st Doctoral and Master Graduation Ceremony 2023
The ceremony closed successfully and marked UEH's achievements in postgraduate training, demonstrating the efforts of the whole university with its dedication to training high-quality human resources for the country, which is the result of the dedication of the teachers and the efforts of all students. UEH does send the best Wishing the new doctors and masters to achieve much success in their careers and lives in the future.
Over 47 years of establishment and development, University of Economics Ho Chi Minh City has become a prestigious and key University brand on the educational map of Vietnam, gradually making an academic imprint in the world market. Along the way, UEH the University has well performed its responsibilities in contributing to training high-quality human resources, capable of working and integrating on the international path. With more than 33 years of graduate training, UEH has educated more than 15,000 Masters, 542 Doctors in the fields of economics, business, public management and law, and they who are promoting their role very well in local and governmental organizations and businesses, contributing to the development of the country.
Some more Additional photos about concerning the ceremony: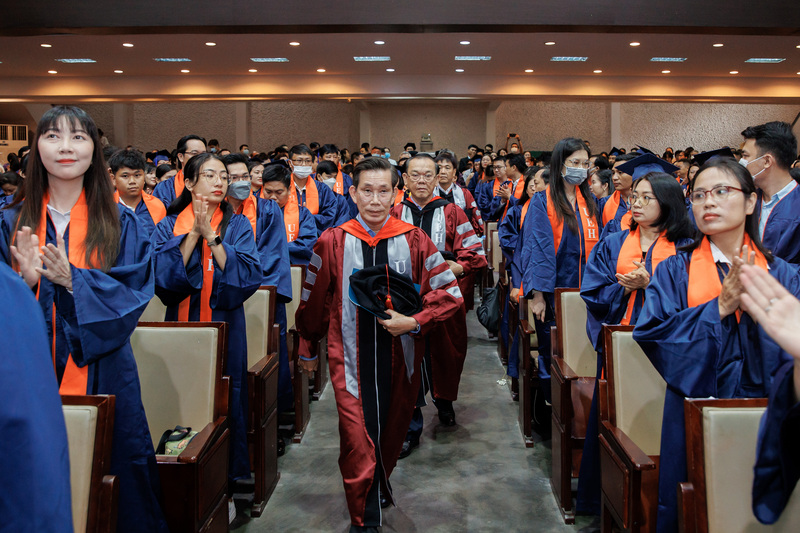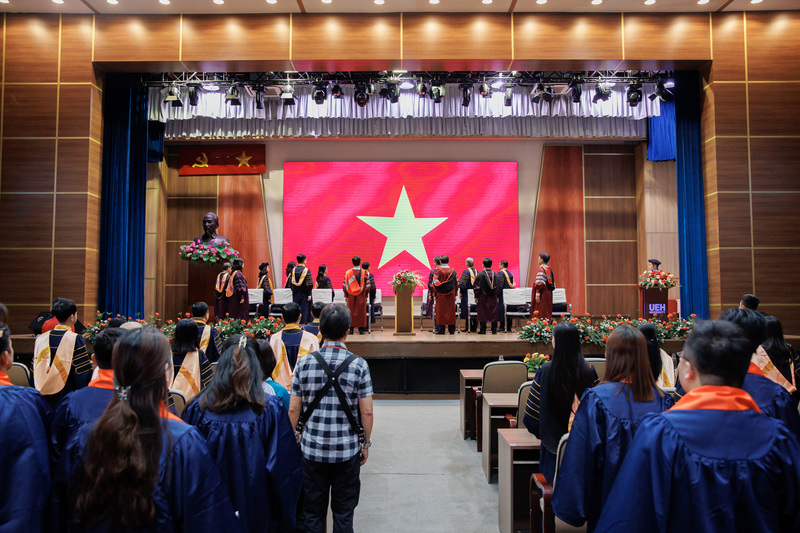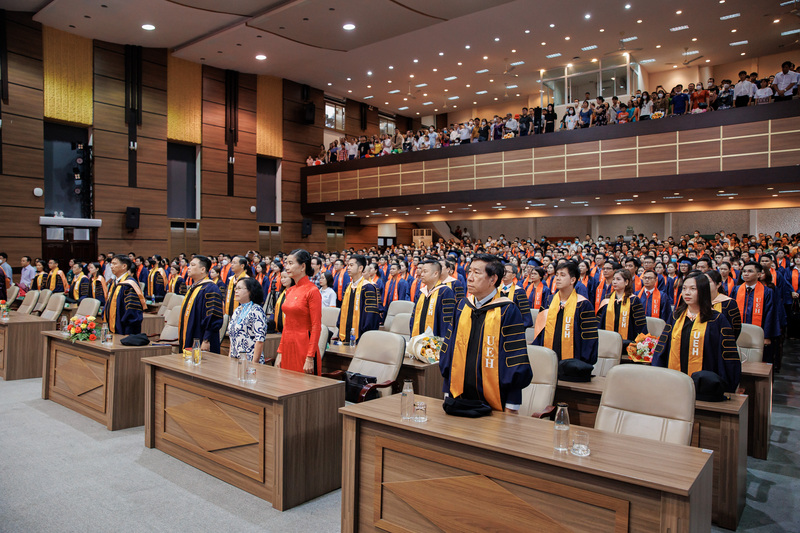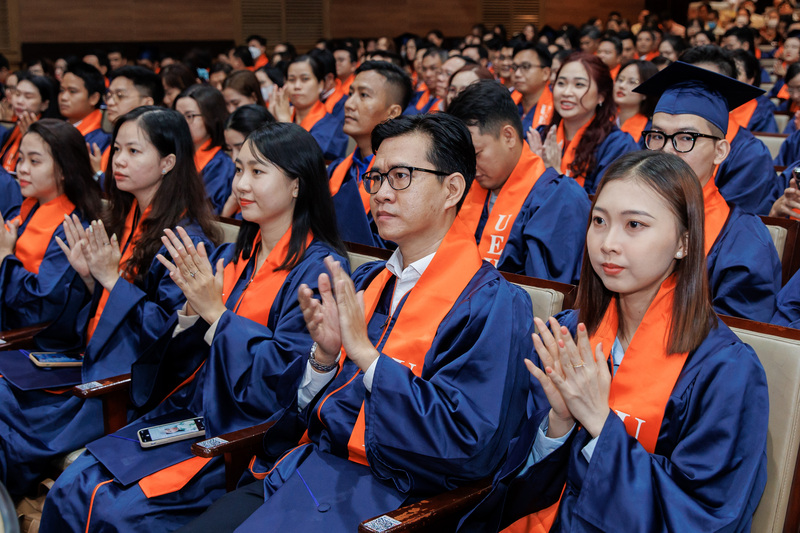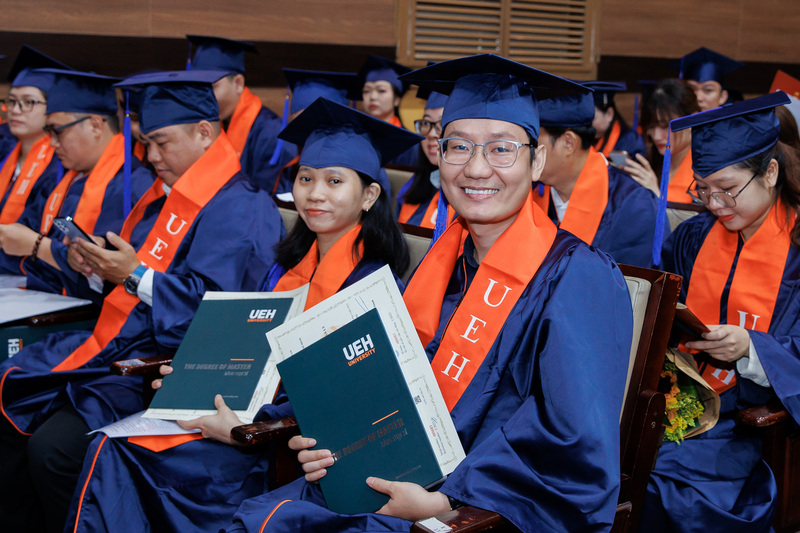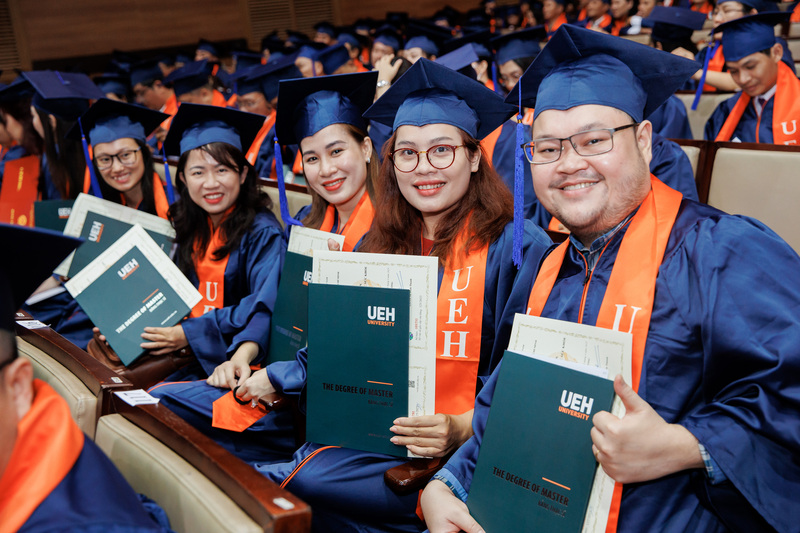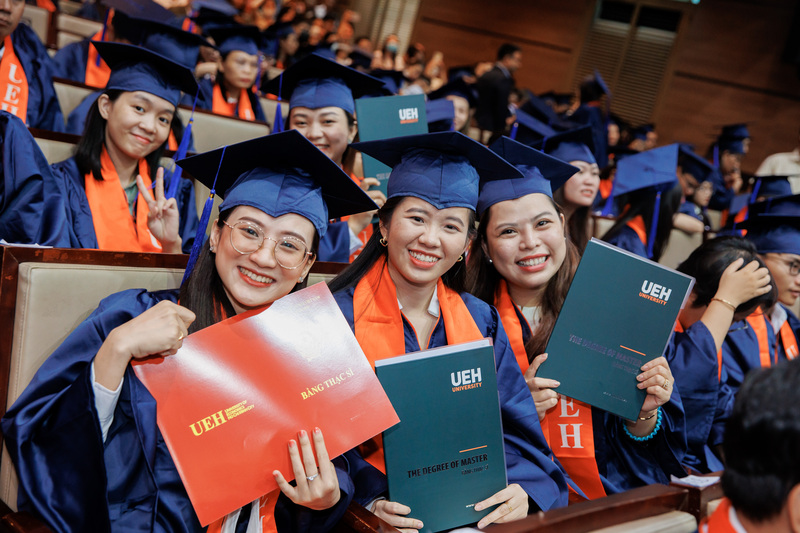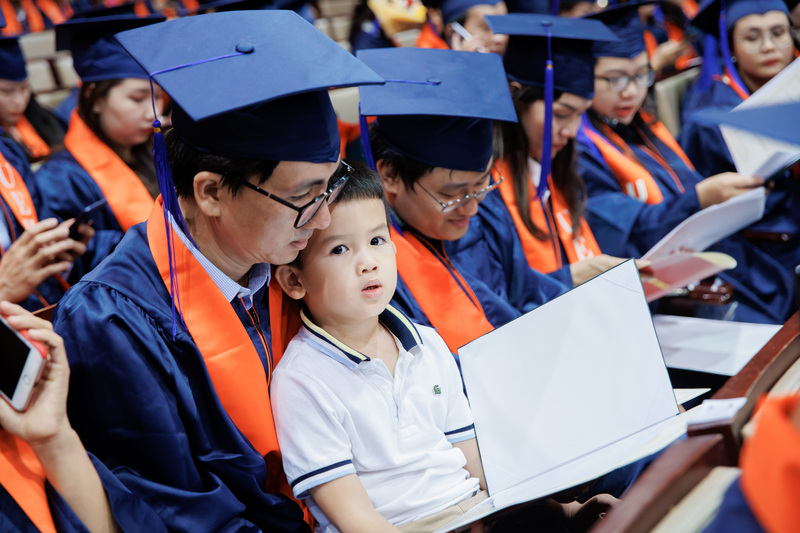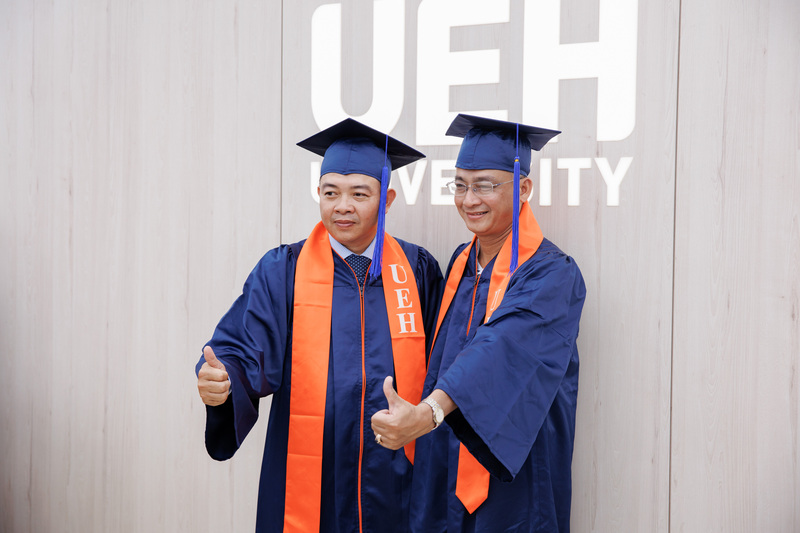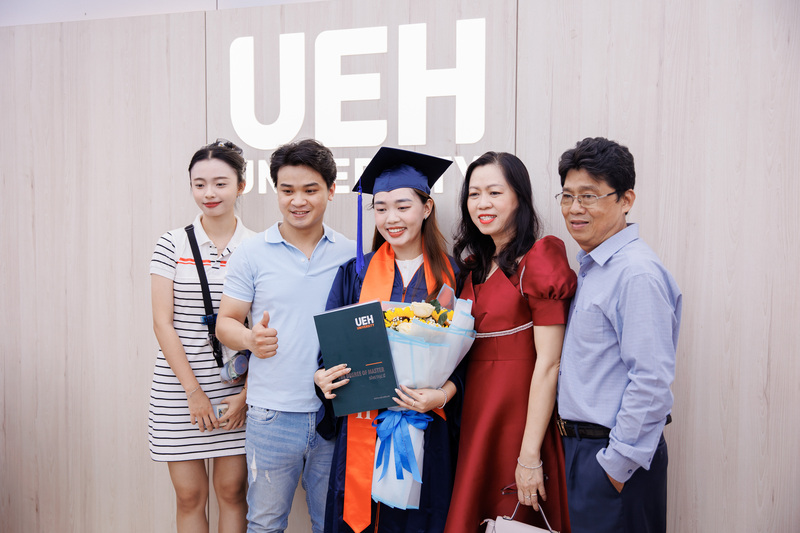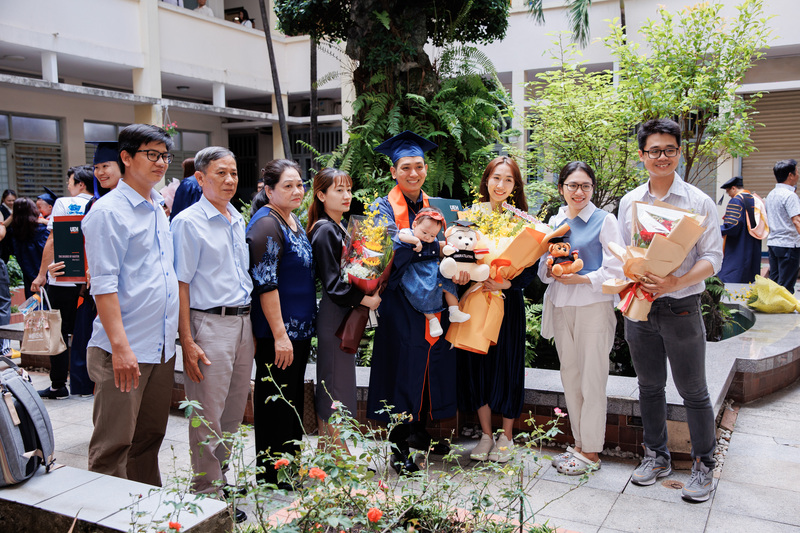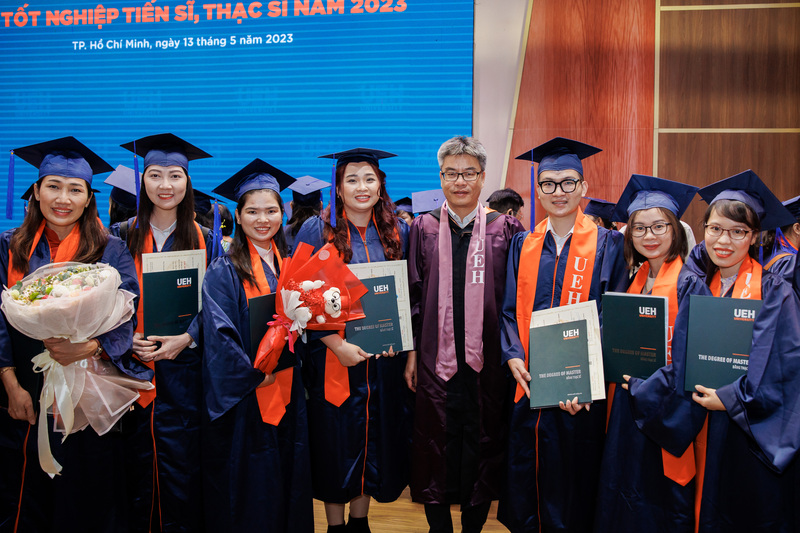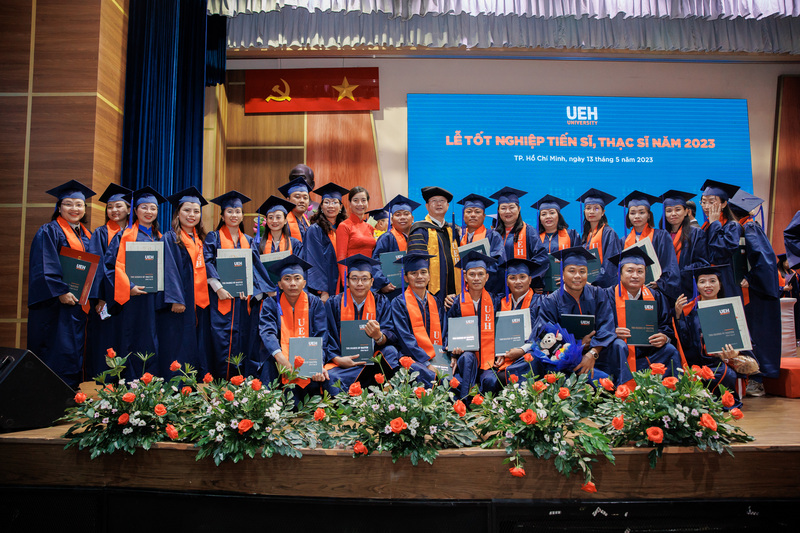 News, photos: UEH Department of Marketing and Communication