UEH College of Economics, Law and Government – A year looking back on our founding imprint and operating journey
On October 27, 2021, UEH College of Economics, Law and Government (CELG) was born with the mission of training high-quality human resources in the fields of economics, law, government, capable of identifying and solving complex problems at global, regional and Vietnamese scales. After one year of official operation, CELG has achieved impressive achievements, contributing to the overall development of UEH's strategy of becoming a Multidisciplinary and Sustainable University. On the occasion of the 46th anniversary of UEH's establishment (October 27, 1976 – October 27, 2022), let's take a look back at the one-year mark and the operational journey of the UEH College of Economics, Law and Government.
Imprints of establishment and operation orientation
UEH College of Economics, Law and Government is a combination of Schools/ Institutes with training programs related to the fields of economics, law, government and public finance, in order to carry out the mission of training high-quality human resources capable of identifying and solving complex problems at global, regional and Vietnamese scales.
In accordance with the development strategy to 2030, CELG will continue to promote the achievements of UEH in general and the Schools/Institutes of CELG in particular to improve the quality of training in economics, law and government in the South of Vietnam as well as in the region, actively promoting sustainable development and contributing to society to enhance UEH's reputation in Vietnam and the international arena.
In the first phase (2022 – 2025), CELG's development orientation revolves around five strategies: (1) Training strategy; (2) Scientific research strategy; (3) International cooperation strategy; (4) Social influence strategy; and (5) Strategy of governance and operation with the purpose of actively contributing to the development of UEH to form a Multidisciplinary and Sustainable University; at the same time, increasing UEH's position on international rankings.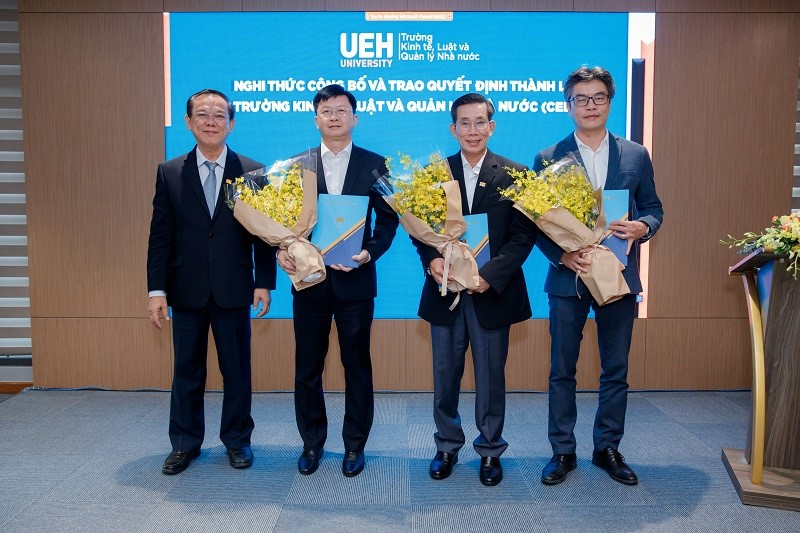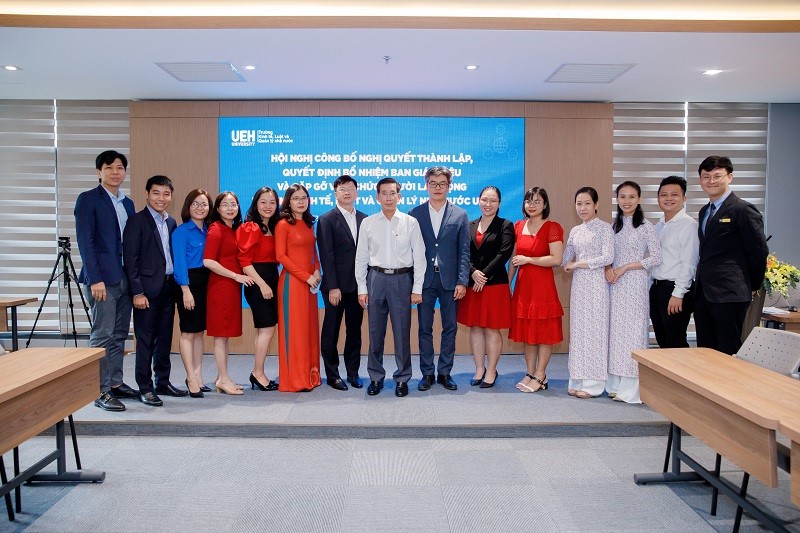 The conference announcing the establishment resolution, the decision to appoint the Board of Directors and met with officials and employees of UEH College of Economics, Law and Government 
Highlights in training activities
In 2022, the training programs of the schools and institutes of CELG have had a strong transformation in the direction of constantly improving training quality, integrating technology and contemporary topics into the curriculum listed as: digital transformation, multidisciplinary, sustainable development, etc. Many new bi-disciplinary programs have been built and put into operation, creating opportunities for more flexible transformation for learners in the path of lifelong learning capacity development.
The highlight of CELG's training programs is the preparation of a solid foundation for learners who are capable of self-development of their professional competence and transferability with high-quality training programs of world-leading universities. In particular, the program "UEH Mekong 2030" pioneered by UEH focuses on the mission of training high-quality public sector human resources for the Mekong Delta. This is one of the steps to concretize UEH's strategy to accompany local development and contribute to the community. The "Master of Senior Administration in Public Policy in the Mekong Delta" class opened with 44 excellent graduate students from 9 Provinces/ Cities including: Long An, Tien Giang, Ben Tre, Vinh Long, Can Tho, Dong Thap, Soc Trang, An Giang, and Kien Giang. In which, there are 22 students who are leaders, managers of Departments and equivalent or higher in management agencies of the Party, Government, and Departments.
In 2022, CELG recognizes the initiative of training programs in signing 38 cooperation agreements with businesses and employers in various fields, creating opportunities for students to identify socio-economic issues in practice, experience and prepare for professional development after graduation.
CELG's training programs are accredited and recognized accordance with FIBAA international standards, including: Master Program in Development Economics – a joint program between UEH and Erasmus University Rotterdam in the Netherlands (5-year term from 2017-2022); and Undergraduate Real Estate Program that has completed its assessment beyond 2022. Undergraduate programs in the process of preparing the self-assessment report required by FIBAA include: The Business Law Program and the International Business Law Program.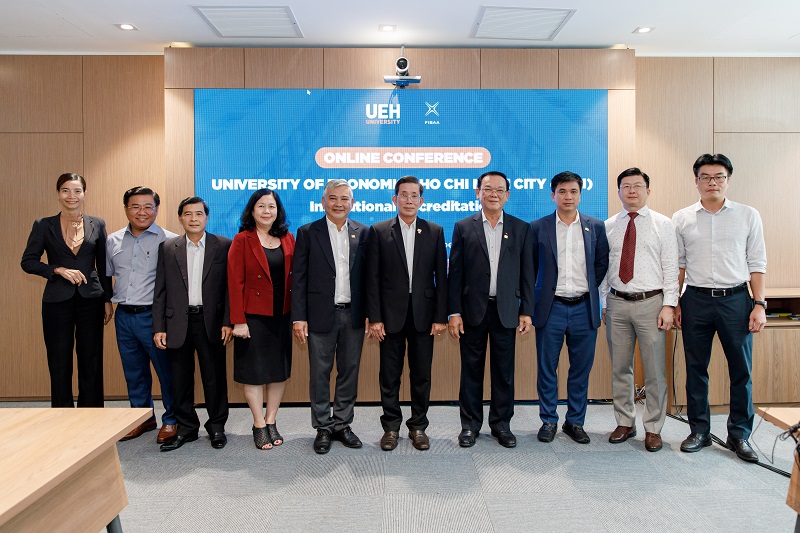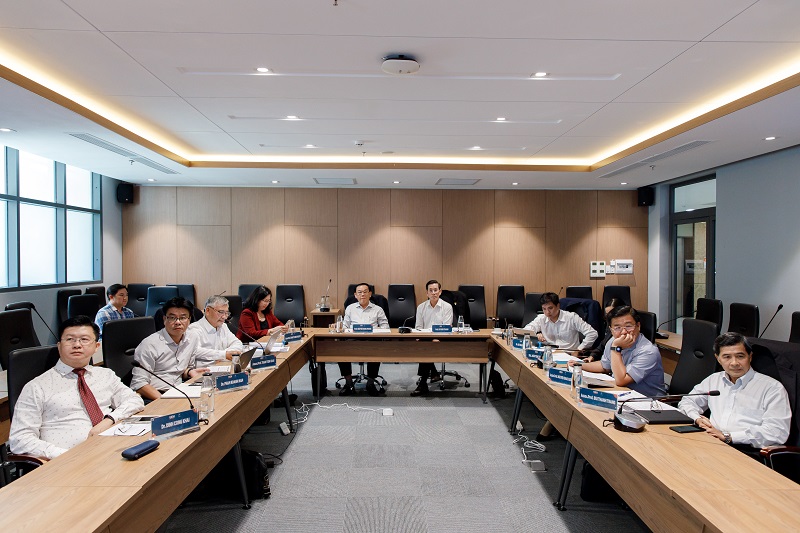 CELG's training programs being accredited and recognized according to the international standards FIBAA
Achievements in scientific research
The year 2022 recognizes CELG's strong efforts and outstanding achievements in connecting with foreign scholars, operating academic activities to expand the support network for CELGers' research capacity development in the future. CELG's scientific research achievements are the result of the research activities of the lecturers and researchers at CELG combined with the research achievements from the unique characteristics of each School and research Institute affiliated to the College.
Firstly, with the positioning strategy as the leading University in Vietnam in conducting experimental research and effectively operating the laboratory, CELG has hosted the implementation of the Experimental Method Development program at the campuses and UEH – Vinh Long Campus. Second, the international conference "A pathway towards Carbon Neutrality in Asia" jointly organized by CELG and the Asian Environmental and Natural Resources Economics Association received 204 papers from scholars, researchers, policy makers, lecturers and PhD candidates from more than 30 countries, in which, the percentage of submissions from foreign scholars accounts for 94%. The second international conference in 2022 and expected to be developed into UEH's annual conference is "Innovative Philosophy and Law – IPL" organized by CELG in collaboration with the Institute of Philosophy and the Vietnam Academy of Social Sciences perform. The theme of the 1st IPL Conference was "For New Forms of Life in the World Context of Conflicting Values: Transdisciplinary Perspectives from Asia" which attracted interest and received submissions of scholars from Greece, Japan, New Zealand, China… will take place in early December 2022. In addition, in 2022, CELG has organized many international courses and training courses, and invited international speakers to participate in academic activities at CELG. As of October 2022, CELG has had 112 scientific publications in domestic and international journals, of which 63 articles have been published in journals in the list of ISI/Scopus/ABCD.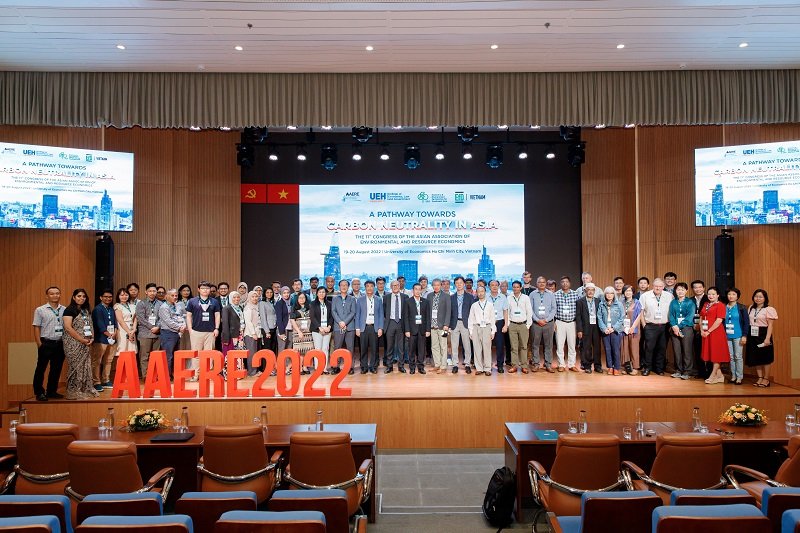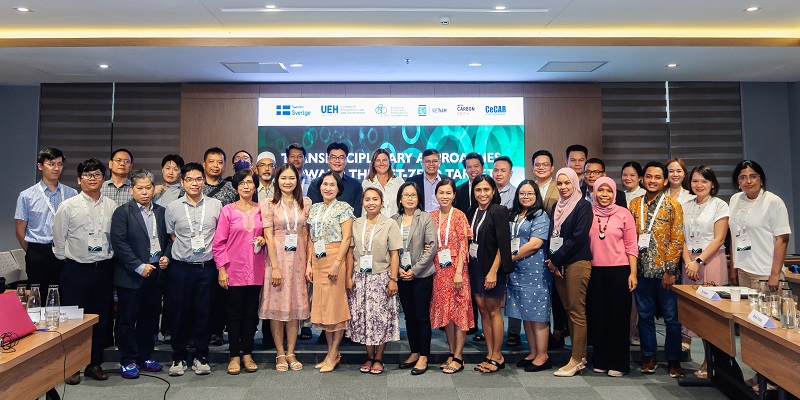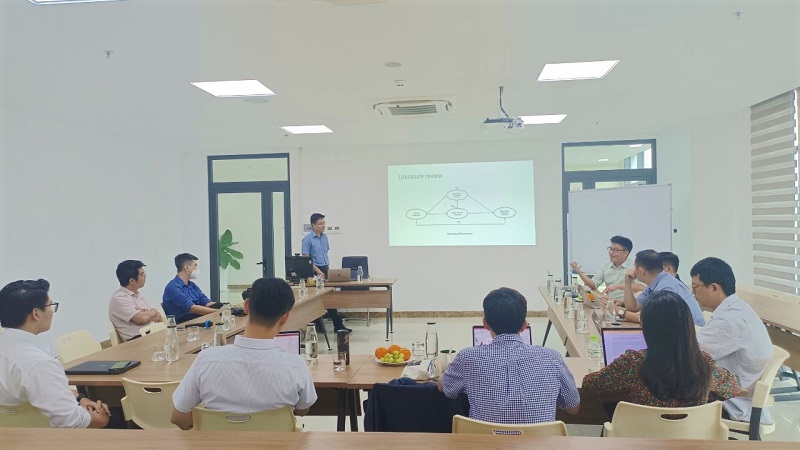 CELG's strong efforts and outstanding achievements in connecting with foreign scholars, operating academic activities
Efforts to connect the community
During the past one year journey, CELG's community connection activities have reached a wide range of audiences in society (besides UEHers): researchers, businesses, press agencies, localities, etc. Each unit of CELG are empowered to actively carry out their mission, thereby integrating meaningful contribution activities in community development. The series of periodic scientific activities CELGS (on average every 2 weeks) has connected nearly 100 domestic and foreign researchers. Center for Economics, Law and Governance (CTELG), pioneering the spirit of "COMMITMENT TO THE COMMUNITY – IMPARTING KNOWLEDGE" has operated 02 free programs for the community: (1) CTELG Talk Series, and (2) Applied macroeconomic analysis in media and press work (AMA).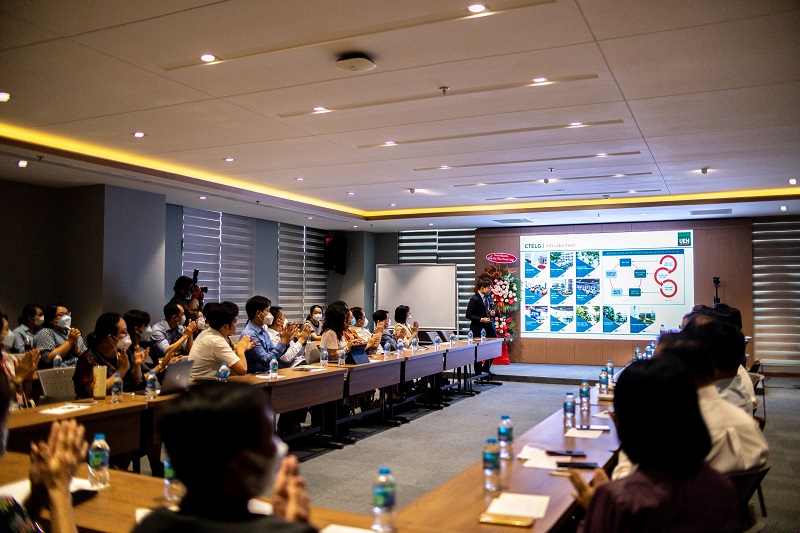 Free program for the community – CTELG Talk Series – organized by Center for Economics, Law and Governance
In 2022, CTELG organized 3 activities, providing colorful aspects of Economics, Law and Management for nearly 300 participants (of which 1/3 are students and 2/3 are business representatives). The AMA provides free training for newsrooms and media stakeholders, providing knowledge, tools, and skills to help participants understand, analyze, reason, and make decisions regarding the macroeconomic issues that individuals and organizations regularly face on a national and global scale. In addition, CELG School of State Management organized a free short-term training course on digital transformation in the public sector for senior leaders of the People's Committee of Ba Ria – Vung Tau Province in April 2022.
Activities organized by Youth Unions of the Schools affiliated to CELG's Youth Union have achieved wide coverage in the community, especially with their active volunteering and student support activities, with nearly 4,000 students participating in the year 2022.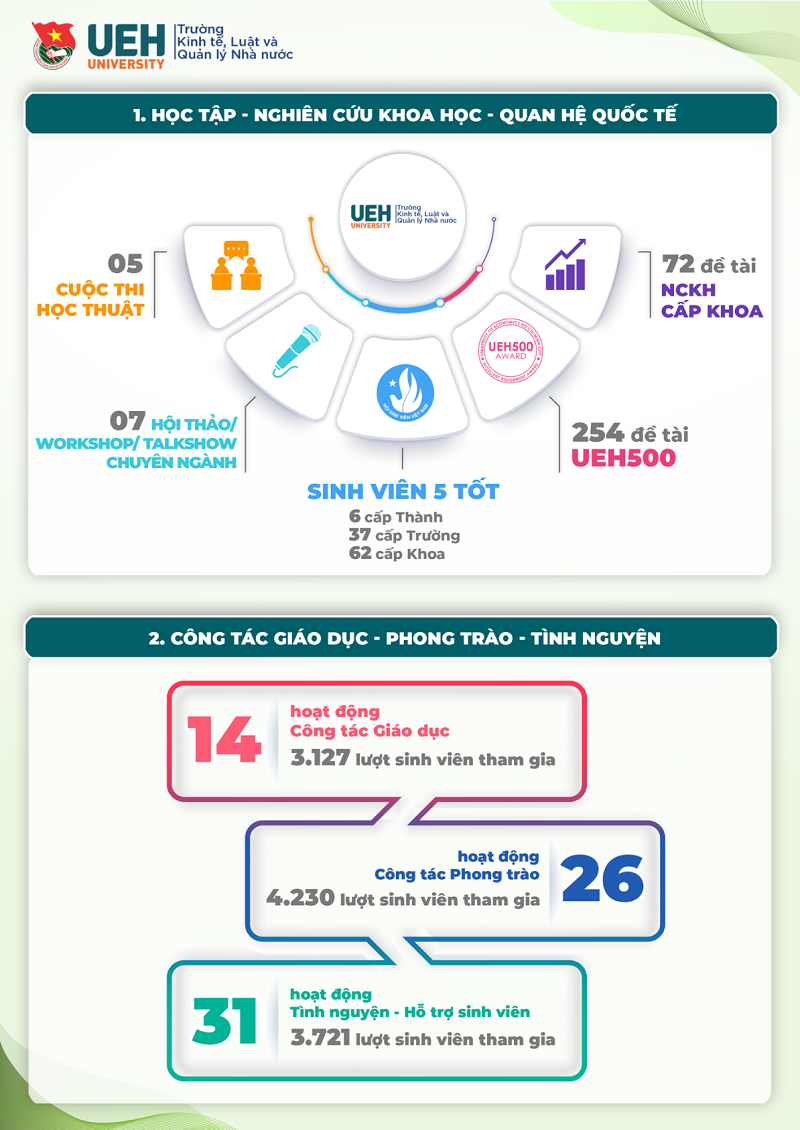 In the past year, CELG's community connection activities having reached a wide range of people in society
Getting ready for the journey of Multidisciplinary and Sustainable UEH
With the achievements obtained in the past year, CELG is constantly striving and developing into an interdisciplinary and multidisciplinary training and research organization according to international standards; at the same time, improving its reputation, academic and social influence to promote sustainable development. With the set goals, CELG will implement the Development Strategy to 2025 including: Strengthening academic research capacity, international publication and enhancing the academic reputation of CELG; Improving the capacity of practical research for the locality, improving the social influence to promote sustainable development; Diversifying research methods for diverse training disciplines of CELG; Improving the quality of training according to international standards through accreditation from reputable organizations; Taking the lead in developing interdisciplinary and multidisciplinary training programs towards sustainability, applying technology in training; Developing and implementing training programs on social sciences; Strengthening international cooperation to improve research capacity, strengthening exchange of lecturers and students with leading universities in the world; Improving academic reputation contributing to enhancing UEH's position in rankings (THE Impact Ranking, QS Asia Ranking,…); Developing and implementing short-term training programs and community activities to actively contribute to the sustainable development of society.
UEH has gone through 46 years full of achievements. Entering a new stage with the restructuring strategy to form a Multidisciplinary and Sustainable University is an important journey for the development of UEH, a requirement of the global era context, its mission of contributing to human knowledge and UEH's responsibility to society and the country. Therefore, with the determination and consensus of the entire UEHer, with the important role of the Member Colleges, we will work together to achieve the same expectations and results as the previous generations.
News, photos: CELG General Department, Department of Marketing and Communication