HDBank Scholarship Awarding Ceremony In 2022 For 20 UEH Excellent Students With Difficult Circumstances
On the afternoon of July 28th, 2022, at the Room A.205, University of Economics Ho Chi Minh City (UEH) and Ho Chi Minh City Development Joint Stock Commercial Bank (HDBank) held a ceremony to award HDBank scholarships in 2022 for 20 UEH talented students with difficult circumstances.
Attending the HDBank Scholarship Awarding Ceremony in 2022, in terms of UEH, there were: Dr. Bui Quang Hung – Vice President; MSc. Truong Minh Kiet – Head of Department Marketing and Communication; MSc. Nguyen Van Duong – Head of Department of Student Affairs. On the side of HDBank, there were: Mr. Tran Van Huong – Regional Director; Mr. Trinh Minh Thao – Acting Director of Human Resources Division; Mr. Vo Hoang Long – Deputy Director of Personal Banking Division; Mr. Nguyen Quang Hien – Director of Ho Chi Minh Region; Ms. Ung Thi Thoai Tien – Head of Card Sales Department. Along with the attendance of the delegates and lecturers as leaders, experts, and employees of the Departments of the two Units, especially was the presence of 20 students of Course 45 of Regular University honored to receive HDBank scholarships in 2022.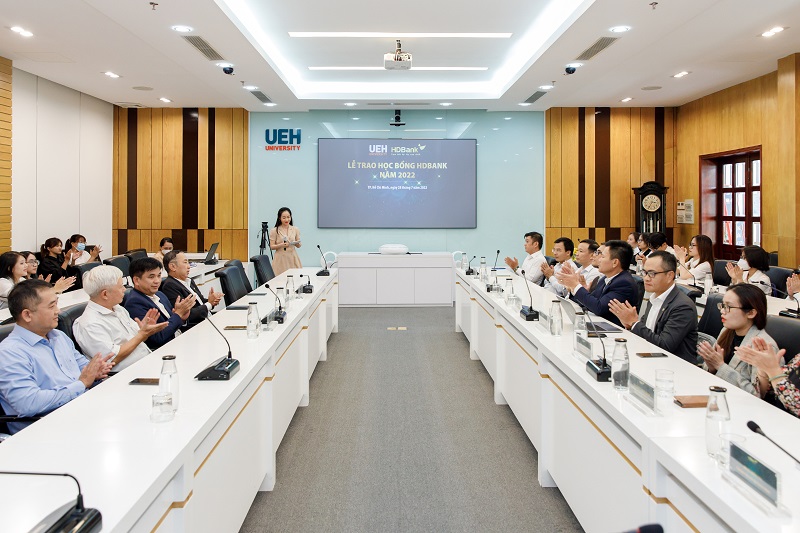 Overview of the ceremony
Speaking at the opening ceremony, Dr. Bui Quang Hung – Vice President of UEH shared: "University of Economics Ho Chi Minh City is one of the key universities in the country, aiming to become a multidisciplinary university with sustainable and comprehensive development in the fields of Business, Economics, Law, Government, and Technology and Design with the foundation of member schools: UEH College Business; UEH College of Economics, Law and Government, and UEH College of Technology and Design. In the process of development, UEH always focuses on strengthening comprehensive and long-term cooperative relationships with many partners, corporations, and large companies, including HDBank. After officially becoming partners in January 2021, UEH and HDBank have accompanied and implemented many meaningful activities for the University, the Bank, and students. With the achievements acquired in cooperation activities between the two sides over the past time, I would like to express my sincere thanks on behalf of the University of Economics Ho Chi Minh City to the Board of Directors and HDBank's staff for their support, care, and accompanying the University. Hopefully, UEH and HDBank can cooperate to implement more additional activities for the development and benefits of both sides."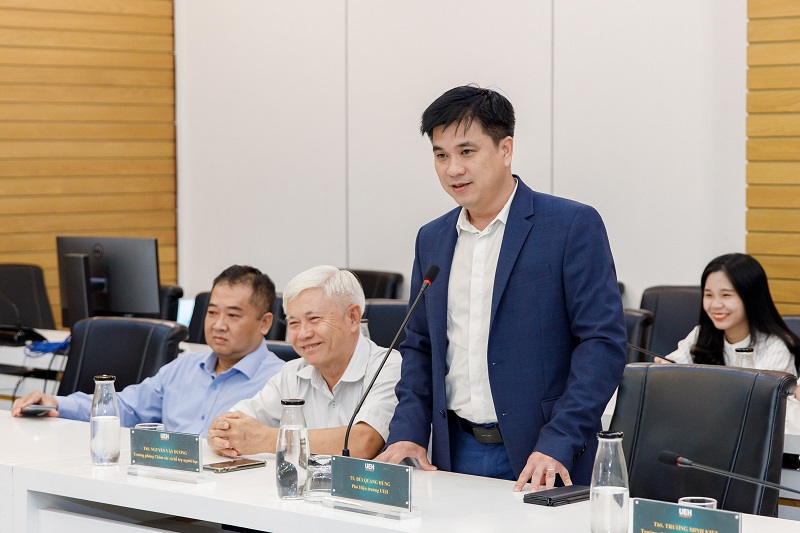 Dr. Bui Quang Hung – Vice President of UEH – delivering the opening speech
Mr. Tran Van Huong – HDBank Regional Director also informed: "HDBank is a member company of Sovico Group – the leading investment group in Vietnam, operating with the goal of providing quality products and services with international quality in banking and finance, aviation, digital transformation, energy, urban areas, resorts… towards sustainable development for investment cooperation and economic development in Vietnam and the world. During its development, HDBank has always focused on fulfilling its social responsibility. Today is also an occasion for HDBank to award 20 scholarships to UEH's excellent and disadvantaged students to accompany and follow in their footsteps to go to school, be motivated to study, and become useful people for society. This is also a practical activity in the program "Community Connection –  Knowledge Spreading – Sustainable Action" that UEH and HDBank have signed. Hopefully, in the future, the two sides will have more meaningful activities, contributing to the development of the unit and the society."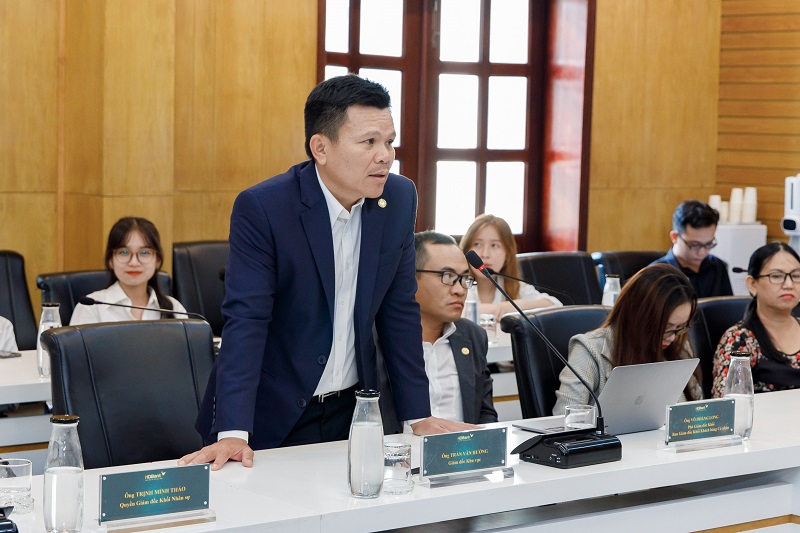 Mr. Tran Van Huong – Regional Director of HDBank – delivering a speech
At the ceremony, representatives of HDBank awarded 20 scholarships to 20 excellent students with difficult circumstances to excel in their studies, with a value of 10 million VND for each.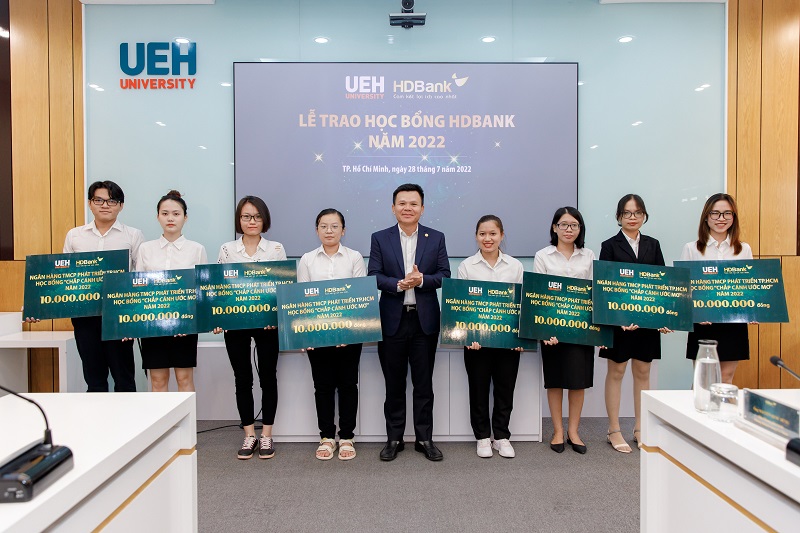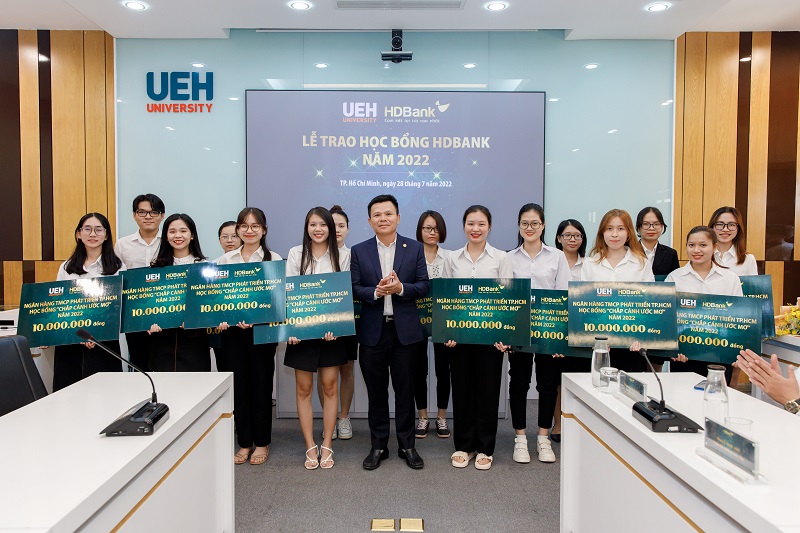 Mr. Tran Van Huong awarding scholarships to UEH students
Appreciating the support of HDBank, Nguyen Ngoc Cat Thuyen – International Business Student, Class 45, representing the students to receive HDBank scholarships in 2022, asserted: "I am very honored and happy when receiving this very meaningful scholarship gift. This will be a great source of motivation, helping us to draw more beautiful, higher, and further dreams on the way to conquering the peak of knowledge. On behalf of the students, I would like to thank HDBank and University of Economics of Ho Chi Minh City for their cooperation in creating the very practical and meaningful 'Chap canh uoc mo' scholarship program for us. I promise to use this financial resource for reasonable purposes, try to equip myself with foreign languages ​​to expand my career opportunities, try hard every day to become a useful citizen, develop the economy of the country, and bring the best values ​​to the family as well as to society."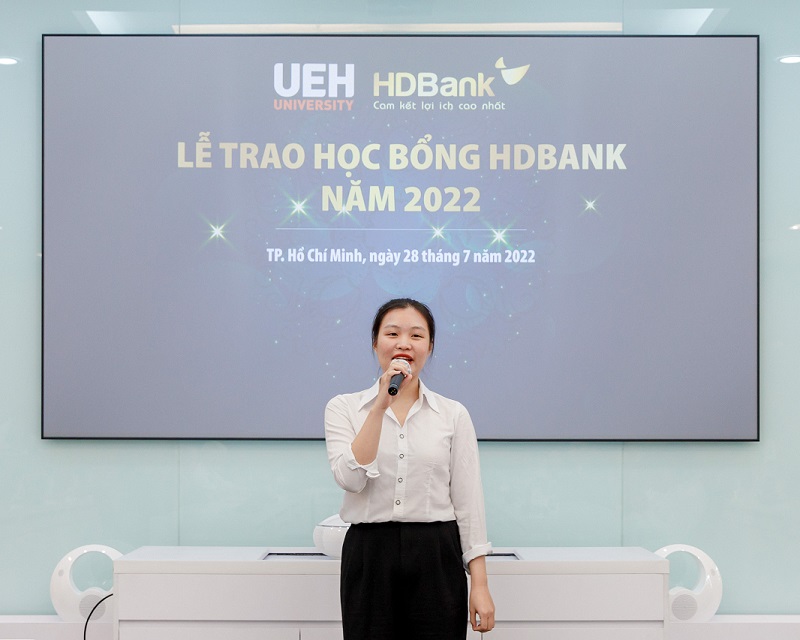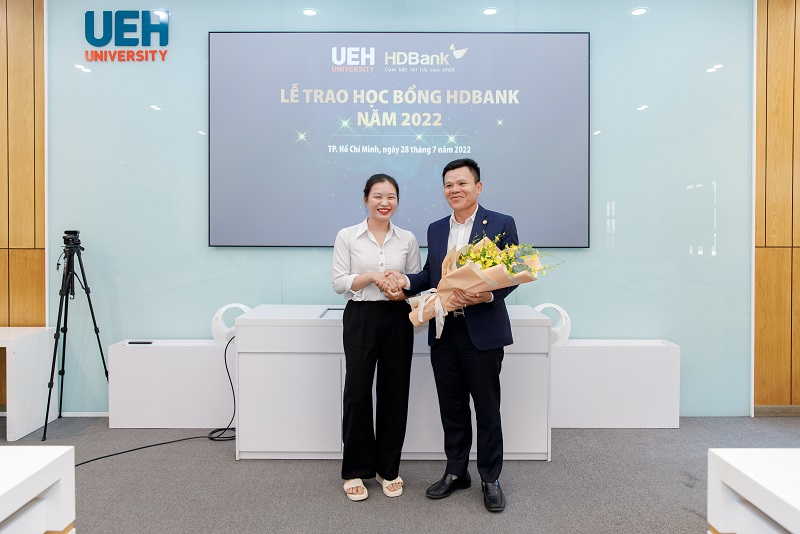 Nguyen Ngoc Cat Thuyen – International Business Student, Course 45, on behalf of the scholarship recipients, sharing her thoughts and sent a bouquet of flowers to the leaders of HDBank to express her gratitude.
In early 2021, UEH and HDBank signed a comprehensive cooperation agreement on the items of the program 'Community Connection – Knowledge Spreading – Sustainable Action' of UEH. This is a program to connect the University and businesses, associations, individuals, and organizations together to spread and bring knowledge to the community, bringing sustainable values ​​for the development of society. After the more-than-1-year official cooperation agreement, HDBank and UEH have implemented many meaningful activities, such as: Awarding scholarships to students through the 'Giving to UEH' Fund with a total value of VND 250 million; Participating in Internship and Student Employment Day in Ho Chi Minh City; support to receive students participating in internships/business semesters; implementing recruitment programs, student recruitment seminars; introduced banking products and services to UEH students and so on. These activities have greatly supported students in their learning process and provided career opportunities for students after graduation; at the same time, contributing to joining hands with the University to bring benefits to the community.
On the occasion of the HDBank 2022 scholarship awarding ceremony, the two sides also evaluated the activities carried out in the past time and continued to exchange plans and cooperation programs to be implemented in the coming period to bring the best values ​​to learners and society.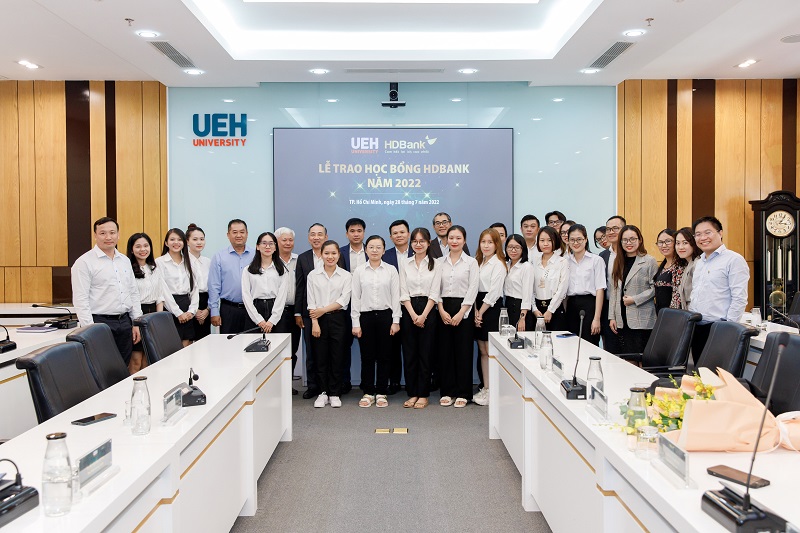 Delegates and students taking memorable photos at the ceremony
Additional photos relating to the ceremony: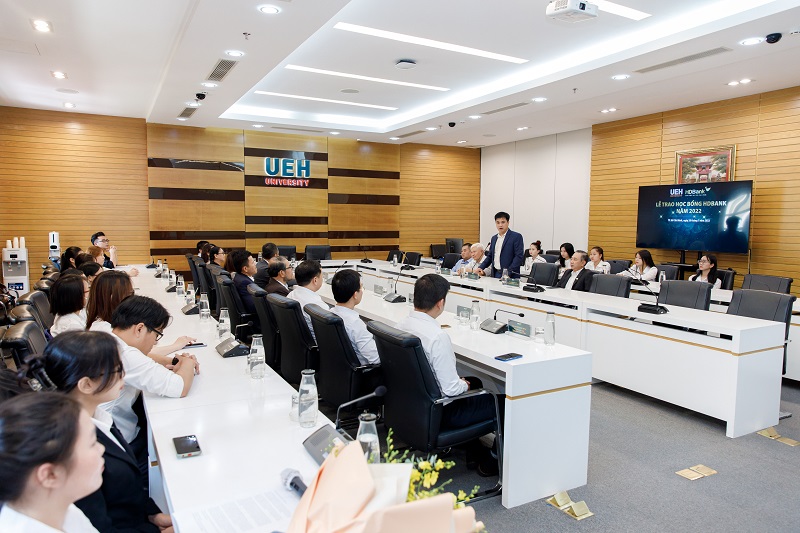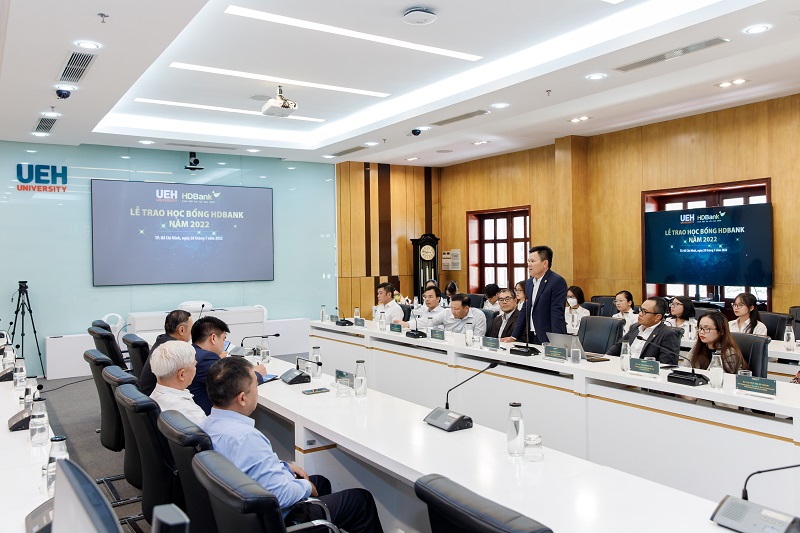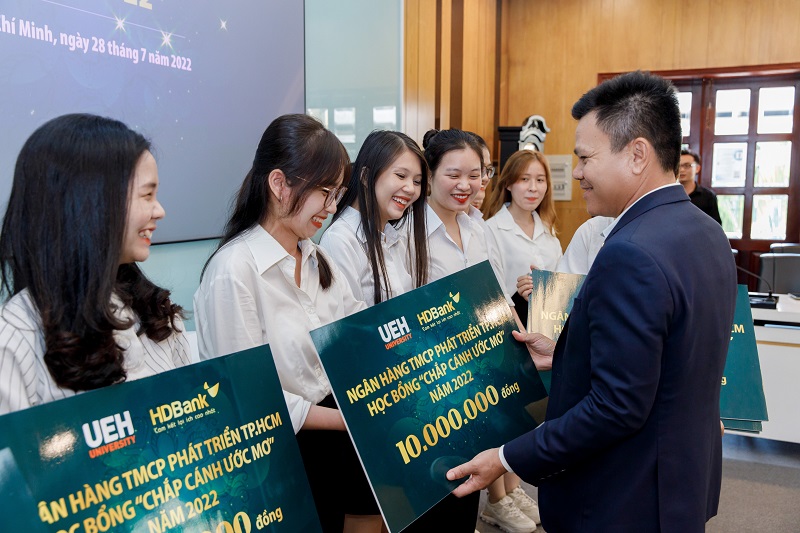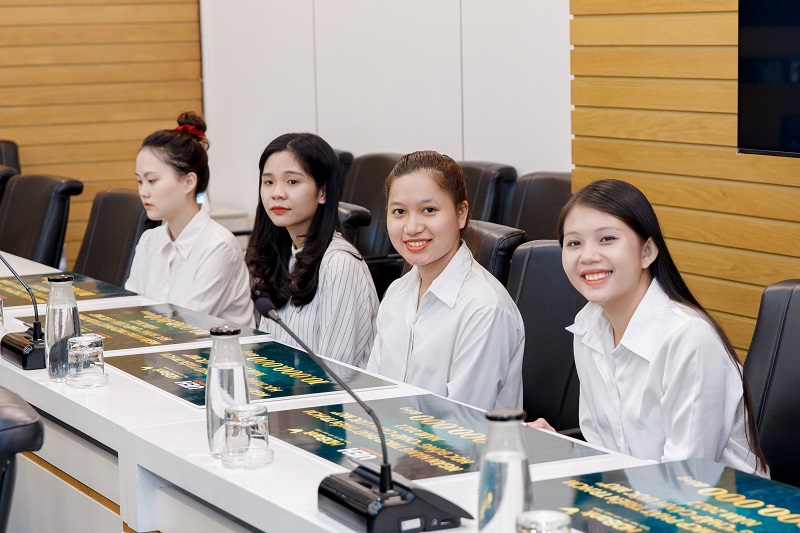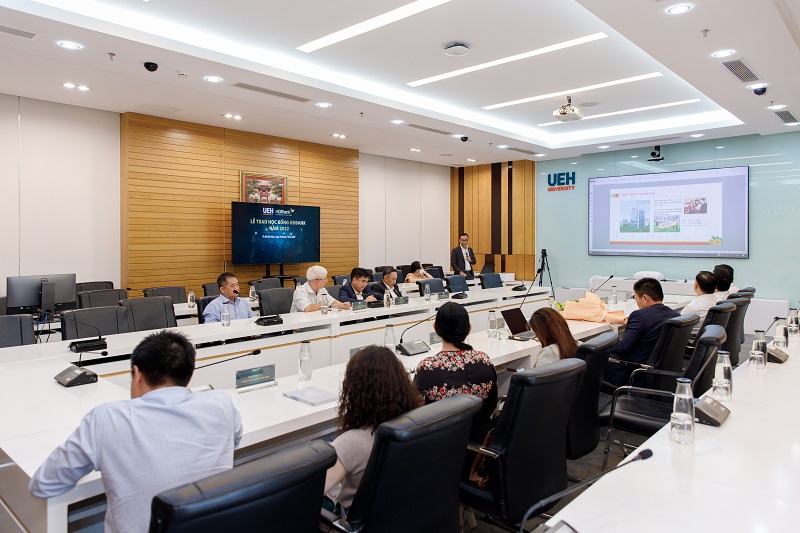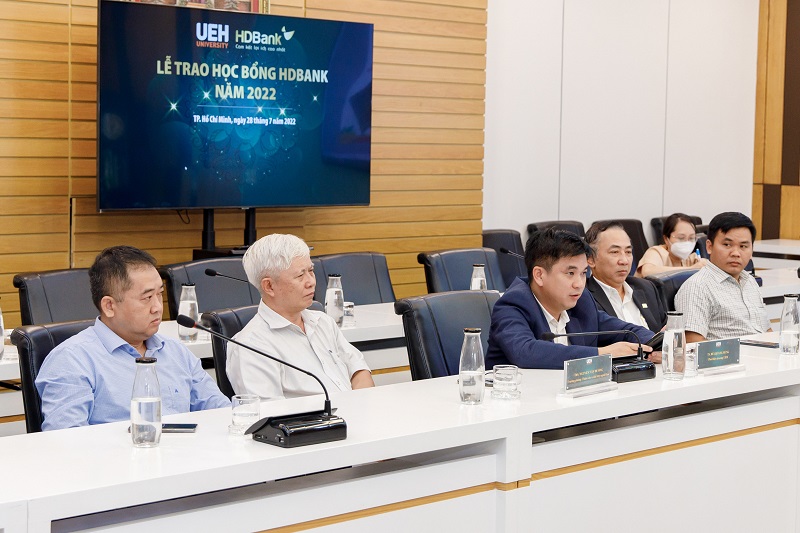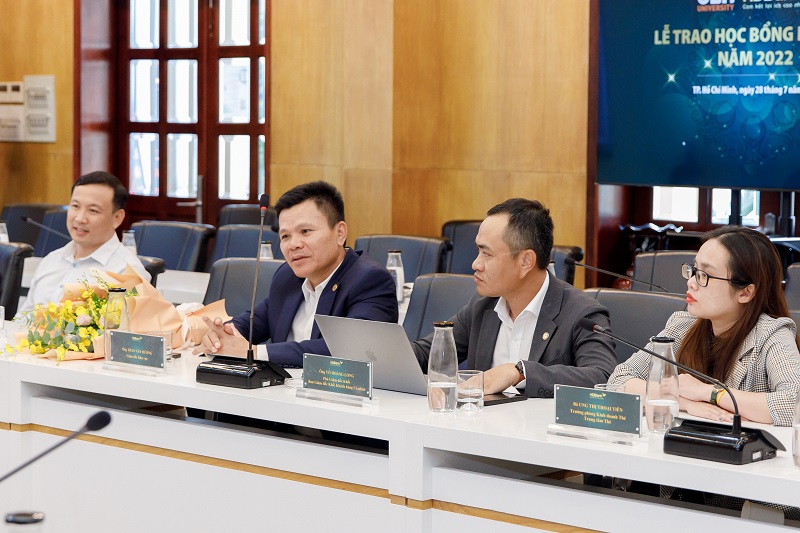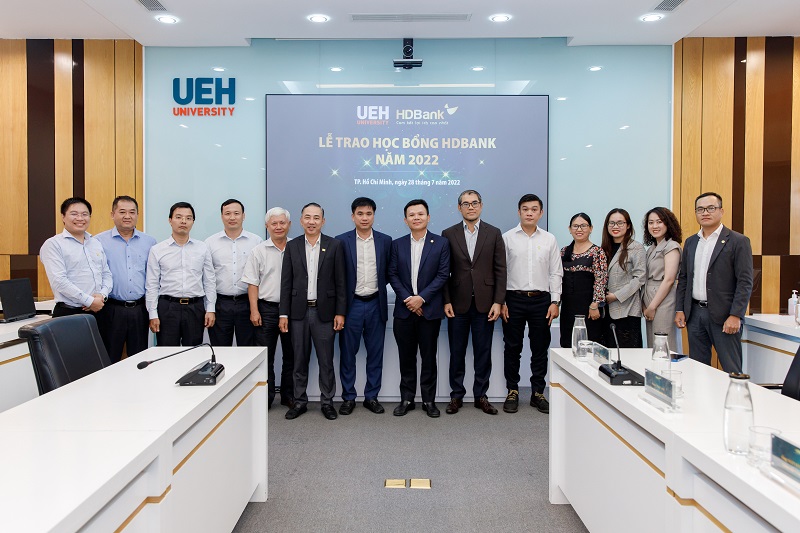 News, photos: Department of Marketing and Communication