UEH Honorably Welcoming The Australian Consulate-General With Diverse New Cooperation Opportunities In The Future
On the morning of August 18th, 2022, University of Economics Ho Chi Minh City (UEH) was honored to welcome the delegation of the Consulate-General of Australia in Ho Chi Minh City to visit, exchange and work at UEH. This was the official visit and working session of Consul General Sarah Hooper to UEH to promote bilateral cooperation opportunities between Vietnam and Australia in the field of innovation.
Welcoming the Australian Consul General, on behalf of the UEH side, there were the participation of Prof. Dr. Su Dinh Thanh – UEH President; Assoc. Prof. Dr. Nguyen Khac Quoc Bao – Vice Rector of UEH College of Technology and Design, Head of UEH Department of Undergraduate Studies; Assoc. Prof. Dr. Nguyen Phong Nguyen – Head of UEH Department of Research Management – International Cooperation; Dr. Pham Duong Phuong Thao – Deputy Head of UEH Department of Research Management – International Cooperation; MSc. Phan Nhu Minh – Vice Dean of UEH International School of Business; MSc. Nguyen Thi Phuong Thao – Head of Administration Office of UEH College of Technology and Design; MSc. Vuong Khiet – Director of UEH Institute of Innovation (UII) Incubator. On behalf of the Australian Consulate-General delegation, UEH was honored to welcome Ms. Sarah Hooper, Consul General of Australia in Ho Chi Minh City; Mr. Ciaran Chestnutt, Deputy Consul General of Australia in Ho Chi Minh City; Ms. Rebecca Ball – Australian Government Commercial Counselor and other members of the Consulate delegation.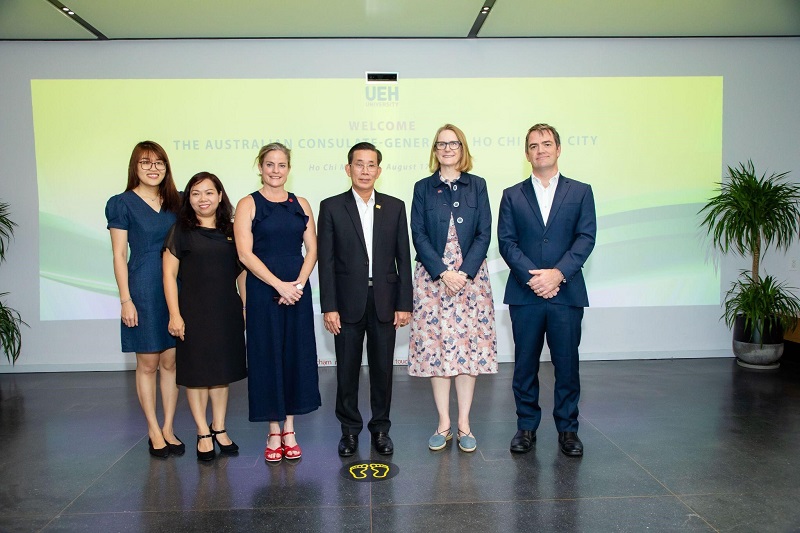 The Consulate General taking pictures and discussing with Prof. Dr. Su Dinh Thanh – President of UEH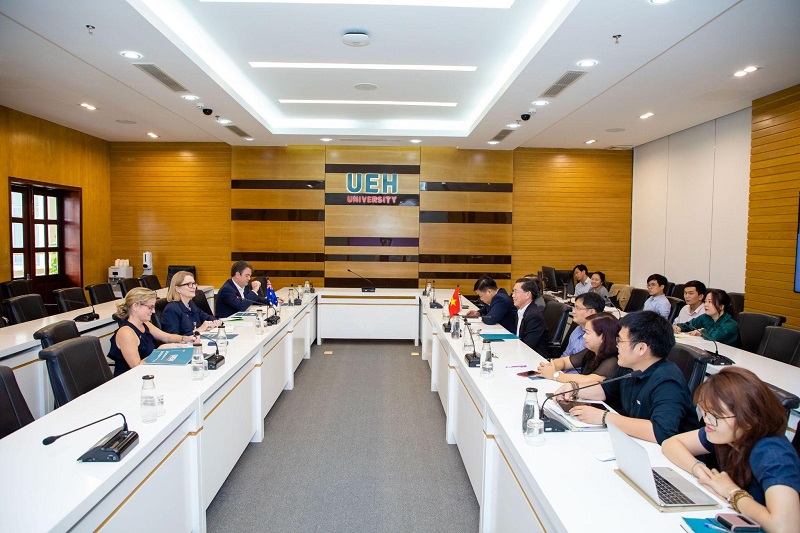 The atmosphere of the meeting and welcoming ceremony at UEH Campus A
Prof. Dr. Su Dinh Thanh asserted: "UEH always appreciates the cooperation relationship with international partners in general and with Australia in particular. UEH has restructured and established 3 member colleges, aiming for a multidisciplinary university. This formation and restructuring carry values and have profound meaning to UEH's sustainable development strategy over the past 45 years and development orientation in the upcoming time. At UEH, we respect differences, value the diversity of cultures and personalities of each individual and partner, and are always ready to share and proactively support international students to integrate and learn in the best way. I hope Ms. Sarah Hooper and other delegates from the Australian Consulate-General will support UEH to conduct research for the community, promote educational cooperation between UEH and Australian institutes/universities, organize visits and exchanges to develop the start-up ecosystem between the two countries."
At the meeting, Dr. Pham Duong Phuong Thao introduced the overview, core values, and development orientation towards a multidisciplinary and sustainable UEH university. Continuing the working session, Prof. Dr. Su Dinh Thanh and the representative of the Consulate-General's delegation, Mrs. Sarah Hooper, discussed the strengths of the two sides and cooperation opportunities around areas listed as developing an innovation ecosystem at the two units, student-startup exchange programs besides promoting cooperation in the field of education between UEH and Australian Universities and so on. 
Ms. Sarah Hooper highly appreciated the achievements of UEH over the years, especially the development of an innovation ecosystem and research cooperation between Australia and Vietnam. Representatives of the two units exchanged opportunities for future collaboration in the fields of technology, healthcare, technology application in the field of communication design, exchange of start-up projects, and the start-up ecosystem development in the Mekong Delta.
In addition to the above fields, the representatives of the two units also proposed student exchange programs between Australian Universities and UEH. Both sides agreed to look for suitable partners, constantly creating an environment to promote the relationship to grow stronger and stronger towards comprehensive educational cooperation. At the same time, projects and scientific research work in the fields of Fintech, Media, Healthtech, and so on at UEH will receive investment and support from the Australian government and banks in terms of resources and human resources.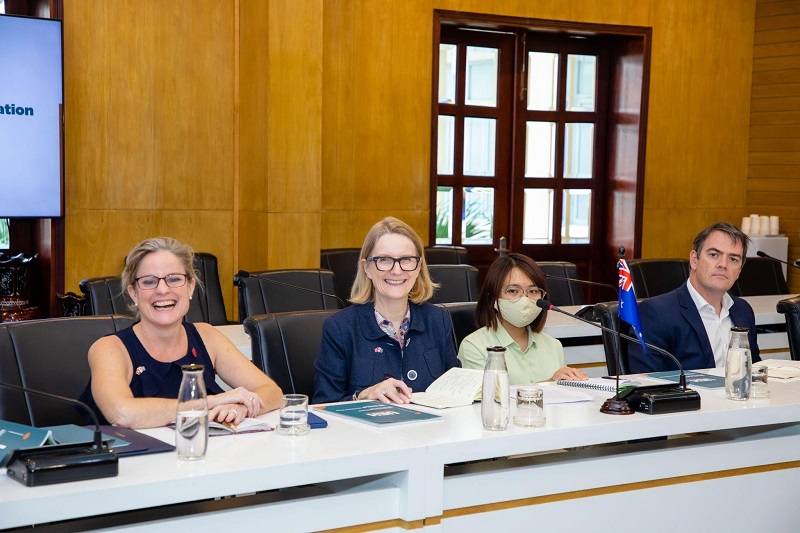 Consulate-General Delegation in the working session
Leaders of the two Units have agreed to implement periodical work programs between the two sides to monitor and evaluate the progress of research and cooperation projects, aiming to sign a memorandum of understanding to work together, resonate strengths, and take advantage of the advantages of each unit. This is a potential opportunity for UEH to expand its extensive network of international partners in our journey to become a multidisciplinary and sustainable University.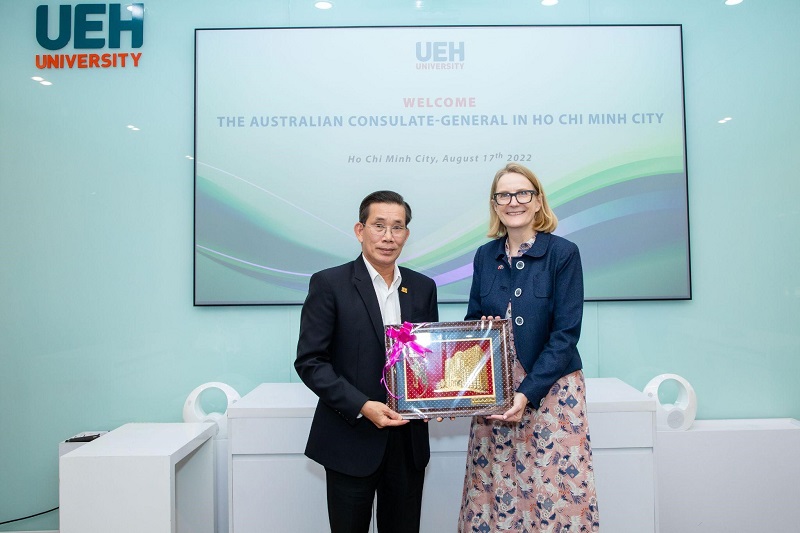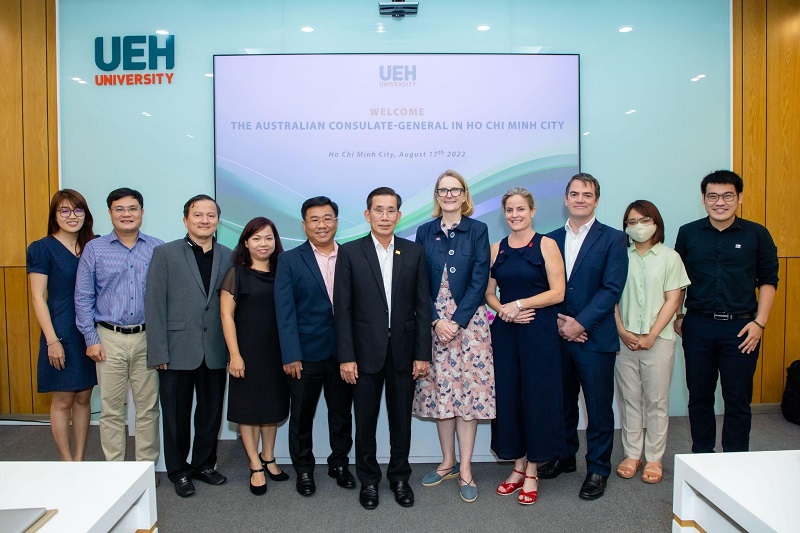 UEH leaders presenting gifts and taking souvenir photos with the Australian Consulate-General Delegation
Additional photos relating to the discussion and the meeting: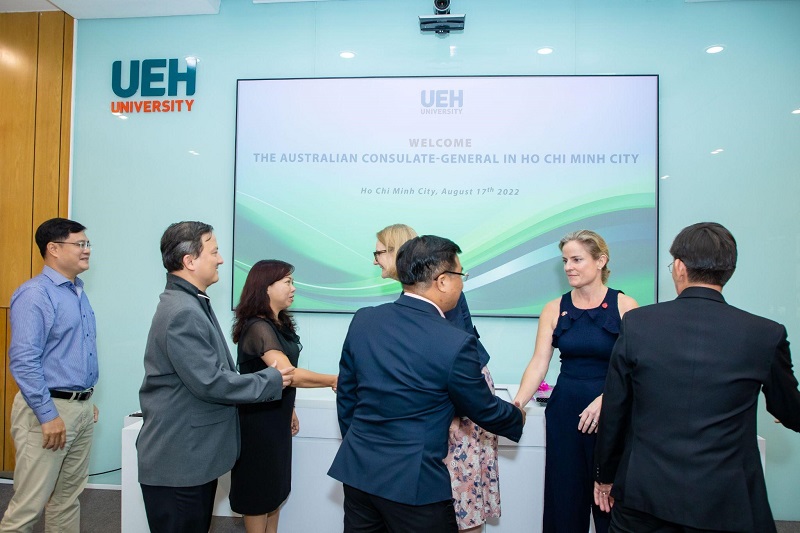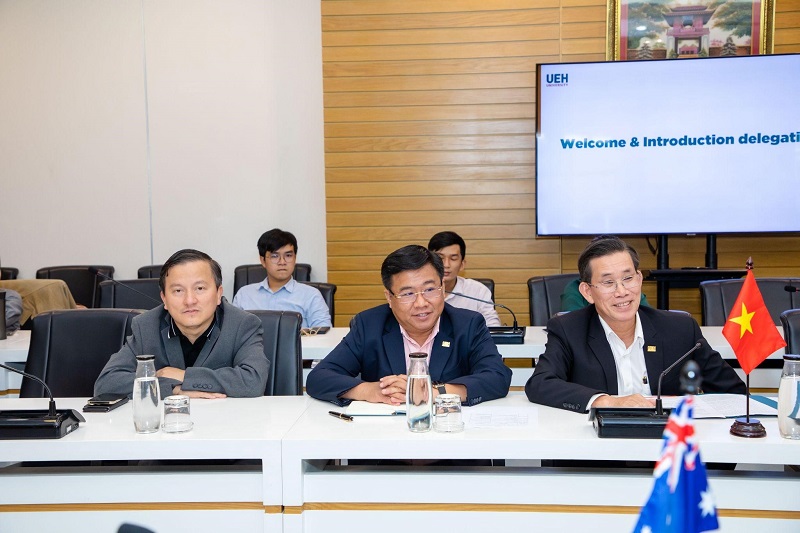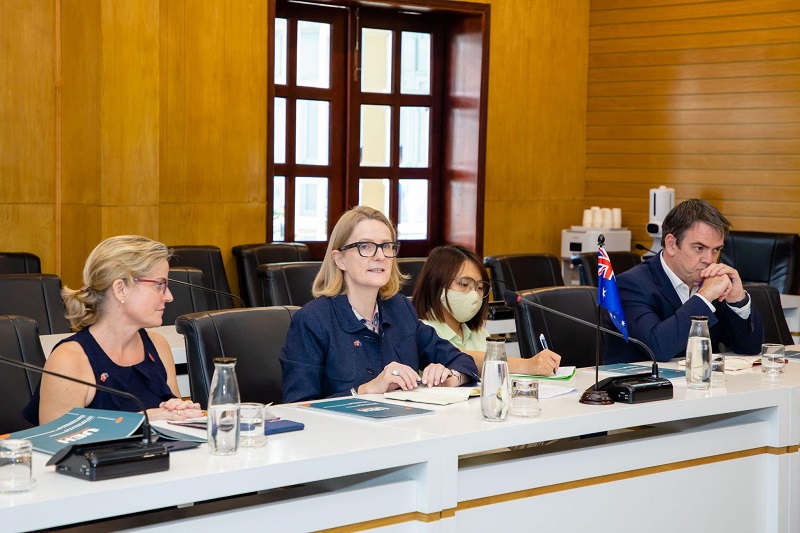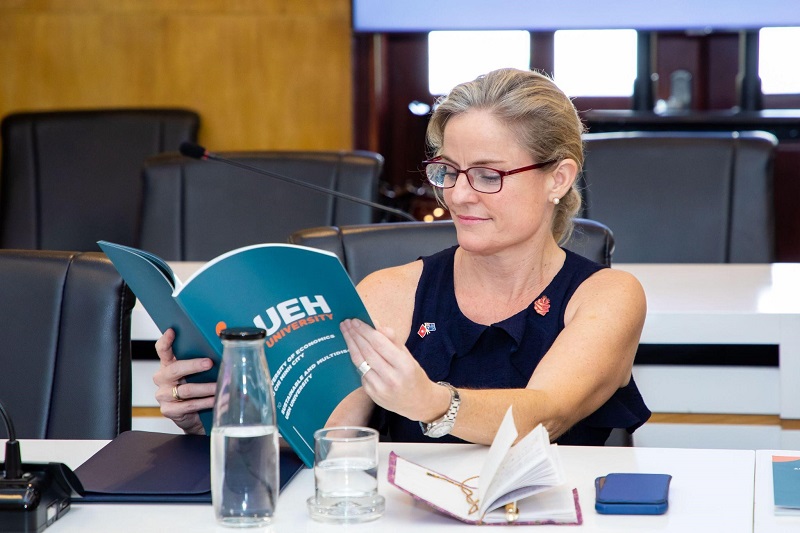 News, photos: UEH Institute of Innovation