Memorandum Of Understanding Signing Ceremony Between UEH And Ernst & Young Vietnam Co., Ltd
On the morning of September 21st, 2022, University of Economics Ho Chi Minh City (UEH) officially signed a Memorandum of Understanding (MOU) with Ernst & Young Vietnam Co., Ltd (EY Vietnam) in the 2022 – 2025 period. This cooperation aims to improve the quality of training, the development of young experts in the economic field, especially in the areas of accounting – tax – finance, including the expansion of young talents in Vietnam.
Attending the signing ceremony, in terms of UEH, there was the participation of Assoc. Prof. Dr. Bui Thanh Trang – Vice Rector of UEH College of Business (CoB); Dr. Tran Anh Hoa – Dean of School of Accounting; with Heads/Deputy Heads of Departments and Directors of training programs of the School of Accounting. On the side of Ernst & Young Vietnam Co., Ltd, there were the attendance of: Mr. Hang Nhat Quang – Deputy General Director of Audit; Ms. Ton Thien Bao Ngoc – Audit Director; Ms. Nguyen Phuong Anh – Head of Human Resources Department and representatives of other departments/ functions.
Overview of the signing ceremony
Speaking at the opening of the workshop and training, Assoc. Prof. Dr. Bui Thanh Trang shared: "Over the years, UEH has collaborated with business partners to deploy many programs and activities to support the process of training and developing human resources in Ho Chi Minh City and the whole country. Cooperation activities between the University and enterprises have contributed to improving the training quality of UEH; concurrently, supporting the supply of high-quality human resources to the enterprises' staff. Ernst & Young Vietnam Co., Ltd. is one of the world's leading companies providing Auditing, Taxation, Consulting,… and EY Vietnam's reputation is reflected in all aspects, from providing professional, high-quality audit, tax, and financial services to independent, objective and ethical work. Therefore, we believe that the signing of cooperation agreement between UEH and EY Vietnam will be one of the development steps to help the two units realize the goal towards social responsibility, building a team of high-quality young  human resources,, and international integration through corporate semester programs, career orientation programs, and professional skills development for students…"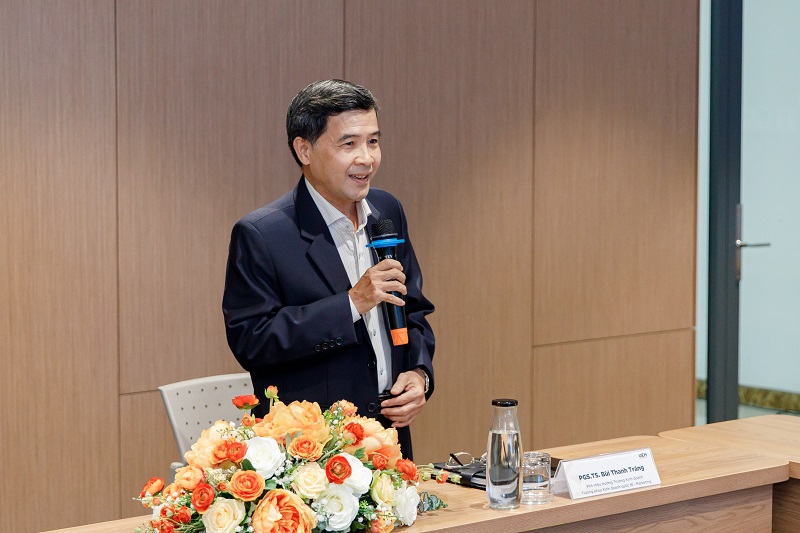 Assoc. Prof. Dr. Bui Thanh Trang giving the opening speech
Representative of Ernst & Young Vietnam Co., Ltd., Mr. Hang Nhat Quang said: "As an alumnus of UEH, I am always proud and moved because I was fortunate to study at this university, UEH is the birthplace of many generations of talents and made great contributions to the development of the country's economy. From today, EY Vietnam and UEH School of Business will officially cooperate in career orientation programs, skills workshops for UEH students to equip them with knowledge and practical skills for UEH students to apply successfully when transitioning from a university environment to a professional working environment, bridging the gap between the expectations of the business and the teaching of the University, as well as the study plan students set. In addition, this cooperation aims to exchange and share practical experiences with the lecturers of the University. EYVN once again shows its deep recognition of UEH's contributions during the past time. I believe this cooperation will bring positive and contagious development to everyone, especially young people."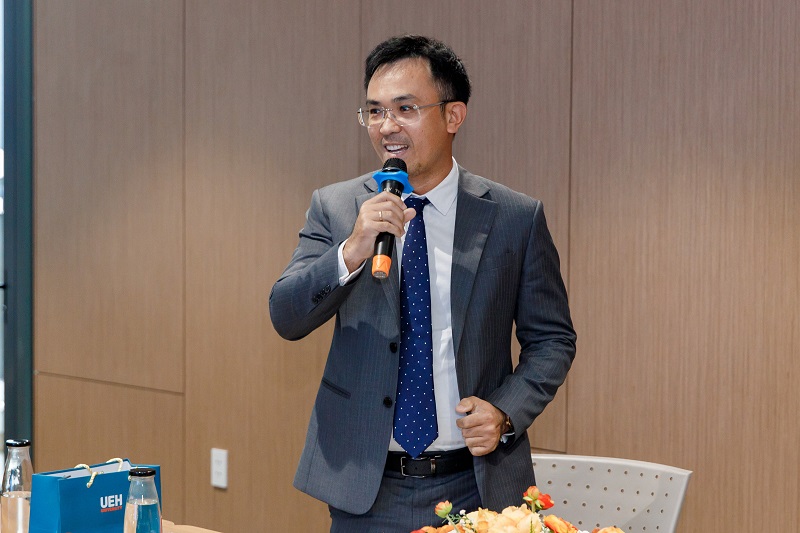 Mr. Hang Nhat Quang delivering a speech
In the spirit of unity, University of Economics Ho Chi Minh City and Ernst & Young Vietnam Co., Ltd officially signed a cooperation agreement with the following contents:
Committing to working together in the following areas to support students through career-oriented programs, career skills, etc. for students;

Organizing visits to EY office and participate in social activities and picnics for students;

Strengthening professional-academic exchanges, spreading knowledge between schools and businesses.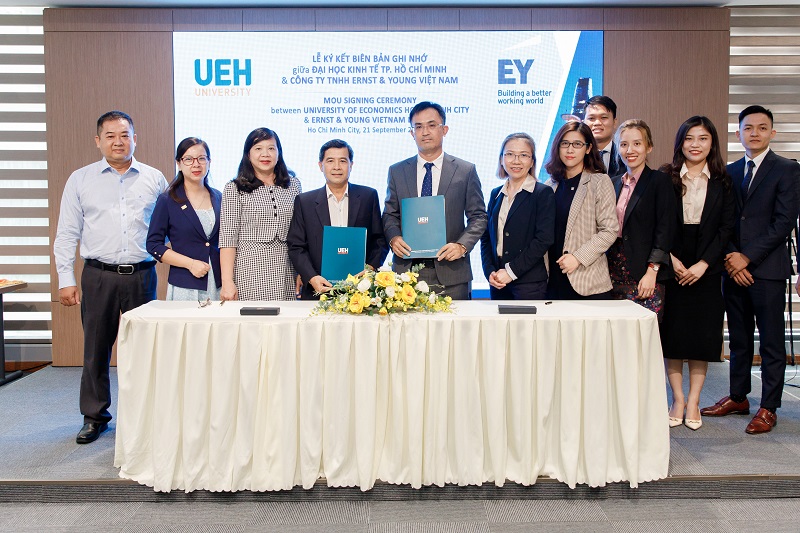 University of Economics Ho Chi Minh City and Ernst & Young Vietnam Co., Ltd officially signing a cooperation agreement
The cooperation between UEH and EY Vietnam aims to expand and to affirm a strong cooperative relationship in training, fostering and developing high-quality human resources, contributing to the economic development of the country. It is expected that this cooperation relationship will achieve good success in the upcoming time and bring many development opportunities for students with practical contributions to our Vietnamese economy.
Additional photos relating to the signing ceremony: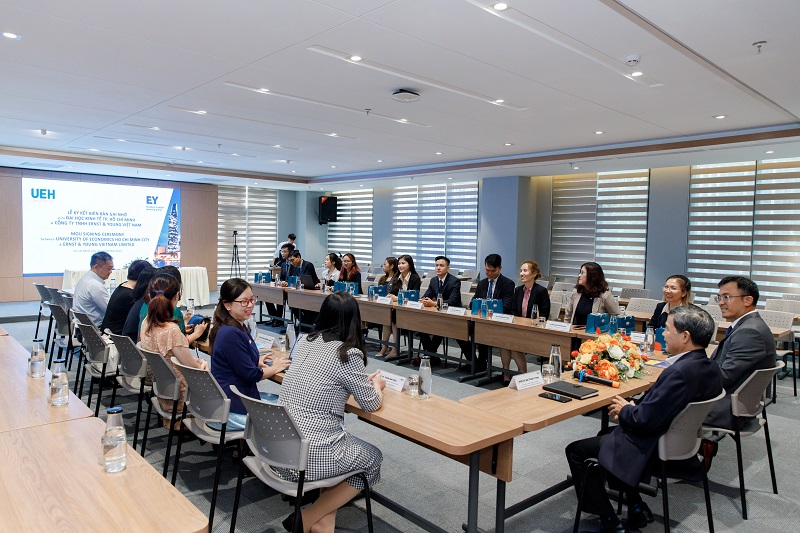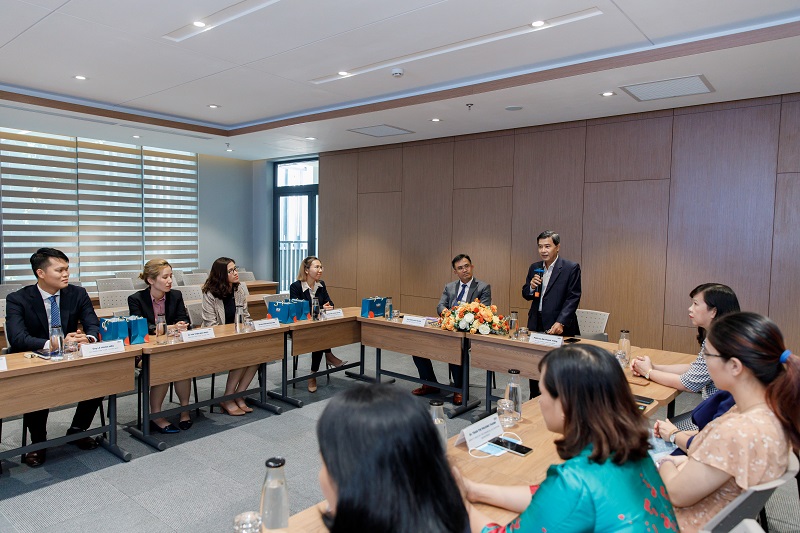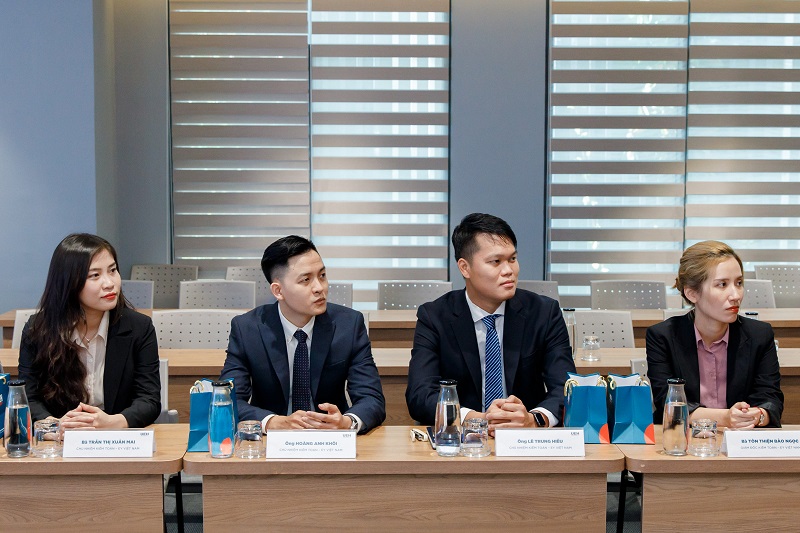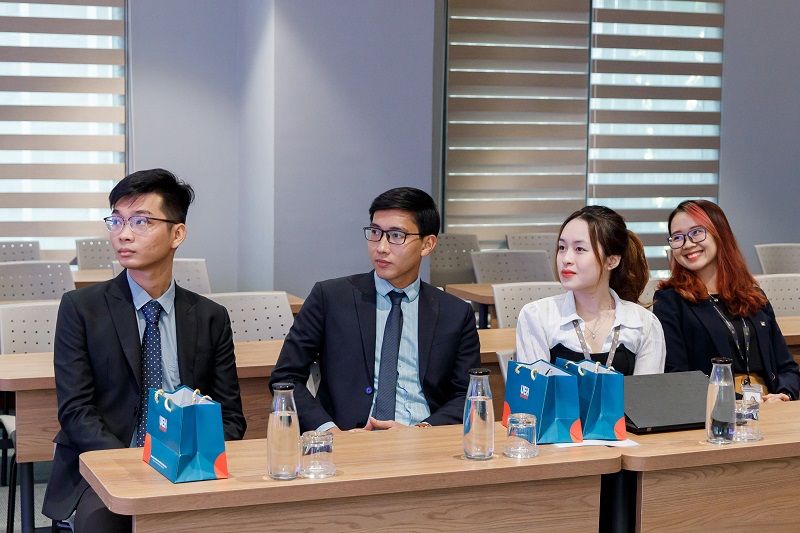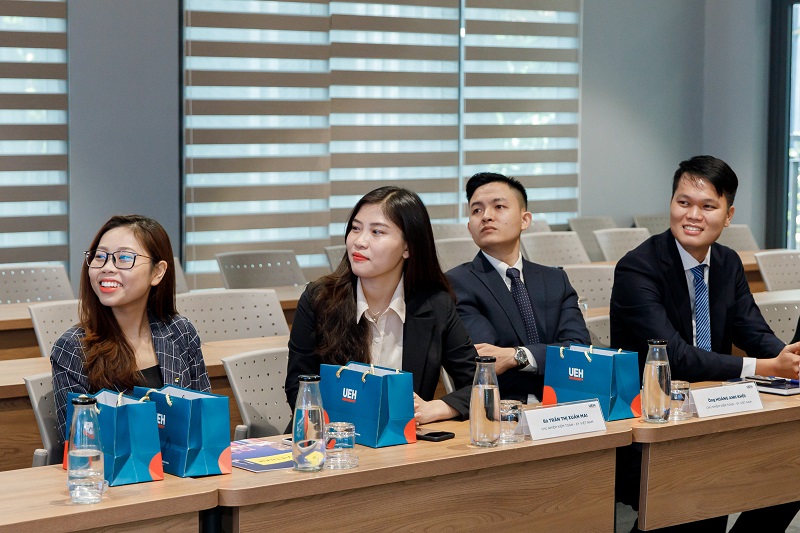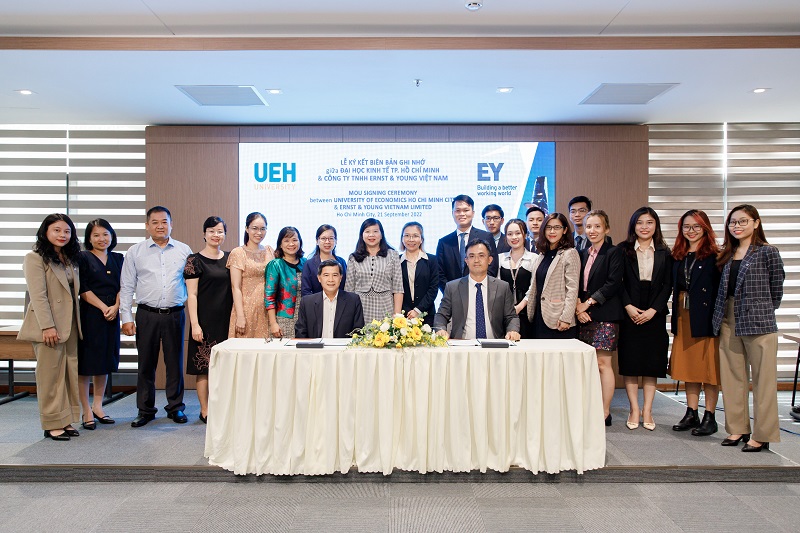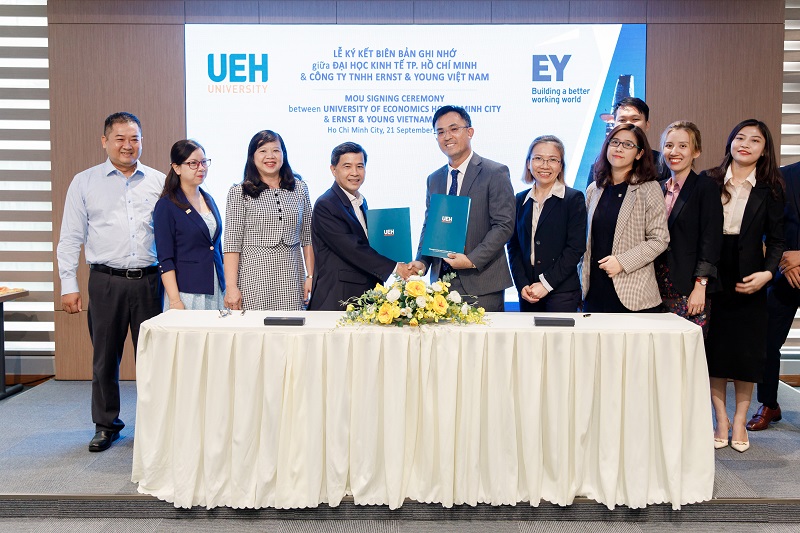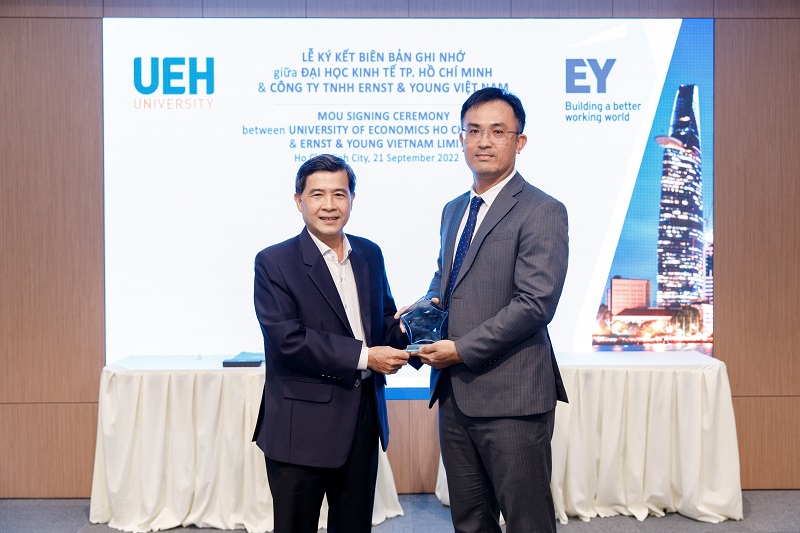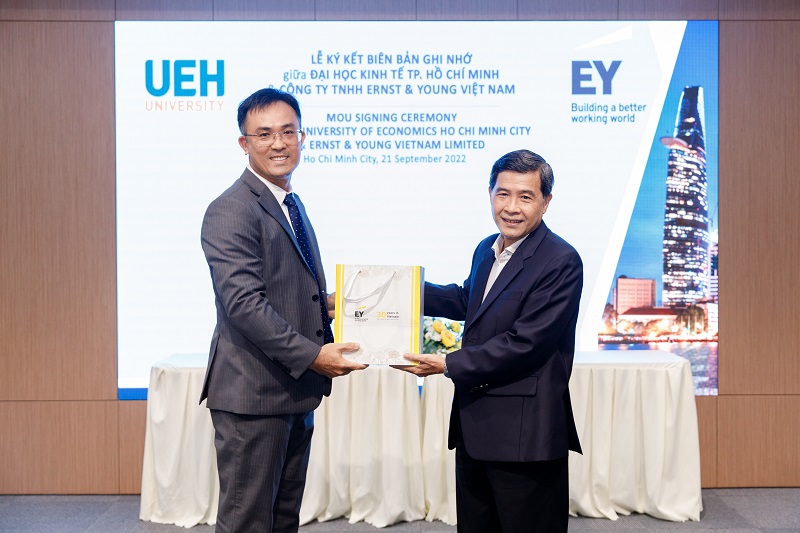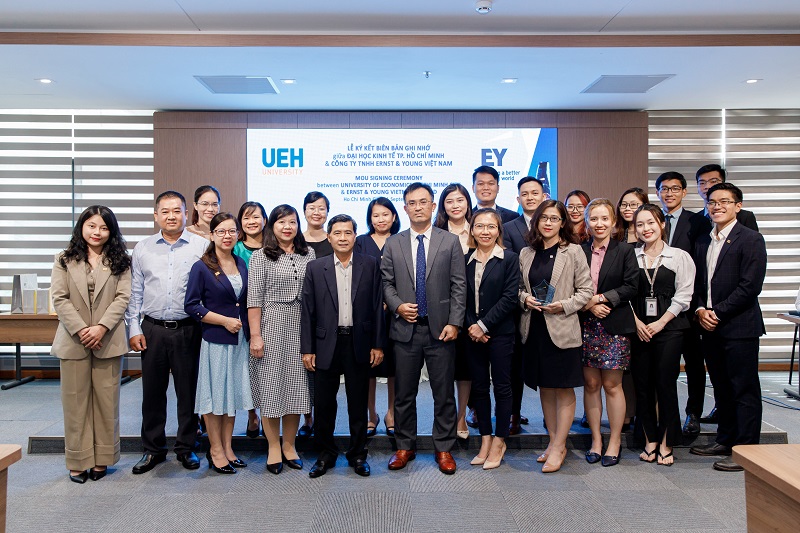 News, photos: CoB General Department