MOU Signing Ceremony Between UEH Institute Of Innovation – SEPT Competence Center & Final Round Of The International Innovator Award 2022
On July 11th and 12th, UEH Board of Directors, UII Innovation Institute, and Prof. Dr. Utz Dornberger – Director of SEPT Competence Center (Leipzig University – Federal Republic of Germany) worked together and discussed cooperation opportunities to promote start-up activities and training programs in the field of technology and innovative start-ups.
MOU Signing Ceremony between the Institute of Innovation – SEPT Competence Center
During the working session on the afternoon of July 11th, 2022, Prof. Dr. Utz Dornberger and the Board of Directors of UEH, UII included: Dr. Bui Quang Hung – Vice President of UEH; Assoc.Prof.Dr. Phan Thi Bich Nguyet – Chairwoman of the UEH Strategy and Policy Advisory Council, Director of the Innovation Institute; Assoc. Prof. Dr. Nguyen Khac Quoc Bao – Deputy Head of UEH College of Technology and Design (CTD); Dr. Pham Duong Phuong Thao – Deputy Head of the Department of Scientific Management and International Cooperation discussed development strategies to promote the following activities: training, research, exchange of startups and students through designing international exchange, training, and teaching programs. These cooperation programs specifically include:
(1) Vietnam – Germany international startup exchange program: Vietnamese projects/startups will be supported to understand the market and seek business cooperation opportunities in Europe and vice versa; co-organize events, seminars, and workshops on innovative start-ups; organize the International Innovator Award to find potential projects/startups to support development in the European market; consulting and advising on innovative start-up projects;
(2) Training and scientific research activities: exchange of students and lecturers in the field of technology and innovation; internship opportunities for students of the two units; guiding doctoral dissertations for PhD students in the field of entrepreneurship and innovation; cooperation in the development of bilateral and multilateral research projects to build an innovation ecosystem, corporate innovation management; recruiting short-term training programs on Innovation Management, and so on.
In addition, the leaders of the two units agreed to implement periodical work programs between both sides to monitor and evaluate the progress of research and cooperation projects.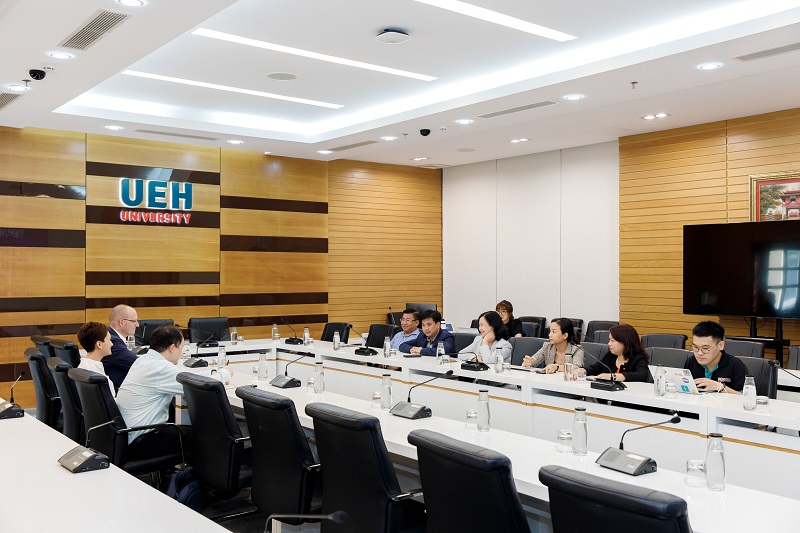 Overview of the meeting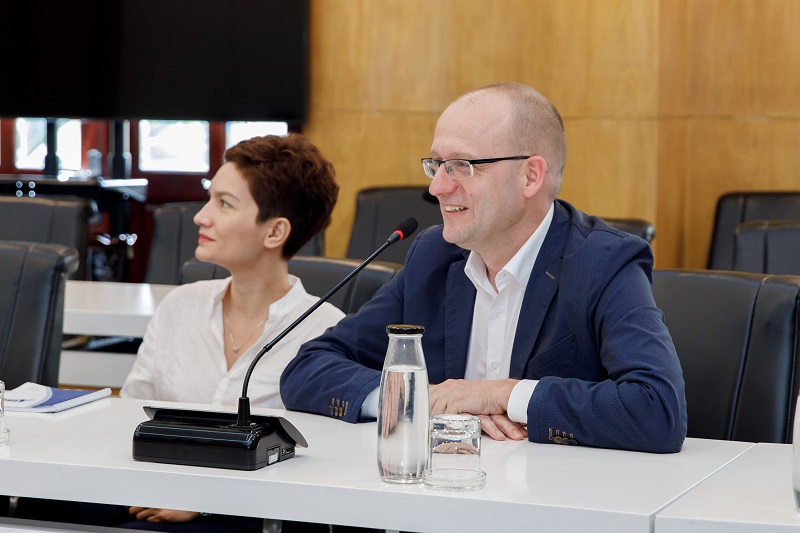 Prof. Dr. Utz Dornberger and Ms. Nguyen Thanh Hien (representative from SEPT)
In the spirit of unification, the Memorandum of Understanding Signing Ceremony between UEH Institute of Innovation and SEPT Competence Center took place on the afternoon of July 12th at campus V under the witness of UEH's Board of Directors; SEPT's representatives; Ms. Linh Vu – In charge of Investor Relations, Economic Development Office of Leipzig City; Mr. Nguyen Ngoc Sang – Executive Director of AHK German Industry and Commerce in Vietnam; Mr. Le Tan Minh – Deputy Head of Trade Promotion Department, Investment & Trade Promotion Center, HCMC People's Committee; Mr. Nguyen Anh Dung – Representative of Ho Chi Minh City Department of Science and Technology.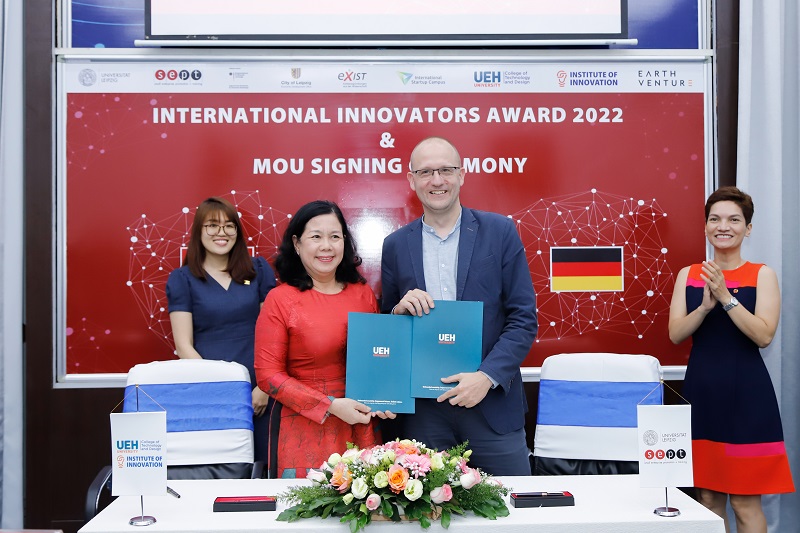 UII and SEPT signed a Memorandum of Understanding (MOU)
The cooperation between UII and SEPT will be a premise to create a new breakthrough in the development of training programs in technology-related fields, improving the quality of the innovative startup ecosystem in Vietnam with a standard, professional, and international mindset and perspective. This cooperation signing event is also an important milestone for both sides, comprehensively supporting the innovation startup ecosystem of the two cities (Ho Chi Minh City and Leipzig City). The Institute of Innovation believes that this partnership will promise to bring new steps to the future that help create a dynamic and sustainable innovation startup support community in the European market in general and the German market in particular.
Final Round of the International Innovator Award 2022
Also within the framework of the program was the Final Round of the International Innovators Award 2022. This was the second time this Award is co-organized by UII. International Innovators Award (IIA) is one of the regular activities of SEPT, City of Leipzig. This contest has supported many Vietnamese businesses to successfully launch commercial products and services in Germany and Europe. In addition to supporting excellent businesses, innovative startups from Vietnam and Germany will receive support for incubation and accelerating development. Furthermore, startups are also supported with co-working spaces at two universities, connecting with mentors and participating in workshops to learn about Vietnam – Germany markets and potential customers.
Speaking at the event, Dr. Bui Quang Hung commented: "The Institute of Innovation has become one of the pioneering organizations in the field of innovation in Ho Chi Minh City to build a network of investors and a diversified startup ecosystem and promote the spirit of innovation in Vietnam. Through UII's flagship incubator program, we aim to build a sustainable startup ecosystem by fostering innovation and supporting startups to adopt creative business models. I firmly believe that the International Innovator Award is a great opportunity for Vietnamese startups to get feedback and experience from Vietnamese and German experts. Moreover, today is an important milestone for UII of UEH and SEPT of Leipzig University, I believe that this cooperation will open many long-term development opportunities for both units."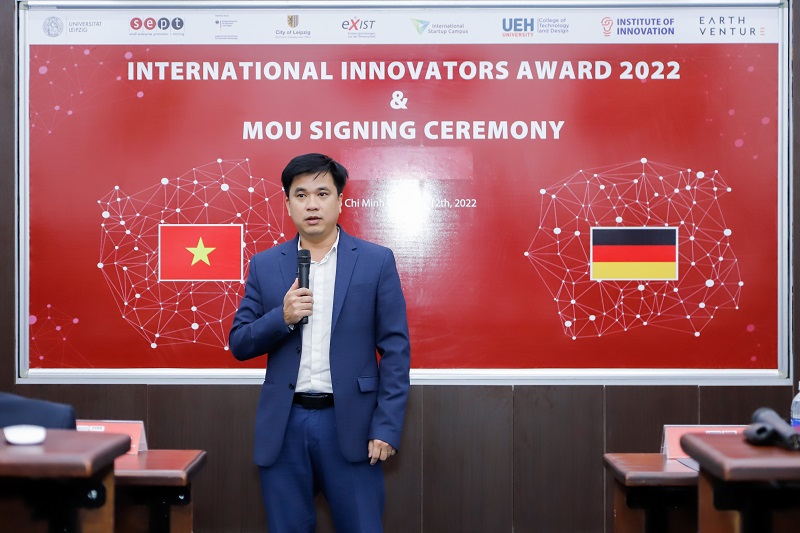 Dr. Bui Quang Hung remarking at the event
The event was successfully held with the participation of 6 businesses with the most potential products and services. The quality of this year's projects is uniform and highly competitive, many projects apply technological elements to their products to mark their prominence, exclusivity, and strength compared with the rest of the competitors. The top 3 names of projects that have excelled in pitching and Q&A with the jury include Deep Signature – a blockchain-based anti-counterfeiting solution; Palmania – Offering Palmyra Honey from a combination of Palmyra and Mania as a healthy product produced naturally from the wild Palmyra tree; Ivogel – a project providing human resources for Germany and creating job opportunities for Vietnamese youth through free German learning software.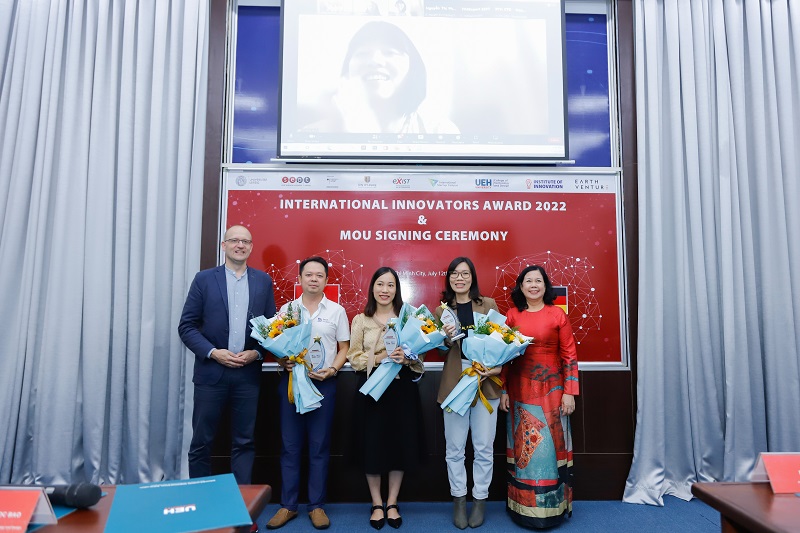 Top 3 finalists of the International Innovator Award 2022
*SEPT Competence Center (SEPT) is a research and training affiliated with the School of Economics and Management Science of Leipzig University towards supporting and promoting small and medium enterprises (SMEs) worldwide to access practical experience in managing and operating their organization. With many activities such as master's training programs, startup promotion programs, and innovative research programs, SEPT has been an organization with many strengths in assisting the following fields: start-up, innovation, building a network of innovation organizations (in4in network) not only in Leipzig City but also around the world.
Additional photos relating to the event: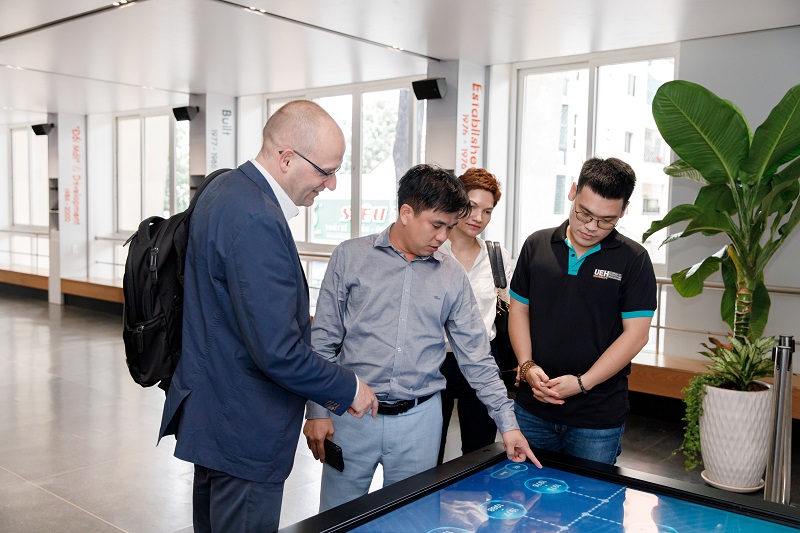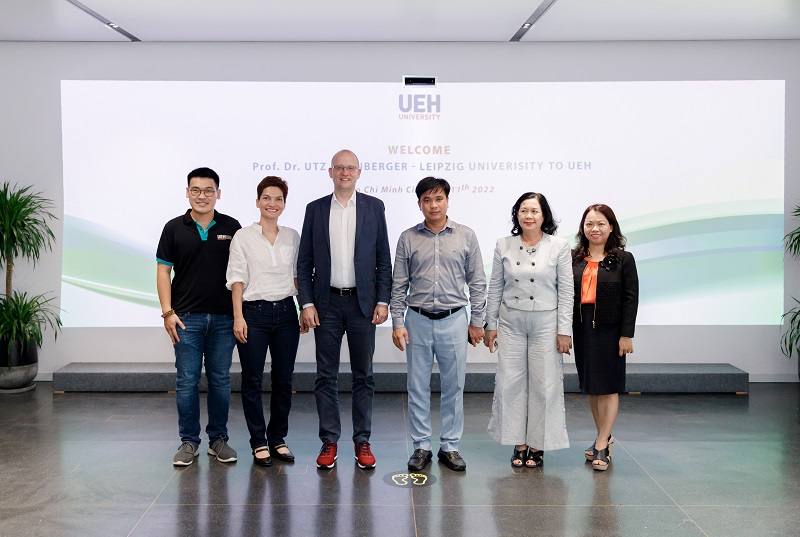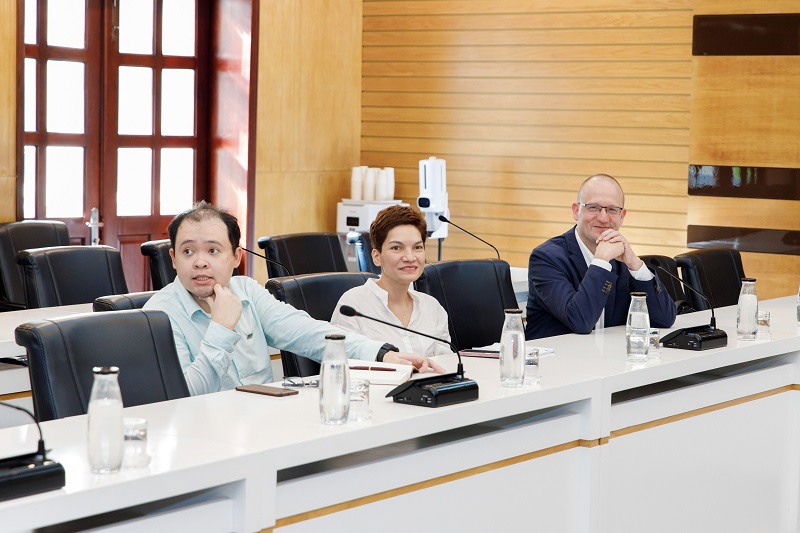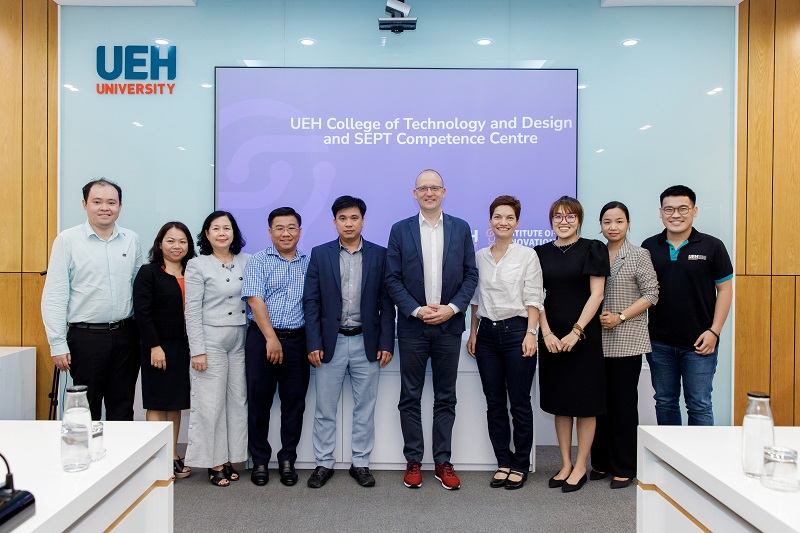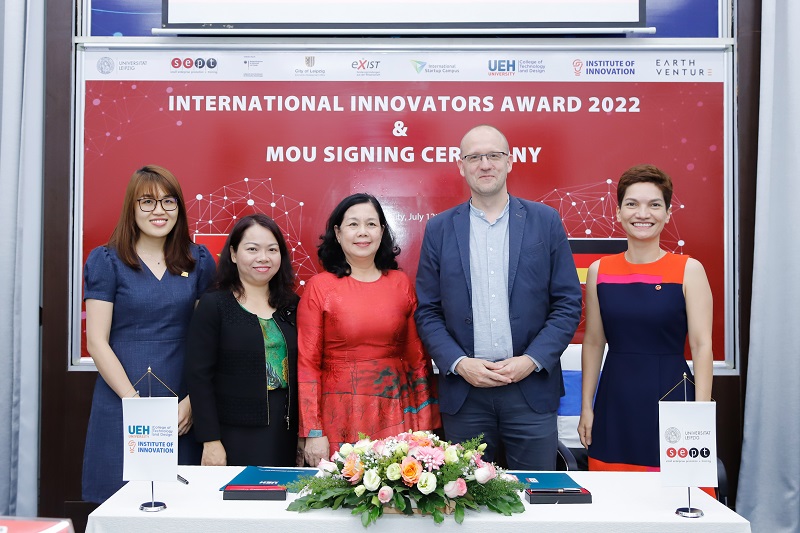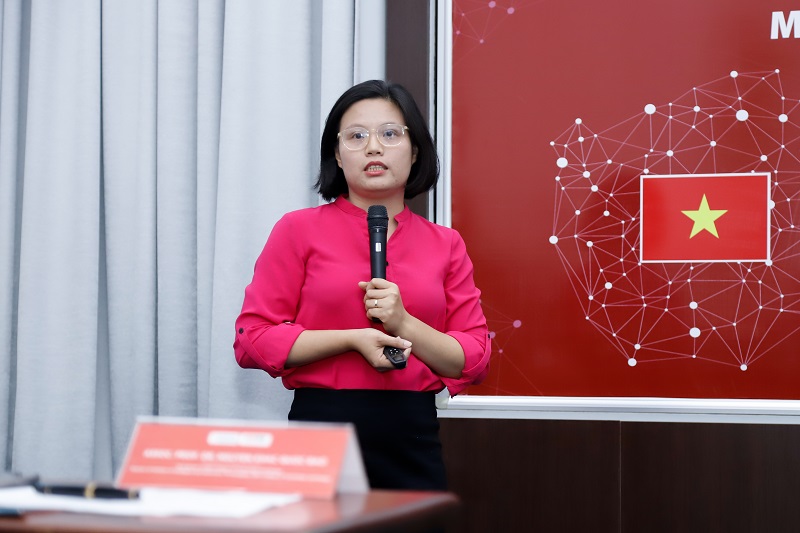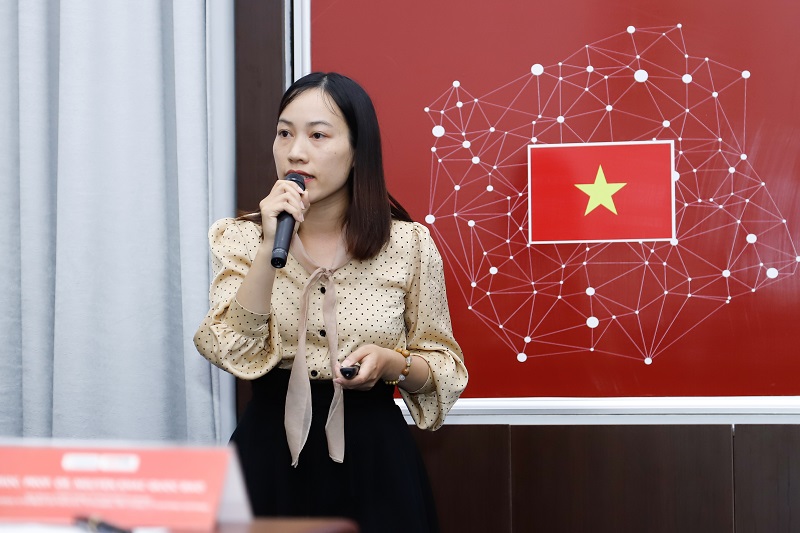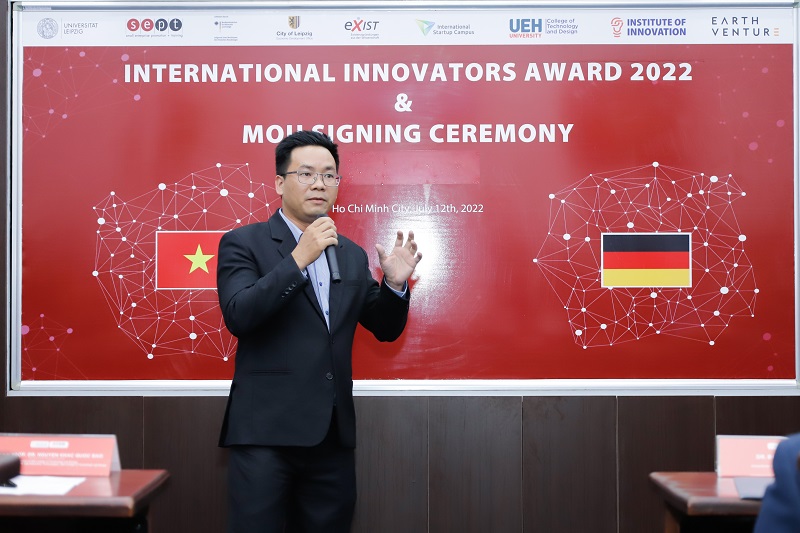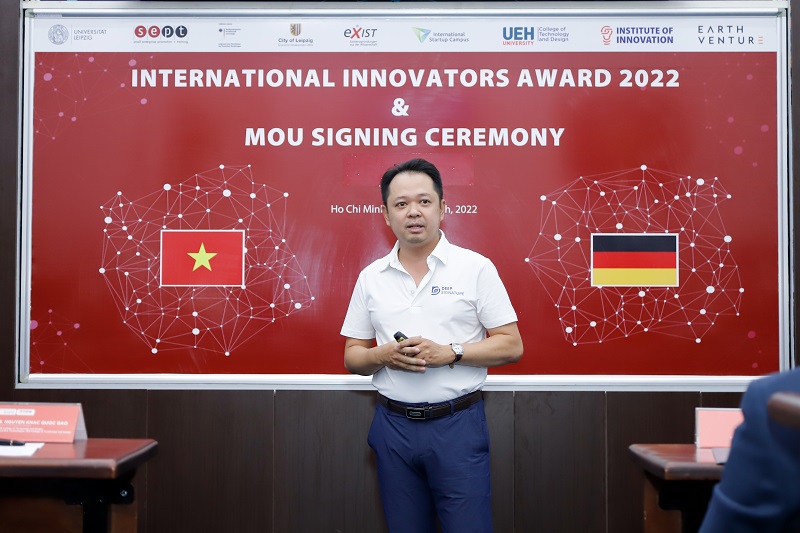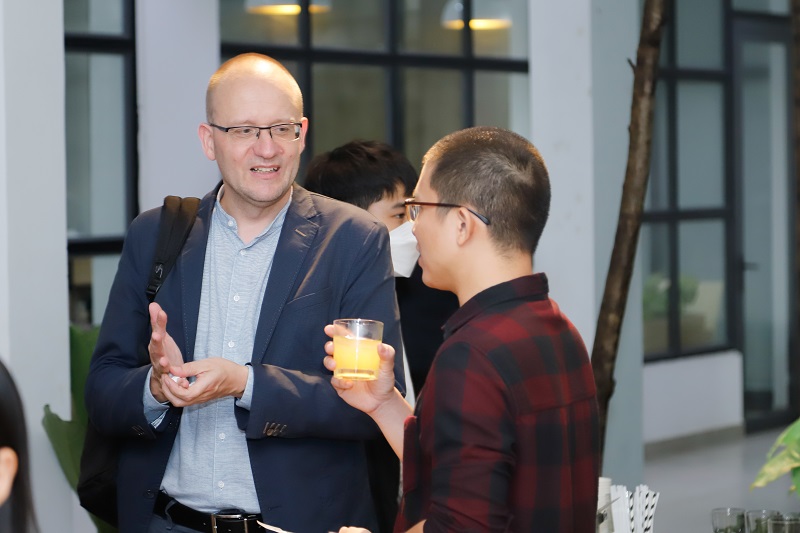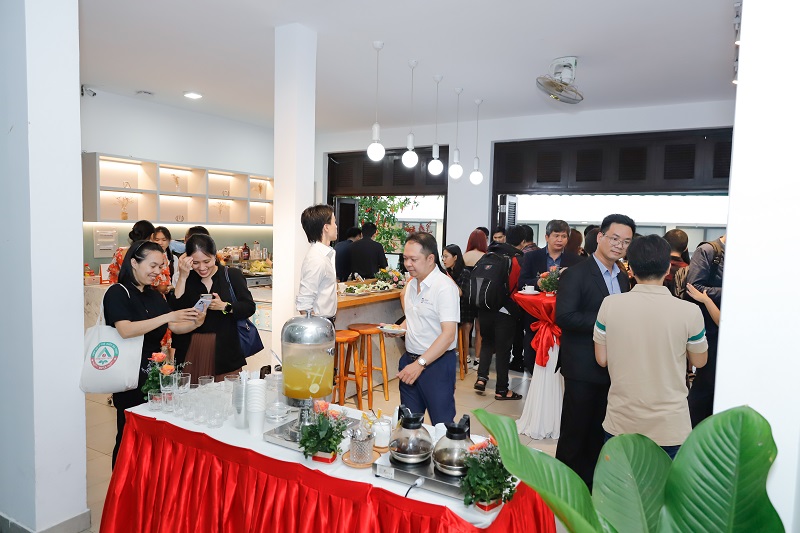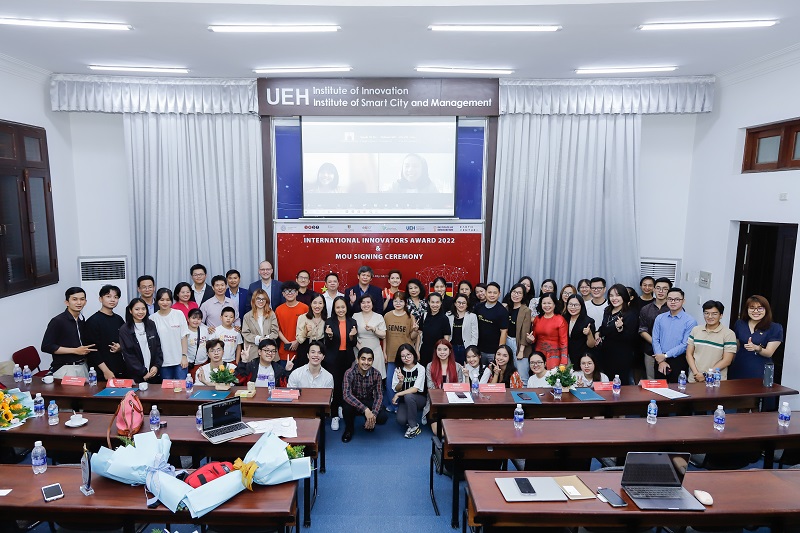 News, photos: UEH Institute of Innovation UII, Department of Marketing and Communication