Scholarship Award Ceremony And 10th Anniversary Of 'Light Up The Future' Scholarship Fund
On the morning of October 9, 2022, The Scholarship Awarding Ceremony and the 10th Anniversary of the Lighting Up Your Future (LUYF) Scholarship Fund for students in Ho Chi Minh City was officially held at the University of Economics Ho Chi Minh City (UEH). With the practical meanings and values ​​that the Foundation brings to generations of students across the country, UEH is the first University to become a companion with the Fund in the 10th season of this year to increase more knowledge resources to support students, to spread positive values, and to contribute to education and society for a sustainable future.
Light Up the Future Scholarship Fund (LUYF) – the flagship program of WorldClass, an initiative of Deloitte Vietnam and ACCA Vietnam launched in 2012 – has been through 10 years to help nearly 800 students towards overcoming the barriers of circumstances, prejudices and difficult life in addition to strengthening personal spirit, improving individual skills and knowledge and making him/her believe in kindness, from this foundation, overcoming difficulties to reach the dream of working and living a devoted life. 2022 officially marks a decade of operation of the Fund with 200 scholarships with a total value of nearly 5 billion VND awarded to excellent students in 5 regions: Hanoi Capital, Mekong Delta, Central and Central Highlands, Ho Chi Minh City and Northern Mountains.
On the morning of October 9, 2022, the program to celebrate a decade of operation of the Light Up the Future Scholarship Fund with the theme "LUYF's 10-year story: Connecting – Spreading – Lighting up your dreams" combined with the Scholarship Awarding Ceremony by Deloitte Vietnam in collaboration with ACCA Vietnam for students in the South was officially held at University of Economics in Ho Chi Minh City (UEH).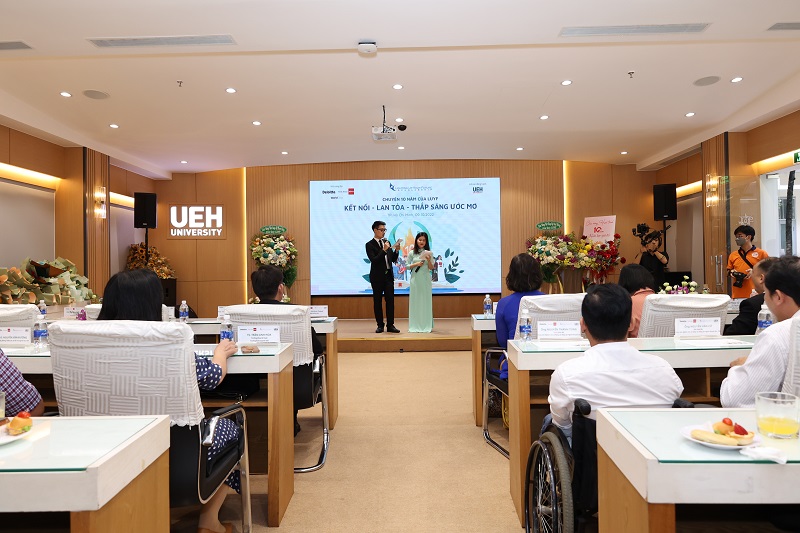 The overview of the ceremony
Attending the ceremony, on behalf of UEH, there were: Prof. Dr. Su Dinh Thanh – UEH President, together with Leaders of UEH Functional Units. On behalf of the Fund's Board of Directors are Ms. Ha Thu Thanh, Chairman of the Board of Directors of Deloitte Vietnam, Honorary President of LUYF; Mr. Phan Vu Hoang, Deputy General Director of Tax Consulting, Deputy General Director in charge of Talent Development and Human Resources, Deloitte Vietnam, Chairman of LUYF; Mr. Vo Thai Hoa, Deputy General Director of Deloitte Vietnam, Branch Manager of Ho Chi Minh City; Ms. Tran Duy Cung My, Strategy and Brand Manager for Mainland Southeast Asia – Representative of ACCA – Co-Founder of LUYF Scholarship Fund along with other partners of the Fund, representatives from other Universities and the students receiving scholarships from 9 seasons of LUYF in Ho Chi Minh City area; especially, the presence of scholarship recipients and their families in this Season 10.
On their 10-year journey of operation, the Light Up the Future Scholarship Fund has made a positive impact on the community, opening up development opportunities for hundreds of students with difficult circumstances but full of potential – individuals well-educated people, eager to learn, overcome themselves, and persevere to change themselves and their lives. The ceremony took a look back at LUYF's 10-year journey of Connecting – Spreading – Lighting up dreams besides their special imprints: 782 scholarships were awarded, nearly 125,000 students across the country were acknowledged of the values from this Scholarship Fund, covering 58 Provinces and Cities, 15 ethnic groups and nearly 90 universities across the country.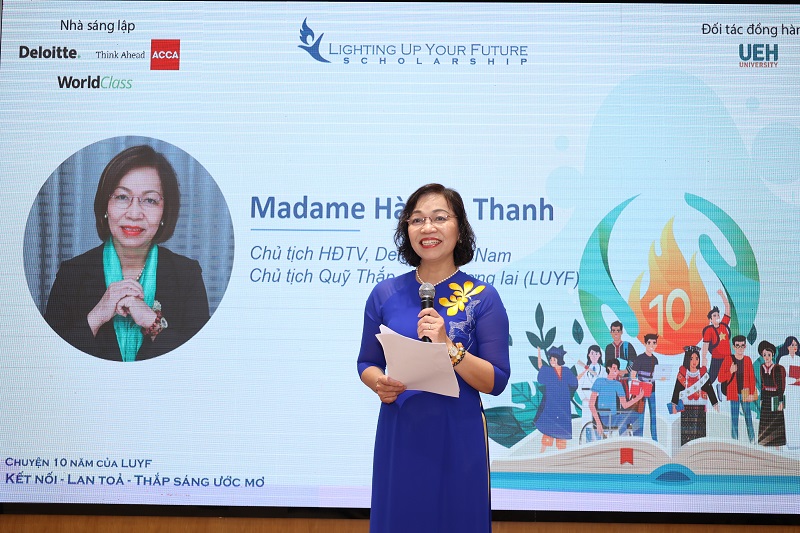 Ms. Ha Thu Thanh, Honorary President of LUYF Foundation, sharing personal remarks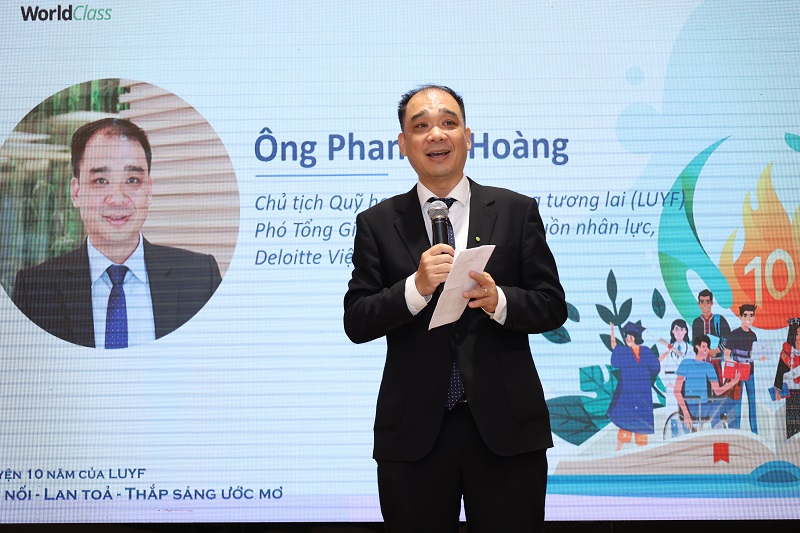 Mr. Phan Vu Hoang, Chairman of LUYF, sharing his excitement regarding his new position
On behalf of University of Economics Ho Chi Minh City (UEH) – the first University to sign a companion agreement with the Light Up the Future Scholarship Fund for Season 10 this year, Prof. Dr. Su Dinh Thanh – UEH President – shared: "On the development journey of nearly 47 years, UEH has always strived to fulfill our social responsibility, making positive contributions to education and society through practical and essential actions. This year, we are completely pleased to have the opportunity to accompany the Light Up the Future Scholarship Fund, awarding scholarships to 200 students, especially many of whom with disabilities, energetic figures and inspiration. We do highly appreciate the efforts and the enthusiasm that Deloitte Vietnam and ACCA have been dedicating to the Light Up the Future Scholarship Fund in particular as well as other activities in specific that aim at realizing social responsibility for the accounting profession, and more broadly, students in other professions with the purpose of having contributed to the building and development of human resources in the local community in particular and in Vietnam in general over the past 10 years. Therefore, we do hope to continue to accompany the Light Up the Future Scholarship Fund in the coming time, to continue to light up the students' dreams and to instill faith in the future young generation."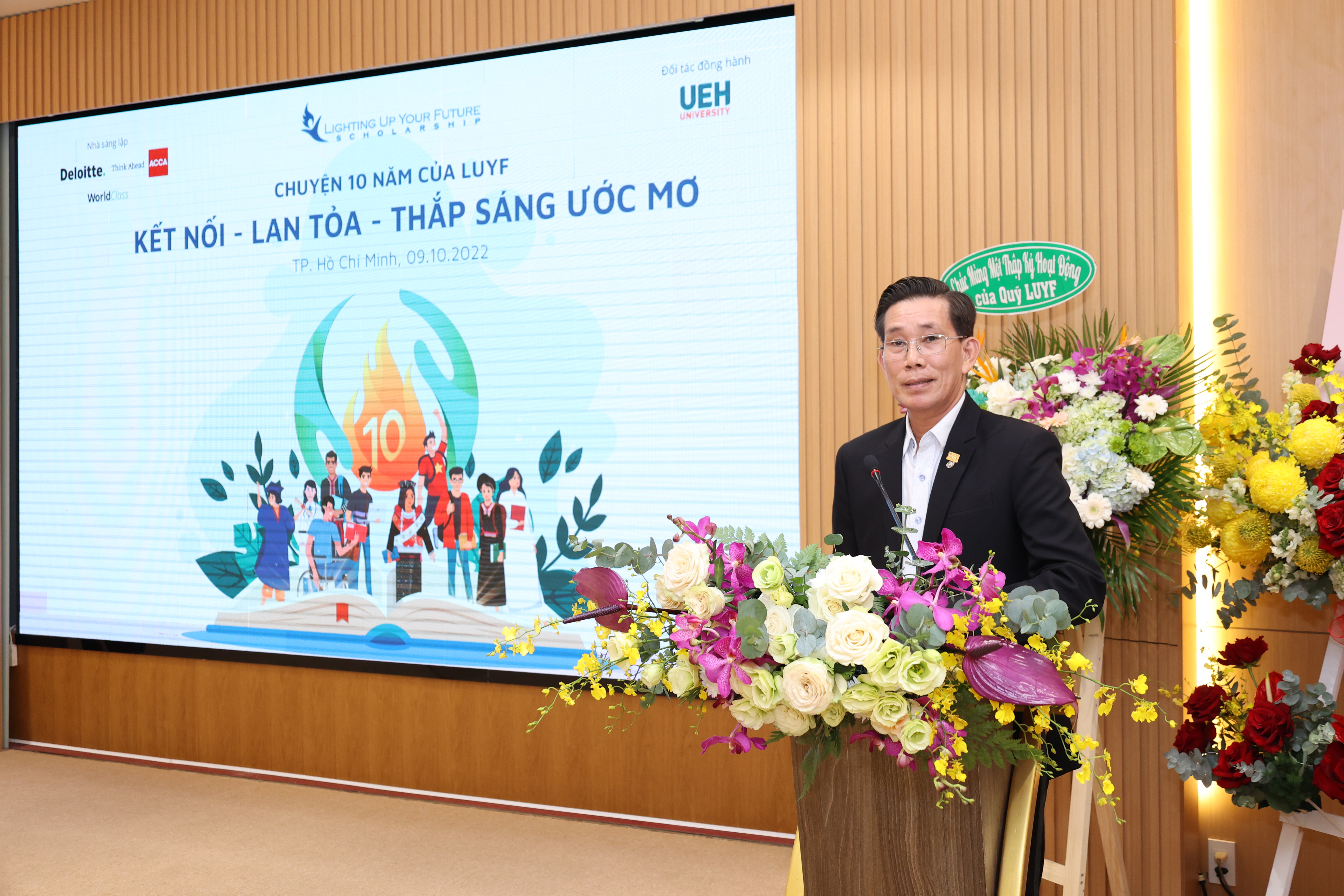 Prof. Dr. Su Dinh Thanh – President of UEH – presenting at the program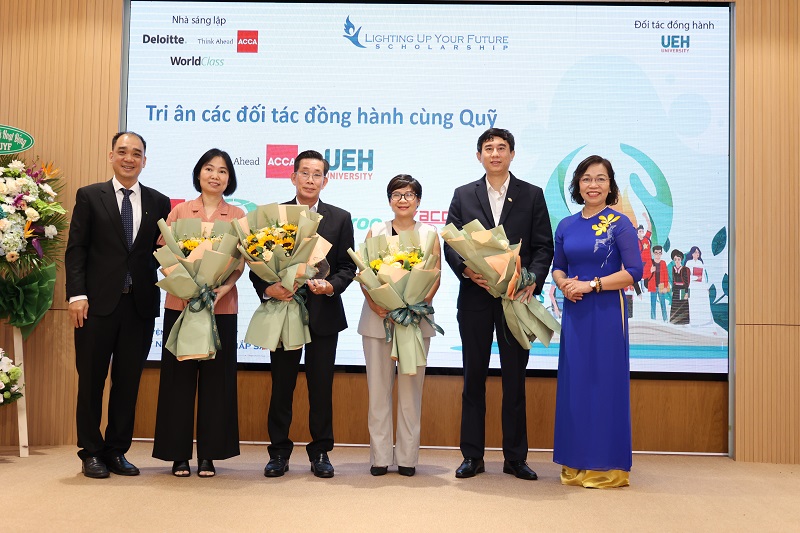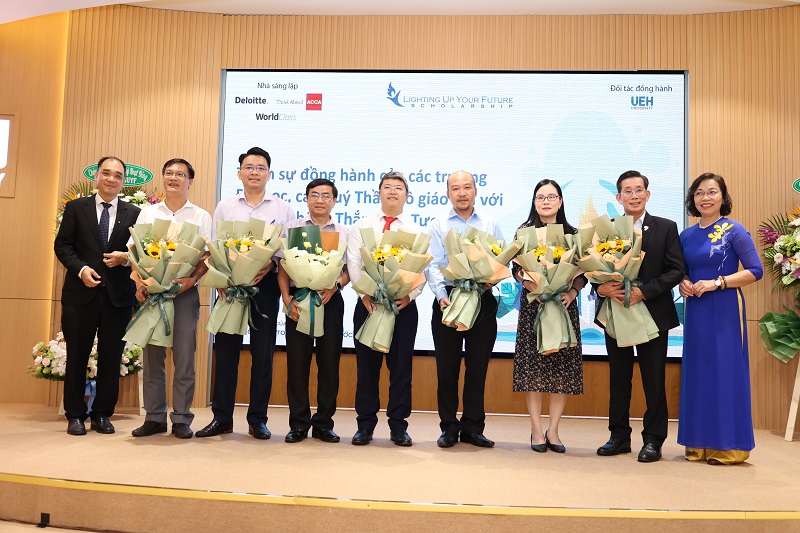 Giving flowers and celebrating the 10-year journey with partners accompanying the LUYF Foundation
The moment continuing to open new pages of the journey
The program not only recorded and summarized the operation journey of the Fund but also implied the sharing from the Fund's Board of Management regarding the plans for the upcoming time. At the same time, at this ceremony, the 10th season Light Up the Future scholarships were awarded to 90 students in HCMC area out of a total of 200 excellent students selected from 1300 applications; in which, 11 UEH students are studying at UEH Faculty of Accounting, UEH Faculty of Economics, UEH Faculty of Business Information Technology, UEH Faculty of Economics, UEH Faculty of Foreign Languages and UEH Faculty of International Business-Marketing.
Receiving the scholarship, these students have officially become a member of the Common House of Light Up the Future, among 575,000 people out of a total of 100 million people worldwide prepared by Deloitte (core knowledge and skills) to be ready to enter society and inheriting positive values ​​from the Fund's activities as follows:
The LUYF Leaders Impact Program equips you with skills to continue creating value and impacting the wider Community;

Official scholarship value: 3,000,000 VND in cash and 7,000,000 VND for tuition fees (University, English major, ACCA or relevant vocational certificate);

Online/in-person training and internship program, implementing online projects with the support and guidance of experts from Deloitte, ACCA and Fund's partners;

A series of specialized seminars from Deloitte Vietnam/ACCA Vietnam and suitable companions;

Sharing Program from experts – LUYF Mentor Hub;

Activities of LUYF Alumni' Scholarship Alumni Association;

Other related positive value creation activities within the framework of WorldClass activities of Deloitte Vietnam and LUYF Alumni;

Internship and employment opportunities from LUYF's partners.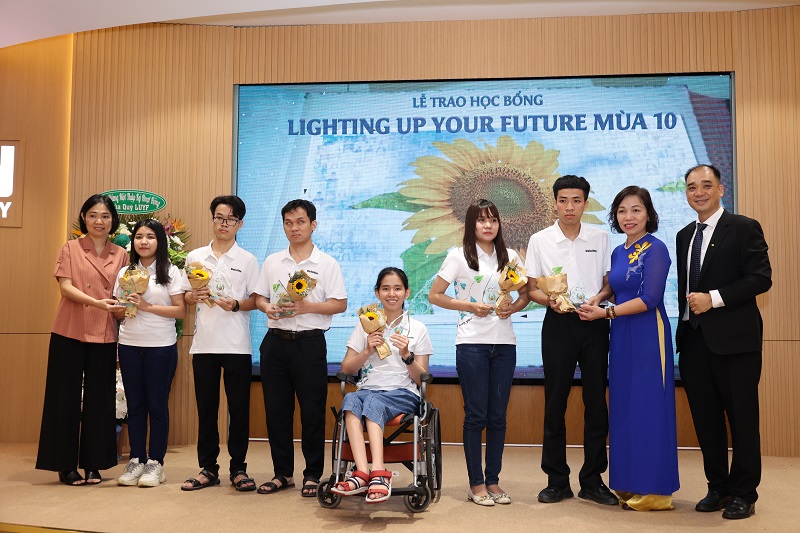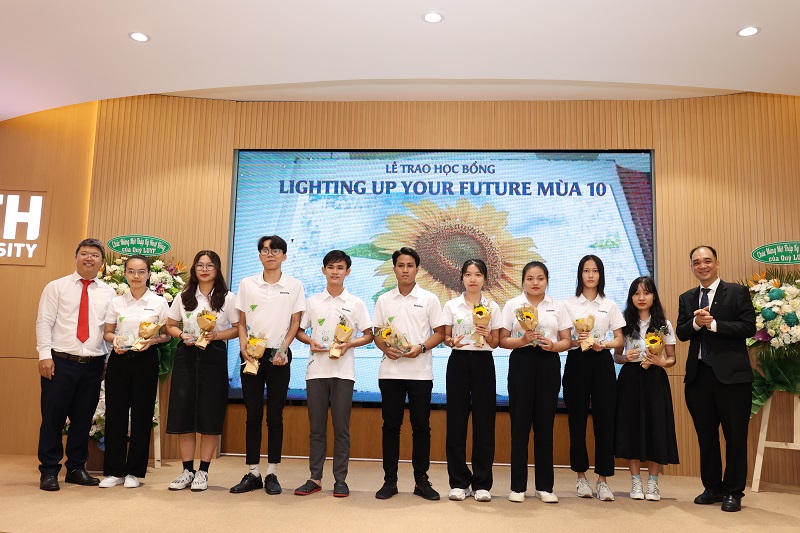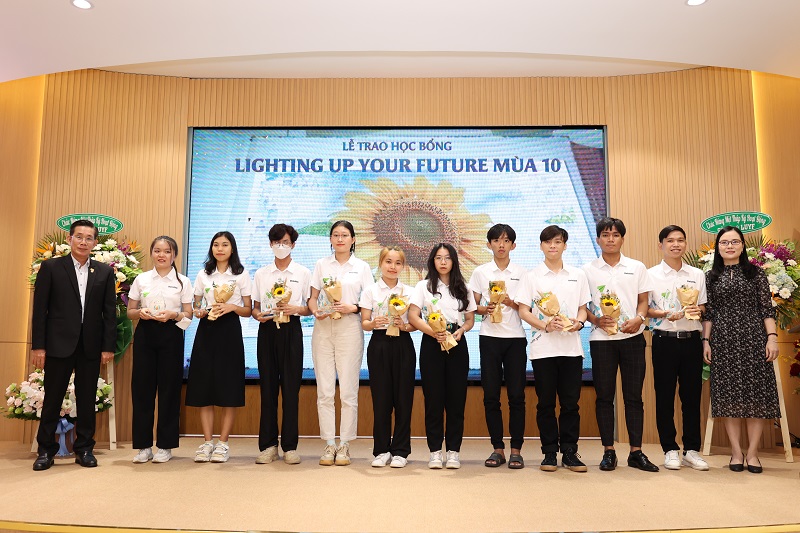 Excellent students in Ho Chi Minh City area receiving Light Up the Future Scholarship – 10th Season
With the belief that "education is the core key of sustainable development", along with the role and responsibility of a key public University in Vietnam, UEH has been constantly striving to bring the equality in every opportunity to experience knowledge for each future generation. In addition to providing learning opportunities and intellectual experiences for learners at the University, UEH wishes to spread these good values ​​to the student community across the country. Therefore, by accompanying the Light Up the Future Scholarship Fund Season 10, UEH wishes to increase the intellectual resources to support students and spread positive values ​​beyond the common support framework. With material support from a regular scholarship fund, together with LUYF build a network of trust, inspiration and hope, spreading positive influences to the young generations of Vietnam; specifically, UEH has given students the opportunity to light up and to pursue their career dreams by sponsoring scholarships for LUYF Foundation; implementing UEH skills training programs to help students integrate well, understand themselves, have skills to adapt to the working environment, develop themselves for happiness and success; support facilities, locations for activities of LUYF.
Hopefully, UEH's contributions will contribute to the creation of human resources with professional capacity and solid skills, meeting the needs of the increasingly competitive labor market. Most of all, sow the seeds of kindness in the hearts of the young generation so that each student can become ambassadors to influence and to motivate other students with difficult circumstances, to develop together for a better sustainable future.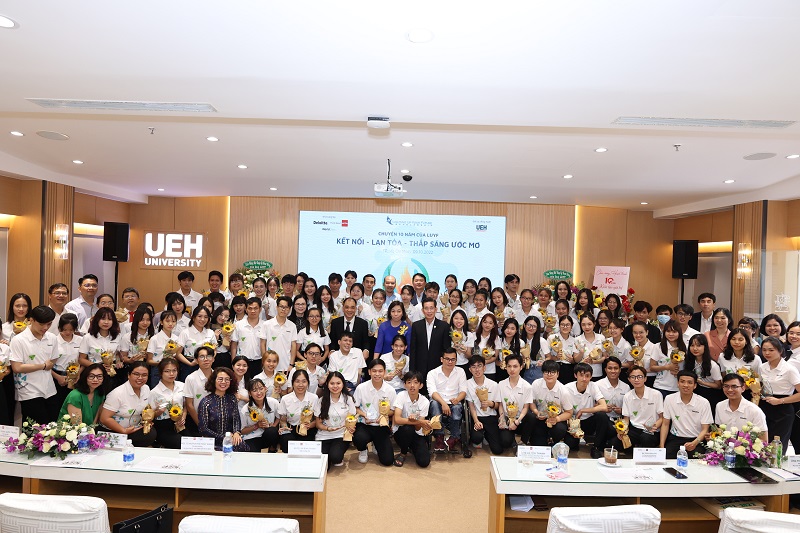 Delegates taking souvenir photos
Additional pictures from the ceremony: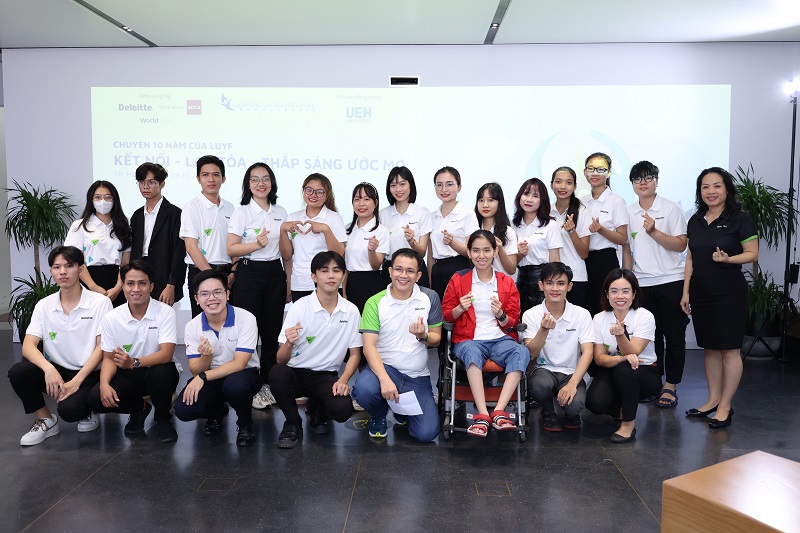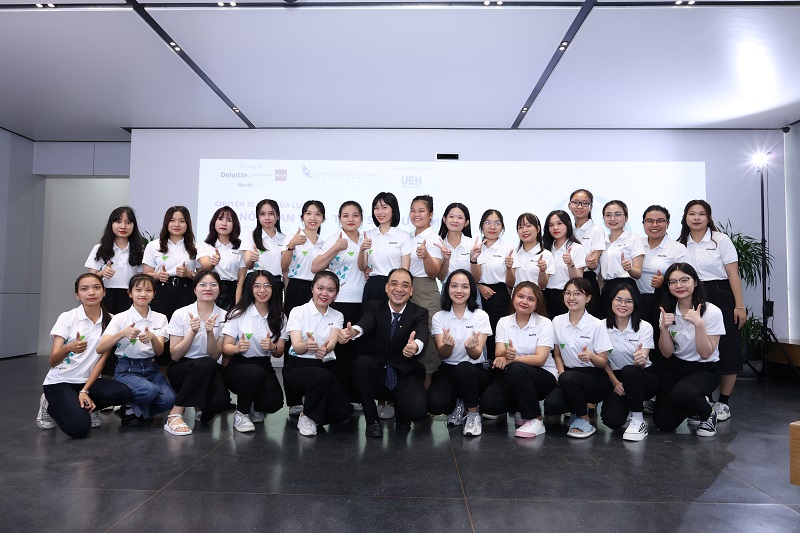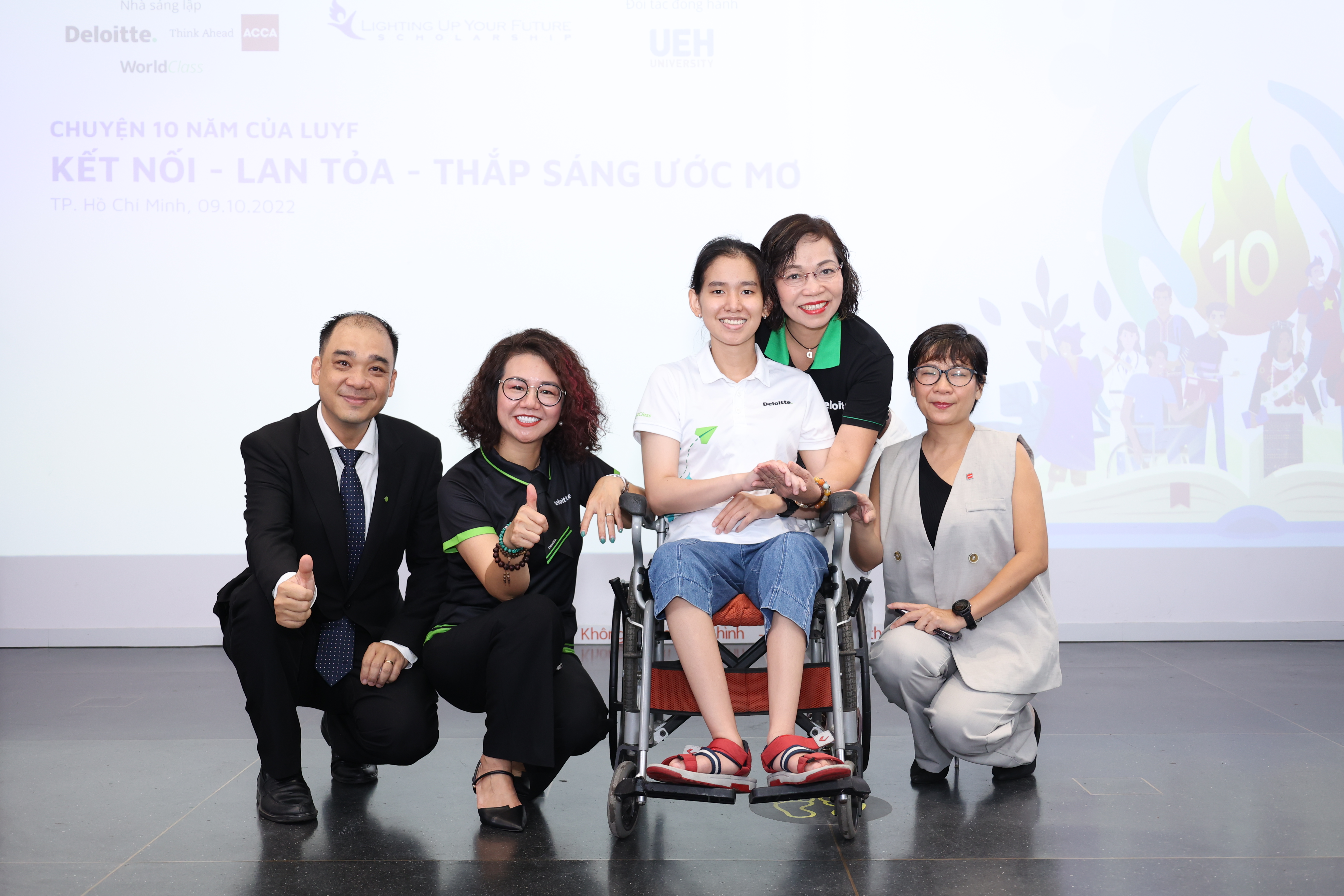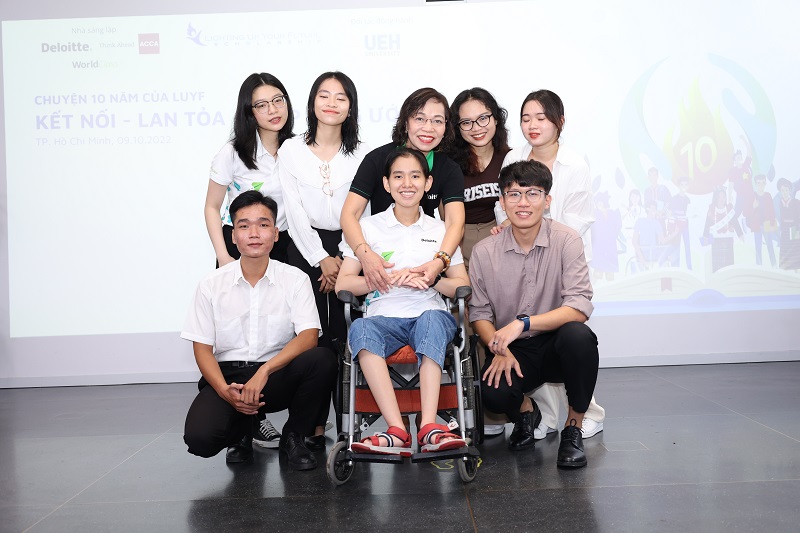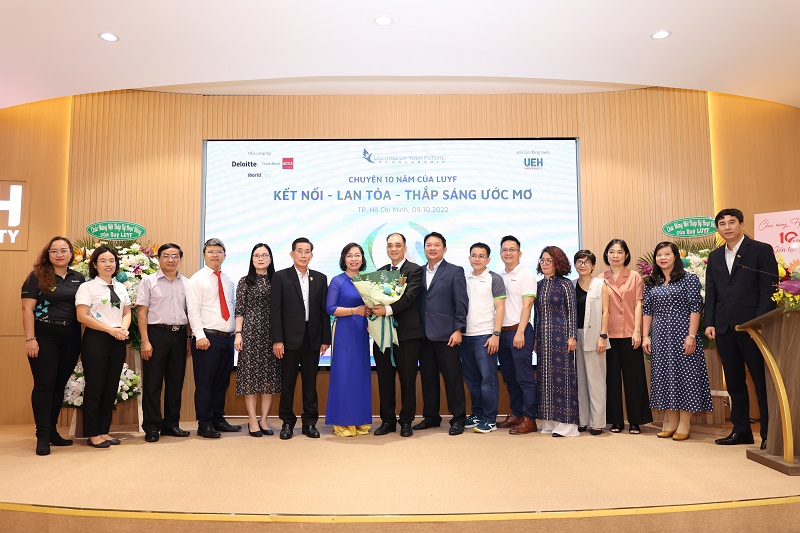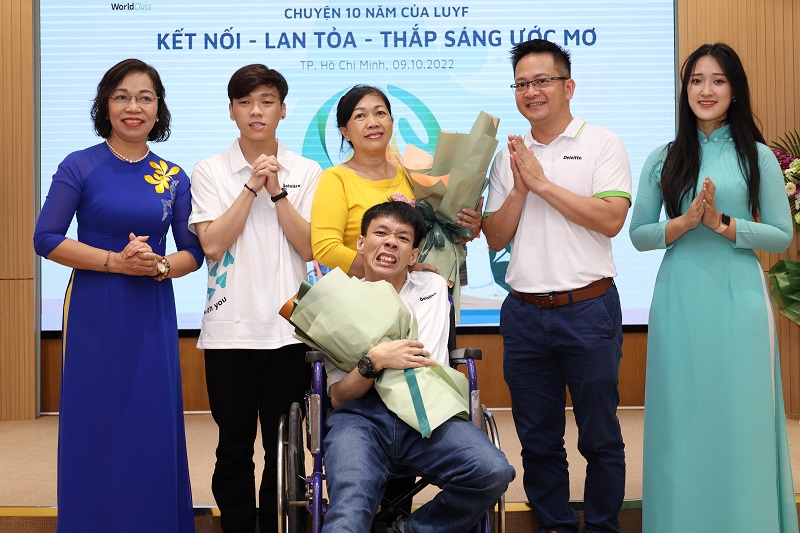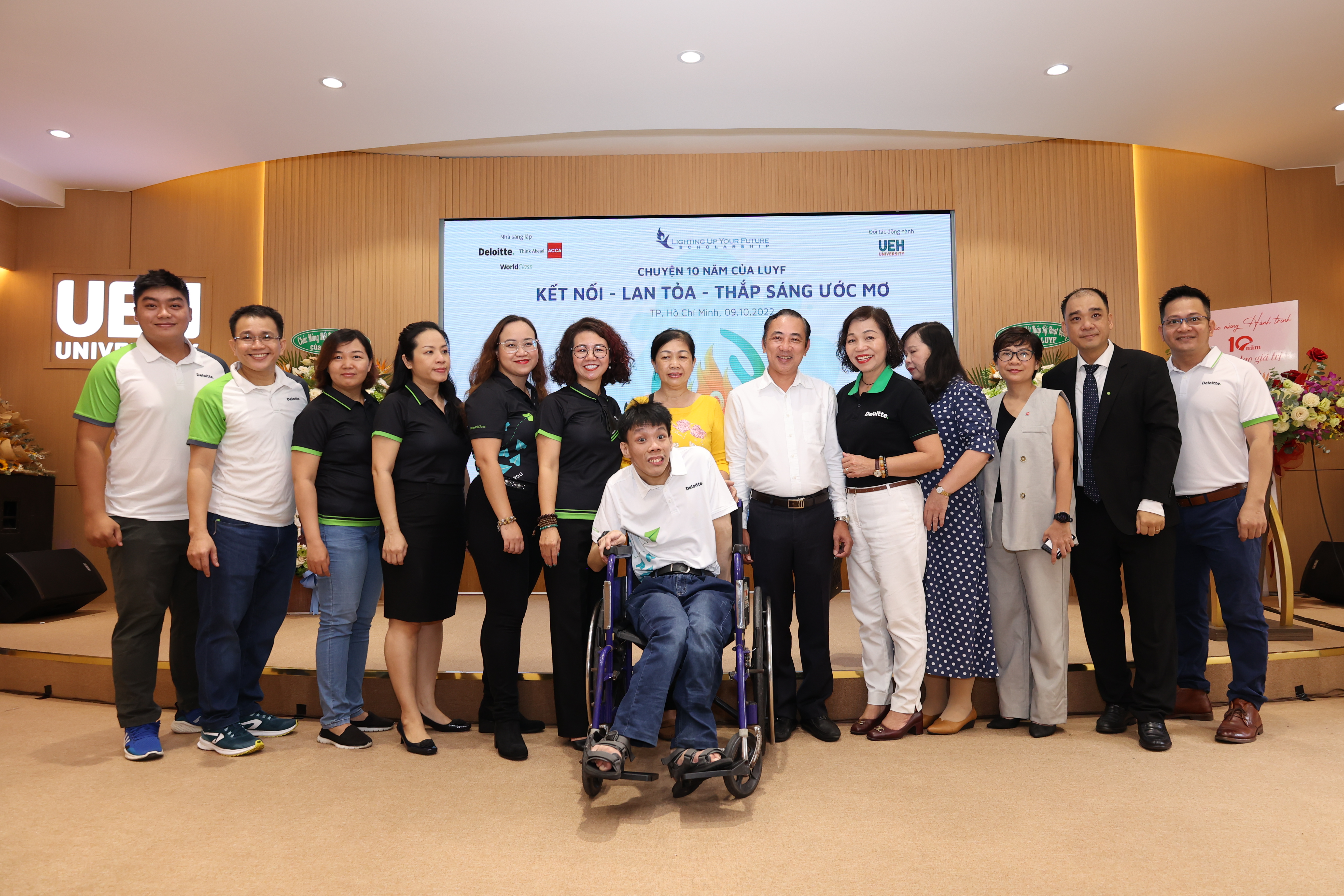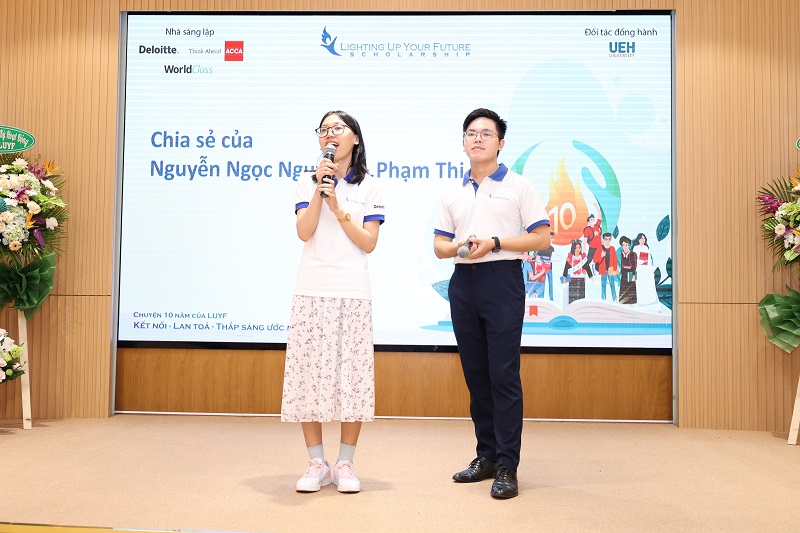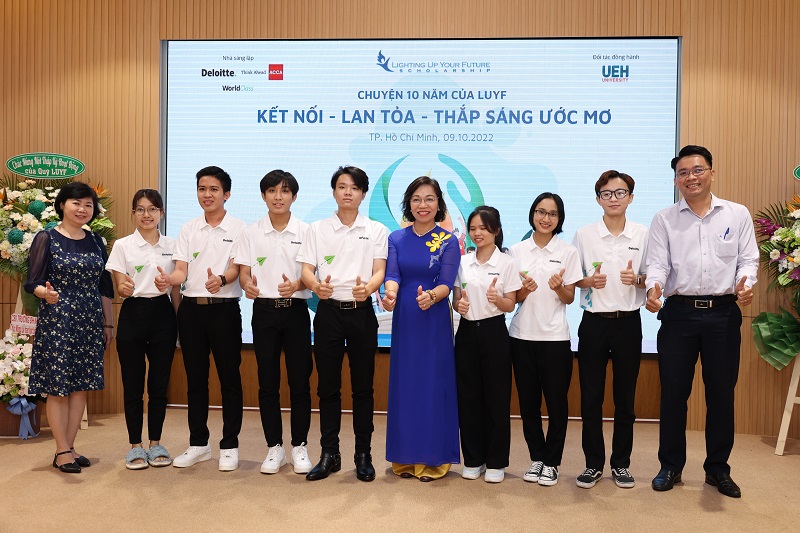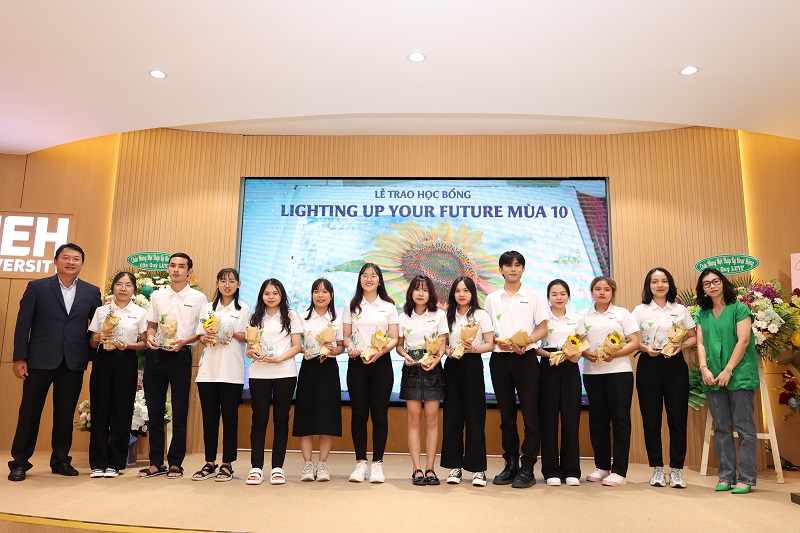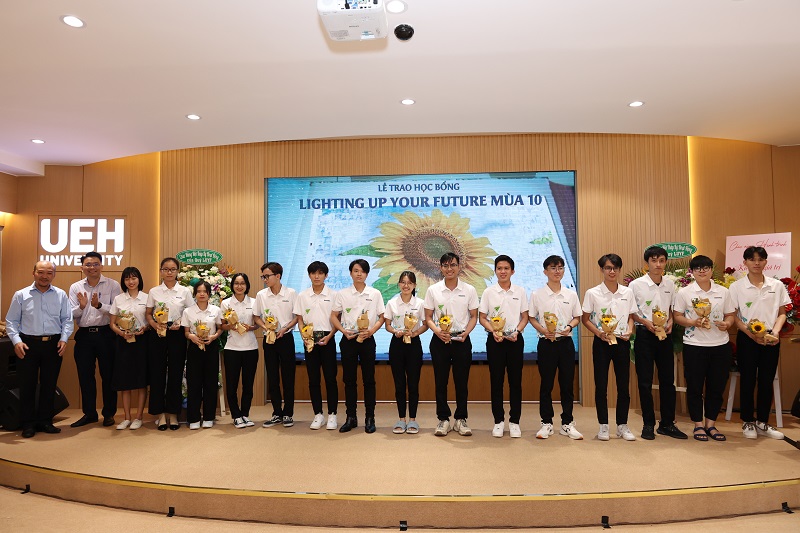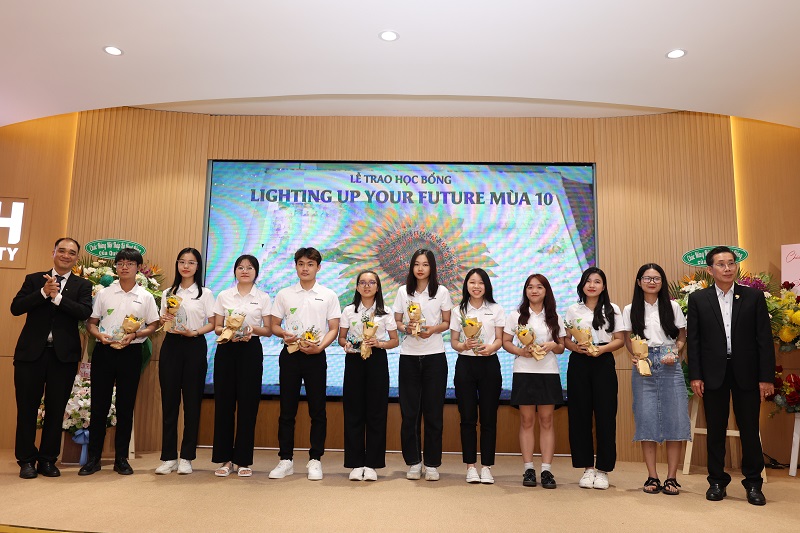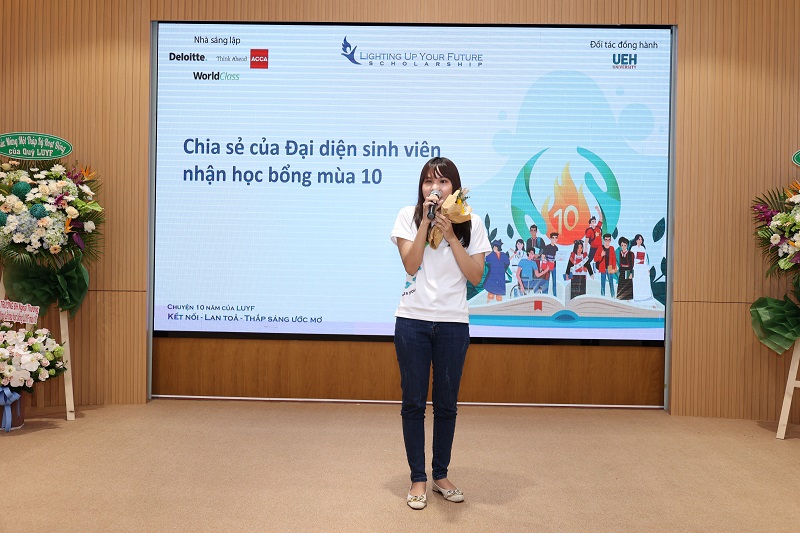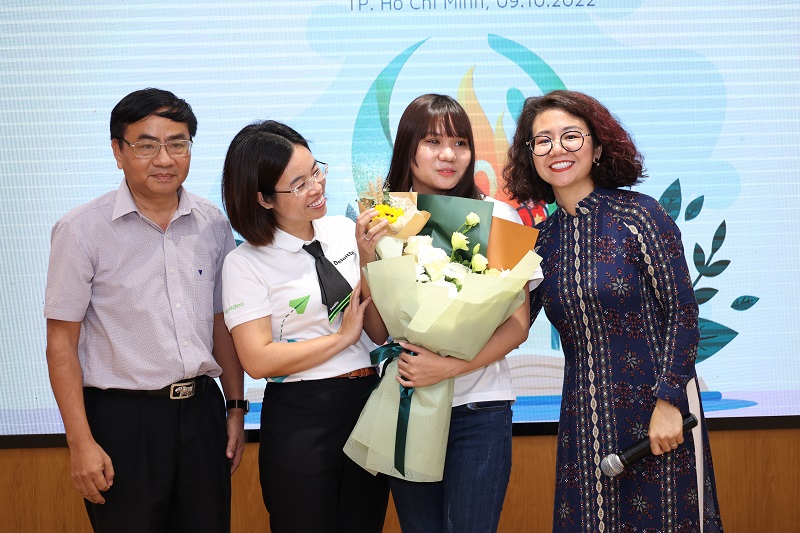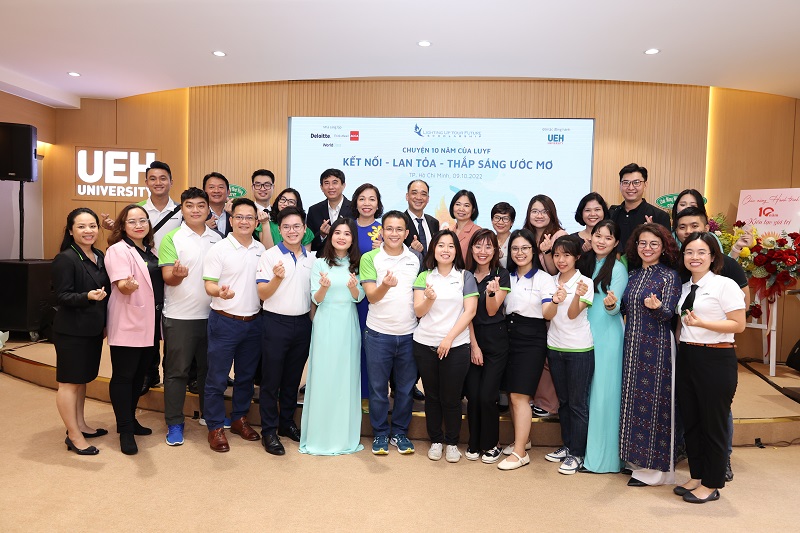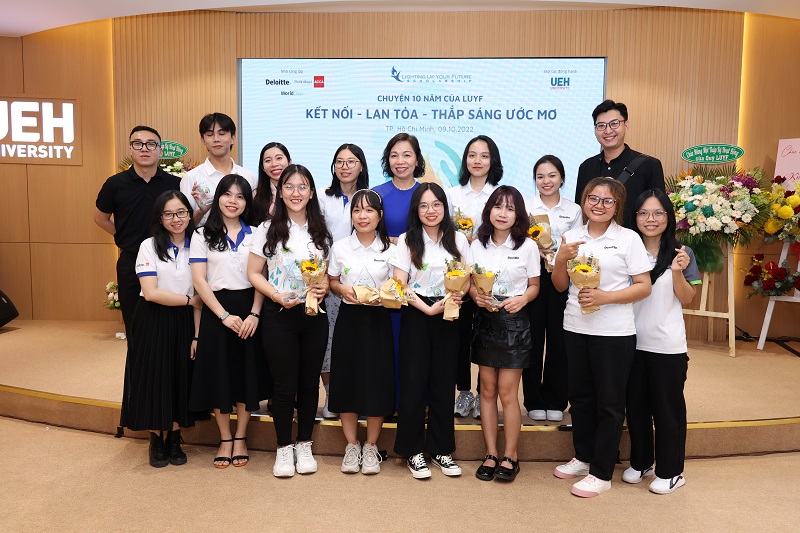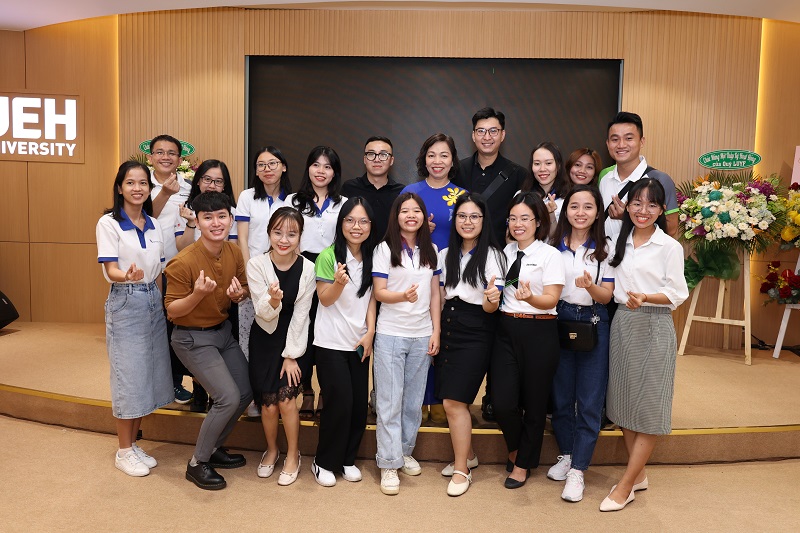 News, photos: UEH Department of Marketing – Communication