UEH Successfully Hosting The Annual International Conference "International Conference On Business And Finance 2022"
University of Economics Ho Chi Minh City (UEH) successfully hosted the annual international conference "International Conference on Business and Finance 2022" (ICBF 2022). This is a valuable forum for domestic and foreign scholars interested in the field of Finance – Business to present and learn new research, therefore, to connect and share research ideas on the issues of concern around the world.
This year, ICBF was held at Campus B of the University of Economics Ho Chi Minh City for two days, August 25th and 26th, 2022. Adapting to digital transformation in the new era, the seminar was organized online and hybrid formats with enthusiastic support from co-organizers – ISB, CFVG, University of Leicester, University of Lincoln, United Kingdom, etc.
The ICBF 2022 has attracted more than 300 research papers, in which about 80 quality articles have been selected to report at the conference. In particular, the conference gathered a lot of keynote speakers who are professors from prestigious Universities around the world and the participation of more than 200 domestic and international scientists, researchers, and scholars, including developed countries such as the UK, USA, Australia, Ireland, and Korea. Along with the presenters are scientists and lecturers from domestic and foreign research institutes and universities, including approximately 130 Vietnamese delegates and 70 foreign delegates.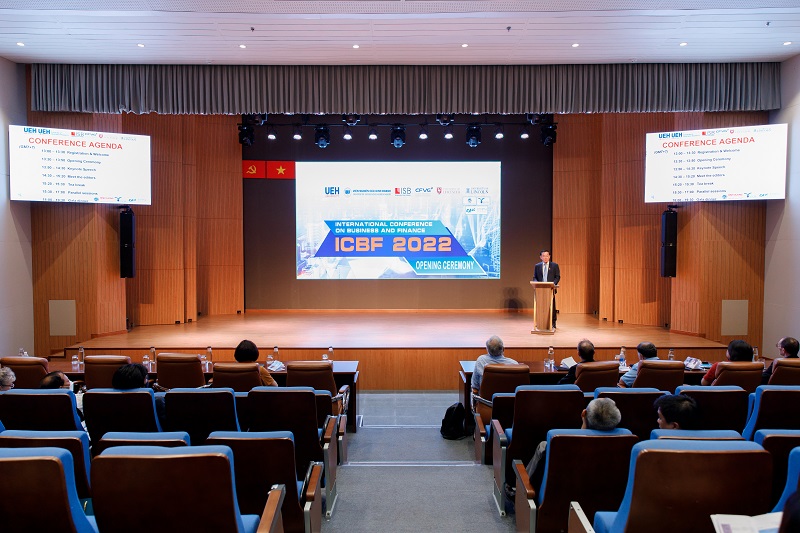 Overview of the opening session of ICBF 2022
Within the framework of the workshop, there were 22 parallel sessions and 07 plenary sessions. The chairs of parallel sessions are scientists and the organizers of the conference, including Prof. Dr. Nguyen Dong Phong – Chairman of the UEH University Council; Prof. Dr. Su Dinh Thanh – President of UEH; Dr. Bui Quang Hung – Vice President of UEH; Assoc.Prof.Dr. Phan Thi Bich Nguyet – Chairwoman of the Strategic and Policy Advisory Council; Assoc.Prof.Dr. Ho Viet Tien – Director of Graduate School – Co-Director of CFVG; Prof. Dr. Nguyen Trong Hoai – Editor-in-Chief of JABES; Assoc.Prof.Dr. Nguyen Phong Nguyen – Head of the Department of Scientific Management and International Cooperation; Assoc.Prof.Dr. Tran Ha Minh Quan – Dean of the International School of Business (ISB); Prof. Dr. Vo Xuan Vinh – Dean of UEH Institute of Business Research (IBR); Dr. Ngo Quang Huan – Dean of School of Management; Assoc.Prof.Dr. Nguyen Khac Quoc Bao – Head of UEH Department of Undergraduate Training; leaders of units and all UEH lecturers.
Prof. Dr. Nguyen Dong Phong – Chairman of the University Council – delivering the opening speech of the ICBF 2022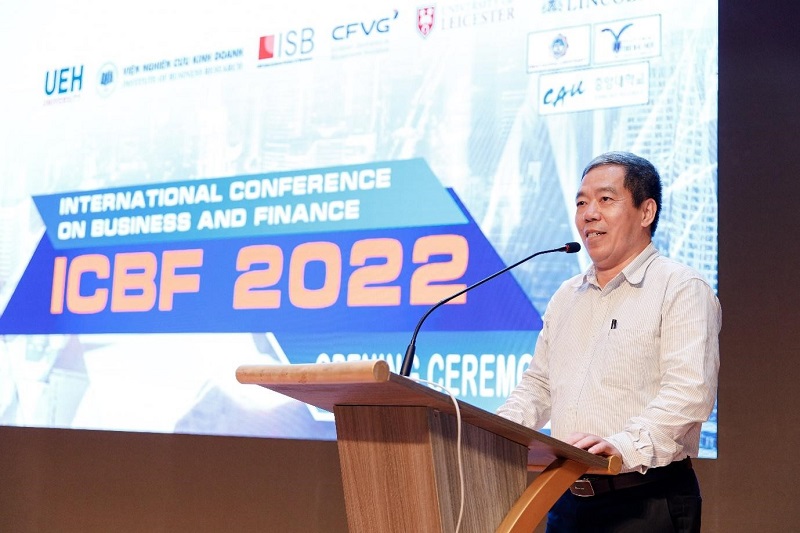 Assoc.Prof.Dr. Ho Viet Tien – Co-director of the CFVG program, Head of the UEH Graduate School – speaking at the conference
Representative of the co-organizer, on behalf of the University of Leicester (United Kingdom), was Prof. Don Egginton. On the side of Lincoln University, there was the attendance of Prof. Marian Rizov, Prof. Simon Lilley, Prof. Siobhan Goggin and other lecturers from Lincoln University, UK.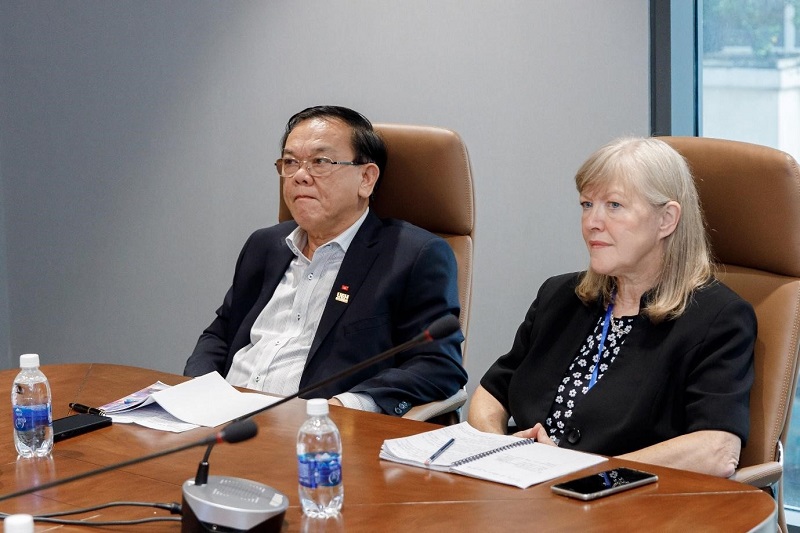 Prof. Siobhan Goggin – Dean of Faculty of Economics, Finance and Accounting – International Business School, Lincoln University, UK and Prof. Dr. Nguyen Dong Phong at the ICBF 2022
Opening the seminar on the morning of August 25th was the report of Prof. Gary Campbell from Michigan Technological University, USA, with the topic "Critical Minerals: The Issues to be Addressed" and the sharing of the speaker Prof. Peter Morgan, Asian Development Bank Institute on the topic "Covid 19, Fintech and Impacts on Households in ASEAN Countries"… In addition, the seminar session featured speakers who are professors and leading researchers in the world listed as Prof. Sung Y. Park – Chung Ang University, Korea; Prof. Jonathan Batten – RMIT University, Australia; Prof. Siong Hook Law – Putra University, Malaysia; Prof. Brian Lucy – Trinity College Dublin, Ireland; Assoc. Aviral Tiwari – Rajagiri Business School, India… The professors presented in-depth research that brought a lot of scientific value, creating a meaningful academic exchange space.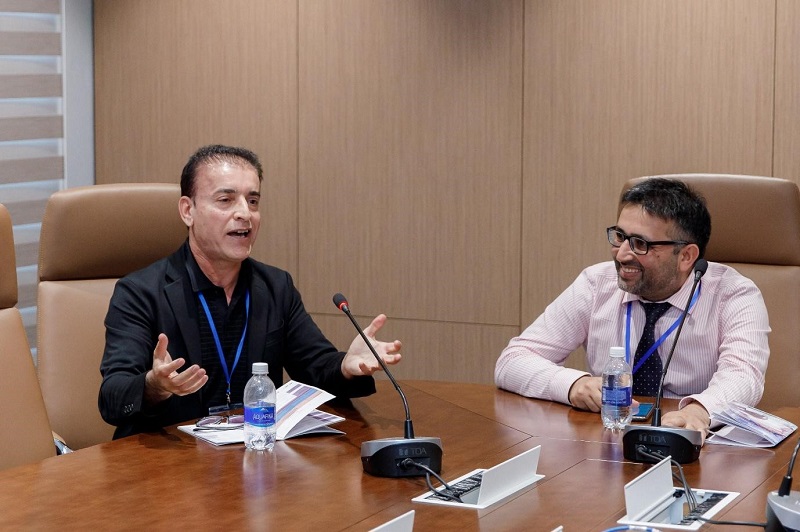 Scientists exchange under the framework of ICBF 2022
On the afternoon of August 25th, there was a report on the topic "Forecasting Stock Returns with Conditional Quantile-level Dependence" by Prof. Sung Y. Park. After that, the meeting with the editor-in-chief of prestigious high-ranking journals in the world was an opportunity for domestic researchers to meet and exchange more experiences with the editors-in-chief are Prof. Jonathan Batten (Journal of Financial Markets, Institutions and Money, Finance Research Letters), Prof. Brian Lucey (International Review of Financial Analysis, International Review of Economics and Financial), Prof. Sung Y. Park (Journal of conomic development), Prof. Siong Hook Law (International Journal of Economics and Management), Prof. Jeong-Yoo Kim (Asian Journal of Law and Economics), Prof. Muhammad Shahbaz (Resources Policy), Prof. Nguyen Trong Hoai (Journal of Asian Business and Economic Studies), Prof. Aviral Tiwari (International Journal of Emerging Markets) and so on. The scholars listened to the seniors to promote international publications in the accompanying journals which sponsor the conference. At the same time, it was an opportunity for UEH to promote JABES in the international arena.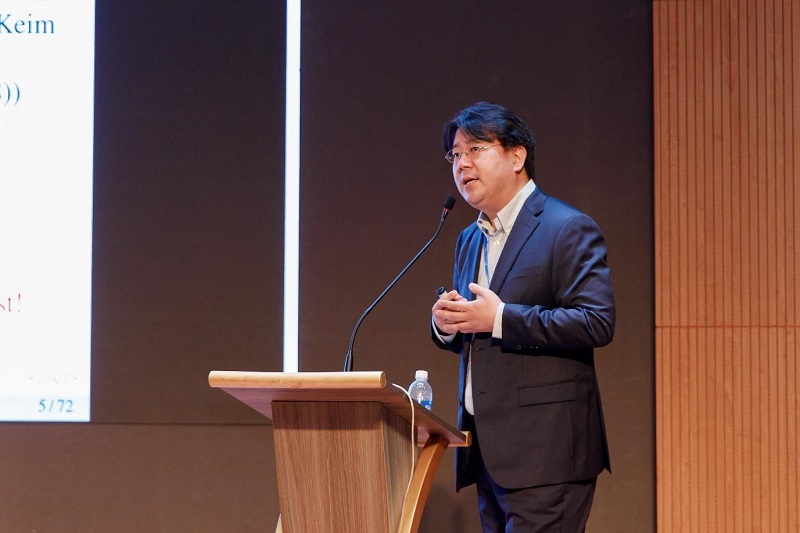 Prof. Sung Y. Park – Chung Ang University, Korea, editor of the Journal of Economic Development – reporting the topic "Forecasting Stock Returns with Conditional Quantile-level Dependence"
In particular, within the framework of the program, there were introduction sessions and research reports by professors from Lincoln University, UK, covering many different topics and fields: "Business Finance and Law" with the presentation of Prof. Marian Rizov; The field of "Economics and Business" with the exchange of Dr. David Gray; The field of "Finance and Public Governance" presented by Dr. Hao Quach and Prof. Zaghum Umar. These special sessions engaged the attention and discussion of many researchers attending the workshop.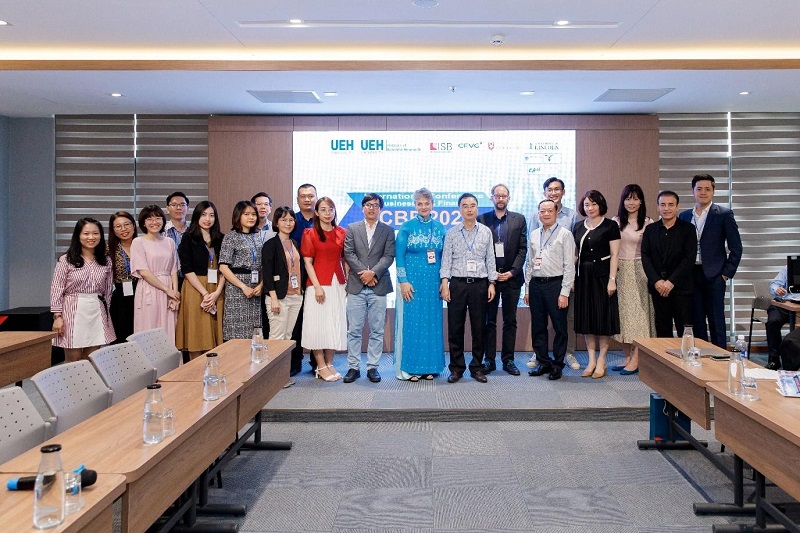 Prof. Dr. Vo Xuan Vinh – Director of the Institute of Business Research, co-director of CFVG – taking photos with scientists participating in the seminar
It can be stated that the successful workshop once again emphasized the connection and consolidation of cooperation programs between UEH, Lincoln University, and the University of Leicester. This event was a bridge to promote comprehensive cooperation in many aspects, such as sharing research and exchanging lecturers and students. Currently, UEH is collaborating with Lincoln University for a 1+2 international bachelor's program, with the first year studying at UEH and the next two years studying at Lincoln University. In addition, UEH is also launching a Doctoral (Ph.D.) program in association with Lincoln University and a Doctoral program (Ph.D.) in association with the University of Leicester.
The ICBF is a forum for scholars to present new research on contemporary issues in the fields of economics and business, hot topics that are of great interest and discussion recently. The conference wishes to contribute to promoting and improving the quality of domestic research, promoting international publication, and strengthening UEH's position on the world's academic and research map. Hopefully, in the upcoming years, the ICBF will attract more attention from domestic and foreign scientists.
News, photos: Institute of Business Research