Digital transformation: The foundation for building a Smart University
 [Education & Times] – Recently, University of Economics Ho Chi Minh City (UEH) has been continuously boosting Digital transformation.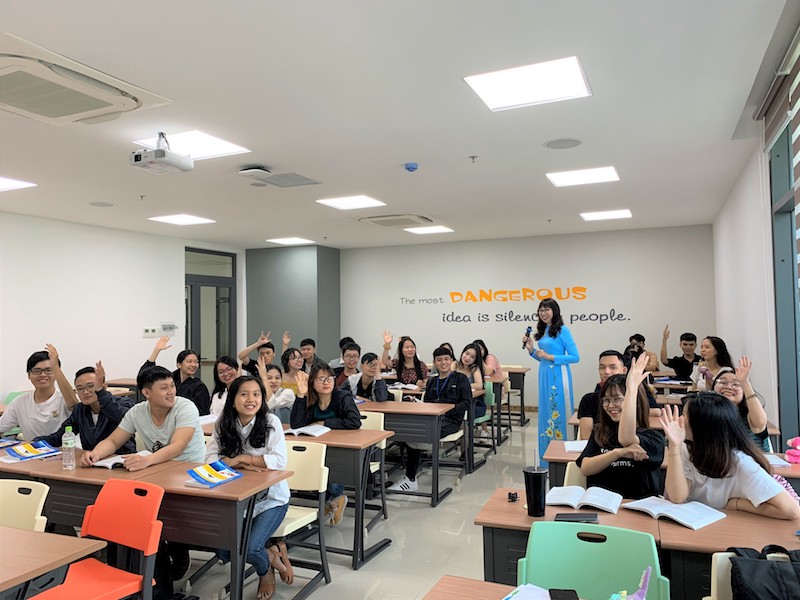 UEH students in schoolyear 2020. Photo: Documentation
The focus of promoting the technology application in teaching, management and digitization of student care activities is aimed at shaping and building a smart university.
Digitizing management and teaching activities
Understanding the importance of digital transformation, in the past 2 years, UEH has not only been interested in digitizing lectures, general management activities through software, interactive applications between learners and schools, student service but also deeply implemented the Blended Learning training program (the method of combining traditional teaching and E-learning).
Dr. Dinh Tien Minh – Faculty of International Business – Marketing (UEH) stated: Since 2016, UEH has started to apply the Blended learning model into the training process at all levels/systems as follows: 30% timing of the subjects for online teaching activities (online) and that of 70% for teaching activities in the classroom (offline), in which the LMS-UEH system is built to manage and create an online environment for students' training activities.
"After a period of implementation, it is found that the Blended learning model is less expensive than learning in traditional classrooms, even, this model has the potential to cut educational costs. Blended Learning reduces costs by placing classes online and essentially replaces expensive textbooks with electronic devices that students can bring to class on their own (digitized).
"In particular, knowledge tests in Blended Learning are automatically graded, providing instant feedback. Students' sign-in and testing time are also measured to ensure accountability. In addition, the Blended Leaning method saves costs and time for teachers and learners besides facilities conditions; at the same time, the quality of education is increased" Dr. Minh shared.
In addition to strongly promoting the application of technology and digital transformation into teaching methods and scientific research, UEH has recently implemented a community project to support free digital transformation for high schools called 'Global Learning' to help high-school teachers to be more experienced and actively teach and learn online.
Master Vo Ha Quang Dinh – Information Technology Department of UEH – asserted that: "Teaching trends in Vietnam in general and UEH in particular will require a shift. Digitalization of learning activities is a must-do trend in the new context, in which the Blended Leaning model predicts will bring the potential to help improve the effectiveness of teaching and learning, on the basis of maintaining consistent principles. Basic pedagogical principles are integrated in detailed course design, helping to bring an optimal learning experience for students".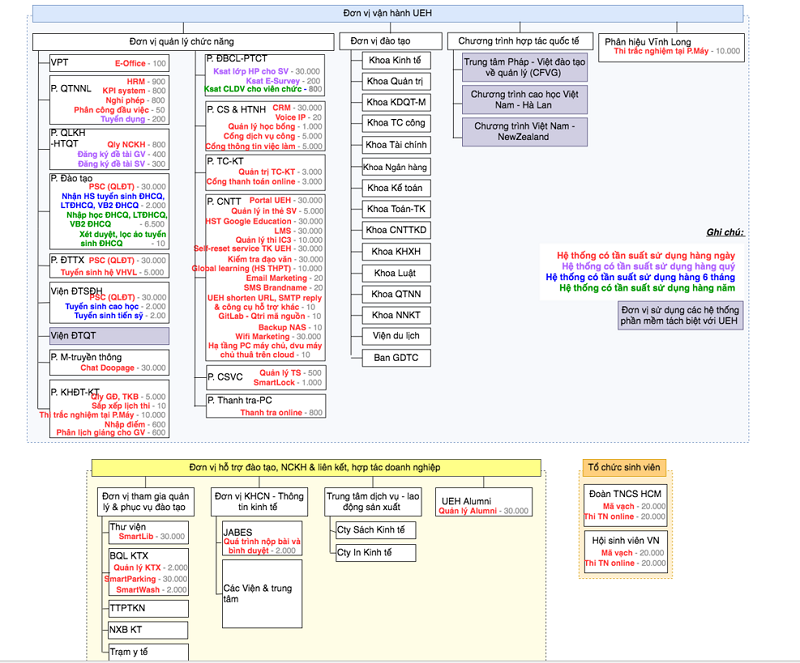 This table describing the technology software system that UEH is applying. Photo: NTCC
Building a Smart University
With the infrastructure foundation and prepared attitude for the past 3 years, UEH is aiming to transform into a smart university (smart University) in a short time. According to Dr. Bui Quang Hung – Vice President of UEH – with Smart University, technology becomes an important tool for learning, research, learning and other related tasks.
In which, digitizing teaching, research and other activities with software, equipment and technologies, integrating, transforming operating models, etc. will promote leanness, efficiency and usability as well as the ability to analyze and propose solutions in order to improve the higher education environment for relevant subjects.
"Digital resources, open educational content, virtual educational environment, and digital infrastructure are the four basic elements of V-SMARTH Smart University and online teaching and learning. Until March 2021, UEH has had 60 systems and software deployed with different frequency of use and number of users. Compared with the indicators and conditions to approach the smart university model according to the model proposed by Nguyen Huu Duc et al. (2020), UEH is responding well to 2 results of intelligence level (Ci) and readiness level (Ri). This outcome makes us confident to build UEH into a smart university as soon as possible" is what Dr. Hung asserted.
In fact, according to the research results and surveys of staff, lecturers and students that UEH research team carried out, it is shown that UEH initially had the correct technology investment strategies and plans when it comes to success. The digital infrastructure and interactive educational environment have achieved high results (77% and 70%, respectively, from the survey) and the digital resource component is in the process of completion (reaching 55%). However, the component of course design according to individual needs is currently leveled at only 33%, which UEH is trying to build, develop and enhance.
Talking about the strategy and goals of transforming into a smart university, Prof. Dr. Nguyen Dong Phong – Chairman of the UEH University Council – emphasized that the process of digital transformation requires UEH leaders and managers to recognize and use "power of new technologies" so as to increase the intelligence level (that is to increase Ci) of systems after completing the digital transformation process, teaching methods, classrooms, curriculum, etc. while allowing for more efficient use of time, finances and staff.
"Leaders and managers need to have the correct awareness of the benefits of technology, digital transformation, and smart university development in order to have strong motivation and high determination on the way to the goal of Smart University and at the same time actively developing a plan for self-improvement of new skills and abilities appropriately. Digital transformation towards Smart University is the process of total and comprehensive change of all activities of higher education institutions in terms of technical, process and human factors. Leadership is the one who determines the success or the failure of the digital transformation process." – Prof. Dr. Nguyen Dong Phong
Source: Education and Times Newspaper