Vietnam Trade Law Workshop in the Integration Period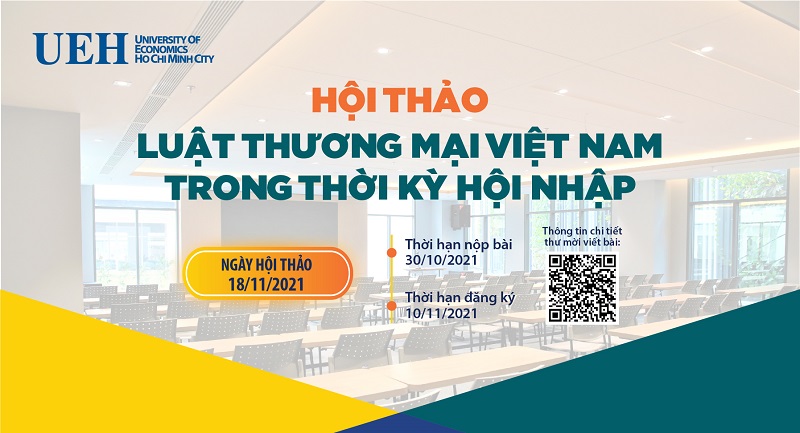 Ho Chi Minh City University of Economics – Faculty of Law organized a scientific seminar at the university level with the theme: "VIETNAM TRADE LAW IN THE INTEGRATION PERIOD"
The workshop is scheduled to be held on November 18, 2021 (either in person or online depending on the actual situation at the time of the workshop)
Location: Ho Chi Minh City University of Economics HO CHI MINH CITY, No. 279 Nguyen Tri Phuong, District 10, Ho Chi Minh City.
The workshop focused on discussing trade law during the integration period in Vietnam (focusing but not limited to) on the following contents:
– Assessment of the provisions of the law on traders and trade activities
– Assessing regulations on trade activities: buying and selling goods, providing services, trading intermediaries, trade promotion …
– Assessment of regulations on trade sanctions and settlement of trade disputes
– Assessment of state management regulations on trade
– Discuss the recent changing needs of commercial law.
– Proposal to improve trade law in Vietnam in the context of integration
Articles submitted to the workshop will be submitted independently by the Workshop Organizers and selected to print into the Isbn-indexed Yearbook published by the Economic Publishing House. The workshop yearbook can be used as a reference in teaching and scientific research on issues related to Vietnam's commercial law.
Deadline for receiving complete articles: 30/10/2021
Deadline for registration for the workshop: 10/11/2021
The article was sent to the Organizing Committee of the Legal Workshop 2021:
Email: uehlawreview@ueh.edu.vn
Website: https://law.ueh.edu.vn/
Phone: 0937024679 (Dr. Nguyen Thi Anh, Deputy Dean of Faculty of Law – UEH)
The organizers of the workshop are looking forward to receiving the wide participation of teachers, researchers, lawyers, lecturers, phD students from universities, research institutes, judicial agencies, law practice organizations, state management agencies and enterprises.