Living Lab UEH Zero Waste Campus: Launching "Zero Waste, Hero You" Campaign – a Small Change, a Big Result
"Zero Waste, Hero You" Communication Campaign affiliated with "UEH Zero Waste Campus" Project is going to be officially launched from 20th December 2021 to 08th January 2022. The campaign will provide all students of University of Economics Ho Chi Minh City (UEH) as well as the young generation with green and zero-waste lifestyle knowledge through challenges so that they can express their personal perspectives, therefore, contributing to raising awareness and activities of the community.
Along with the long-lasting global Covid-19 pandemic problem is an extremely large issue related to the environment but has not received much attention yet. This "sorrow" of the Earth has never stopped, day by day, environmental issues have been being there and impacted more negatively.
Because of that, with a desire to create a space for students to be able to approach more greatly a green lifestyle and be confident in expressing their perspectives, a student communication group – S Communications – affiliated to UEH Student Association, carries out the communication campaign "Zero Waste, Hero You" to form a Zero Waste community for a zero-waste university.
A campaign with the message: "Let's be heroes together, don't discharge waste in the common house" is initiated with the aim of bringing green lifestyle knowledge; therefore, encouraging actions and changing students' awareness of protecting the environment and the place we are living and developing.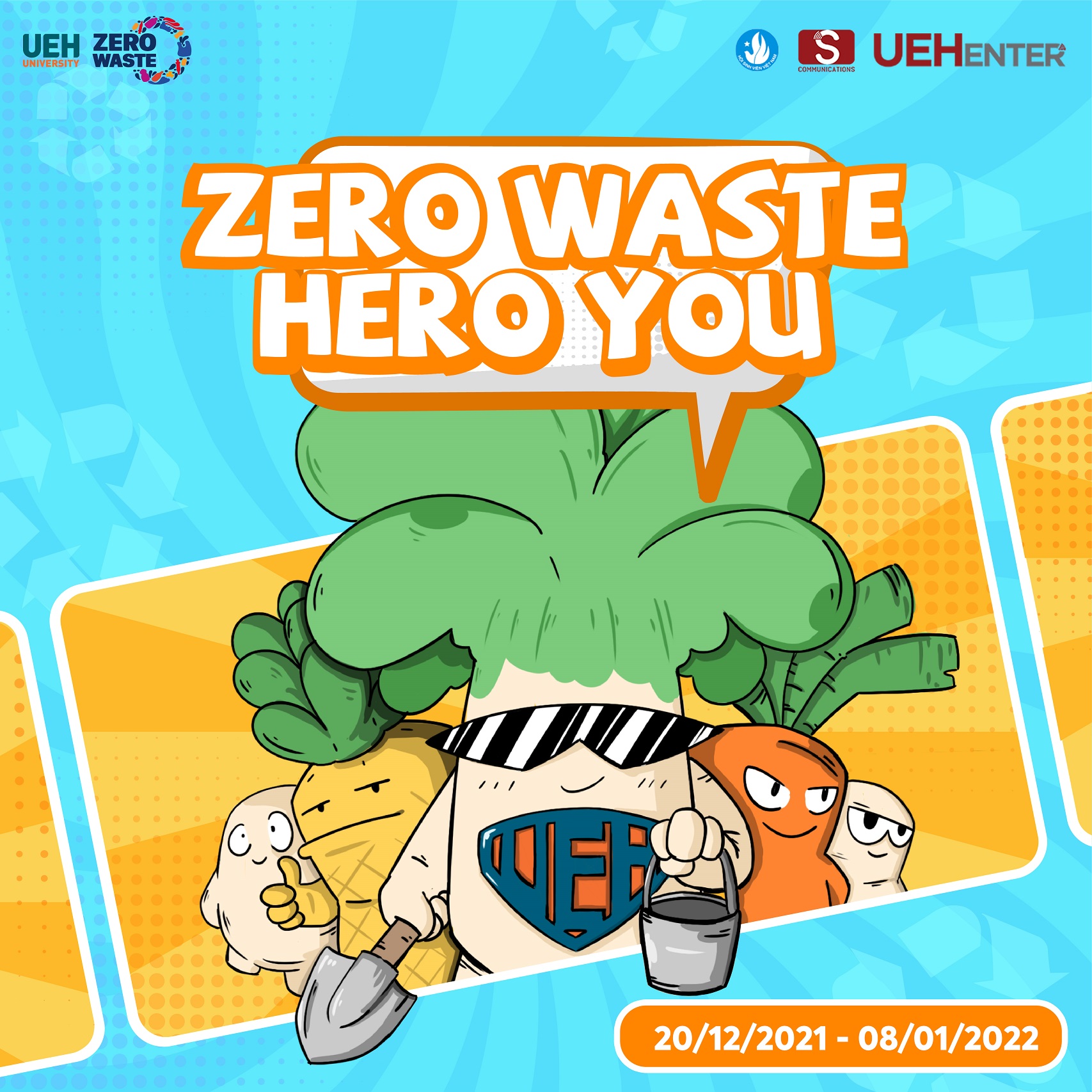 S Communications is launching a campaign including two challenges: Comic Challenge allowing the young to express their personal thoughts through paintings, and Sharing Day Challenge -simply a friendly talk for students to express their personal views, understand each other, and together make changes.
The two challenges will be posted on the uehenter.com fanpage, respectively, on 12th  December and 24th December with remarkably valuable prizes:
Personal student ID number will be updated in case attending both 2 challenges
First prize: 500.000 VND
Second prize: 300.000 VND
Third prize: 200.000 VND
Lots of surprises are waiting for you ahead, let's together like and follow 2 fanpages of S Communications and uehenter.com so as to be informed of what is interestingly coming soon!
Let's share your thoughts and discuss green lifestyle solutions for an unpolluted environment and our positively modifying world with us!
"Zero Waste, Hero You" Campaign affiliated with "UEH Zero Waste Campus" Project takes place from 20 December 2021 – 08 December 2022 with the aim of providing green lifestyle knowledge, contributing to advancing students' awareness and activities. This Campaign is carried out by Student Communication Group, affiliated to UEH Student Association.
News, photos: UEH Youth Union – Student Association.