GRSD 2021 – The "Green Growth and Sustainable Development" Scientific Conference
On October 3rd, 20201, the "Green Growth and Sustainable Development" scientific conference (GRSD 2021) officially took place in online format, attracting 549 participants. This conference is an opportunity for academic exchange, research experience sharing and scientist connective forum in terms of economics, business, and consumer behavior serving for economic sustainable development. The conference also saw to the transfer of organizing responsibilities for 2022 from Faculty of Economics, Nha Trang University to School of Economics, University of Economics Ho Chi Minh City.  
GRSD Conference 2021 was jointly organized by Nha Trang University; School of Economics, University of Economics Ho Chi Minh City (UEH) and Hue College of Economics. After 4 months calling for submissions, GRSD 2021 received 45 papers from various authors from all across the nation. Having carefully considered, the Organization Committee were able to select 15 qualified articles, divided into 3 topics to be presented during the conference. Besides, due to the impacts of the COVID-19 pandemic, the Organization Committee determined and made efforts to modify the organizational modality to 100% online, adapting to the digitalized context and creating favorable conditions for scientists, learners, and students. Hence, GRSD 2021 welcomed scientists, researchers and academic communities throughout the country to attend so as to present, discuss and exchange research experience together.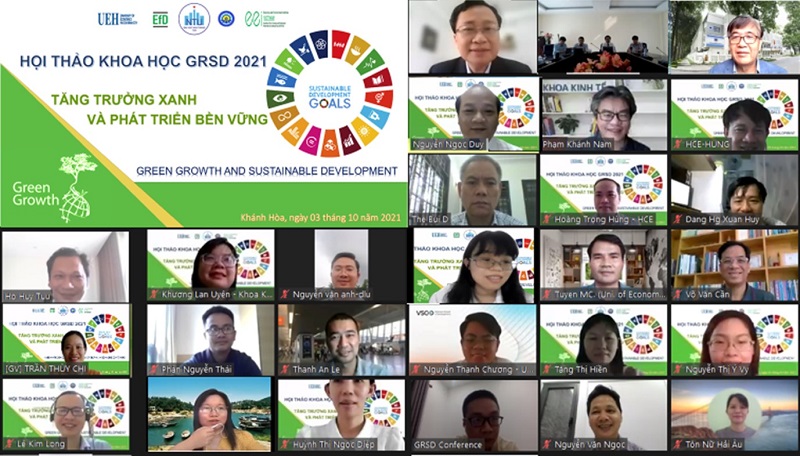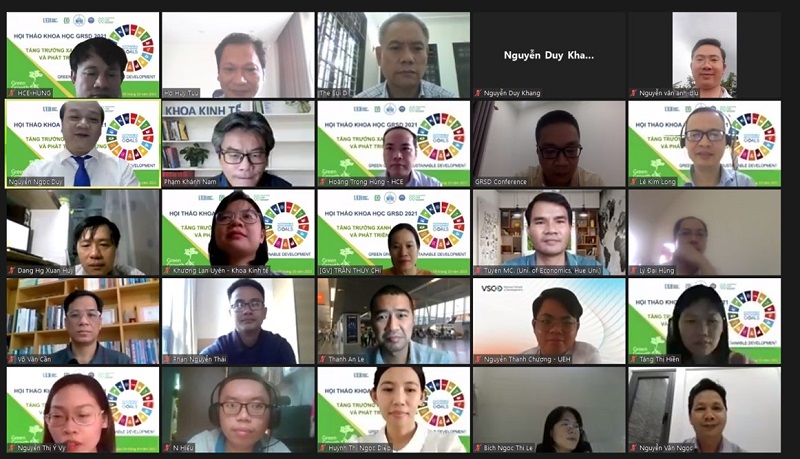 The "Green Growth and Sustainable Development" scientific conference – GRSD 2021 with the participation of scientists, researchers, and academic communities from all provinces.
Professor Nguyen Trong Hoai – the Editor-in-Chief of Journal of Asian Business and Economic Studies (JABES), University of Economics Ho Chi Minh City shared that: "At the moment, we are currently dealing with several new challenges, such as climate change or the environmental effects from COVID-10 to our evolution as the human race. How we comply with sustainable development principles along with adopting sustainable consumer behaviors determine the consequences in which we're facing, especially during COVID. More specifically, we have transitioned from crisis management into risk management; thus, today's conference central theme "Green Growth and Sustainable Development" is extremely appropriate in this context. The JABES journal is hopeful that upon the completion of the conference that all participating researchers can make according modifications to their studies and make proper plans to submit your work to nationally and internationally reputable journals.
Within the conference, Professor Nguyen Trong Hoai participated in the keynote titled "Industrial Development Orientation According to Ecology Approach: Vietnam Industrial Zones Case Study". During the presentation, the Professor accumulated a variety of research articles about the issue: industrial development according to ecology approach attaching to green growth and sustainable development. The keynote went on to discuss the aspects of ecological economics, findings report from eco-industrial parks observations, and approaches to international pilot projects (UNIDO). Finally, the current status of eco-industrial park transition in Vietnam was also mentioned.
The keynote was followed by parallel discussions surrounding 3 topics: (1) Green Growth and Sustainable Development of the industry, (2) Sustainable Development of Natural Resources and Environment, and (3) Sustainable development for locals, corporates and green consumer behavior. The plenum and parallel discussion sessions engaged an influx of researchers from every corner of the nation, in a wide range of categories including universities, research institutes as well as centers and even business community's interest. Towards the end, all authors were given plenty of opportunities for sharing and critiquing so as to refine their research to be more fitting to be published in nationally and internationally reliable journals.
Reflecting on the conference, Dr. Quach Hoai Nam – Vice President of Nha Trang University recalled: "Green growth and sustainable development require the harmony of three main fields: the economy, the society, and the environment; all addressed at the same time and in hamony with environmental and growth factors. For Vietnam, green growth is constantly met with oppositions due to the effects of climate change and the COVID-19 pandemic. It is these issues that threaten the development of Vietnam at the regional and national level. The conference is expected to be not only a forum for scientists, but also an opportunity for business leaders to seek guidance for policy resolutions when dealing with Vietnam's future problems."
Meanwhile, Associate Professor Truong Tan Quan – Vice President of Hue College of Economics affirmed the conference would be a chance to expand the cooperation network among universities and for lecturers, scientists, researchers, students to learn and share with another.
As an academically stimulating research forum, GRSD 2021 was able to attract the participation of 549 lecturers, authors, researchers, students from University of Economics Ho Chi Minh City, Nha Trang University, Hue College of Economics; Environment for Development in Vietnam (EfD Vietnam), Vietnam Institute of Economics, Vietnam National University of Agriculture; University of Economics – The University of Danang; Dalat University; Regional State Audit Office No III; University of Social Sciences and Humanities – Vietnam National University Ho Chi Minh City; Tay Nguyen University; Foreign Trade University (Hanoi); Nong Lam University – Ho Chi Minh City; Can Tho University; Quang Binh University and Long Sinh Co., Ltd.
In 2022, the "Green Growth and Sustainable Development" conference will take place in Ho Chi Minh City and hosted by University of Economics Ho Chi Minh City.
To find out more about GRSD 2021, please visit:
News, images: School of Economics, Department of Marketing and Communication, Department of Research Management – International Cooperation.